With Victory Road in our rearview, we are now well on our way to Bound for Glory. At the end of the show Rohit Raju, Deonna Purrazzo, and Eric Young stood tall as champions. Meanwhile, Brian Myers has a victory over Tommy Dreamer, and Heath & Rhino scored a win over Reno Scum. With the landscape solidified, we now have a roadmap towards Bound for Glory. But anything can happen in pro wrestling, and we may witness a few more shifts before October 24th. This is what you can expect from IMPACT! Wrestling, Tuesday at 8 pm EST on AXS TV. This is Brace for IMPACT! for 10/06/20.
Tasha Steelz & Kiera Hogan vs Rosemary & Taya Valkyrie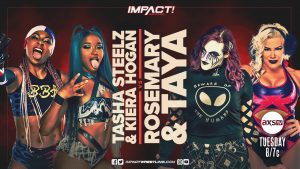 Back in September, Tasha Steelz and Kiera Hogan had something of a feud going on Taya Valkyrie. Taya had just returned from Wrestle House, and she was chomping at the bit to get back in an IMPACT Wrestling ring. Her first two matches back resulted in a victory over Tasha Steelz and a loss to Kiera Hogan. However, both matches took place without her partner Rosemary at ringside. Lately, she's been busy planning her wedding with fiancee John E. Bravo. On Last week's episode of IMPACT, Steelz and Hogan jumped Taya and Rosemary after their match, claiming they aren't finished with Wera Loca. Tuesday night, these 4 competitors will clash to settle the score.
Brace For IMPACT! (10/06/20)
EC3's Funeral For the TNA World Heavyweight Championship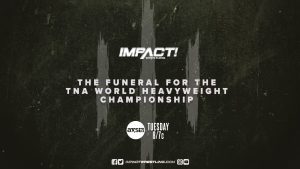 Moose built up quite the undefeated streak since re-debuting the TNA World Heavyweight Championship at Rebellion. Despite not being recognized by IMPACT Wrestling, the old belt seemed to breathe new life into him. Moose ran through TNA Originals like Tommy Dreamer, Crazzy Steve, Hernandez, and even Suicide, with ease. Then EC3 turned heads when he re-debuted in the close to Slammiversary. He came with a message about controlling the narrative and choosing your own path forward. Then he stole the TNA World Heavyweight Championship belt. The only way to move forward, EC3 believes, is to destroy the title that haunts him. How does EC3 intend to do this? What will he say in his eulogy? How will Moose respond? Find out Tuesday night on IMPACT! Wrestling.
Brace For IMPACT! (10/06/20)
Rich Swann Addresses His Recovery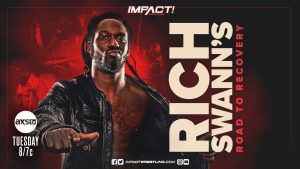 Rich Swann surprised everybody when he emerged as one of the contenders for the vacant IMPACT World Championship at Slammiversary. Even more surprising, he eliminated Eric Young from the match. But The World-Class Maniac didn't take this lying down. He got right back into the ring and went after Rich Swann's previously injured knee with a steel chair. On August 4th, Swann announced that EY had re-injured his knee, forcing him to retire. As he left the ring, Young emerged again to attack Swann. On September 1st, in Swann's absence, Eric Young answered Eddie Edwards's open challenge to capture the IMPACT World Championship. On September 15th, Rich Swann returned and pleaded with IMPACT! Wrestling Executive Scott D'Amore for a match with Eric Young. D'Amore approved, on the provision that Swann gets medical clearance before Bound for Glory. This week, Swann will give us an update on his recovery.
Brace For IMPACT! for (10/06/20)
The Motor City Machine Guns vs Ace Austin & Madman Fulton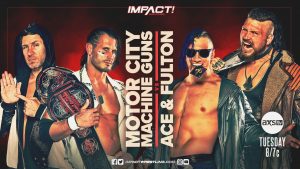 The Motor City Machine Guns surprised everybody when they captured the IMPACT Wrestling Tag Team Championships at Slammiversary. Their return, along with their victory over longest-reigning Tag Team Champions The North, signaled a seismic shift in the division. Since then, the tag team division in IMPACT Wrestling has only gotten more intense. Enter: Ace Austin and Madman Fulton. This unlikely duo has made waves since they joined forces in the run-up to Slammiversary. Around the office, we've noticed the similarities between Ace & Fulton and Shawn Michaels & Deisel. This week, Ace & Fulton have the opportunity to show that they have the skills to back up the comparison as they face the IMPACT Wrestling Tag Team Champions.
What Else To Expect

Is Susie still in control of Su Yung?
Was Heath & Rhino's performance at Victory Road enough to earn Heath a contract?
Ken Shamrock addresses his attack on Eddie Edwards
Who will be the next challenger for Rohit Raju's X-Division Championship