First and foremost before I begin to dive deep into the recent show from Prairie Pro Wrestling. I want to just extend my love and best wishes to each and every person in the entire world. Now more then ever we need to unite and help one another get through these troubled times. When the world is going through scary times it is more important than ever to do our part in keeping the morale levels up and making sure that we get through all of this. While COVID-19 only just recently started to show up in Saskatchewan we at Prairie Pro Wrestling were still able to host our recent event 4 Rounds To The Crown.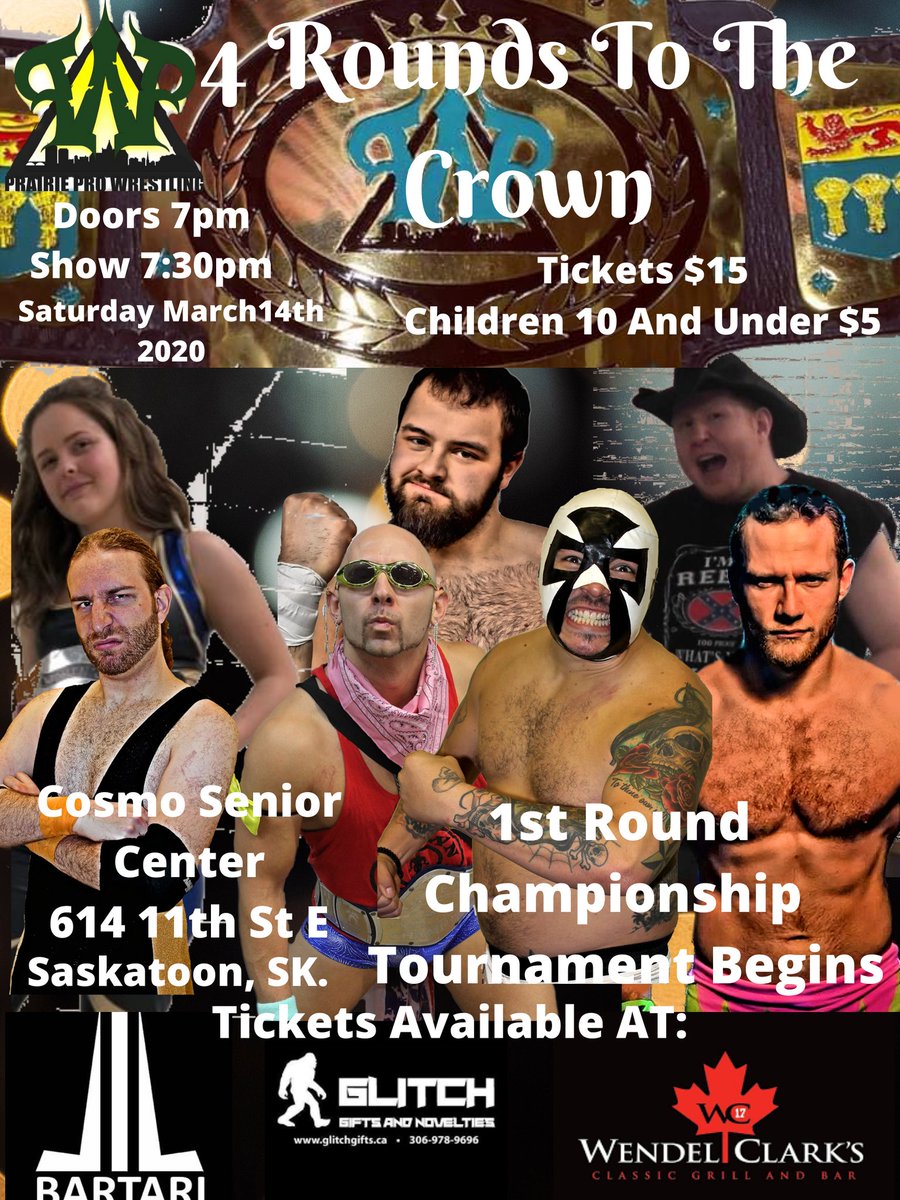 4 Rounds To The Crown was the Prairie Pro Wrestling event that took place on Saturday, March 14th, 2020.  The show took place at the Cosmo Senior Center in Saskatoon, Saskatchewan Canada. COVID-19 cases had only shown up as confirmed or assumed on Thursday, March 12th, 2020. The timing was definitely difficult on everybody.  It was announced on Friday, March 13th that gatherings of 250 or more were prohibited in Saskatoon effective immediately.
The Cosmo Senior Center has a capacity limit of 250 so it was not going to be an issue to keep the show under the limit.
Prairie Pro Wrestling made certain to have had cleaners available for everyone and encouraged fans and performers to wash their hands and avoid handshakes for this particular time. The show turned out to have quite a lot larger audience then we had anticipated. We had thought that with the fear around COVID-19 that we would see a very drastic drop in fan attendance, but very eager and excited members of the #PPWNation came out to take in the evening.
The show kicked off and all eight matches being held would be first-round matches in the tournament to crown the very first Prairie Pro Wrestling champion. One fall matches with all the winners advancing to the next round of the tournament. The tournament is set to take place over a few different shows with the final being contested in a ladder match.
Sheik Akbar Shabaz vs Davey O Doyle
After missing Revenge Of The MARC Sheik Akbar Shabaz returned to action in the opening round of the tournament. Davey O Doyle defeated Sheik Akbar Shabaz in the final of the Prairie Pro Wrestling Lethal Lotter tournament that took place in July of 2019. Sheik Akbar Shabaz and Davey O Doyle have fought many great battles over the last couple of years. They continue to step up their games each and every time that they do battle. In the end, Sheik Akbar Shabaz with assistance from the ropes was able to pin Davey O Doyle and get himself through to the second round of the tournament. 
"Uncle" Fil Deadly vs "Cheetahbear" Jude Dawkins
Cheetahbear Jude Dawkins has quickly become a highlight of Prairie Pro Wrestling shows.  The #PPWNation have quickly been drawn in by the presence and work of Jude Dawkins.  Fil Deadly though is one of the favorites of the Saskatoon audience and one of the hardest working nice guys in and out of the ring.  Jude Dawkins dominated a large portion of the match really doing everything he could to break down Fil Deadly.  It must have been the thrill of advancing mixed with the roar of the crowd but Fil Deadly managed to roll Jude Dawkins up and took the win in this match.
Levi Night vs Jacob Creed
Levi Night came to Prairie Pro Wrestling at Revenge Of The MARC and instantly clicked with the fans on hand. Fans were excited to see Levi Night return to action on this night, but it would all be bittersweet. Creed came out angry and focused as ever and ready to fight.  Jacob Creed was choked out in the unsanctioned fight with Michael Allen Richard Clark at Revenge Of The MARC. This time around Jacob Creed needed to make an impact.  Creed charged the ring and went on an early attack on Levi Night. Levi Night did manage to bounce back and took Creed completely off of his feet. Night then with a little too much swagger before hitting another move got himself caught and Creed crushed him and picked up the win.
Michael Richard Blais vs Michael Allen Richard Clark
The fans exploded with excitement when they found out that two of their absolute favorite talents were going to be locking up in a round-one match of the tournament. Michael Allen Richard Clark and Michael Richard Blais always bring the levels of excitement and complete wow factor to each of their encounters. Fans have learned that just when you think you have seen it all from these two, they come out with something all brand new. Chants of "this is awesome", "both these guys", and "fight forever" echoed through the event hall as the fans stayed glued to the edge of their seats.
In the end, Michael Allen Richard Clark picked up the win via disqualification after he was attacked by Jacob Creed.  Creed continues to be a thorn in the side of Michael Allen Richard Clark, and now he also has made an enemy in Michael Richard Blais as well.
Bucky McGraw vs "Danger Zone" Mitch Clarke
Bucky McGraw also known as wrestling's smartest man has been frustrating fans with his lessons in re-education. McGraw has been looking for people to shake his hand and let him show them the way on his path of truth. On this night, in particular, Bucky McGraw wanted to lead them down the path of golden truth. Bucky McGraw announced that Merle Graves had decided to follow Bucky's path of truth and the two are now aligned.  Mitch Clarke who has been really tearing it up for Prairie Pro Wrestling came out not only for his match against Bucky McGraw but also to prevent Bucky from continuing to run his mouth.  The fans certainly wanted to see Mitch Clarke advance, however, with assistance from Merle Graves, it would be Bucky McGraw who would secure the win and advance to the next round.
Jack Pride vs Tony Novak
Jack Pride returned to Prairie Pro Wrestling only this time Jack seemed to be of a different state of mind.  For those who do not know Jack Pride battles between two versions of himself, and this Jack Pride was definitely not one that the Prairie Pro Wrestling fans were looking to get behind. Tony Novak the young man that the fans have really connected with came out for what was sure to be a very competitive match.  The match ended up being a strong back and forth and in the end, Tony Novak picked up the win and got himself into the second round of the tournament.
El Asesino vs Zoe Sager
Two competitors who have had an amazing track record for Prairie Pro Wrestling were up next. El Asesino the mean and sadistic veteran up against the young blue-chipper Zoe Sager. Asesino did not hesitate to break out his cruel form of punishment that he delivers to each opponent that steps in the ring with him. Zoe Sager stood up to the masked devil and showed El Asesino why she finds herself undefeated in singles competition for Prairie Pro Wrestling. El Asesino may have underestimated his opponent though as Zoe Sager managed to snatch up the small package and pick up the win over El Asesino.
Cannonball Kelly vs "The Superior Human" Mike McSugar
Cannonball Kelly with his amazing combination of size and strength has been rocking the ropes in Saskatchewan for quite some time.  Most fans would expect a name like Cannonball Kelly to be a heavy favorite to go through the tournament, but Cannonball Kelly was not prepared for what he was about to encounter.  Mike McSugar came out to the ring wearing a gas mask and spraying a disinfectant spray all over the live audience, ring announcer, referee, and camera operators.
Mike McSugar went on to do a promo through the mask that the fans could not understand and drove them crazy with rage against Mike McSugar.  The match was full of shock moments and some insanely hard-hitting action from both of the competitors.  At the end of the match, it was Mike McSugar who did what he needed to do in order to obtain the victory.
Just like with any tournament shock wins can be part of the excitement or also part of the frustration for fans.  While not all of the expected competitors went through to the next round, what we get is an extremely competitive and unique set of talent scheduled for the second round of the tournament.  Wrestlers want the opportunity to very first champion for Prairie Pro Wrestling and they are doing everything they can to get to that final.  We are hoping to host the next round at our upcoming show on May 2nd, 2020.
However, with COVID-19 and things changing by the minute at the moment as with every wrestling promotion we will see where things are at in the upcoming weeks.
Remember that if you want to tune in to Prairie Pro Wrestling we offer shows on YouTube for those who are unable to attend the live events. The live events are broken up into two halves each of which is around an hour in length. Those shows are then taped and put on YouTube in what we are calling Prairie Pro Wrestling Revolution. The shows typically are going up right before our next event. Currently, there are two episodes from our Second 2 None event that took place in December.
If you want to help out independent wrestling in Canada please subscribe to the YouTube channel and get the word out about Canadian professional wrestling. Once again I want to extend love and well being to you and your family members during these troubled times. I can only hope that we will all battle through and come out of this better as a society.  All the best until next time.