Beyond Wrestling is back as they present Two Weeks Notice! 2020 looked as if would be the year Beyond would explode on the independent scene. The promotion's successful two-season run of their flagship show Uncharted Territory undoubtedly introduced the world to some of the best talents in the world. Big things were on the horizon for Beyond after their Heavy Lies The Crown event last December, but then the spring of this year came around. Independent wrestling was thrown into a tailspin. It took months for some sort of normalcy to return. Thankfully the summer didn't go without a big event from Beyond. We don't have Americanrana this year, but we do have Two Weeks Notice this Sunday.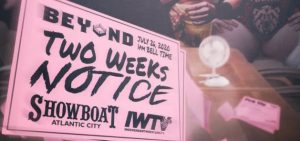 What a great name for a show, too! The event itself was actually announced two weeks prior to this weekend, so the title is pretty suitable. Two Weeks Notice will be taking place live from Atlantic City on July 26th with a bell time of 1 pm EST. Catch the show from beginning to end on IWTV if you aren't taking a trip out to the Boardwalk this Sunday afternoon!
Preview: Beyond Wrestling Presents Two Weeks Notice
Wheeler Yuta vs Lee Moriarty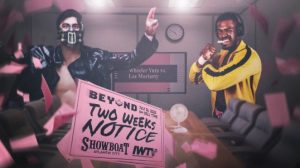 Lee Moriarty is getting the attention he deserves this summer! I'm glad that new names are stepping forth now that shows are starting back again. Two Weeks Notice will be a special event for me as it's my first live Beyond show. Seeing this match on the card got me pretty hyped; I've been a Yuta fan ever since seeing him on Uncharted Territory last summer and Lee's been one of my favorites after having seen his amazing work in AIW and most recently GCW. This one will be lit!
Christian Casanova vs Blake Christian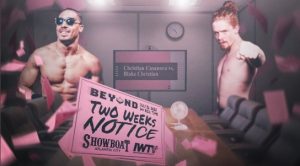 All I have to say is wow. I get to sit front row and witness this match. It's Blake Christian's Beyond debut, and who else would he go up against other than Christian Casanova? As a very vocal supporter of BOTH THESE GUYS, I can admit I'm going back and forth about who to root for. Christian Casanova had an amazing 2019, but I haven't seen him go in the ring for a while. I don't expect him to have slowed down one bit. Meanwhile, I've seen Blake Christian in post-quarantine matches that were straight fire. Expect an instant classic from All Heart and Killanova. Whenever Blake Christian makes his first appearance anywhere he makes it memorable.
Bear Country vs Injustice (Jordan Oliver and Myron Reed)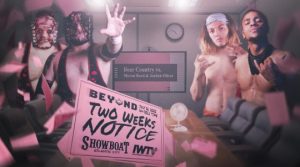 If you're thinking this will be an easy go for dem Bears, I think Jordan Oliver and Myron Reed will show you different this Sunday. This one will be great, mark my words. I love how Bear Country can have great matches with either bigger teams or fast-paced high fliers. With Injustice being the latter, I'll say Bear Bronson and Bear Beefcake will have to change up their pace to keep up with their opponents. If Jordan and Myron can last long enough in the ring against Bear Country they stand a solid chance of exhausting the opposition and getting an upset victory.
Beyond Wrestling Present Two Weeks Notice
"Platinum" Max Caster (w/Shook Crew) vs Allie Kat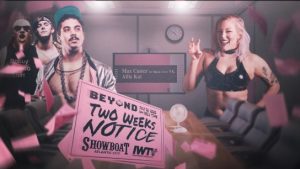 The whole Shook Crew just has to be there with Caster? Yeah, this one's not going to play out fairly for Allie Kat. I'll bet we have good old Denver Colorado to thank for that, as I'm pretty sure he holds grudges. Such is especially the case here as it was just a few weeks ago that DC got sent flying backward into a pool thanks to Allie Kat. That's okay though! Allie does her best when she's being opposed. I don't believe Caster will be able to get a win one-on-one with Allie Kat, though. If he comes out ahead here I'm betting it will be due to the assistance of Bryce Donovan and Bobby Orlando. Let's be fair to Allie, damn it!
Tony Deppen, Nick Gage, and Chris Dickinson vs Second Gear Crew (Mance Warner, Matthew Justice, Manders)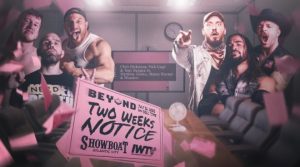 The biggest match on the card will put Beyond's finest against indie wrestling's newest power group, the Second Gear Crew. Damn it, I'm looking for this one to go off the rails and we'll see a hell of a lot of fighting going on in all corners of the ring and all over the pier. Beyond might back the best talent on the independent scene, but the SGC boasts a number of big names as well. Don't get me wrong – everybody knows I love and support the guys on Team Beyond, so nobody's taking away from this team's talent. Deppen, Dickinson, and Gage make a hell of a trio, too. However, I think the SCG is going to reign over indie wrestling for a while, and this match will be one of the memorable wars that solidify the supergroup's status as badasses.
Beyond Wrestling Present Two Weeks Notice
WARHORSE vs Rickey Shane Page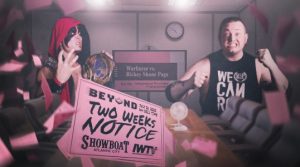 It's WARHORSE's title, so it's WARHORSE's world, and RSP isn't welcome in it. RSP's not very welcome in many other places than Beyond, anyway. The Boardwalk is a long way from Ohio, and Jersey's been pretty good to the Ruler of Asses anyway. It was, after all, last fall at the House of Independents in Asbury Park that WH won the IWTV Championship from Orange Cassidy. That doesn't seem so long ago, considering a great deal of WARHORSE's title reign has been impacted by this year's quarantine. The man's running on a lot of steam left in his time as champion, and RSP's not slowing him down any on Sunday. Plus, I just couldn't imagine a world with RSP having both the IWTV Championship and the GCW World Championship. We've already traversed several darkest timelines this year and don't need another.
---
Tune in to IWTV this Sunday, July 26th at 1 pm Eastern time for Beyond Wrestling's Two Weeks Notice! July goes out in grand fashion this weekend with awesome wrestling events running in multiple locations. IWTV and Smart Mark Video both have you covered so you don't miss out!