On December 9th, All Japan Pro Wrestling would conclude their Real World Tag Team League. It's been a month of exciting tag-team wrestling from the company, but it's now time for the tournament to come to an end. For the finals, we have Jake Lee and Naoya Nomura taking on Violence Giant (Suwama and Shuji Ishikawa) and the winner of this match will fight for the World Tag Team Championship. After a twenty-minute match, Suwama and Shuji would win the match to win the Real World Tag League. A lot of people are calling it a MOTYC and honestly, this match deserves the praise it's getting from how well all four of these men fought.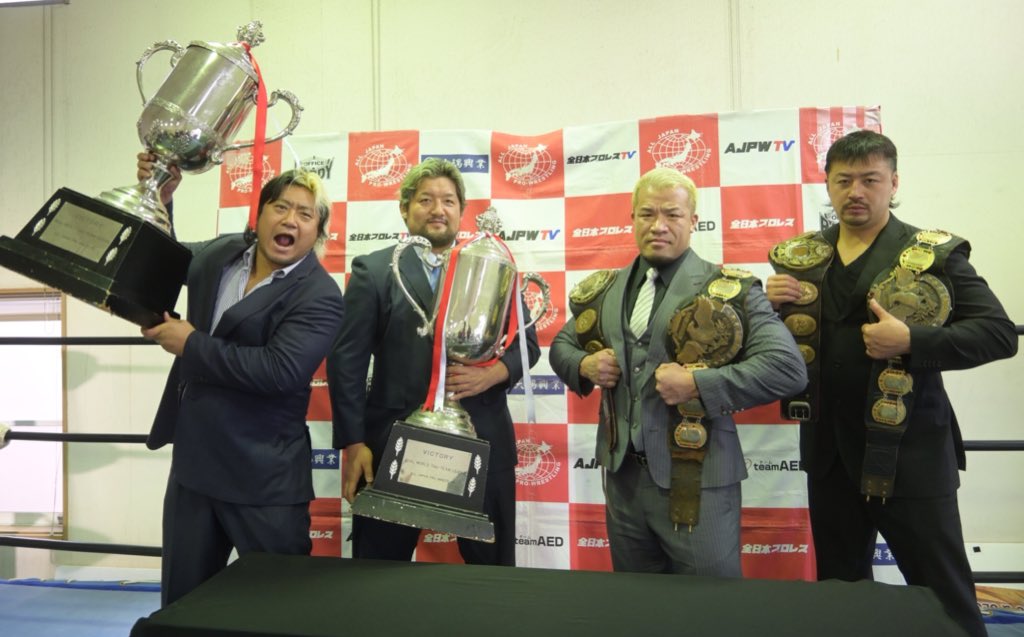 Now that the Violence Giant won the tournament, they have a chance to reclaim the titles against the current champions, Zeus and Ryouji Sai. Zeus and Ryouji defeated the Violence Giant for the titles on September 3rd. During the tournament on December 7th, the two fought again as Zeus and Ryouji were able to beat them again for the second time. With two wins over Suwama and Shuji, the third time could be the charm when it matters. The match is scheduled to take place on January 2nd as part of one of their big shows during Wrestle Kingdom week. Congratulations on Violence Giant on winning the Real World Tag Team League and looking forward to seeing how this match will play out.
Jake Lee and Naoya Nomura didn't leave the tournament completely underhanded as they did have a match before the finals to even qualify for it.
The team fought Yuma Aoyagi and the Triple Crown Champion, Kento Miyahara. The two fought in another great match of the night and Jake Lee would win for his team when he would pin the champion cleanly. Because Jake pinned Kento, it means that Jake Lee will have another chance to challenge Kento for the Triple Crown Championship and that match will take place on January 3rd, which I'll be there to witness live.
Is it too soon for Jake to challenge for the belt again? Yes, but you also gotta put into consideration that this is a big week for wrestling in Japan and with companies like New Japan Pro Wrestling and Pro Wrestling NOAH giving the fans top-notch cards, AJPW needs to do the same thing with Jake and Kento again. If that wasn't the case, the match should've been holding off until after the Champion Carnival in 2020. January 2nd and 3rd are going to be amazing shows and hope you keep an eye out for them.