In a feud which has been called one of the hottest of the year, Jay White and Naito's battle of mind games finally came to an end in Destruction in Kobe with White capturing the Intercontinental title for the first time in his career.
This all started back in the G1 with one of the most hotly anticipated matches on the last night with the leader of the Bullet Club Jay White and leader of Los Ingobernables de Japon Tetsuya Naito. Both men had a rocky start in the G1 losing to Yano amongst others and it was that match that decided who would win their block.
Although Jay ended up on top and, even though he lost the G1, he set his sights on Tetsuya Naito's Intercontinental belt. The belt that Naito has always despised but one he needed to fulfill his goal of becoming the first-ever person to hold both the Intercontinental belt and IWGP Heavyweight title.
Going into the tour, the tag matches were very much a battle of mind games. Naito seemed to have the upper hand in every match with Evil or himself managing to pin Chase Owens or Yujiro. However, nobody really seemed to care about that. It was this amazing chemistry that they had in the ring that just made everyone anticipate the feud even more. I mean the world was confused whether they were fighting or just infatuated with each other. It had to be the most interesting set up for a match I've seen.
The match itself had to be one of the best of the night and definitely tops their G1 bout.
Naito started with his mind games, jumping in and out of the ring refusing to start. Once, they actually started there was a good mix of tempos, speeds, and styles. Although very similar in personality, their wrestling techniques are complete opposites. Naito has a very calm and high-risk offense. Jay plays defense better than anyone with his world-class suplexes and ability to dictate the pace of the match to suit him whether it was using the outside or utilizing Gedo.
What I particularly liked about the match was how both men seemed to gain the upper hand at different times and there never seemed to be a clear winner. At one point it seemed like Red Shoes Unno might have stopped the match after White battered Naito nearly unconscious. However, as usual, Naito got that one big move to even the playing field.
Going just over 20 minutes, although not long, it had everything you want from the two men and seemed to compact everything into such a short time-space.
With a final Bladerunner, Jay White picked up the pin and the crowd went crazy – but not in a good way. Fans started leaving the arena after their beloved Naito lost his belt (just like they did in the G1) and it goes to show how amazing a heel White is.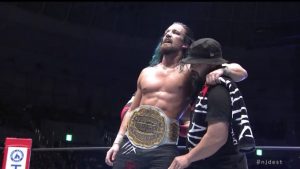 What was surprising was how clean a victory it was and has to be one of my favorites this year. It was a mixture of pure wrestling, in-ring psychology as well as a battle of intelligence.
In the end, White came out on top, but I don't see this being the end of their rivalry. As much as Naito hates that IC belt, he needs it for his dream to come true of being a double champion. However, Jay also has that goal in his mind now and won't let that title go as easily as the heavyweight belt.
With so many people now going for the big double, the next few months leading up to Wrestle Kingdom is going to be tense. Will either Jay White or Tetsuya Naito become the first dual champion? Only time will tell! As for now, Jay White has captured the IWGP Intercontinental Title.