Alicia Atout has had quite the career thus far, and not just in wrestling. Having gained recognition for creating a wildly popular music blog "A Music Blog, Yeah?" While running the blog, Atout interviewed some very big names in the music scene. Names like Mac Demarco, Melanie Martinez, and Greta Van Fleet. As recognition for her work, she won several Canadian Weblog Awards, as well as multiple Feedspot and MiB awards.
Alicia then turned her focus to professional wrestling. She began her foray in wrestling business as a member of IMPACT! Wrestling from 2018-2019. Following her departure from IMPACT!, she was contracted to work All In, and eventually hired by AEW. In November of 2019 however, she accepted an offer from Major League Wrestling (MLW).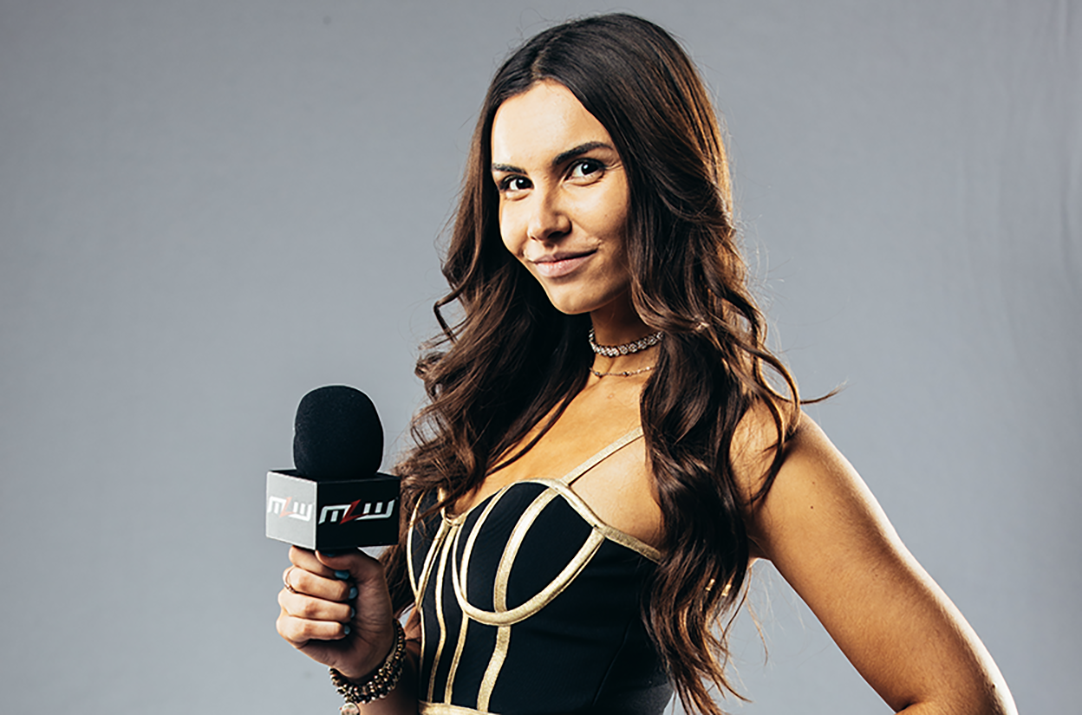 Pro Wrestling Post Interviews Major League Wrestling's Alicia Atout
Since then, Atout has continued to build her brand by doing great work with MLW. Not only is she doing great work, but she is truly having a blast doing it. Working as their primary backstage interviewer and on-screen personality, Alicia has gained a huge following in the wrestling business. She has been especially popular with the younger female demographic who are eager to see more representation in a business that is typically dominated by men.
Pro Wrestling Post was on the scene at MLW's War Chamber event, at the historic 2300 Arena (FKA ECW Arena) in Philadelphia, Pennsylvania. Dylan Hughes, on behalf of Pro Wrestling Post was lucky enough to get a brief word with Alicia Atout, who has quickly become one of the most popular on-screen personalities in wrestling.
"With the women's revolution in wrestling going on the last several years and the increase in interest among females with wrestling, what advice do you have to young girls that would maybe think about getting into the business?"
Alicia Atout: "Don't be scared, just go for it! And that's one of those things where I was so worried about being critiqued by people. I was so scared of what they think of me, what they think of my work, my appearance, everything. Don't care! Go in it, embrace yourself, have an amazing time, and have fun with it!
That's probably the other thing I would say. I now get to come to MLW and just have a good time with so many of my best friends within, not just in the business, but in life. So because of that, it's just that mentality of 'have fun with it, be yourself, and know what you bring to the table.' Have that confidence because deep down, it's all within us."
Also, with you growing up as a wrestling fan, does performing in this venue feel a little more special when you guys are here?"
Atout: "It's surreal. This is probably my fourth or fifth time being here, my third or fourth time with MLW, but it always feels special. I always try to get my little photograph in the men's bathroom when it's cleared out [laughs] but it just, there's something in the air here. It's the atmosphere and knowing all of the history too.
And being able to watch my friends in the ring, being able to do promos on the ramp, there's just something very, very special and nostalgic. So every time I find out we have announced a show here at the 2300 Arena, I am absolutely pumped."
Alicia Atout
You can catch MLW Fusion: Alpha every Wednesday for free on YouTube.
As always, be sure to follow Pro Wrestling Post across all social media for the most eclectic professional wrestling coverage on the internet. Hit the comment section with what matches from the Philadelphia taping you are anticipating the most. You can also follow Dylan Hughes on Twitter @DylanHughesPWP.
*****
Stay tuned to the Pro Wrestling Post for this and additional stories from the wrestling world. Readers can rely on Pro Wrestling Post to be their daily source for all things inside the squared circle. As a result, readers can expect daily news, history, and so much more. Please visit Major League Wrestling's official website here for news on the promotion and upcoming events.