Faith is important to all of us. Whether it is in God, justice, science, family, or even just yourself. Life is the hardest thing any of us will ever have to endure. Faith in the right things can help us through the worst times and create the best ones. AJ Styles has no doubt his faith has gotten him to where he is.
Allen Jones was born on a Marine base in Jacksonville, North Carolina, in 1977. He grew up in a loving family. However, they also grew up living in near poverty. His childhood home was a trailer park in Gainesville. While his parents did the best they could, his father was an alcoholic. The drink turned him into a different and violent person. Jones always had faith that he would rise above his upbringing. It was wrestling that helped him to achieve this.
Like with so many American-born wrestlers, Jones first began wrestling at amateur level in high school. His coach and teammates told him something he was sick of hearing his whole life; he was "too small". This was the first time the comments truly bothered him. Jones pushed himself to become more aggressive, and to become the best. His dedication earned him two state championships and a college wrestling scholarship.
Being from a poor family, Jones never put any serious thought into college. Having it paid for him was his main reason for going. He began to dislike the person that college was turning him into. He chose to walk away and get a regular job.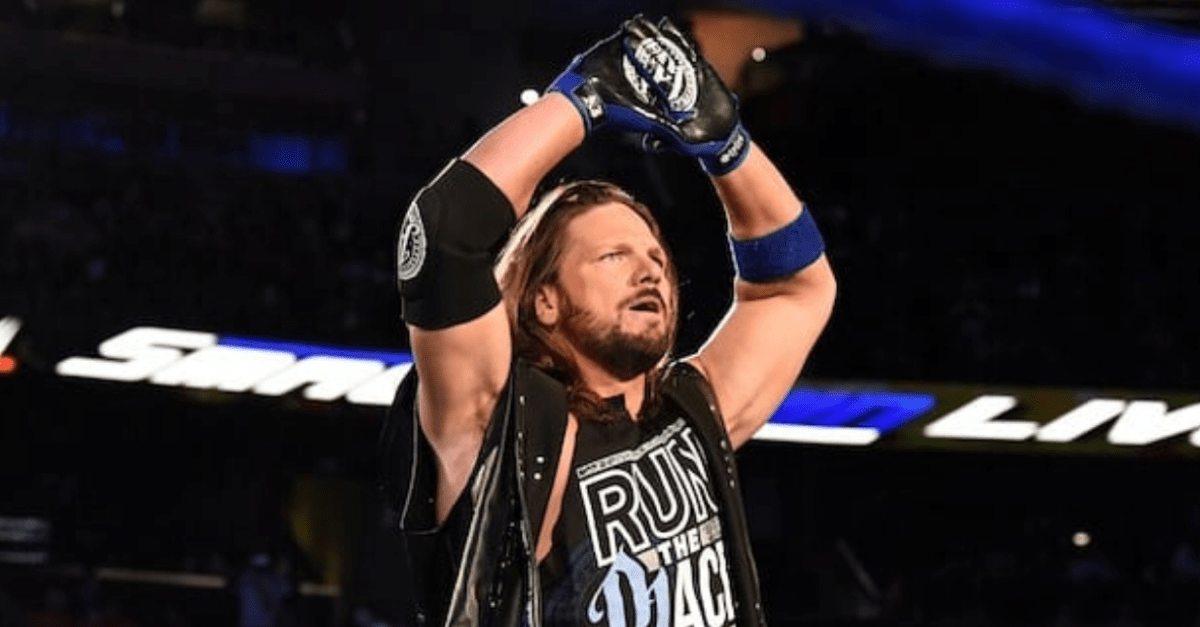 AJ Styles – Faith As The Bottom Line
A few of Jones' friends decided to train as pro wrestlers. They encouraged Jones to give it a shot. Their trainer Rick Michaels had less than ten years of experience at that point. He had mainly worked as a jobber. He was now at the top of Pro Wrestling Group's Junior Heavyweight division at a time when the company was struggling to stay afloat. Michaels opened a wrestling school for extra income as wrestling paid so badly.
This was a lesson that Jones learned early on. His main pay-checks came from being an ambulance driver. He also cut lawns to help make ends meet. Due to the low level of the various promotions that Jones competed for, many of his earliest matches were never taped.
Jones was only one month into his training when he made his in-ring debut in National Championship Wrestling in 1998. He competed as the masked 'Mr. Olympia'. He only accepted the character because he was so excited to be wrestling for the first time. One of the first things he needed to learn was to tone down his aggression from amateur competition.
Jones' family could not afford cable, so he only watched wrestling when he was at his friends' homes. He was forced to challenge his understanding of what pro wrestling is. He improved over the year, and would win their Television championship. Due to the low level of the various promotions that Jones competed for, many of his earliest matches were never taped.
NCW merged with NWA Georgia to form NWA Wildside. They were not the only ones that underwent an image change. Jones was repackaged as "AJ Styles". A commentator casually referred to him as "Phenomenal One", and the nickname stuck. His feud with Air Paris caught the attention of World Championship Wrestling. They were brought in as a duo to bolster the new Cruiserweight Tag Team division.
"Air Raid" only had a few matches before WCW was sold off to the World Wrestling Federation. The WWF did offer him a try-out against Michaels, but he was unsuccessful. This proved to be a blessing in disguise. The sudden closures of WCW and Extreme Championship Wrestling created a state of flux within wrestling. A lot of established talent suddenly became available.
Various contract stipulations meant that the WWE couldn't use them right away, even if they could afford them after their recent acquisitions. Styles became friends with fellow Daniel Covell, better known to wrestling fans as Christopher Daniels. Daniels helped Styles to get bookings around the world.
A number of new promotions began to appear. Both Styles and Daniels found themselves regularly main-eventing these places with bigger-name talent. He briefly returned to NWA Wildside and won the NWA Georgia Heavyweight Championship from Michaels.
AJ Styles was offered more try-out matches with WWE, including a televised bout against The Hurricane. This time he was offered a contract. It required him to move to Cincinnati and compete exclusively for Heartland Wrestling Association until he got his main roster call-up. The move either meant asking his wife to drop out of college, or move back in with her parents while he went off on his own.
Having the conviction that it was the husband's job to be a good provider, Styles turned down the contract. He believed that if God intended for him to be in WWE, he would have the opportunity later down the line.
Prior to his contract offer with WWE, he had already established himself in the newly-launched Ring of Honor. He competed in the first match for the RoH World Heavyweight Championship. Despite losing that match, he remained a threat to everyone who held a title in RoH. He teamed with The Amazing Red and won the RoH World Tag Team Championships.
He formed deeper friendships with Daniels, Samoa Joe and Frankie Kazarian. A growing number of opponents that Styles worked with had made good money from short tours in Japan. Styles thought this was the next logical move for his career. But a bigger opportunity opened up.
Styles was competing on a card in Australia when he first met Jeff Jarrett. He become one of the first people to be signed to Total Nonstop Action Wrestling. Jerry Lynn was heavily involved with creative at the new promotion. He immediately took Styles under his wing. Even though Styles lost at the inaugural TNA event, he won the TNA X-Division Championship at the next.
He is the first person to ever hold a TNA-owned championship. A week later, he won the NWA World Tag Team Championship with Jerry Lynn, making him the first dual champion there. The program with Lynn helped to refine Styles as a performer. Once the feud ended, Styles became a fixture in all three of TNA's title divisions. He would win the NWA World Heavyweight Championship.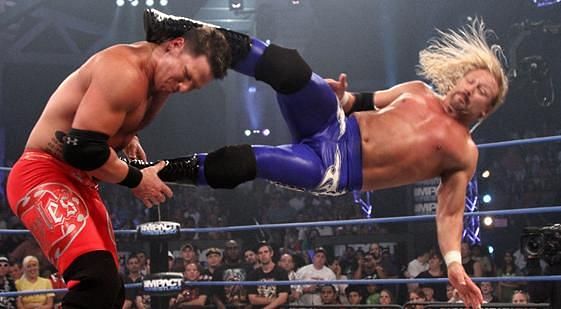 He became the first triple crown holder in TNA, and solidified himself as top star for years to come. He would also become the first TNA contracted employee to top Pro Wrestling Illustrated's PWI500 list. He was also the first person to be honoured by the company with DVD releases showcasing him specifically.
"AJ was very innovative. He had a very great knack of putting together matches. Making it make sense. He never wanted to get his sh*t in. He used his trademark moves quite a bit. But he made sure it made sense for the match. Psychology was the most important thing to him.
That's what I respected most about AJ. He never wanted to just get his sh*t in. He wanted it to make sense. Very smart worker."
– Kurt Angle on how AJ Styles worked his matches.
While he wouldn't know it until many years later, Styles entered a new phase of his career in 2005. TNA agent Terry Taylor began focusing more attention on him. As impressive as Styles' moves set was, he lacked a lot of early fundamentals. Taylor taught him missing traits, such as storytelling in matches. This came at an opportune time as the feud Styles had with Daniels around the world resurfaced in TNA.
Both AJ Styles and Daniels worked Taylor's lessons into a series of stipulation matches that pushed them to the limits of their physical capabilities. One thing that made this feud unique was the insertion of a common enemy. Samoa Joe went on a long undefeated streak in TNA. The super heavyweight mainly focused the lighter stars of the X-Division, with Styles being his main target.
The trio went on a long series of singles and triple threat matches where they juggled and swapped the X-Division championship around. The feud had an extra seasoning to it. While Joe didn't always win, none of these matches ended with him being pinned or forced to submit. Styles was feud and team on-and-off with the men for years to come. Styles briefly held the NWA World Tag Team Championships with Daniels. The feud was so popular that the trio often did rematches at special events for the rest of their tenures there.
At that time, TNA contracts allowed performers to compete anywhere they wanted as long as they were still available for TNA events, and those appearances were not for WWE. Styles took advantage of this to keep working for RoH. He defeated Bryan Danielson to become the first RoH Pure-Wrestling Champion in 2006. He was forced to drop the title when TNA suddenly banned contracted talents from working RoH events due to their new television deal.
They managed to make an arrangement that allowed Styles to compete semi-regularly for the next two years. RoH didn't risk putting titles on him or putting him in high-profile matches just in case TNA used the restrictive clause again.
Fans have mixed feelings about the next phase of Styles' career. To some, he became a lackey to former WWE talent. Many of those critics were unaware of Styles' successful tours representing the company in Mexico and Japan. To others, he was getting a rub from working so closely alongside big-name talents like Sting, Kurt Angle, Christian Cage, Scott Steiner, Kevin Nash, and Booker T.
When Styles emerged from this phase, he engaged in a long feud with Angle that helped Styles be seen as one of the industry's biggest stars. Winning the TNA World Heavyweight Championship made him the first person to triple-crown both NWA and TNA titles in the company.
He had a record-setting reign with the title, which included being the first person to successfully retain a championship against Sting at the annual Bound for Glory pay-per-views. Styles was put forward as the face of the company going into the "Hogan-Bischoff Era". Then the past came back to bite him.
Just before Hulk Hogan officially assumed his role as a business partner, an old video of Styles resurfaced online. In the video, Styles seemed to suggest that Hogan was responsible for WCW's closure after stating he was "glad that [Hogan] isn't with us." Both Hogan and Eric Bischoff came in with the attitude that TNA had never created any stars.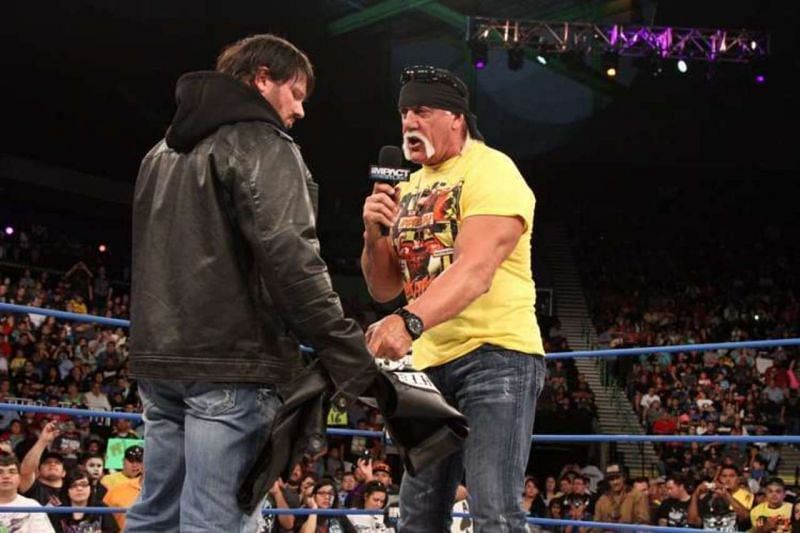 They relied too heavily on former
WWF
and WCW talent who were past their best. They repackaged Styles as a cowardly heel who imitated his new manager Ric Flair. This was the first in a long series of start-and-stop pushes. One month, Styles could be front and centre of the company's biggest storyline. The next month, he would be fed to mid-carders starting a new push. Styles further irked Hogan by openly questioning Hogan's habit of publicly criticizing the company and talent.
It was noted that when TNA President Dixie Carter held a meeting with the talent to discuss low morale, it was Styles who addressed the lack of support from management. One of his biggest humiliations was a confusing storyline which implied he had gotten a recovering addict pregnant during an affair. This is still considered to be one of the worst storylines in company history with everyone involved being critical of it.
"I'm watching this kid. I'm a fairly decent judge of talent. I've signed some pretty good talent, I might add. I've been around some good bookers, some good talents. You know, student of the game, maybe. And I'm watching him walk down the hall, and just think 'this damned kid carries himself like a main-event guy'.
Then I watch him get ready for his match. I watch him go to the ring. I watch him lock-up. I watch him sell. I watch him comeback. I watch him win. I watch everything. I remember thinking 'something's really screwed up here'. The wrestling business in itself… it's been in better shape than it is right now. And somebody can't find a role for this kid? Are you kidding me? What am I missing?"
– Jim Ross expressing his shock that Styles was not signed to a major company just before Styles went to NJPW.
Styles debuted a new look in early 2013. This was part of a storyline where Styles had undergone a transformation. Although the lack of direction led some to speculate it was actually a punishment. It led to Styles winning the TNA World Heavyweight Championship at Bound for Glory just as Hogan departed the company. However, Styles had used up all of the dates on his contract which was set to expire.
AJ Styles toured indie companies representing TNA as the "official" champion while Magnus was the "Dixie's champion" on TV. As Styles and TNA could not agree on a new deal, Styles returned to drop the title to Magnus. Styles later explained that TNA tried to make him take a 60% pay cut.
The combination of his reputation, history with multiple indie companies, and having completed dozens of cross-promotional tours with TNA left him in a favorable position. Styles began working on more shows than he had at any point in his career. He had made a plan to get into New Japan Pro Wrestling via RoH. His plan worked. Both companies featured the Bullet Club, a group of non-Japanese wrestlers who were similar to WCW's New World Order.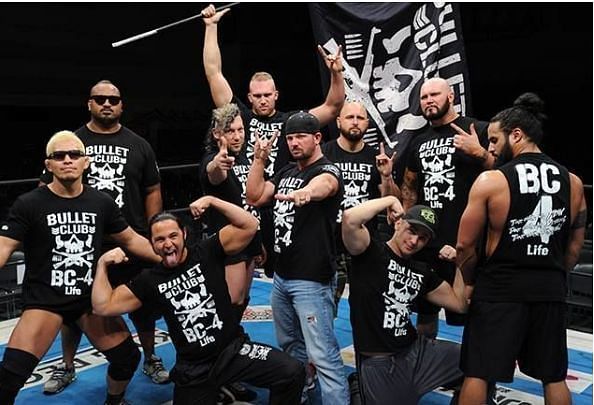 Styles went from fighting their members at ROH, to establishing himself as their new leader in NJPW. He quickly won the IWGP World Heavyweight Championship and defended it on both sides of the Pacific.
Towards the end of 2015, rumours emerged that Styles was one of four NJPW talents that had signed contracts with WWE. All parties involved denied the claims. At one point, Styles "joked" about his forthcoming debut to tease fans. However, NJPW and other companies admitted that they stopped booking the four after a specific date due to them going to WWE.
The fact that they dropped all of their titles ahead of this date was an obvious clue. When Kenny Omega usurped Styles as the new leader of Bullet Club, it confirmed what everyone already suspected.
"He's had a great career. He spent a lot of it in TNA where, honestly, there was a ceiling and anybody was going to go so far. I think it's great that he didn't go straight from TNA to the WWE or it probably wouldn't work out so well, and it would have been mostly WWE's fault.
But at least he was able to go to Japan, get over somewhere else, and not be coming in fresh as a TNA guy that they didn't want to treat so well."
– Jim Cornette on Styles' path to the WWE.
At the 2016 Royal Rumble, the worst kept secret in wrestling was made public. Styles made his WWE debut as part of the titular match. The moment was ruined by the cameramen choosing to focus on Roman Reigns' reaction rather than Styles entrance. Styles lasted over thirty minutes in a match where the WWE Championship held by Reigns was on the line.
His Bullet Club teammates Karl Anderson and Luke "Doc" Gallows went to NXT as a tag team. Their rival Shinsuke Nakamura also went to NXT and was immediately a contender for the main title.
Chris Jericho pushed hard to be the first person to work a program with AJ Styles. He had to push even harder to convince management to allow Styles to use his Styles Clash finisher. The move involved Styles lifting the opponent into the same position as a piledriver. He would then step over their dangling arms before throwing himself facedown.
The move prevented the opponent from using their arms to protect their own head and neck, which remained close to the mat at all times. Several wrestlers had been injured by the move over the years. Both Lionheart and Yoshitatsu suffered broken necks in 2013 due to the move. Styles maintains that the move is perfectly safe as long as the defending wrestler does not tuck their heads like the aforementioned examples had.
It was harder to convince management that Styles was a safe worker due to him accidentally kicking out some of The Miz' teeth during a TV match. Styles eventually got permission to use the Styles Clash on occasions. He earned management's trust later that year when he saved James Ellsworth from serious injury. Styles noticed that Ellsworth had tucked his head just as he began the fall.
Styles had just enough time to react and protect his opponent. This earned Styles respect as a safe worker. He is allowed to use the move more often, but he is careful to only use it on lighter opponents. Alternatively, he relies on the "Phenomenal Forearm" (a springboard dive launched into a forearm smash), or his "Calf Killer" toe-hold submission.
Fans tried to discourage Styles from going to WWE. There was a perceived "TNA curse" where former TNA stars usually get buried on the WWE's main roster. Within his first year, Styles had competed at WrestleMania and won the WWE Championship. Both of these things were once considered unachievable for him. Styles became the second person (after Kurt Angle) to hold the WWE and TNA grand slams. Styles has also been one of the very few people allowed to mention TNA or Dixie Carter positively on WWE programming.
As with his TNA career, Styles rarely went long between title reigns. The most significant so far was his second run as WWE Champion. He defeated Jinder Mahal in a TV match filmed in Manchester, England. The WWE acknowledges this as the first time the WWE Championship changed hands outside of North America (they rescinded Antonio Inoki winning the title in Japan).
He mainly defended the titles against rivals from past promotions, like Nakamura and Joe. He would hold the title for a year before dropping the belt to Daniel Bryan (Danielson). Styles was given the honor of facing Undertaker in the latter's final match. It was the first WrestleMania event to be pre-taped. The "Boneyard Match" took place on an old farm due to government restrictions.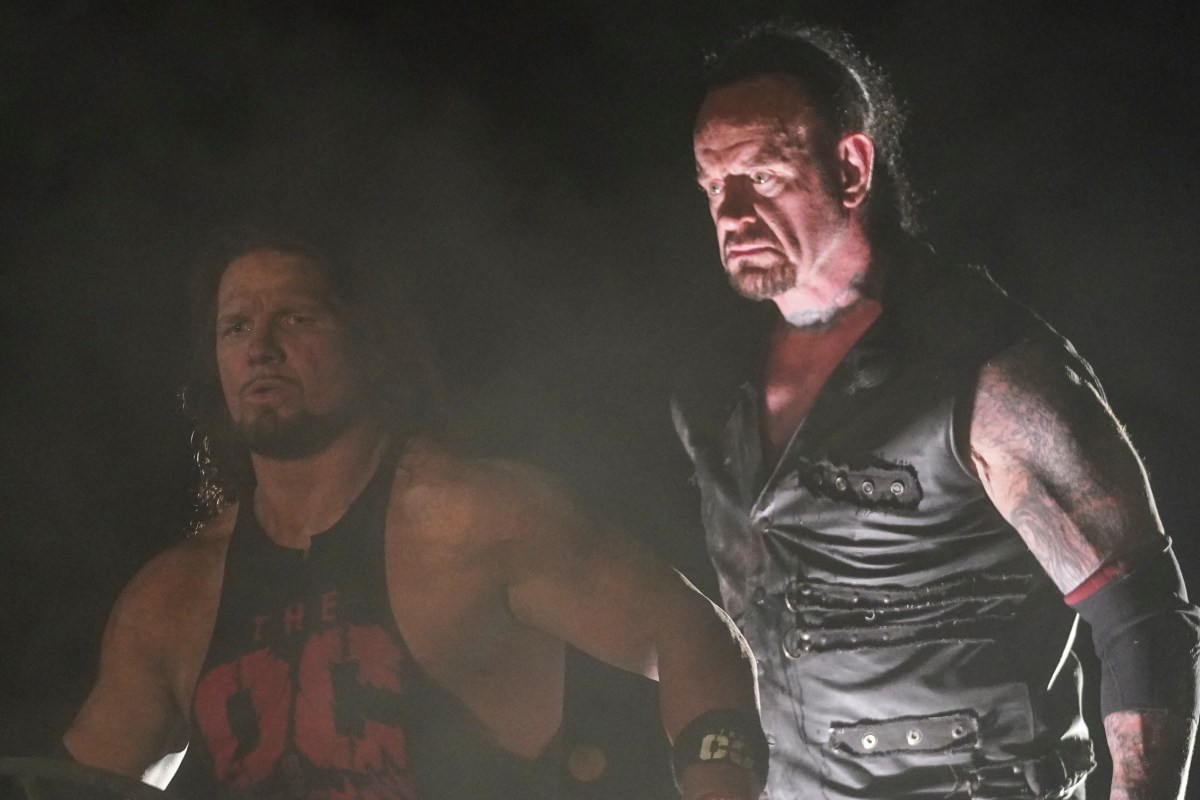 The highly scripted match ended with Undertaker burying Styles in a grave. Styles continues to be a solid star in the WWE. He recently signed a multi-year extension with the company. While some critics feel he would be a bigger success elsewhere, Styles has insisted he is happy in the company and is being paid a lot of money to do what he loves.
Wrestling helped Styles achieve other dreams that he never knew he had. AJ Styles is a big fan of the Christian hip-hop music genre. While working at TNA, he got to meet Stacey Jones and Teron Carter of the band GRITS. They performed a remix of his theme song "I Am" (renamed "Get Ready To Fly") that he used for several years. He remains friends with them to this day.
Styles would make an appearance in Sarah Darling's music video for "Something to Do with Your Hands". This led to Styles and Montell Jordan presenting the "Best Rap/Hip Hop Record of the Year" award to Lecrae at the 43rd annual GMA Dove Awards (an award focusing on family-friendly and faith-based entertainment). Styles is also friends with rapper DMX, who performed his current WWE theme.
AJ Styles is also a fan of video games. He put a lot of work into the 'TNA IMPACT!" wrestling video game. He was both a technical consultant as well as having done motion capture work alongside Senshi (Low-Ki) and Daniels. He would appear in every Impact video game to date, as well as every WWE video game since WWE 2K17.
He was the cover star for 2K19 and personally chose "Survival" by Eminem for its soundtrack. Several custom moves sets in 'WWE SmackDown vs Raw 2008 featuring ECW' were based on TNA talent at the time, including Styles. Styles attributes all of his success to his faith in God and family. As rough as things had become when he was a kid, it was his faith that helped him to maintain good relationships with his family.
His faith helped him battle depression when he felt his life or career were going nowhere. His faith also taught him to be a better husband and father to his own family. It contributes to how he conducts himself with them and in public. In one of his earliest matches, his opponent taunted him by parodying the famous "Austin 3:16" promo. AJ Styles immediately broke character and warned his opponent not to mock Jesus in front of him.
"I think that it's easy not to believe in something. There's not a higher power. That's easy to believe there's something higher, and I'm just another grain of sand. But that's not true. I believe that everybody's important. There's a place for everybody.
There's something for everybody here. We're all here for a reason. I just chalk up so many things to 'I wasn't supposed to do that, I wasn't supposed to do that'. I'm not in control of everything. I would like to think I am, but I'm not. And when you let go of that, that makes life a lot easier."
– AJ Styles on how faith works for him.
As has been emphasized multiple times already, friends and family have been very important to Styles. Underneath a tattoo of his "AJ." logo, he has the birth dates of all four of his children. His oldest son has the middle name Covell in tribute to Styles' close friend.
There will always be debates about who the greatest wrestler is. Many of the most commonly mentioned names all insist it is AJ Styles. His fans include Kurt Angle, Ric Flair, Steve Austin, Sting, and Shawn Michaels.
Faith has been an important part of Styles' life. His faith in God, family and himself have gotten him through life's worst moments and allowed him to create a life he never dreamed he would live.