Saturday, June 12th, promises to be a night of exciting action when Against All Odds returns to the IMPACT Plus App. Among the 5 championship matches, IMPACT World Champion Kenny Omega makes his first title defense. We also have a 5-way #1 Contender's match and Satoshi Kojima's IMPACT Plus exclusive debut. This is what you can expect at Against All Odds 2021 preview for this Saturday night.
___________________
Tenille Dashwood (w/Kaleb with a K) vs. Jordynne Grace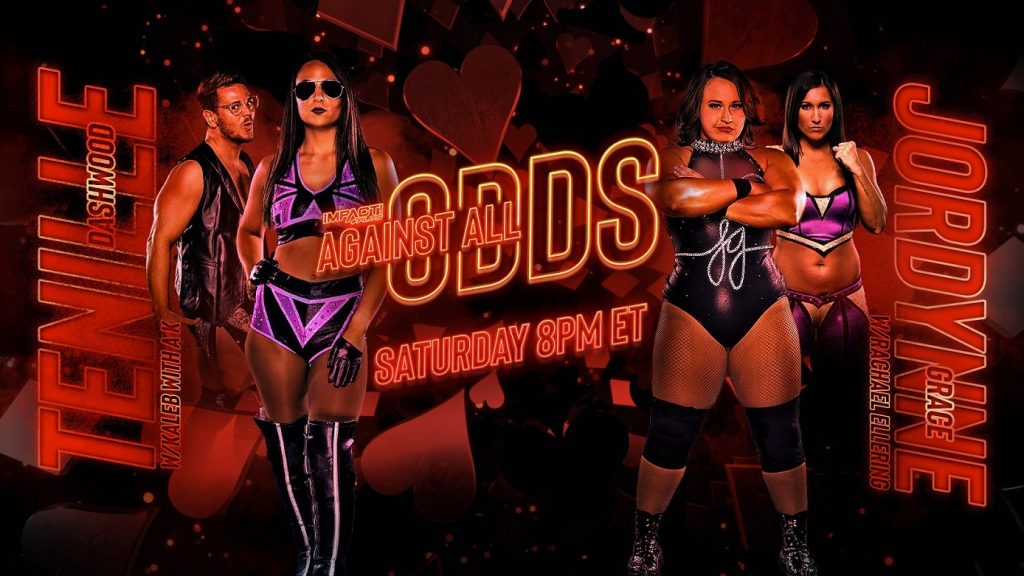 On Last week's IMPACT Wrestling, Tenille Dashwood had a conversation with Raechel Ellering backstage. Dashwood seemed to be getting a little close with Ellering, reminiscing about their work together in the 10-woman tag team match on May 25th. She also alluded to Raechel Ellering's work in the women's tag team division with Jordynne Grace. While Grace & Ellering managed to capture the Knockouts Tag Team Championship at Rebellion, they would lose them back to Fire 'n' Flava at Under Siege.
Dashwood noted the "vibe" between herself and Ellering and may very well have asked to form a team had Jordynne Grace not walked by. Grace exchanged few words with her bitter rival before taking Ellering to their championship match. Grace & Ellering came up short that night against Fire 'n' Flava, and Grace believes this to be because of Dashwood's influence. Saturday night Tenille Dashwood & Jordynne Grace renew their rivalry in singles action!
Satoshi Kojima vs Joe Doering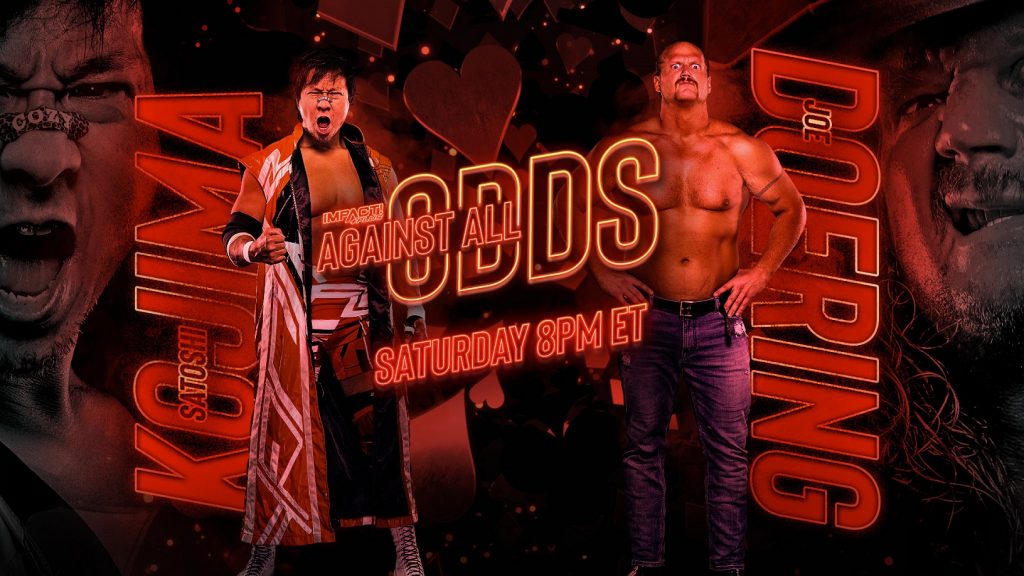 NJPW legend Satoshi Kojima made his much-hyped IMPACT Wrestling debut on May 27th. The former IWGP Heavyweight Champion made quite the first impression, interrupting a usual incoherent promo from Eric Young.  Kojima stepped into the ring to square off with Joe Doering and said 3 words before leaving: "Against All Odds." It seems Kojima and Doering still harbor some bad blood from their days in All Japan Pro Wrestling.
From 2007-2010, Joe Doering and Satoshi Kojima met in the ring a whopping 36 times. Their last match took place at AJPW's New Year Shining Series in 2010 when Kojima defeated Doering to retain the Triple Crown Championship. After 36 encounters, the two must have developed an intense ring chemistry. Expect an explosive opener when Satoshi Kojima and Joe Doering meet again after 11 years this Saturday night.
Petey Williams vs. Trey Miguel vs. Ace Austin vs. Chris Bey vs. Rohit Raju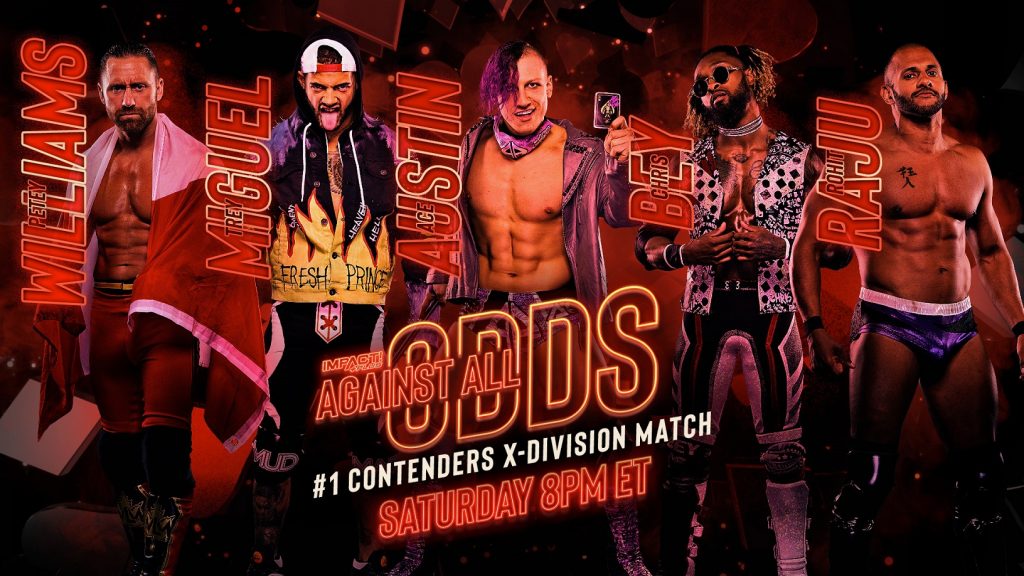 Josh Alexander has had his work cut out for him since Kenny Omega became IMPACT World Champion. With Kenny Omega spending most of his time in AEW, The Walking Weapon is de facto top champion in IMPACT Wrestling. He said as much on IMPACT Wrestling last week following his 60 minute Iron Man match with TJP. But Josh Alexander is a fighting champion, and he's willing to face anyone who steps up.
As soon as he uttered those words, Williams, Miguel, Austin, Bey, and Raju came out of the woodwork. All of them wanted a piece of the X-Division Champion. Executive VP Scott D'Amore needed to maintain order, and he proposed that they face off in a 5-way #1 Contender's match. The winner will face Josh Alexander for the X-Division Championship on next Thursday's IMPACT on AXS.
Rich Swann (w/Willie Mack) vs W. Morrissey
May 27th was like any other day for Rich Swann. The former IMPACT World Champion came to Skyway Studio, put on his gear, did a little warm-up, and made his way to the ring. However, as he made his way to the ring, a figure loomed in the shadows. With no mask, in broad daylight, in front of cameras, W. Morrissey hopped the barricade and assaulted Rich Swann.  Skyway Studios Security flooded into the ring to pull Morrissey off of Swann, but Morrissey let loose on them instead.
When it became clear that W Morrissey was too much for security to handle, Willie Mack hit the ring, armed with a steel chair. Mack managed to crack Morrissey across the back before security pulled him away. On this week's IMPACT on AXS, Morrissey absolutely annihilated Mack and would have gone for more had Rich Swann not intervened. Saturday night, Swann has a chance to avenge himself and his friend, facing W. Morrisey one-on-one.
Sami Callihan & Tommy Dreamer vs. The Good Brothers
– Street Fight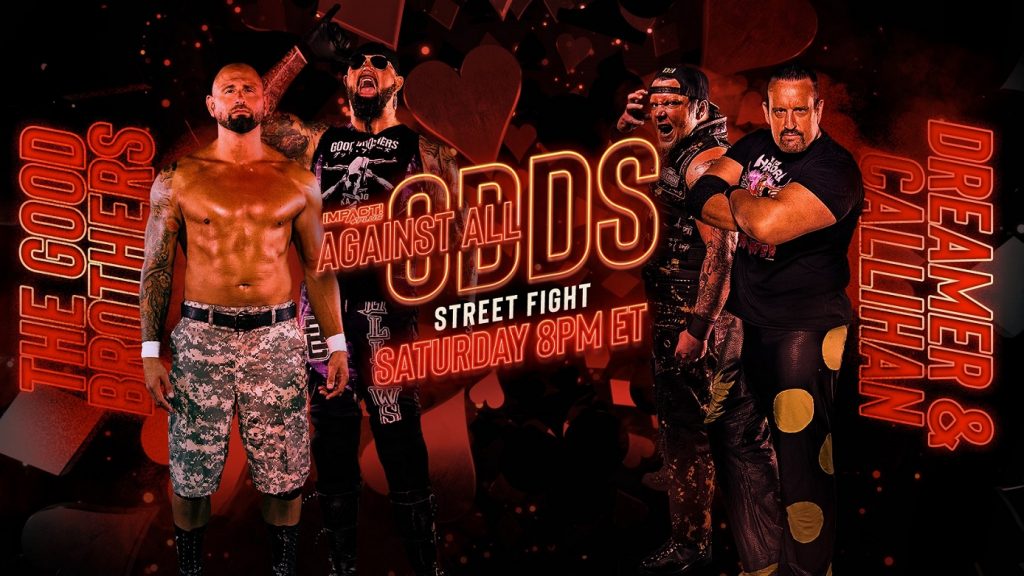 At Under Siege, Sami Callihan participated in the 6-way #1 Contender's match. He might have had the whole thing won had Doc Gallows and Karl Anderson not taken him out partway through the match. On May 27th, Callihan had the opportunity to get some payback with Moose against The Good Brothers. However, Moose left the match, leaving Sami Callihan to take the Magic Killer and the pin. The following week, Callihan faced Moose in singles action for the chance to get into the main event. During that match, The Good Brothers struck again.
However, this time, they cost Moose the match by DQ. By all means, Callihan should be in the main event. However, the contracts are signed, and it's too late to change the card. Scott D'Amore offered Callihan another option, however. If he could find a partner, he could take on The Good Brothers in a street fight. Backstage, Callihan crossed paths with Tommy Dreamer, who said that while the two would never be friends, he was willing to help. Who wins on Saturday night when The Draw teams up with The Innovator of Violence to take on The Good Brothers?
Against All Odds 2021 Preview
Violent By Design (c) vs. DECAY (w/Rosemary)
– IMPACT Tag Team Championships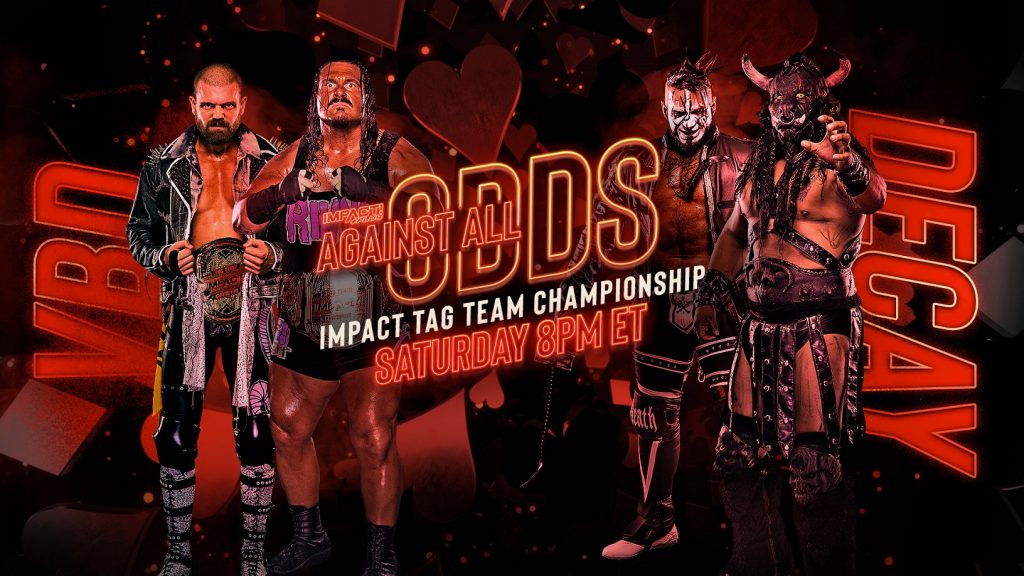 As IMPACT Wrestling fans know, Violent By Design are a pack of lunatics, lead by The World Class Maniac, Eric Young. However, Violent By Design is not the only bastion of insanity in the world of IMPACT Wrestling. Shortly after Violent By Design came into being in IMPACT Wrestling, Crazzy Steve and Rosemary reunited as DECAY. However, with Abyss nowhere to be seen, they had to find another big man. That man arrived on February 9th in the form of Black Taurus, and DECAY have found moderate success since then.
On a recent episode of IMPACT, Eric Young had a backstage encounter with Crazzy Steve, during which the two explored a bit of their history together. This led Crazzy Steve to lay down the challenge for the IMPACT Tag Team Titles, which Young accepted. It seems VBD are playing by Freebird Rules, as Deaner teams up with Rhino to face Crazzy Steve and Black Taurus this Saturday night in their very first title defense!
Against All Odds 2021 Preview
Rosemary vs. Deonna Purrazzo (c)
– Knockouts Championship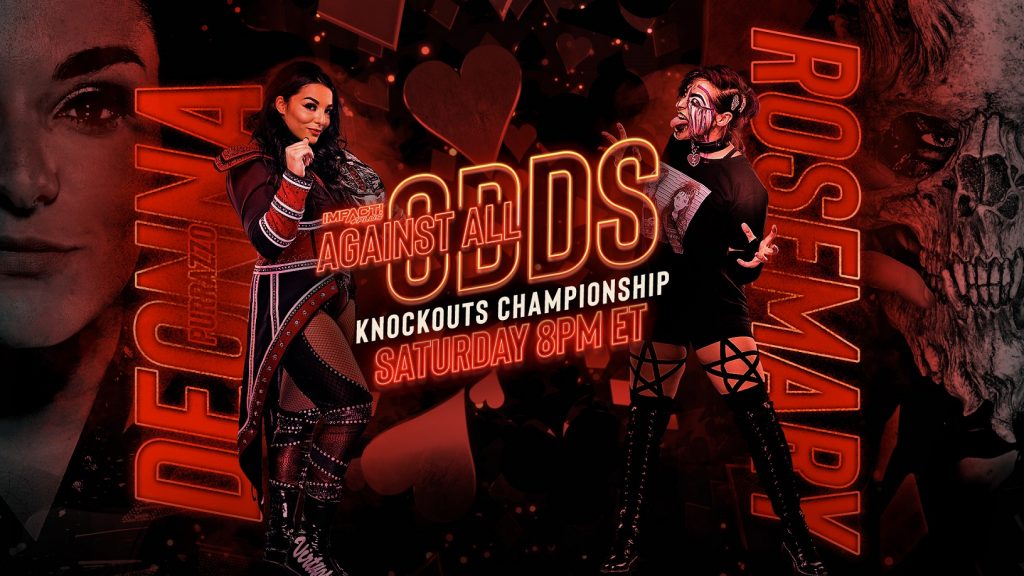 On the subject of DECAY, Rosemary pulled off an upset victory over Deonna Purrazzo on May 27th. That night, in the absolutely massive 10-woman tag team match, Rosemary lead her team to victory with a pinfall win over Purrazzo. However, she still had one person in her way. This week, Havok challenged Rosemary for the #1 contendership but fell short. As the two seemed to bury the hatchet, Purrazzo and her posse stormed the ring. They put an absolute beating on Havok and Rosemary in revenge for their loss on the 27th.
This will be the second time The Demon Assassin meets The Virtuosa for the Knockouts Championship. At Final Resolution, Rosemary became another victim of Purrazzo's Proteges, Susan and Kimber Lee. However, this time things will be different, as Susan and Kimber Lee will be busy with…
Against All Odds 2021 Preview
Kimber Lee & Susan vs. Fire 'n' Flava (c)
– Knockouts Tag Team Championship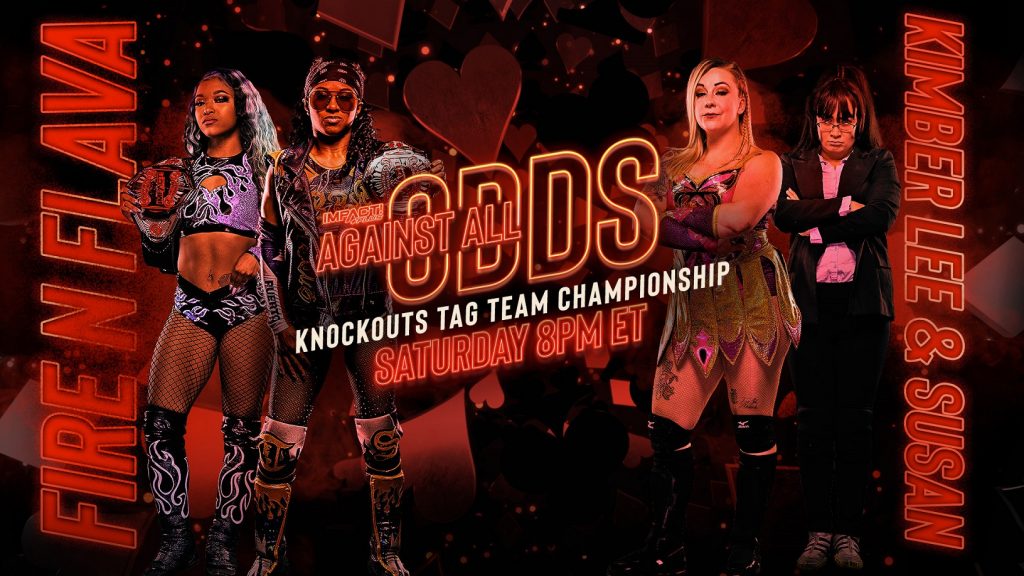 Since IMPACT Wrestling revived the Knockouts Tag Team Championships, the reigning champions have had little rest. Just last week, they put their rivalry with Jordynne Grace & Raechel Ellering to bed. Almost immediately after that, Kimber Lee & Susan stepped up to challenge Fire 'n' Flava for the Knockouts Tag Team Championship. Now, recently Kiera Hogan and Tasha Steelz have found themselves on the same side as Lee & Susan.
But it seems championship gold can cause friction between allies. Will this match go down as a matter of business, or will Kimber Lee & Susan employ some of their mentor's killer instinct to capture the Knockouts Tag Team Championships?
Against All Odds 2021 Preview
Moose vs. Kenny Omega (c)
IMPACT World Championship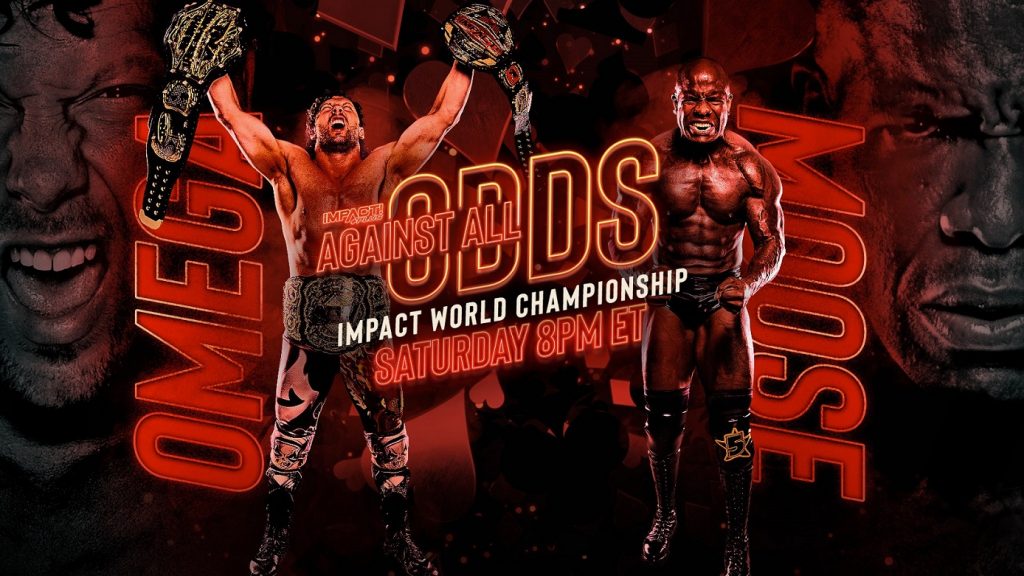 It's been a rocky road to Kenny Omega's first IMPACT World Title defense. He almost lost it the Tuesday after Rebellion, when Scott D'Amore gave him until the end of the show to appear. Since then, Omega has been busy in AEW, only dropping into IMPACT for special events and to see Doc Gallows and Karl Anderson. At Under Seige, when Kenny and The Good Brothers took on Eddie Edwards & FinJuice, Moose won a 6-way match for #1 Contendership. Moose has been chomping at the bit to get at Kenny Omega since he won the championship.
However, Sami Callihan kept getting in his way. Indeed, this match might have been a triple threat had Tony Khan not offered a more interesting option. On Saturday night, Kenny Omega will defend the IMPACT World Championship against Moose not in Skyway Studios, but at Daily's Place, with live fans in attendance. But will Moose hold up as well in enemy turf? Find out on Saturday night when Kenny Omega makes his first defense of the IMPACT World Championship.
*****
Be sure to stay tuned to the Pro Wrestling Post for this and additional stories from the wrestling world. Readers can rely on Pro Wrestling Post to be their daily source for all things inside the squared circle. As a result, readers can expect daily news, history, and so much more. Please visit IMPACT Wrestling's official website here for news and information on the promotion and upcoming events.