Afterglow: The 80s Musical Experience, a play based on the lives of some of the original Gorgeous Ladies of Wrestling (GLOW) women, is nominated for seven BroadwayWorld – Los Angeles Awards. The seven nominations are in the following categories:
____________________
– Best Ensemble
– Best Production of a Musical of the Decade
– Performer of the Decade – Sheena Metal of The Sheena Metal Experience & LA Talk Radio Hostess and Actress/Comedian Mary Kennedy of Shameless
– Choreographer of the Decade – Dan Magnus
– Costume Design of the Decade – Creator of the "Afterglow" and Original GLOW Girl, Roxy Astor
– Director of a Musical of the Decade – Chris Carver Afterglow: The 80s Musical Experience run was for only three days at the 11:11 theatre in West Hollywood, CA and was penned by first-time playwright Melissa Wassum. The Afterglow: The 80s Musical Experience was made for the Glow fans.
The Afterglow 80s musical was a labor of love! Not in my wildest dream did I think The Afterglow 80s Musical would have so many nominations, amongst all that talent," said Astor. Not only am I blown away by being nominated for Musical play of the decade but being in the same category as Hamilton!" she continued.
'Afterglow' Nominated for Seven BroadwayWorld Los Angeles Awards
The cast included Original GLOW Girls: Roxy Astor herself, Matilda the Hun, Sunny the California Girl, Dallas, the Yellow Rose of Texas, and Melody Trouble Vixen aka MTV. During the flashback scenes, Astor was portrayed by her daughter Kayla Meltzer, with Wassum as MTV, Charlene Ward as Matilda, Jasmine Fontes as Dallas, Ashley Leal as Tiffany Mellons, Taylor Ann Tracy as Sunny, Robert Samo as the voice of Matt Cimber, and many others such as Nic Hodges in multiple character roles and Justin Root taking on the role of GLOW founder David McLane.
"The Afterglow: 80s Musical Experience should become compared to The Little Engine That Could," said Magnus, a former Two-Time World Kickboxing Champion. "I think the interest in The Afterglow: 80s Musical Experience was the fact there were five Original GLOW Girls who were featured. It wasn't easy training five actresses to learn how to wrestle, let alone take a bump on a wood floor." Voting is happening right now on BroadwayWorld. You must confirm after submitting your votes via email in order for them to count. For more information contact: Roxy Astor at Roxyafterglow@gmail.com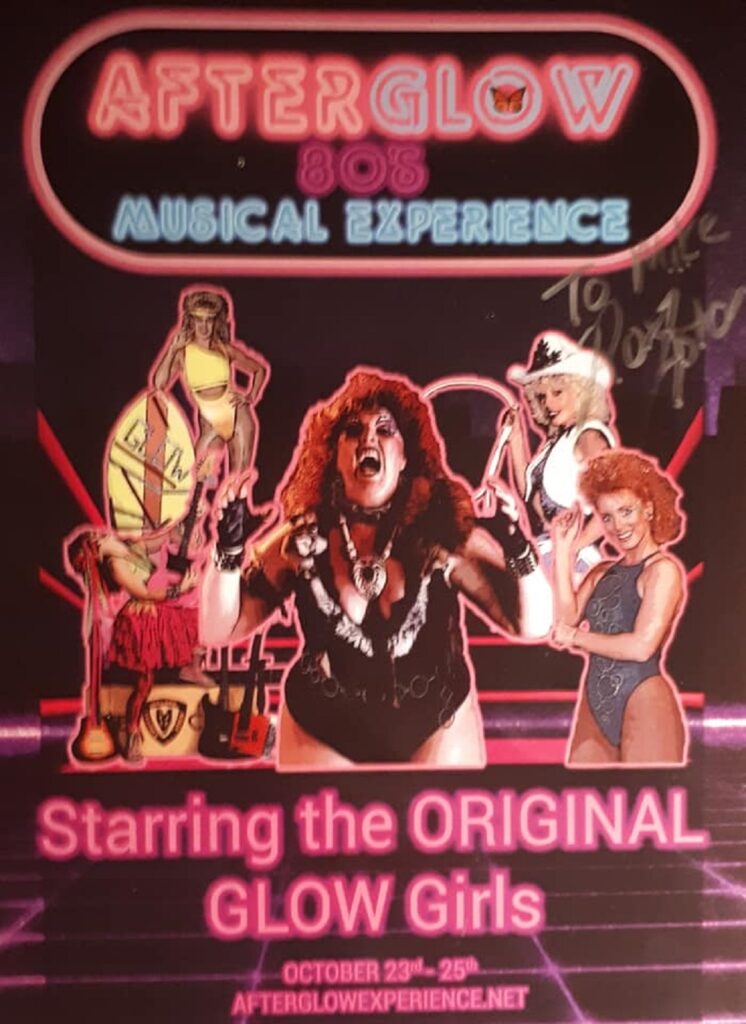 We here at Pro Wrestling Post would like to congratulate Roxy Astor, Dan Magnus, Chris Carver, and everyone involved with the amazing production of Afterglow: The 80s Musical Experience. Seek it out and show support to our wrestling family by casting your votes at BroadwayWorld.com or by contacting Roxy at the link provided. Please show the Afterglow cast some love, and vote for them in every category, especially Ensemble of the Decade!