On Thursday, Oct 20th, 2022, IMPACT Wrestling aired another episode of IMPACT as we review after the IMPACT for 10/20/22. On this night, we had 5 matches. In the Main Event, we got the IMPACT World Tag Team Titles on the line as the champs, The Kingdom, defends against Heath & Rhino. We also had a rematch from Bound For Glory 2020 as Eric Young faces off with Rich Swann.
We also got Joe Hendry in action against Jason Hotch & some knockouts action as Mia Yim goes 1-on-1 with Taylor Wilde. Also, we got tag team action as Bullet Club goes against the 2022 Call Your Shot Gauntlet Winner Bully Ray & Tommy Dreamer & finally, the X Division Champion Frankie Kazarian will vacant the X Division Title for a shot at Josh Alexander's IMPACT World Title.
Kicking off this week's IMPACT with highlights of last week's IMPACT.
Backstage we see Bullet Club's Chris Bey & Juice Robinson talking before Bey went to look for Ace Austin. It was revealed that Austin was attacked in the parking lot. Robinson & Bey checked on Austin before Tommy Dreamer joined them. Bully Ray was nowhere to be seen, which Robinson & Bey immediately question Dreamer ahead of their match.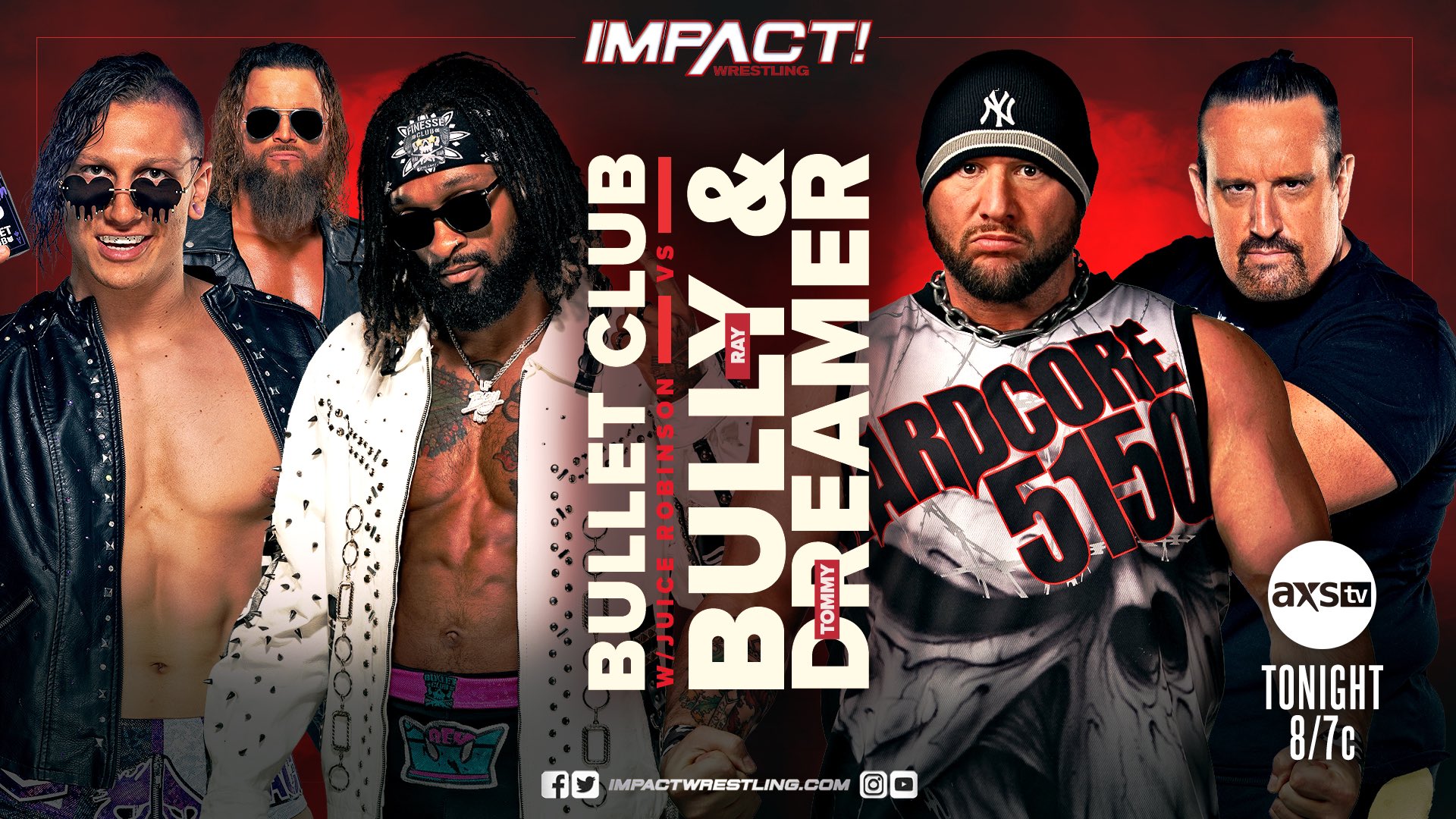 After The IMPACT for 10/20/22
Tag Team Match
Bullet Club vs. 2022 Call Your Shot Gauntlet Winner Bully Ray & Tommy Dreamer 
Chris Bey & Tommy Dreamer starts off the match with a lock-up before Dreamer & Bey exchanged wristlocks. Bey flipped over Dreamer's back before hitting a low dropkick and a double stomp on Dreamer. Dreamer evaded Bey's standing moonsault before Dreamer hit a pump handle cutter on Bey.
Juice Robinson & Bully Ray tagged in before Robinson laid in the stomps on Ray in the corner. Ray hit a running back elbow on Robinson before firing away the chops on Robinson's chest on the corner. Ray went to attack Bey in the corner before punching Robinson. Dreamer & Ray hit a double-shoulder tackle on Robinson. Bey hit a spinning heel kick on Dreamer to send him to the outside.
Robinson hit a body slam on Dreamer on the outside. Bey stomped down Dreamer back in the ring before Robinson tagged back in. Robinson hit 8 jabs on Dreamer before hitting a leaping senton on Dreamer, then goes for a hook of the leg, but Dreamer kicks out. Bey tagged back in and hit an uppercut on Dreamer's back.
Bey got a headlock on Dreamer before sending him to the corner with an Irish whip. Bey tries to hit Dreamer with an Art Of Finesse, but Dreamer reversed it with a cutter before tagging in Ray & Robinson.
Ray hit 3 right hands on Robinson; a back body drop on Bey & a side slam on Robinson that gets a 2 count. Dreamer clotheslined himself and Bey out of the ring. Robinson hit a spinebuster on Ray for a near fall. Robinson went for a top rope move, but Ray counters it with a Bully Bomb for the win.
Winners: 2022 Call Your Shot Gauntlet Winner Bully Ray & Tommy Dreamer 
After the match, Bully Ray got in Chris Bey's face to continue to defend himself, saying that he has no clue what happened to Ace Austin and that he's still trying to turn a new leaf. Bey guardedly accepted Bully's plea and backed down.
Heath & Rhino were backstage talking about their match for the IMPACT World Tag Team Titles match later tonight. Rhino promised IMPACT World Tag Team Champions The Kingdom that he would tear them apart with, in his words, A Gore, Gore, Gore.
A Hard 2 Kill video aired.
We go to the locker room, where we see Tommy Dreamer & Bully Ray talking. Dreamer told Bully to look him in the eyes and tell him that he didn't lay out Ace Austin. Bully told him just that but looked annoyed that Dreamer still doesn't trust him. Bully said there was no way he could have attacked Ace Austin because he was near Dreamer getting ready for his 1st match back in IMPACT in a long time.
Dreamer said he just had to ask. Moose showed up and called Bully Ray a scumbag. Tommy Dreamer called Moose a bastard, saying that Moose wasn't accepted in both the IMPACT & NFL locker rooms. Dreamer said maybe Moose attacked Ace to put blame on Bully. Moose said he's a scumbag like Bully, and if Moose did attack Ace, he'd deny it too like Bully.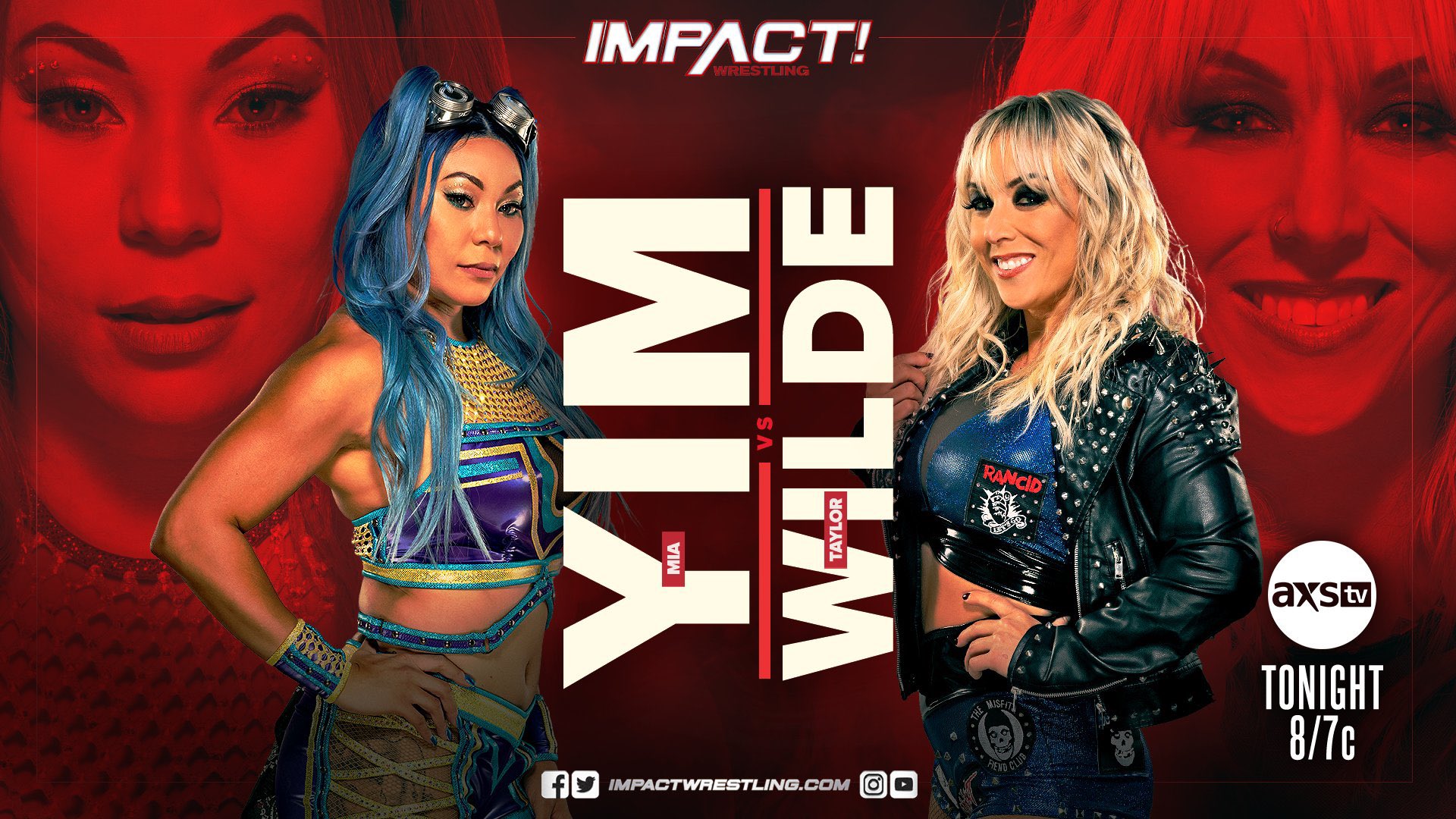 After The IMPACT for 10/20/22
Taylor Wilde vs. Mia Yim
Taylor Wilde & Mia Yim gets this match going by locking up before Yim leaned Wilde on the corner. Wilde & Yim locked up again before Wilde leaned Yim on the corner. They locked up for a 3rd time before Yim did a wrist lock takedown on Wilde. Wilde & Yim exchanged arm drags before Wilde hit a forearm strike on Yim for a near fall before the two hit stereo dropkicks on each other.
Wilde & Yim fist-bumped in the ring before Yim hit a wheelbarrow arm drag on Yim. Wilde hits a monkey flip & an arm drag submission on Yim. Yim maintained the hold before Yim ran the ropes and hit a forward chop block, and a running dropkick on Wilde goes for a hook of the leg but only gets a 2 count before the commercial break.
We are back from the break; Yim laid in the kicks on Wilde's back & chest before hitting a stalling suplex on Wilde for a near fall. Yim hit a forearm strike on Wilde before hitting a lariat on her for a near fall. Yim hit a body slam on Wilde for a 2 count, to which Yim responded by hitting a gutwrench toss on Wilde and goes for the cover, but Wilde kicks out.
Yim hit a series of punches on Wilde before locking in the bow & arrow, but Wilde countered the hold with a lateral press that only gets a 2. Wilde & Yim exchanged strikes before Wilde hit a lariat, a single-leg dropkick, a hurricanrana, and lock-in a rack attack on Yim, but Yim countered it with a roll-up for a near fall.
Yim & Wilde exchanged pins before Wilde hit the Tijeras on Yim. Yim hit a Helluva Kick & a corner cannonball on Wilde that only gets a 2. Yim went for Eat Defeat, but Wilde broke Yim's attempt. Yim hit a back elbow on Wilde, but Wild caught Yim before hitting the Wilde Ride to put Yim away.
Winner: Taylor Wilde
After the match, Mickie James makes her way down to the ring. James welcomed Wilde back to IMPACT. James talked about seeing Wilde enter TNA back in 2007 and how Wilde quickly climbed the ladder of success while Mickie was climbing the ladder in a different company. Mickie said they are in the same company now. Mickie said she wants to wrestle people she loves, admires, and respects in this last rodeo.
VXT & Giselle Shaw ran out to beat down James and Wilde before James could challenge Wilde. Knockouts Champion Jordynne Grace ran out and slaps Shaw twice before giving her a spinebuster. VXT & Shaw retreated to the back.
Honor No More were shown backstage looking confused. Tom Hannifan noted that they were confused due to Eddie Edwards being gone for two weeks. PCO looked the most confused.
Backstage Jordynne Grace, Taylor Wilde & Mickie James challenges VXT & Gisele Shaw to a 6-Woman Tag Team Match next week on IMPACT.
We get footage from last week as Jason Hotch was chatting with a random woman backstage, arguing about some guy stealing his spot in the Call Your Shot Gauntlet match. The woman asked to say his name. Say his name, and he appears, I believe in Joe Hendry clap clap. Hendry was summoned by the words being said. Hendry said people don't lose, they learn, and this week Hooch will have a learning opportunity against Joe Hendry.
Hendry got a mic for a promo. He said when you're Joe Hendry, live is different; you can command large rooms of people with just your words. He said he's a good talker, but a better listener. He said he is hearing from the people we believe. He said they believe in 252 pounds of pure motivation, the answer to all life's problems; they believe in Joe Hendry.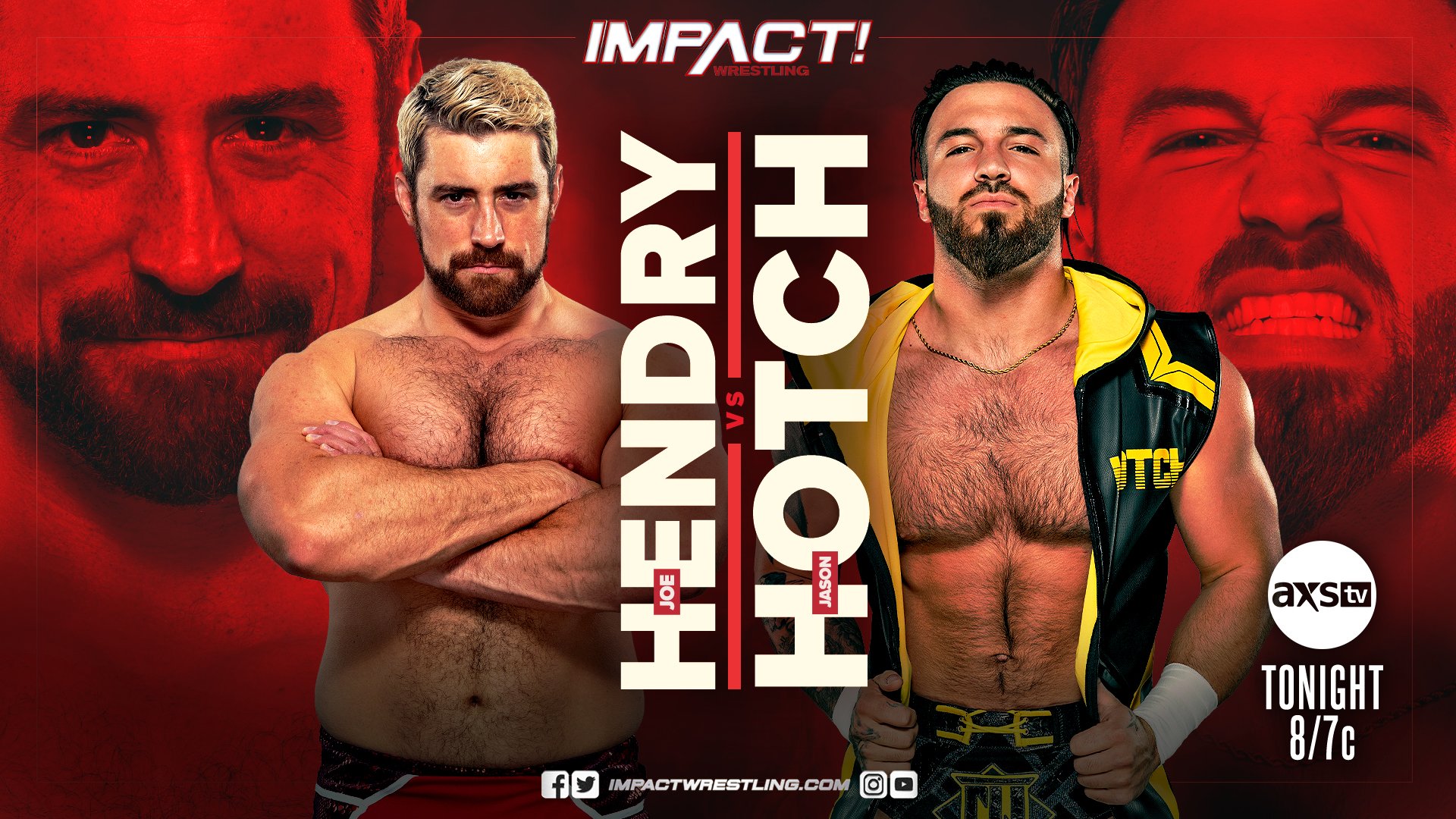 After The IMPACT for 10/20/22
Joe Hendry vs. Jason Hotch
Joe Hendry got Jason Hotch in a headlock before hitting a running lariat on Hotch. Hotch hit a leapfrog over Hendry, to which Hendry responded with a shoulder tackle. Hendry hit a stalling suplex on Hotch before tossing Hotch off his shoulder onto the mat from the fireman's carry.
Hotch connects with a snapmare kick on Hendry before yelling to the crowd that he did not believe in Joe Hendry. Hendry rose from the ground and hits Hotch with a One Hand Spinebuster to score the victory.
Winner: Joe Hendry
Tom Hannifan sent the show to the Impact Plus Flashback Moment of the Week. It was a segment from IMPACT Wrestling back in July 2013. Bully Ray was trying to convince Chris Sabin not to cash in Option C on his IMPACT World Title. Hulk Hogan was also in the ring. Chris Sabin cut a promo to say that he will become IMPACT World Champion. Sabin hands the X Division Title to Hogan.
The flashback then went to 2013 Destination X, where Chris Sabin challenged Bully Ray for the IMPACT World Title & the flashback cut ring into a ref bump. This led to a brawl between Main Event Mafia and Aces and 8's. Rampage Jackson was there too. Sabin won the IMPACT World Title after hitting Bully in the head with a hammer.
Frankie Kazarian was shown walking backstage with his X Division Title.
IMPACT Wrestling President Scott D'Amore makes his entrance. D'Amore talked about how the X Division is not about limits. It's about no limits. D'Amore recapped Kazarian ending Mike Bailey's historic reign as X Division Champion back at Bound For Glory.
D'Amore said Kazarian made history, too by becoming X Division Champion in 3 different decades. D'Amore said that Kazarian shocked the world by cashing in Option C, and tonight they are making that official. D'Amore introduced Frankie Kazarian to the ring.
Hannifan noted that Option C has a 50% success rate, so this is considered a gamble. D'Amore said that before they make this official, he has to warn Kazarian that there's no turning back because the belt will be vacated, and there will be a tournament to crown a new X Division Champion.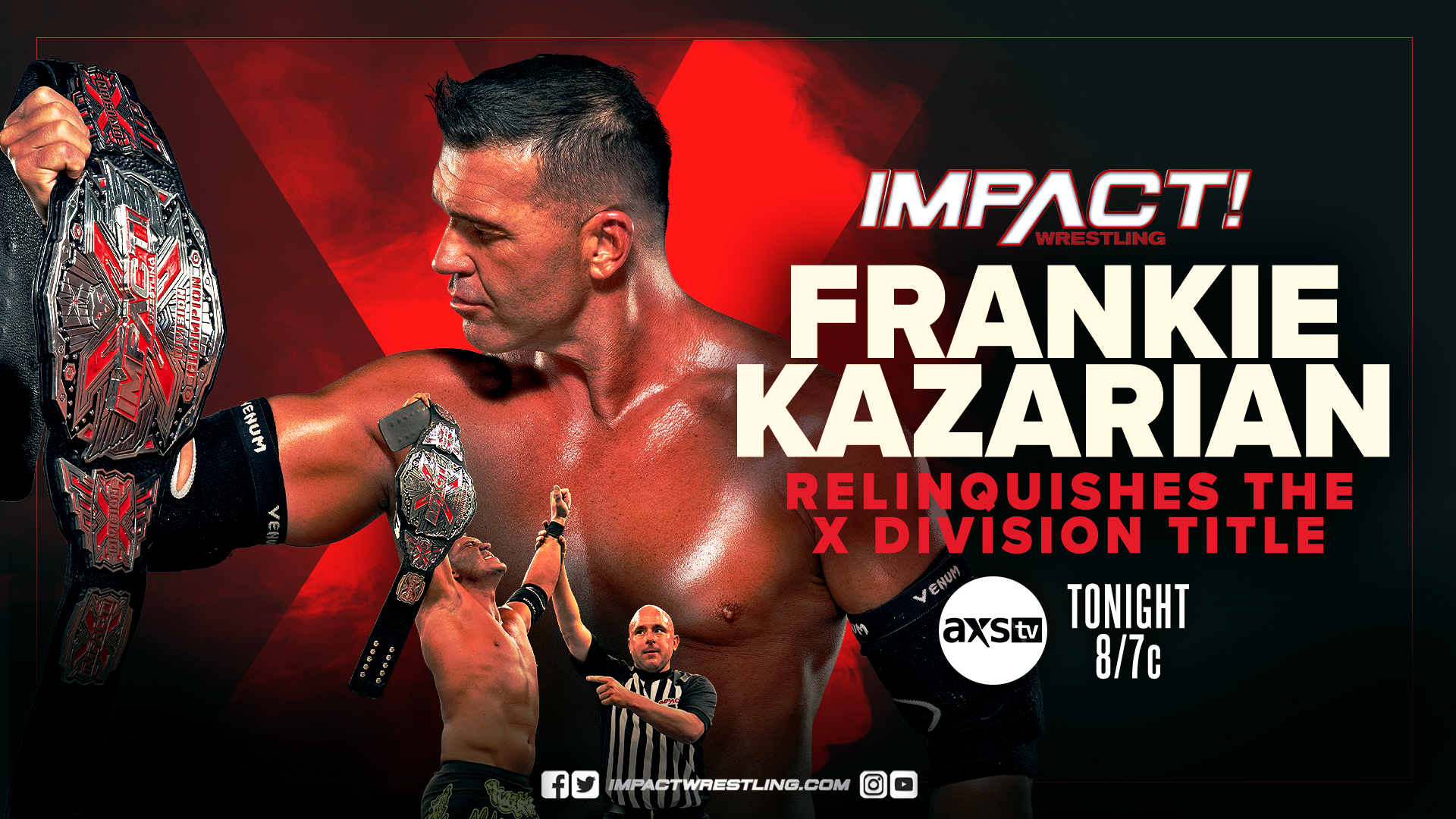 D'Amore said that Kazarian will challenge for the IMPACT World Title at Overdrive and that a new X Division Champion will be crowned that day too. D'Amore said Kazarian is like family to him, and he wants to know if Kazarian really wants to cash in.
Kazarian said he's never been more sure than anything in his life. Kazarian talked about winning his first X Division title in 2004. He said that's when he arrived as a player in pro wrestling. He said he then won against Mike Bailey, who he sees as one of the best today. Kaz said winning against Bailey made that win as special as the first.
Kaz said the moment he won; he couldn't stop thinking about Option C. He said he's loved wrestling, but wrestling hasn't always loved him back. He said what he does thank pro wrestling for is giving him his wife Traci Brooks and a son named Rebel, and therefore IMPACT gave him those.
Kazarian said everything he does in the ring is for his family. The crowd starts chanting Frankie & he says he loves them too. He said he's not happy, though, because he never won the big one. He said that eats at the pit of his stomach.
He said he sees contemporaries like AJ Styles, Samoa Joe & Kurt Angle having success, but Kaz said he thinks he's better than those three. He said he's always a bridesmaid, never the bride. Kaz said all of those blood, sweat, and tears will be for nothing if he doesn't become IMPACT World Champion, which is why he's cashing in Option C. Kazarian was attacked by Steve Maclin from behind.
Maclin hit Kazarian with the tree of woe spear. IMPACT World Champions Josh Alexander runs out to run off Maclin. Hannifan confirmed that Kazarian is no longer X Division Champion and is now the #1 Contender to Alexander's IMPACT World Title. Hannifan plugged the IMPACT World Title match at Overdrive on Nov 13th.
Alicia Edwards & Honor No More ran into Eddie Edwards in the parking lot. Eddie reminded Alisha that either Honor No More or their relationship ends after Bound For Glory. Eddie said everyone will find out in a bit what will end. Eddie walked past Honor No More into the arena.
Frankie Kazarian complains to Josh Alexander about helping him, saying that he could have taken care of Steve Maclin. Josh said he agrees that Kaz can take care of himself. Kaz said as a former IMPACT World Tag Team Champion. He could have easily have found some backup. Kazarian told Alexander that he does have one piece of advice, don't trust Bully Ray.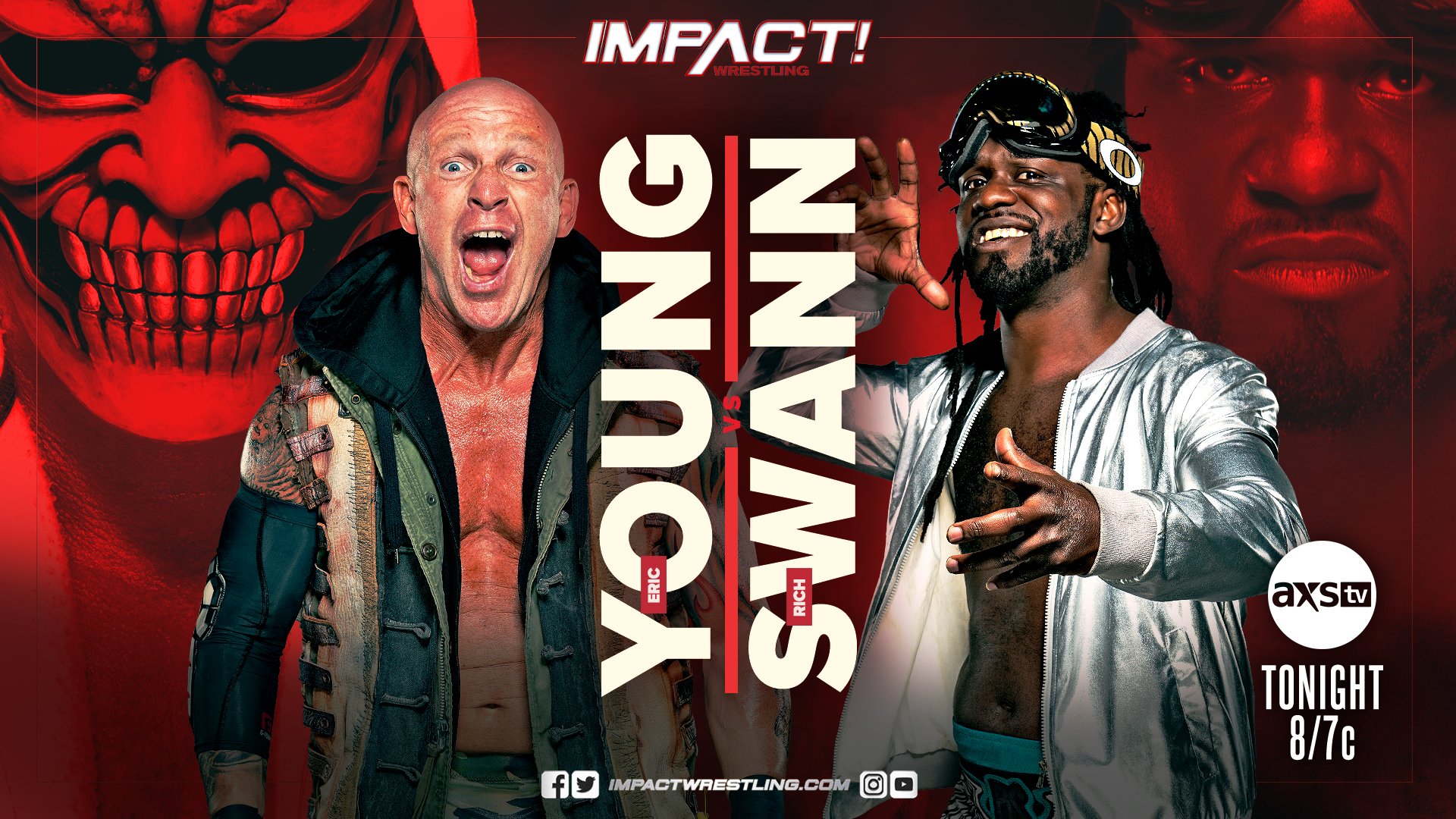 After The IMPACT for 10/20/22
Eric Young vs. Rich Swann
Eric Young attacks Rich Swann to start the match, but Swann responded with a rebound dropkick on Young. Young hit a wheelbarrow neckbreaker on Swann. Young placed Swann in the corner before hitting a chop and laying his boot on Swann.
Young hit a running elbow on Swann's head that only gets a 2. Young hit a snap mare on Swann before locking in a nerve hold before quickly transitioning into a chin lock. Swann punched Young in the abdomen to break the hold before hitting two slaps, a back fist, and a head kick on Young, then goes for a cover but only gets a 2.
Young gauged Swann in the eye, but Swann responded by hitting a cartwheel cutter on Young. Deaner distracts Swann & Young looks to end the match with the Piledriver but Swann counters into a roll-up for the win.
Winner: Rich Swann
After the match, Violent By Design attacked Rich Swann after the match before Sami Callihan came to make the save for Swann. Deaner & Young ran out of the ring to evade Callihan.
Backstage we see the Major Players cutting a promo & Matt Cardona says talked about how he came back from a life-threatening bicep injury. He also noted that he was the Digital Media Champion before leaving. He said he's proud of his friend Brian Myers being the 2nd longest reigning Digital Media Champion.
Cardona reiterated that he's the number 1 longest reigning. Cardona said it was time for the Major Players to collect. Myers said they are coming to collect the IMPACT World Tag Team Titles.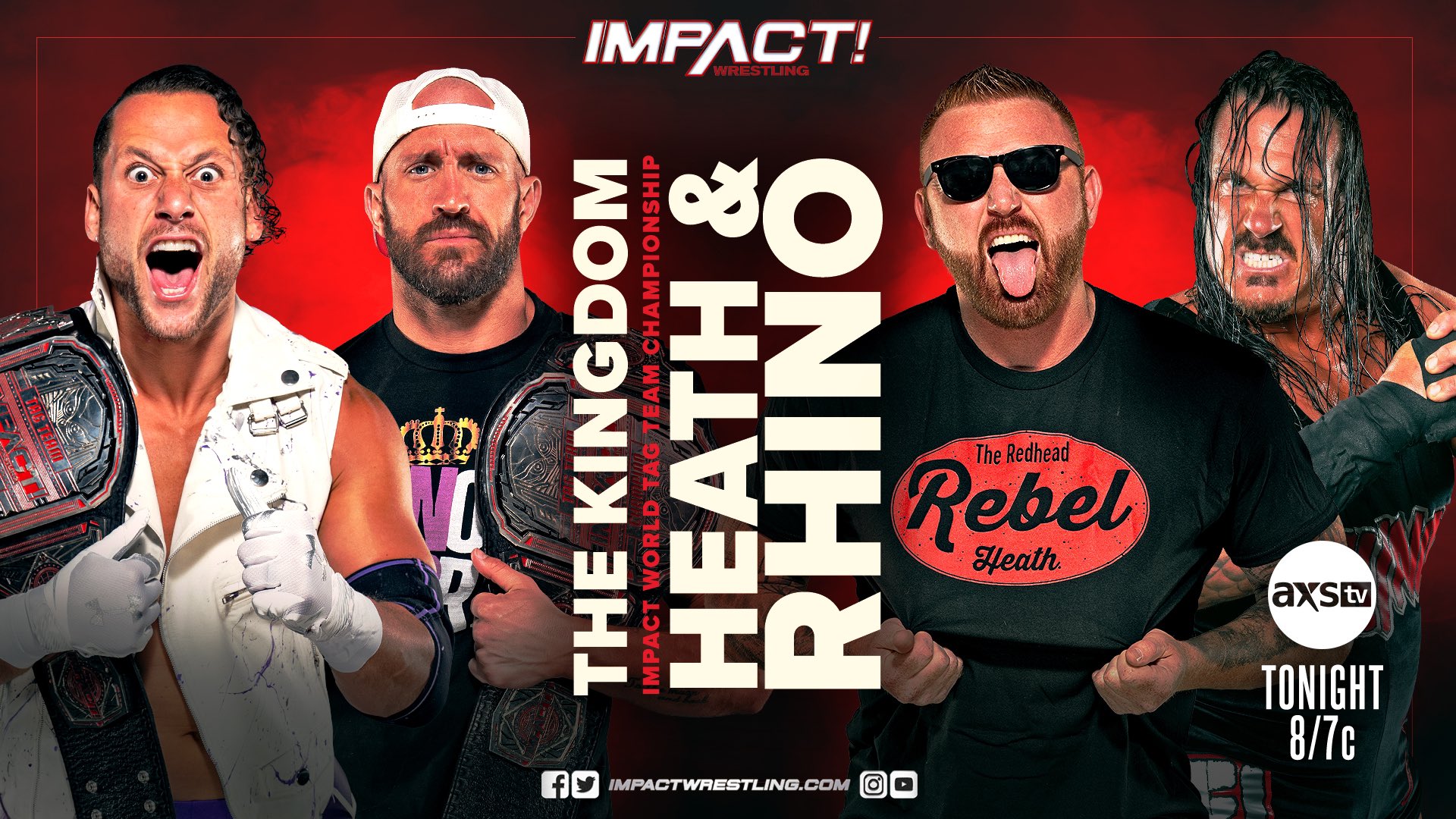 After The IMPACT for 10/20/22
IMPACT World Tag Team Titles Match
The Kingdom (c) vs. Heath & Rhino
The match begins with Rhino lying in the punches on Mike Bennett before hitting a shoulder tackle and clotheslining Bennett out of the ring. Rhino clotheslined Matt Taven out of the ring. Maria Kanellis tells The Kingdom to leave the match, but Heath & Rhino attacked them on the ramp & both teams brawled across the ringside area.
Back in the ring, Rhino slammed Bennett into the corner with an Irish whip before hitting a corner spear on Bennett. Heath tagged in and punched Bennett in the head before laying the punches on Bennett in the corner and a running forearm strike on Bennett in the corner. Rhino & Heath hit a double back elbow on Bennett. Taven hit a chop block on Rhino's knee.
Taven tagged in and started targeting Rhino's left leg before laying his boot on Rhino's neck in the corner. Bennett gauged Rhino's eyes before tagging back in. Bennett laid his knee on Rhino before Maria gauged Rhino's eyes. Taven tagged illegally before Taven hit a DDT on Rhino's ankle. Bennett tagged in before Bennett hit a low dropkick on Rhino's left knee.
Bennett slammed Rhino's head in the corner before hitting a superkick on Rhino's knee and a superkick on Heath on the apron. The Kingdom hit a double lariat on Rhino that gets a 2 count.
Bennett hit another dropkick on Rhino's knee before Taven hit an elbow drop on Rhino's neck, then goes for the hook of the leg, but it only gets a 2 count & which takes us to a break.
After the commercial break, Bennett hit a dropkick on Rhino for a near fall. Taven tagged back in and hits a Russian leg sweep on Rhino. Taven went for the Lionsault on Rhino, but Rhino evaded and tagged in Heath.
Heath hit two lariats & a leg lariat on Bennett, a backdrop on Taven & a power slam on Bennett that gets a 2 count. Bennett hit a forearm strike on Heath before Taven hit an enziguri on Heath, then goes for a cover, but Heath kicks out.
Bennett hit a vicious elbow strike on Heath that also gets a 2 count. Heath & Bennett hit each other with a stereo lariat here comes Vincent, PCO & Kenny King came to distract the referee.
Maria Kanellis went to blind Rhino with powder but accidentally hits the powder on Bennett then Heath connects with the Wake-Up Call to Bennett. Rhino hits a Gore on Kanellis before Heath hits the Wake-Up Call on Taven to score the win for his team.
Winners & New IMPACT World Tag Team Champions: Heath & Rhino (NEW CHAMPIONS!!!)
After the match, Eddie Edwards makes his down to the ring to meet up with the rest of Honor No More at ringside. Taven put his hands on his head, saying, oh no. Honor No More met up with Eddie in the ring as Maria was recovering at ringside. Eddie reiterated his wife Alisha's ultimatum about Honor No More or his marriage ending.
Eddie talked about how they broke down the doors as Honor No More, and he owes it to them to give his answer publically. Eddie said he's been asking himself if Honor No More is worth saving. He said all he sees in the ring is a failure. Eddie berated The Kingdom for just failing. He asked them if they were still loyal to Honor No More.
The Kingdom said they were loyal and family. He then berated King and asked him if he was loyal after failing to get the X Division Title. King said he's loyal. Eddie said that Vincent is the peacekeeper and wonders if Vincent is loyal to Honor No More or PCO? Vincent hung his head and didn't answer.
Eddie yelled at PCO for costing him the IMPACT World Title. Eddie said he was distracted dealing with PCO's bullshit. Eddie asked PCO if he was loyal. & Eddie said PCO's silence says a lot. Vincent put the black sack over PCO's face to pull him away. Eddie said PCO isn't a monster; PCO is a bi**h.
PCO ripped off the bag and gave Eddie a lariat. PCO dumped King to ringside. PCO beat up The Kingdom then Vincent tries to calm down PCO, but he choked him. The Kingdom gave PCO stereo superkicks, but he no sold it.
Vincent hit PCO in the back with a chair which he no sold. PCO punched the chair into Vincent. PCO hits The Kingdom with a cannonball off the apron. PCO chokeslams Vincent into the chair & PCO stands tall to close out this week's IMPACT.
X Division Title Tournament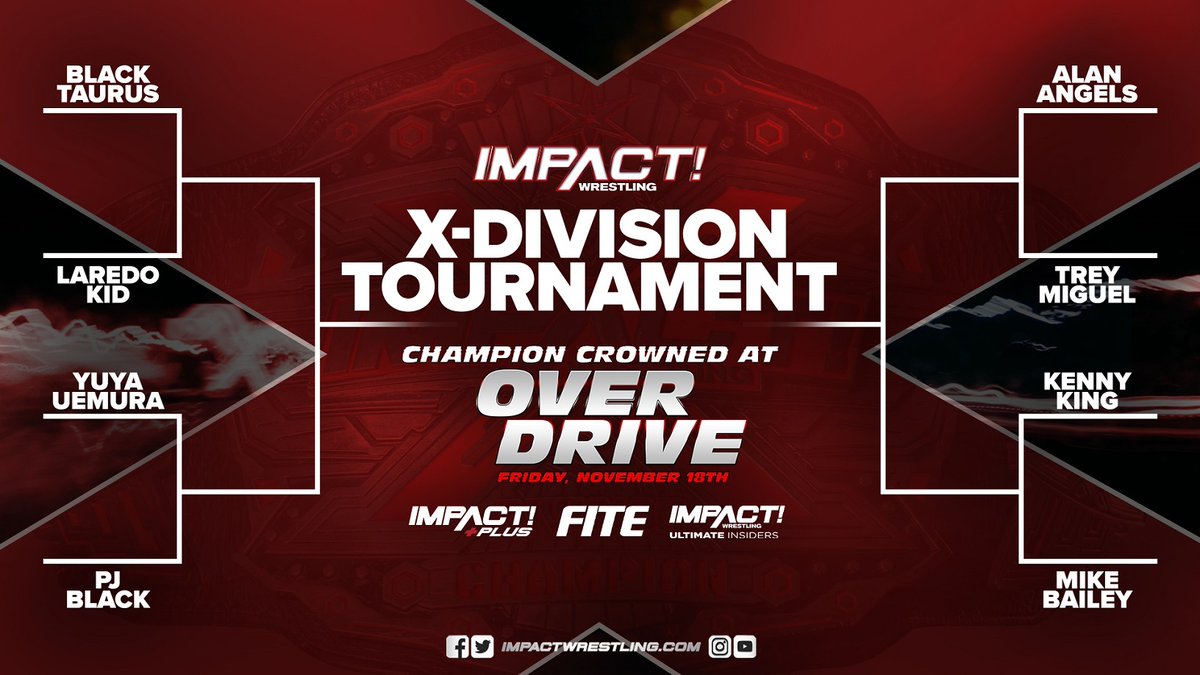 Quarter Finals (Oct 27th & TBD)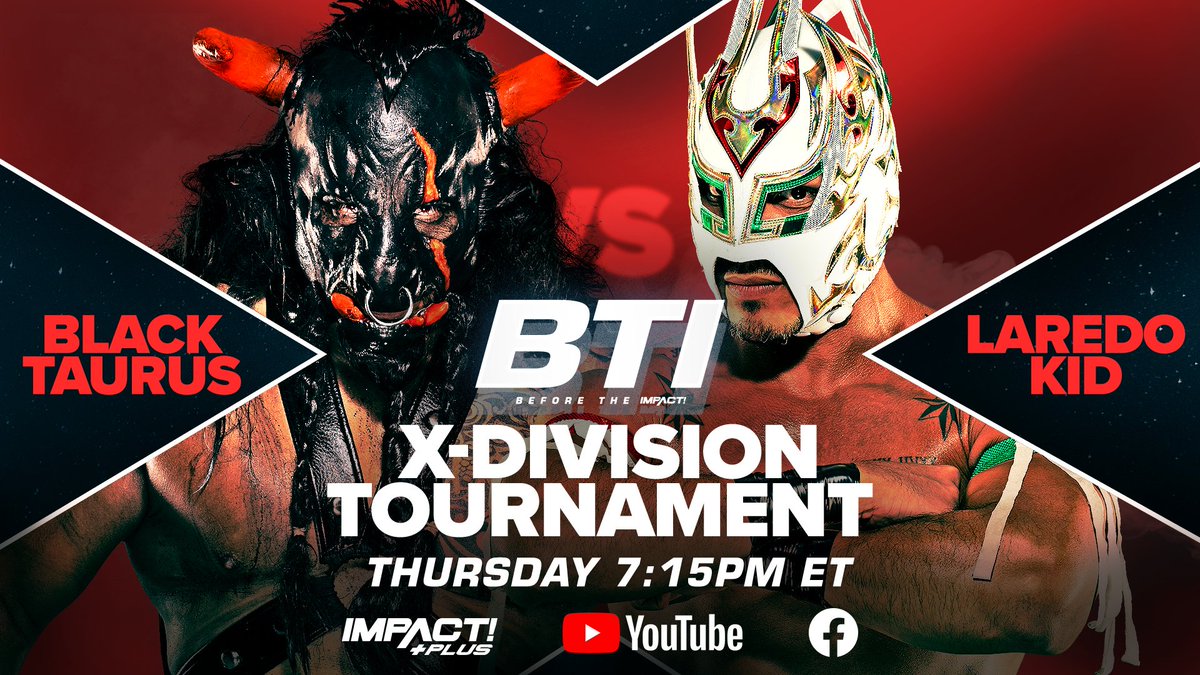 Black Taurus vs. Laredo Kid (Oct 27th Before The IMPACT)
Yuya Uemura vs. PJ Black (TBD)
Alan Angels vs. Trey Miguel (Oct 27th IMPACT)
Kenny King vs. Mike Bailey (TBD)
Semi-Finals (TBD)
Black Taurus or Laredo Kid vs. Yuya Uemura or PJ Black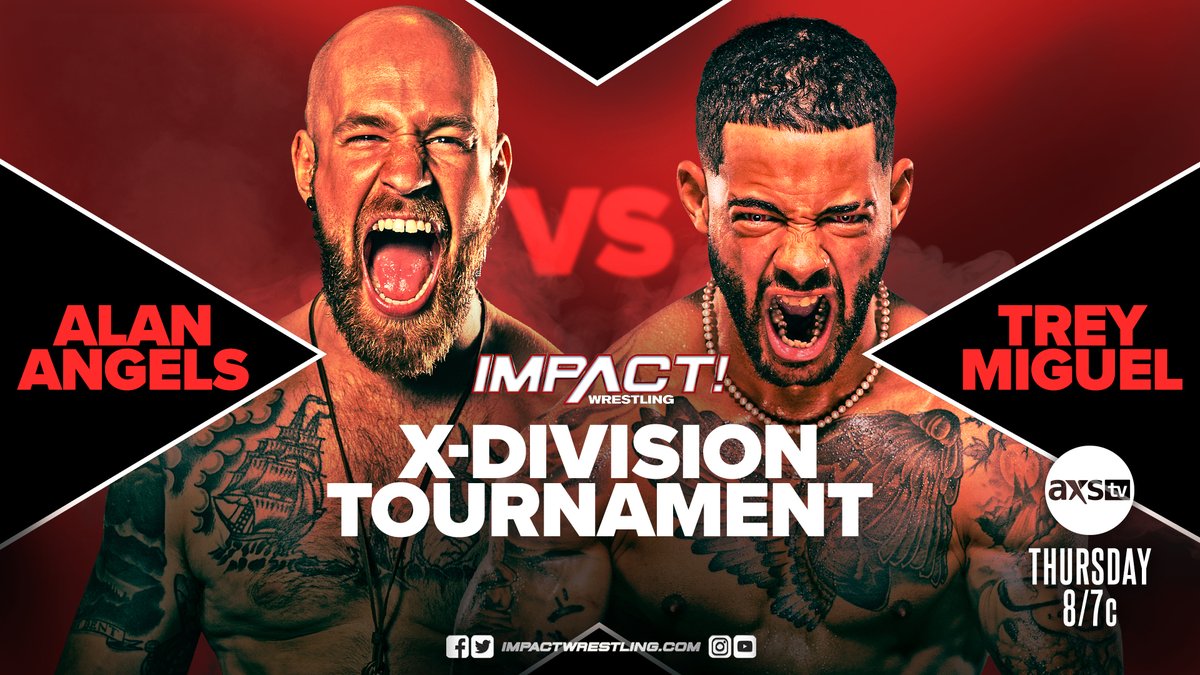 Alan Angels or Trey Miguel vs. Kenny King or Mike Bailey
Next Week's IMPACT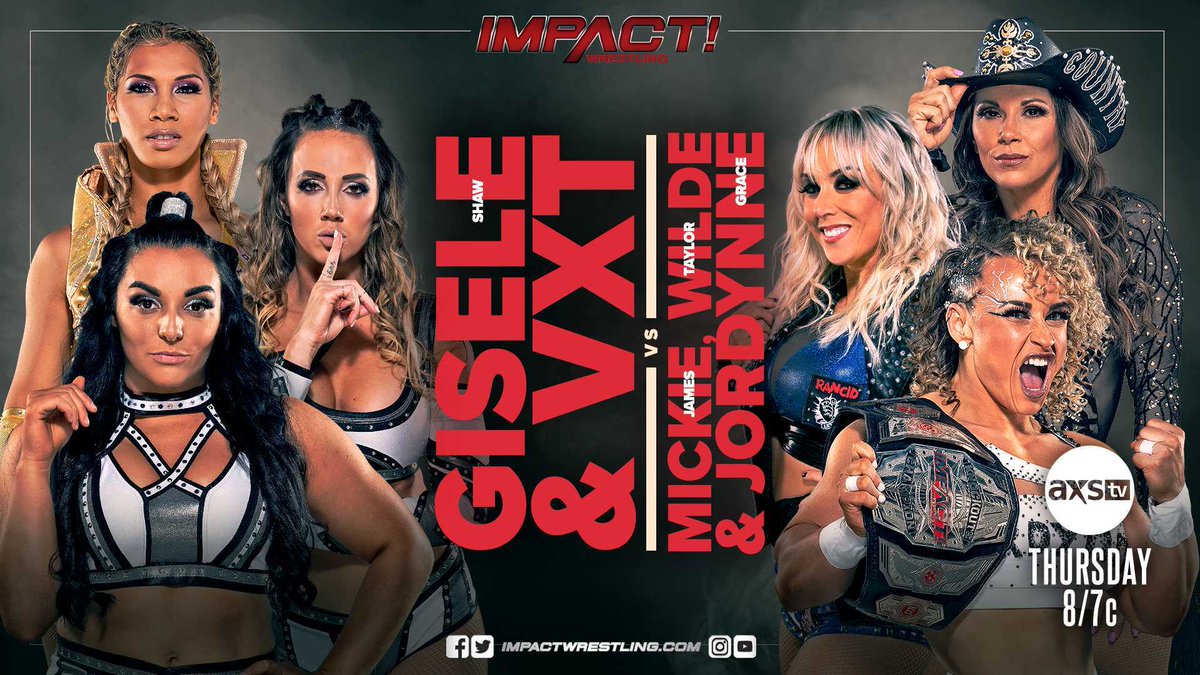 6 Woman Tag Team Match
VXT & Gisele Shaw vs. Knockouts Champion Jordynne Grace, Taylor Wilde & Mickie James
Quarter-Final Match Of The X Division Title Tournament
Alan Angels vs. Trey Miguel
Quarter-Final Match Of The X Division Title Tournament
Black Taurus vs. Laredo Kid (Before The IMPACT)
Overdrive Card So Far (Nov 13th)
IMPACT World Title Match
Josh Alexander (c) vs. Frankie Kazarian (Frankie Kazarian's Option C Cash In)
Finals Of The X Division Title Tournament 
TBD vs. TBD
Please share with us what you thought of this week's edition of IMPACT! Wrestling and what you anticipate happening next week in the comment section below.
********
Stay tuned to Pro Wrestling Post for this and additional stories from the wrestling world. Readers can rely on Pro Wrestling Post to be their daily source for all things inside the squared circle. As a result, readers can expect daily news, history, and much more. Please visit IMPACT! Wrestling's site here for news and information on the promotion and upcoming events pertaining to IMPACT are available on IMPACT+ and  FITE TV's official website.