On Thursday January 26th, 2023 IMPACT Wrestling aired another episode of IMPACT where we are still on the road to No Surrender as we review after the IMPACT for 01/26/23.
We had two title matches (X Division & Knockouts Tag Team Titles) & we also find out who will be the next challenger for Josh Alexander's IMPACT World Title at No Surrender as 1/2 of the IMPACT World Tag Team Champions Chris Sabin, Rhino, Eddie Edwards, Moose, Rich Swann & Sami Callihan meet in a Golden 6 Shooter Match.
We also got 2 tag team matches & Jonathan Gresham is in action.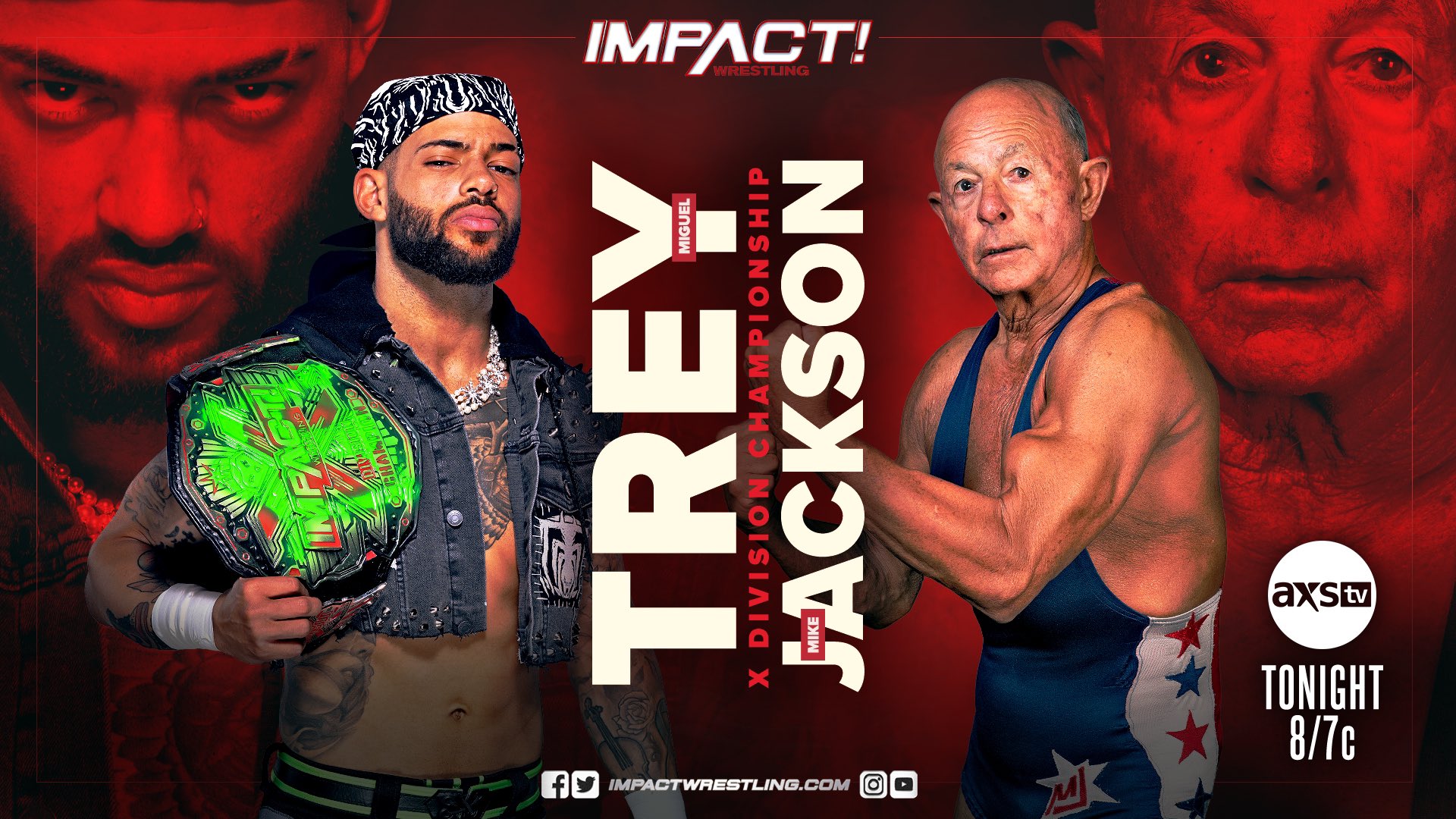 After The IMPACT for 01/26/23
X Division Title Match
Trey Miguel (c) vs. Mike Jackson
Mike Jackson hit a series of back elbows, two lariats, a neckbreaker & a series of jabs before Miguel hit an atomic drop on Jackson. They brawled on the outside before Trey Miguel slams himself onto the ring post.
Back in the ring Jackson hit an arm breaker before going for the Old School but Miguel caught him with a jab before hitting a series of kicks & a double stomp before he hits Lighting Spiral for the win.
Winner: AND STILL X Division Champion: Trey Miguel
After the match Miguel tried to retrieve his spray can from under the ring but he backed down when Crazzy Steve slid out of the apron. Steve took off his shirt to reveal that he had spraypainted the word Trey all over his body with white paint. Steve took a red paint can and sprayed Miguel's symbol on his chest. Miguel backtracked looking freaked out. Black Taurus appeared on the ramp to cut off Miguel. Miguel hopped the barricade to run away from Decay.
Backstage Gia Miller interviewed IMPACT World Champion Josh Alexander about how he would end up having to face a former IMPACT World Champion in his next IMPACT World Title defense. Alexander said the title picture is packed. He praised Rich Swann, Chris Sabin, and Rhino as former champs. He said no matter who wins he's going to remain the longest reigning IMPACT World Champion.
Steve Maclin approached Alexander and said he agrees that he's not a former world champion, but he's beaten every former world champ in the #1 Contenders match. He said he's been counting bodies to get to the IMPACT World Title and it's clear that the IMPACT World Title is the goal. Maclin wished the 6 contenders luck and told Alexander that Alexander better be looking over his shoulder because Scott D'Amore isn't around to protect him this time.
Backstage Chris Sabin was shown warming up with Alex Shelley.
Somewhere else backstage Rich Swann was warming up.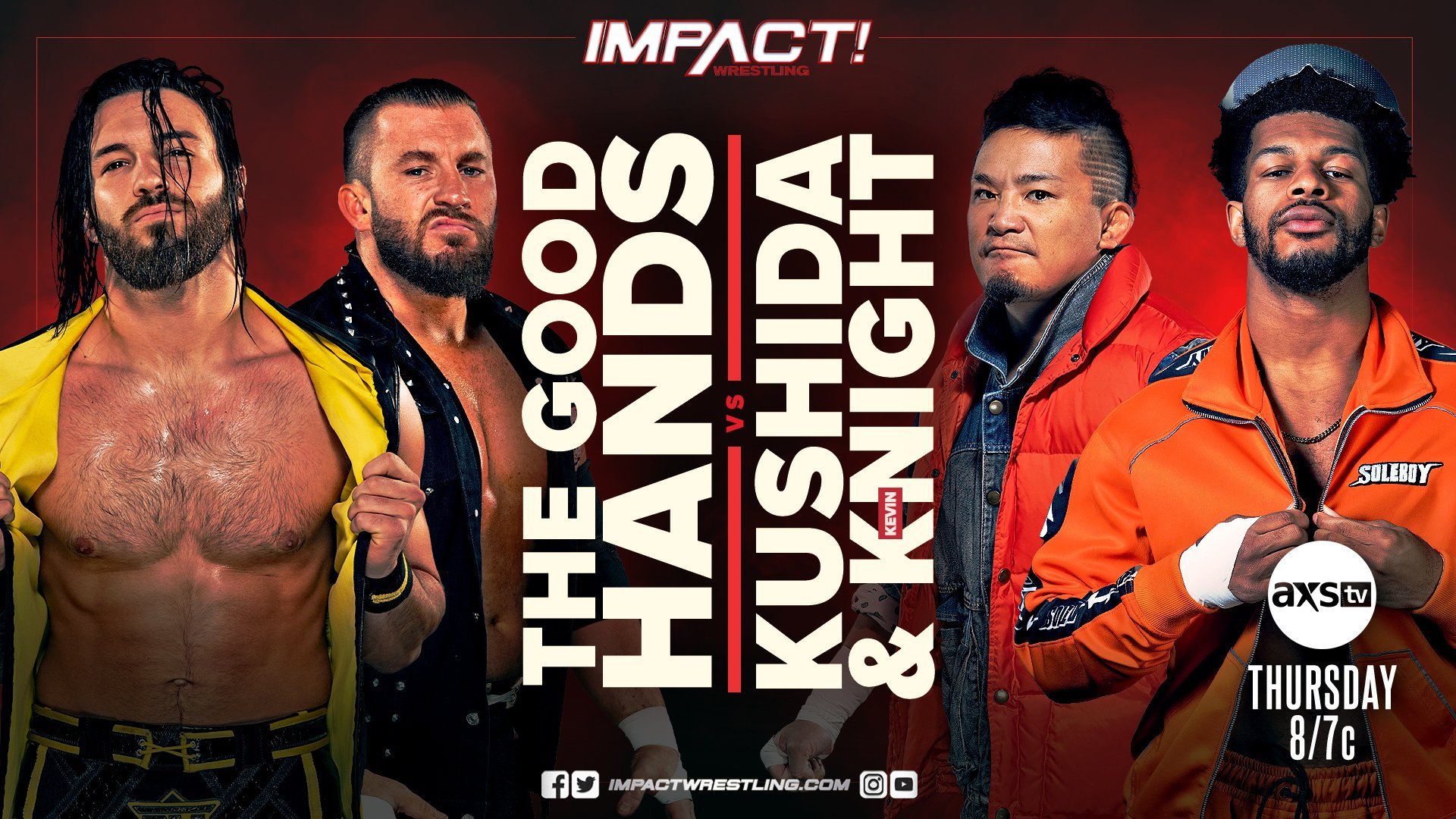 After The IMPACT for 01/26/23
Tag Team Match
The Good Hands vs. Kushida & Kevin Knight
The Good Hands worked on Kushida before The Good Hands hits a German Suplex into a jackknife cover for a near fall. Kushida hit a flipping back elbow before Kevin Knight tags in. Knight hit a series of corner splashes before Knight hit a body slam on John Skyler.
Knight hit a leaping dropkick on Jason Hotch before Kushida hit a snapmare into a cartwheel shotgun dropkick. Kushida & Knight hit an electric chair/leaping dropkick on Hotch before Knight hit a crossbody on Skyer to the outside. Kushida locks in Hoverboard Lock on Hotch for the submission win.
Winners: By Submission: Kushida & Kevin Knight
Gisele Shaw and Jai Vidal were in Santino Marella's office & Shaw demanded that Marella reveal her mystery tag team partner. Marella opened the door to reveal the person off camera. Jai Vidal started to mark out over the mystery person saying she's a legend and he's watched all of her matches. Shaw slaps Jai in the back of the head and drags him away. Santino told the unseen person that her match was next.
Knockouts Champion Mickie James approached Jordynne Grace and thanks her for carrying her to one of her best matches of her career. James then said she didn't like how Grace ran to her aid last week. James said it looked like Grace was treating her like a charity case. Grace said she didn't protect James, she was protecting her investment the Knockouts Title. Grace said she has a rematch clause.
Grace said the Knockouts Title will come back home very soon. James said she's looking forward to the rematch and when she beats Masha Slamovich, Grace is on. Grace said If you beat Slamovich. Grace walked away.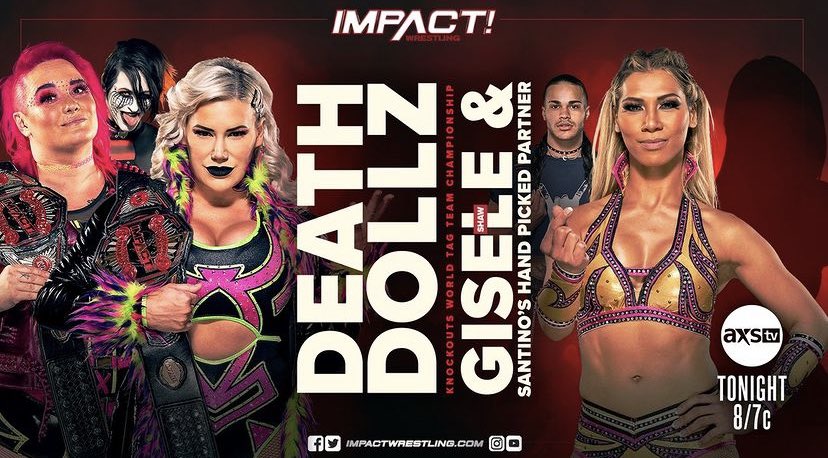 After The IMPACT for 01/26/23
Knockouts Tag Team Title Match
Death Dollz (c) vs. Gisele Shaw & Tara
Gisele Shaw refused to tag in Tara, but Death Doll double teamed Shaw before Shaw hit a thrust kick on Jessicka for a near fall. Shaw hits a corkscrew uppercut on Jessicka for a near fall. Shaw continued to ignored Tara but Jessicka responded with a forearm strike before Taya Valkyrie tags in.
Valkyrie hits a series of kicks before Jai Vidal tripped Valkyrie but Rosemary hit a spear on Vidal on the floor. Valkyrie hit the Spiral Tap on Shaw for a 2 count. Tara continued to demand to tag in but Shaw taunted Tara instead.
Tara came to the ring and argued with Shaw before Tara hits a gut kick before hitting a Widow's Peak on Shaw before walking out of the ring allowing Death Dollz hits an Assisted Sick Driver to score the victory.
Winners: AND STILL Knockouts Tag Team Champions: Death Dollz
Heath was shown hyping up Rhino backstage while Rhino was doing bicep curls
Taylor Wilde was shown tinkering with some occult-ish objects. Wilde thanked the spirits for guiding her on a dark feminine journey. Wilde told her future with some Tarot Cards. Her dousing necklace told her that she'll see Killer Kelly in her future. Wilde thanked the spirit again.
Santino Marella thanks Dave LaGreca for conducting a good interview with Tommy Dreamer. LaGreca said he's happy to be working with IMPACT Wrestling. LaGreca was approached by his Busted Open Radio co host Bully Ray. Bully told LaGreca to step against the wall and stop talking. Bully approached Marella and pointed out that he's a former IMPACT World Champion, yet not in the #1 Contenders match.
Bully asked why? Santino said it was simple, and that Bully lost his last match against Josh Alexander. Bully asked if Santino has something against him? Bully pointed out that he was screwed over by Jade Alexander & Tommy Dreamer who interfered. Bully said he's always put over Marella as a character and one of his favorite wrestling moments was the Milan Miracle when Marella pinned Umaga to become the Intercontienetal Champion in his debut match.
Bully said he'll remind Marella what happened to the last guy who tried to run things. Bully walked away saying, don't forget it. Bully walked away. Marella said Bully is intense and wondered how Dave keeps him under control. LaGreca said he can't, but their other co host Tommy Dreamer can.
The Design were shown backstage helping Sami Callihan warm up.
Backstage Gia Miller is with Tasha Steelz & Savannah Evans & saying that it looks like with their recent loses, that they might be having a little bit of tension as a tag team. Steelz said this isn't working. Gia asked this team?. Steelz said all of it and walks away alone.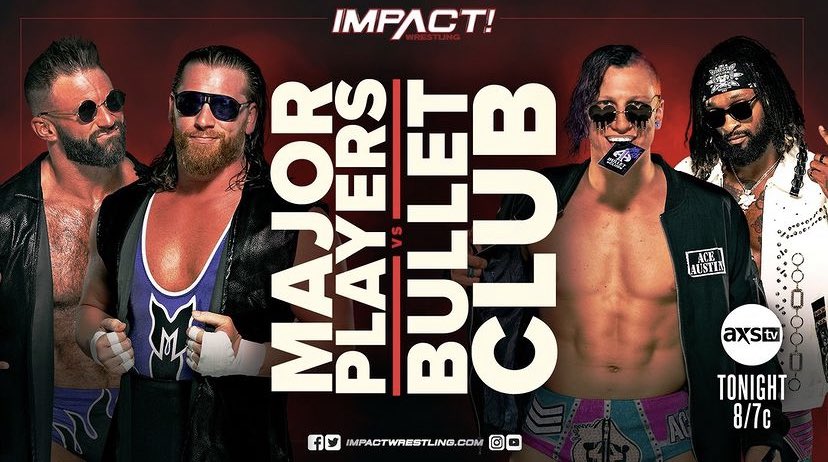 After The IMPACT for 01/26/23
Tag Team Match
Bullet Club vs. Major Players
Chris Bey & Matt Cardona starts the match. Bey no sold Cardona's shoulder tackle. Bey worked on Cardona with quick offense. Bey tagged in Ace Austin. Bullet Club works on Cardona with tandem strikes and holds. Brian Myers tagged in and ate tandem leg strikes from Bullet Club. Cardona managed to get the upper hand after running through Austin at ringside.
Major Players traded quick tags to cut the ring in half on Austin with methodical offense. Myers punted Bey's hand away for a cheap shot. This allowed Austin to surprise Myers with an enzuigiri. Bey & Cardona tagged in. Cardona ate Bey's quick strikes. Bey took out Myers on the apron with a flip into a thrust kick. Bey hit Cardona in the corner with an uppercut.
Bey hit Cardona with a crossbody for a two count. Myers tripped up Austin off the apron. Cardona took out Bey with a running Axe Handle. Cardona did the woo woo woo, and hit Bey with a Broski Boot. Myers hit Bey with an elbow drop for a near fall. Bey threw Myers into Cardona's crotch to stagger Myers on the top rope. Austin hit Myers with a Slingshot Frankensteiner.
Bullet Club took down Cardona with alternating strikes. Bey held Myers down first and rolled away to prevent Myers from interfering. Austin rolls up Cardona for the win.
Winners: Bullet Club
After the match Cardona had a shocked face after he kicked out after 3. Bey and Ace celebrated to the back. Digital Media Champion Joe Hendry made his entrance. He said he heard Cardona's challenge for the Digital Media Title and he accepts. Hendry praised Cardona for being the original Internet Champion. Hendry said it looks like Cardona is green with envy because the fans are talking about Hendry's Dancing Moose song instead of Cardona.
Hendry said he doesn't want Cardona to feel left out. Hendry said he's written Cardona a song too. One of Joe Hendry's signature parody music videos aired. The song was titled Edge's Bitch. It featured Joe Hendry wearing cutouts pictures of Cardona, Myers & Chelsea Green. The video featured Chelsea asking Cardona for sex, but Major Players decided to play with action figures instead. After the song ended, Hendry left while Major Players soaked in Edge's Bitch chants…[c]
Alisha Edwards was shown helping Eddie Edwards warm up.
Major Players were furious and approached Moose, who was doing wall pushups. Cardona said after what Hendry just did to them, they'll take care of Hendry for Moose. Moose liked what he heard
After The IMPACT for 01/26/23
Jonathan Gresham vs. Sheldon Jean
Jonathan Gresham came back with a drop toehold and side headlock. Sheldon Jean tried hard, but couldn't get Gresham to let go. Gresham tripped up Jean and put Jean in a Deathlock. Jean got to the ropes for the break.
Gresham tripped up Jean with a basement dropkick to the knee. Gresham ate a pump kick. While Jean was standing, Gresham pulled Jean's hamstring away from the joint for a hyperextension. Gresham hit Jean with a sliding right hand punch for the win.
Winner: Jonathan Gresham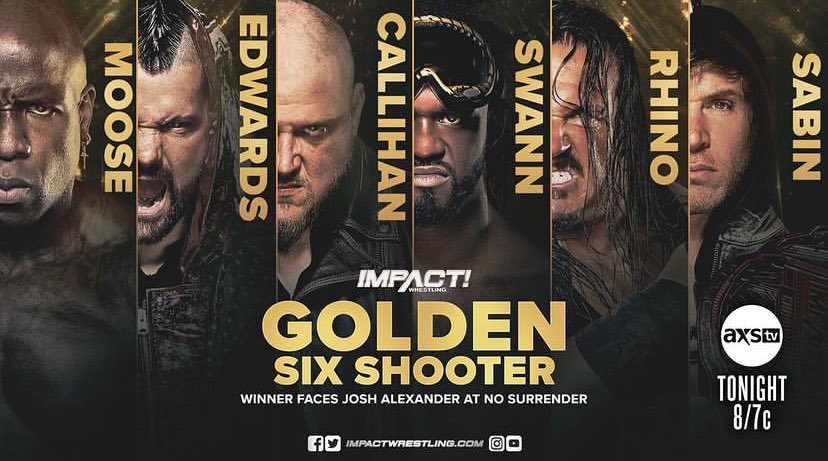 After The IMPACT for 01/26/23
IMPACT World Title #1 Contenders Golden 6 Shooter Match
Chris Sabin vs. Sami Callihan vs. Moose vs. Rich Swann vs. Eddie Edwards vs. Rhino
Match starts off with all 6 men brawling throughout the match. Moose hits a spear on Rhino but Sami Callihan hit a thrust kick on Moose then pins Rhino to get the 1st elimination. Moose places Chris Sabin & Rich Swann on the top rope before hitting a leaping dropkick on the two. Sabin hit a tornado DDT on Moose for a near fall before hitting a kick on Eddie Edwards while hitting a tornado DDT on Edwards.
Callihan for Swann & Edwards in a stunner variant before hitting a thrust kick on Swann. Swann hit a splash on Callihan for a near fall. Edwards greeted Swann on the top rope before Edwards hit a slam on Sabin. Edwards hit a powerbomb on Swann onto Sabin for a near fall. Edwards went for a Liger Bomb but Sabin got a backslide on Edwards hit a face slam on Sabin into a Liger Bomb on Sabin for a near fall.
PCO was on the ramp to aim at Edwards but was pulled away by security guards. Sabin hit a Helluva Kick on Edwards before hitting a tornado inside cradle to eliminate Edwards. Moose beat down Sabin in the ring before hitting a uranage on Sabin for a near fall. Moose went for an uppercut, but Sabin evaded and hit a leaping enziguri kick on Moose. Sabin went for a tornado DDT on Moose, but Moose tossed Sabin before hitting a spear to eliminate Sabin.
Callihan, Swann & Moose exchanged strikes before Swann hit a series of thrust kicks on them and a cutter on Callihan. Moose trips Swann and slammed Swann's knee onto the mat. Moose hit a dragon screw on Swann before laying the punches on Swann's left leg. Moose locked in the Calf Crusher before Swann got the rope break.
Swann shocked Moose and locked in a victory roll on Moose for the elimination leaving Callihan & Swann as the final embers of the match. The Design came to the apron to tell Callihan to take him out. Callihan initially hesitated but Callihan locked in the Brock Lock before Swann reversed it with a pin that gets a 2 count.
Swann laid in the strikes on Callihan's head before Callihan hit a powerbomb into an Ankle Hook on Swann. Swann hit a scorpion kick, a roundhouse kick, and a spinning heel kick on Callihan before hitting a 450 Splash on Callihan to get the win.
Winner: AND #1 Contender To The IMPACT World Title, Rich Swann
After the match Deaner got in Callihan's face and told him to attack Swann. Swann also got in Callihan to try to snap Callihan out of Deaner's control. Kon & Alan Angels knocked down and put the boots to Swann. Callihan tossed Swann to Callihan and ordered him to give him a Pile Driver. Callihan tried to do his thumbs up thing but Deaner stopped him.
Yuya Uemura ran out for the save, but was taken down due to the numbers. Kazarian and Josh Alexander ran out to even the odds. Deaner escaped a C4 Spike from Alexander & The Design retreated to the back. Rich Swann's theme plays to close out this week's IMPACT.
********
Stay tuned to Pro Wrestling Post for this and additional stories from the wrestling world. Readers can rely on Pro Wrestling Post to be their daily source for all things inside the squared circle. As a result, readers can expect daily news, history, and much more.
Please visit IMPACT! Wrestling's site here for news and information on the promotion and upcoming events pertaining to IMPACT are available on IMPACT+ and  FITE TV's official website. FITE+ currently boasts 1000+ hours of live action each year. $4.99 a month/$49.99 a year with 7-day Free Trial.