This week's installment of AEW Rampage for 12/25/21 is on Saturday and Christmas Day nonetheless. This installment is Holiday Bash and I am sure we will see plenty of bashing in the four matches on the card this week. We are going to see Hook in action for his second match taking on Bear Bronson of Bear Country. We will also see Jungle Boy of Jurassic Express take on Isiah Kassidy of Private Party.
In other action we will see some action from the Women's Division as "the Galaxy's Greatest Alien" Kris Statlander will take on "Legit" Leyla Hirsch. Lastly, we will see Sammy Guevara defend his TNT Championship against former champion Cody Rhodes. This is sure to be a great edition of Rampage, we've got a great card and some awesome talent on display. Let's get to these matches and take a little look at each one.
Make sure you tune in on Saturday night after your Christmas dinner to watch AEW Rampage on TNT at 9 pm.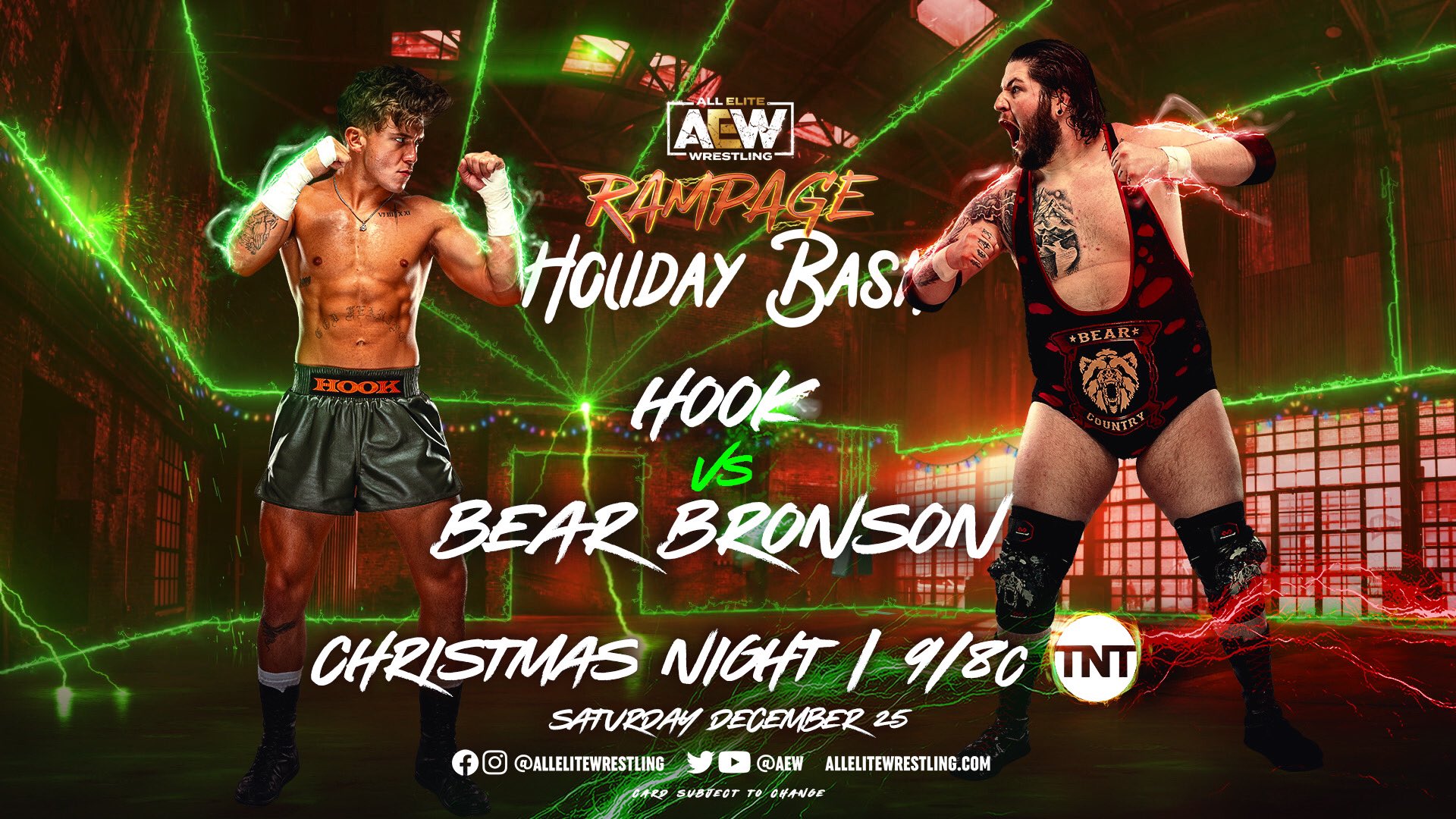 AEW Rampage for 12/25/21
HOOK vs. Bear Bronson
This week we will see HOOK in action in his second match. He sure made a splash in his debut match where he picked up a victory in his debut. His win was well received by fans and wrestlers alike and his father Taz was sure proud. No doubt that HOOK will be looking to have the same outcome this week against Bear Bronson. Bronson is not a newbie to the business; he has made quite a name for himself on the independent scene before landing in AEW.
He is usually seen competing in tag team action with his partner Bear Boulder but he has definitely shown that he can hold his own in singles action as well. HOOK has shown that he is quick and looks for the submission. Bear Bronson definitely has strength and size on his side, this match could definitely go either way without a doubt.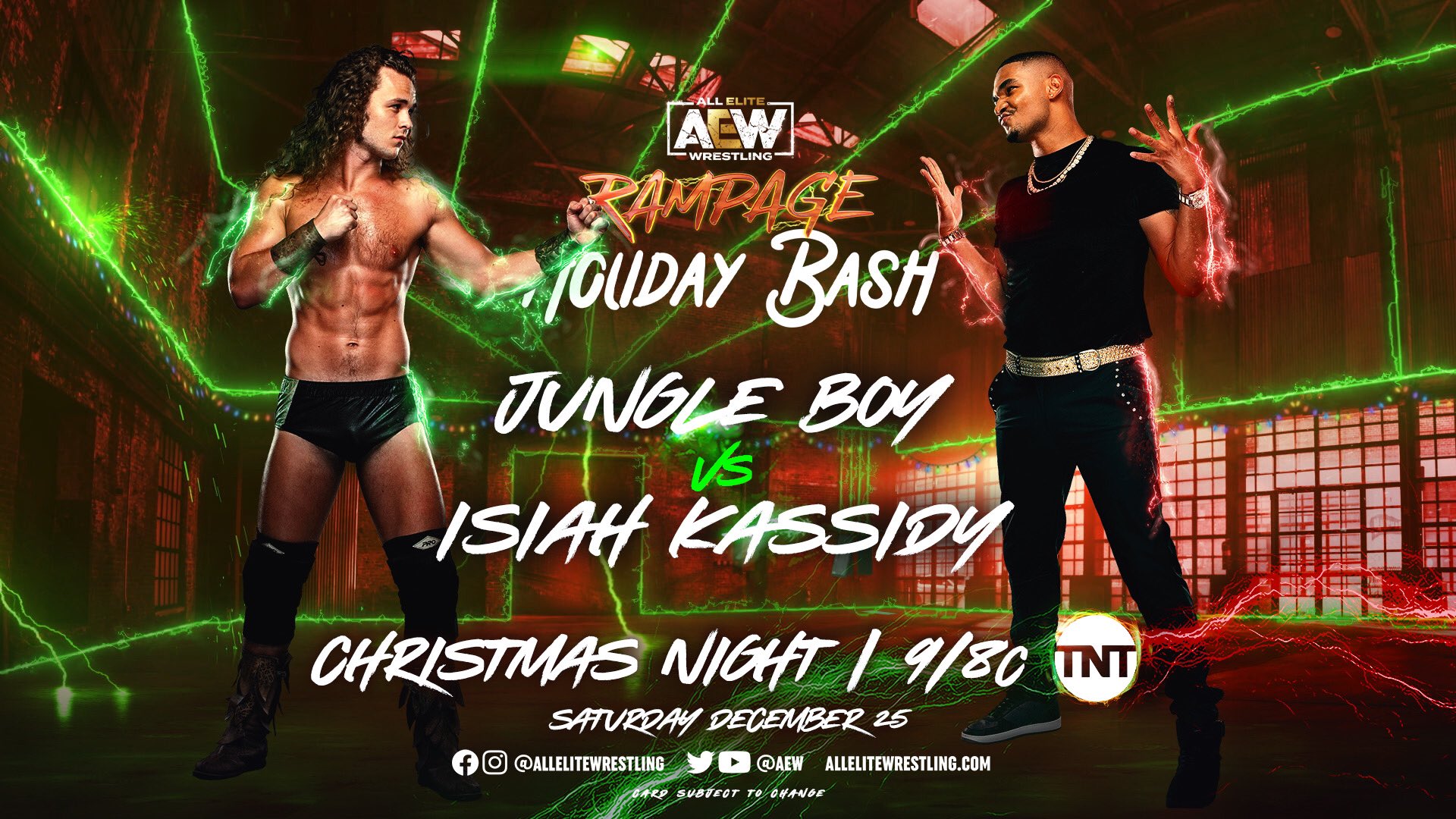 Jungle Boy vs. Isiah Kassidy 
Next up we have Jungle Boy from Jurassic Express taking on Isiah Kassidy of Private Party. Both of these guys excel in tag team action usually. Jungle Boy has had his fair share of singles matches as well and has a pretty solid singles record at 16-3. Isiah Kassidy does not often compete in singles matches and his record in singles action currently stands at 2-4. Jungle Boy has proven throughout 2021 that whether in singles or tag team action he is here to stay.
If that is any indication of the outcome of this match, things may not go too well for Kassidy. Kassidy is skilled in-ring though and could pull off a win over Jungle Boy. Will be interesting to see if Marq Quen will be ringside in Kassidy's corner as that could help make a difference as well. We don't often see Luchasaurus tamper with Jungle Boy's matches but if he is present ringside could at least keep it an even playing field.
Will Jungle Boy increase his singles win record or will Isiah Kassidy take the win, we shall see.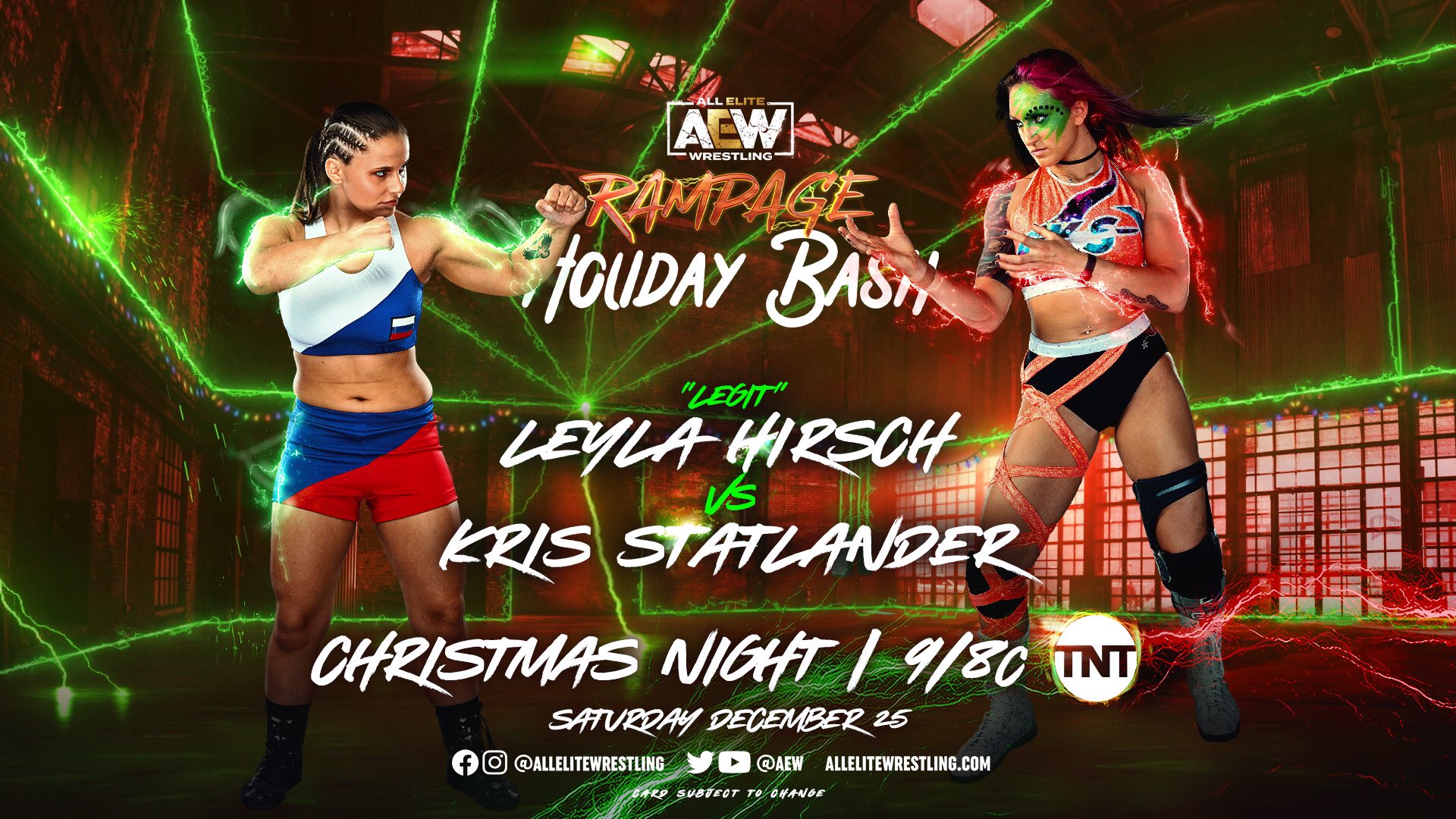 AEW Rampage for 12/25/21
"Legit" Leyla Hirsch vs. Kris Statlander 
From AEW Women's Division, we will see "Legit" Leyla Hirsch take on "The Galaxy's Greatest Alien" Kris Statlander. These women can both hold their own in the ring and have both created names for themselves on the independent circuit before ending up in AEW. We have seen Statlander wrestle in the TBS Women's Championship tournament and fight for the AEW Women's Championship before. Both have been featured on Dark and Dark Elevation so this will give them more of an opportunity to show what they have got on Rampage.
From a track record standpoint, they are closely matched for singles action Statlander is 19-3 and Hirsch is 18-5. Both have impressive skill sets. We have seen Statlander take on some of the top contenders in AEW and have some success. Will that translate into this match and allow her to come out the victor?  Hirsch is also a powerhouse and could surely take the win over Statlander.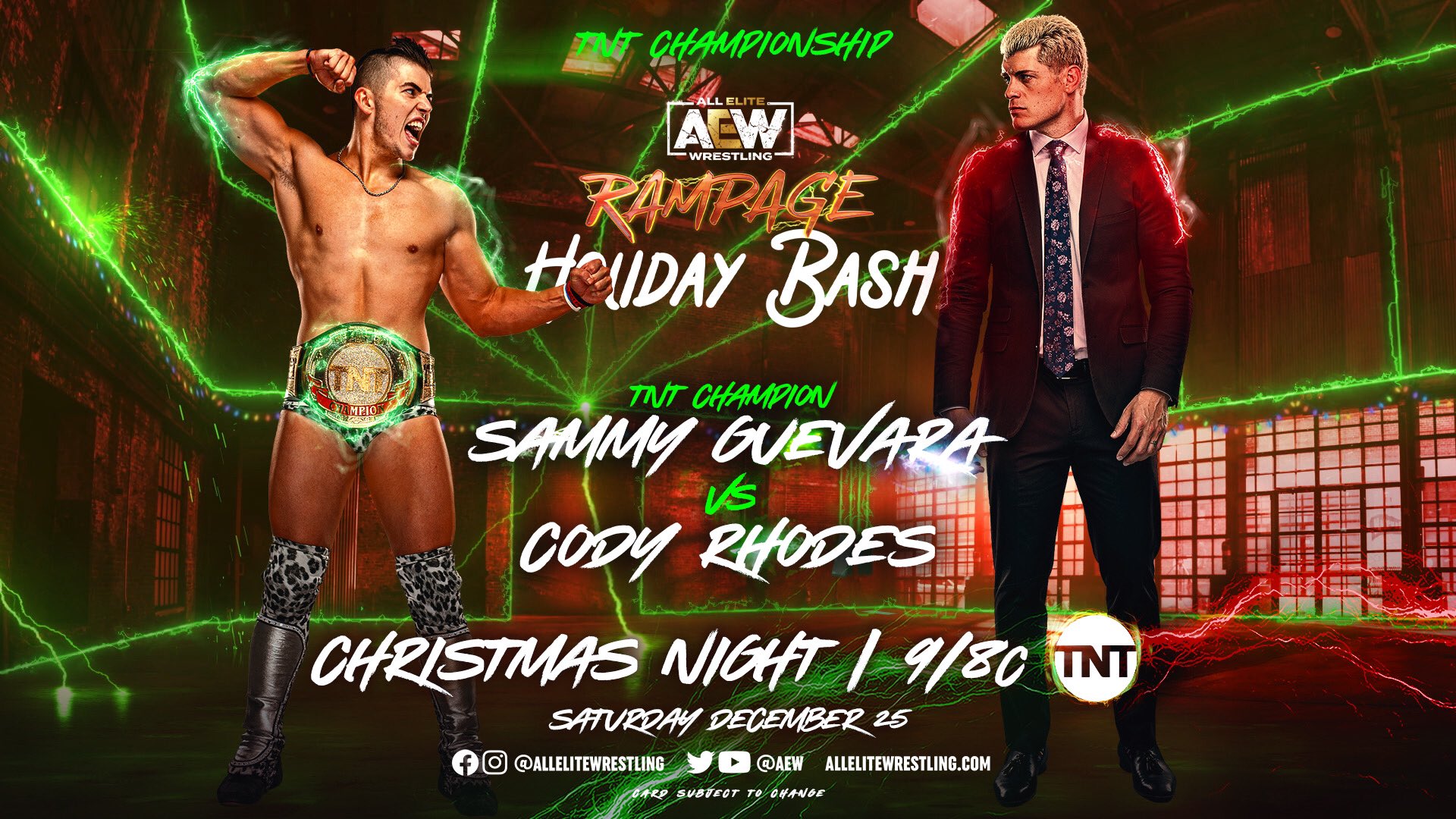 AEW Rampage for 12/25/21
TNT Championship
– Sammy Guevara vs. Cody Rhodes
Sammy Guevara will have his work cut out for him this week as he takes on former two-time TNT Champion Cody Rhodes. Sammy has been successful in his other title defenses but this one may not be as easy. Cody Rhodes is a veteran in the ring and a former champion. No doubt he will bring the fight to Sammy in an effort to regain the TNT Championship. Over the course of his career, however, Sammy has shown determination and tenacity; there is no way he is just going to let his title go easily.
This will surely be an intense match between two top wrestlers. Cody has also shown similar characteristics as far as determination and tenacity, he brings the fight every time he is in the ring. Will Sammy be able to walk out of the Holiday bash with his title intact? Will Cody Rhodes be a three-time TNT Champion heading into 2022? Only one way to find out. Tune into AEW Rampage Holiday Bash at 9 pm on TNT.
What To Expect?
Will Hook keep up the momentum of his winning debut?
Who will elevate themself in the women's division Statlander or Hirsch?
Will we have a new TNT Champion walking out of Holiday Bash?
*****
Stay tuned to Pro Wrestling Post for this and additional stories from the wrestling world. Readers can rely on Pro Wrestling Post to be their daily source for all things inside the squared circle. As a result, readers can expect daily news, history, and so much more. Please visit All Elite Wrestling's official website here for news and information on the promotion and upcoming events.