Coming fresh off the heels of "Winter Is Coming," we are rolling into the newest installment of AEW Rampage for 12/17/21. This Friday, and we have quite a bit of talent on display this week, we have a ten-man tag team match, an eight-man tag team match, and a singles match from the Women's division.
This week we will also see the return of Dan Lambert to AEW. In the ten-man tag team match, we will see Eddie Kingston, Santana, and Ortiz, and the Lucha Bros (Penta El Zero Miedo & Rey Fenix) take on the team of Daniel Garcia, 2.0 ( Jeff Parker & Matt Lee) and The Acclaimed (Max Caster & Anthony Bowens). We have seen some tension brewing between these groups for sure.
In our second tag team match of the evening, we will see Adam Cole, The Young Bucks (Matt & Nick Jackson), and Bobby Fish take on Orange Cassidy, Best Friends (Trent & Chuck Taylor), and Rocky Romero, another ongoing feud. Lastly, we will see Tay Conti take on Penelope Ford in a submission match; this also results from an ongoing rivalry between The Bunny and Ford and Conti and Anna Jay. Let's look at these matches!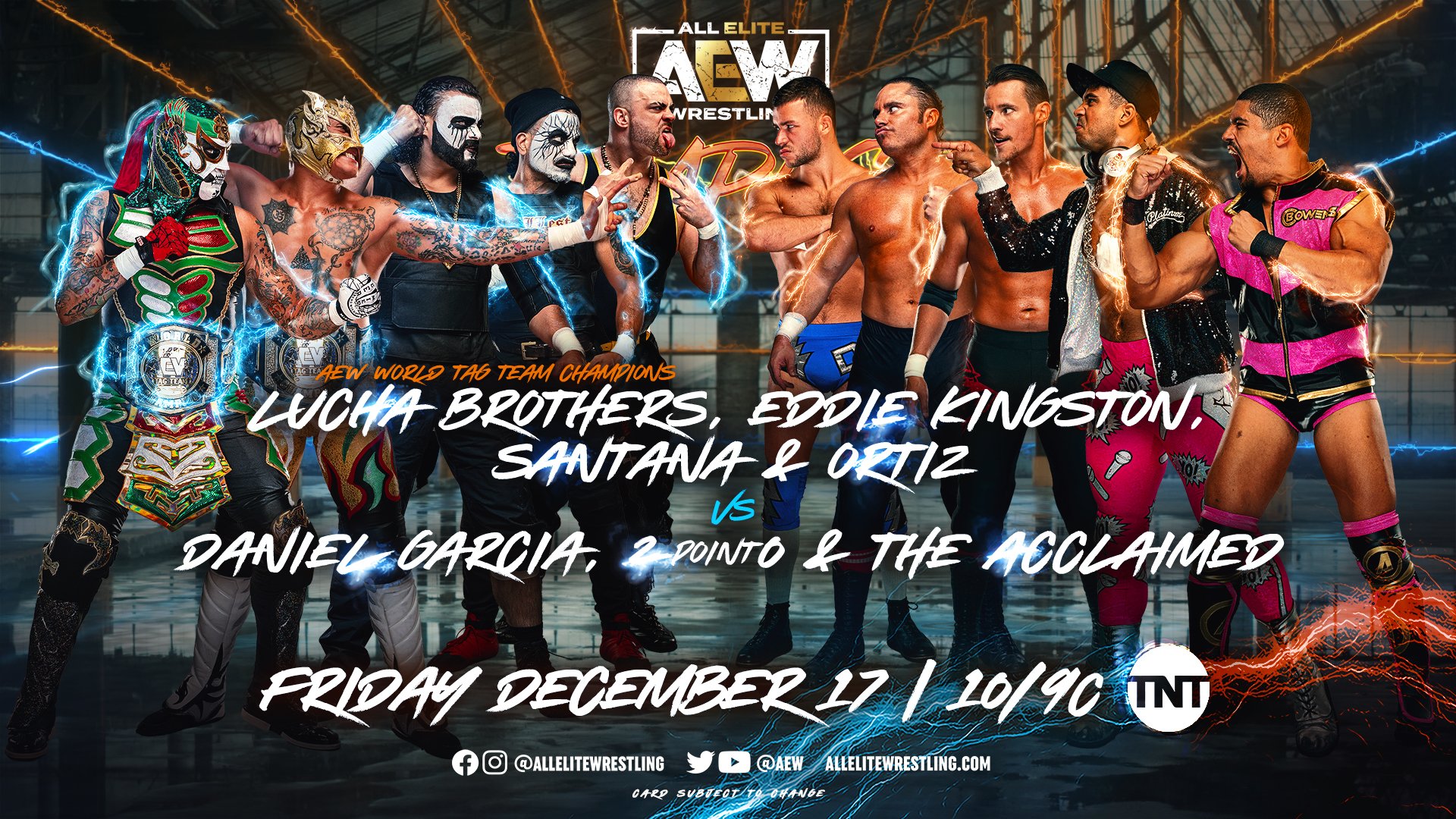 AEW Rampage for 12/17/21
10 Man Tag Team Match Eddie Kingston, Lucha Bros, & Proud and Powerful vs. Daniel Garcia, 2.0 & The Acclaimed
This match alone has abundant talent mixing veterans with up-and-comers in the business. Kingston, Lucha Bros and Santana, and Ortiz have all been in the business quite a long time, and all have experience, no doubt. On the other side of the mat, we have Garcia, who has built a name for himself in the indies and has proven himself to be a very skilled wrestler at such a young age. 2.0 have their share of veteran experience and have been behind Garcia for quite a while.
We will also see The Acclaimed on their side, and while they are also up and comers in a sense, they have built a big name for themselves, making an impact in the AEW tag team division. It will definitely be interesting to see the outcome of this match, as it could surely go either way. Eddie Kingston definitely has it out for Garcia at this point, no doubt about that, as Garcia has been causing some grief for Kingston for some time. Will Kingston get his revenge and his team pick up the win?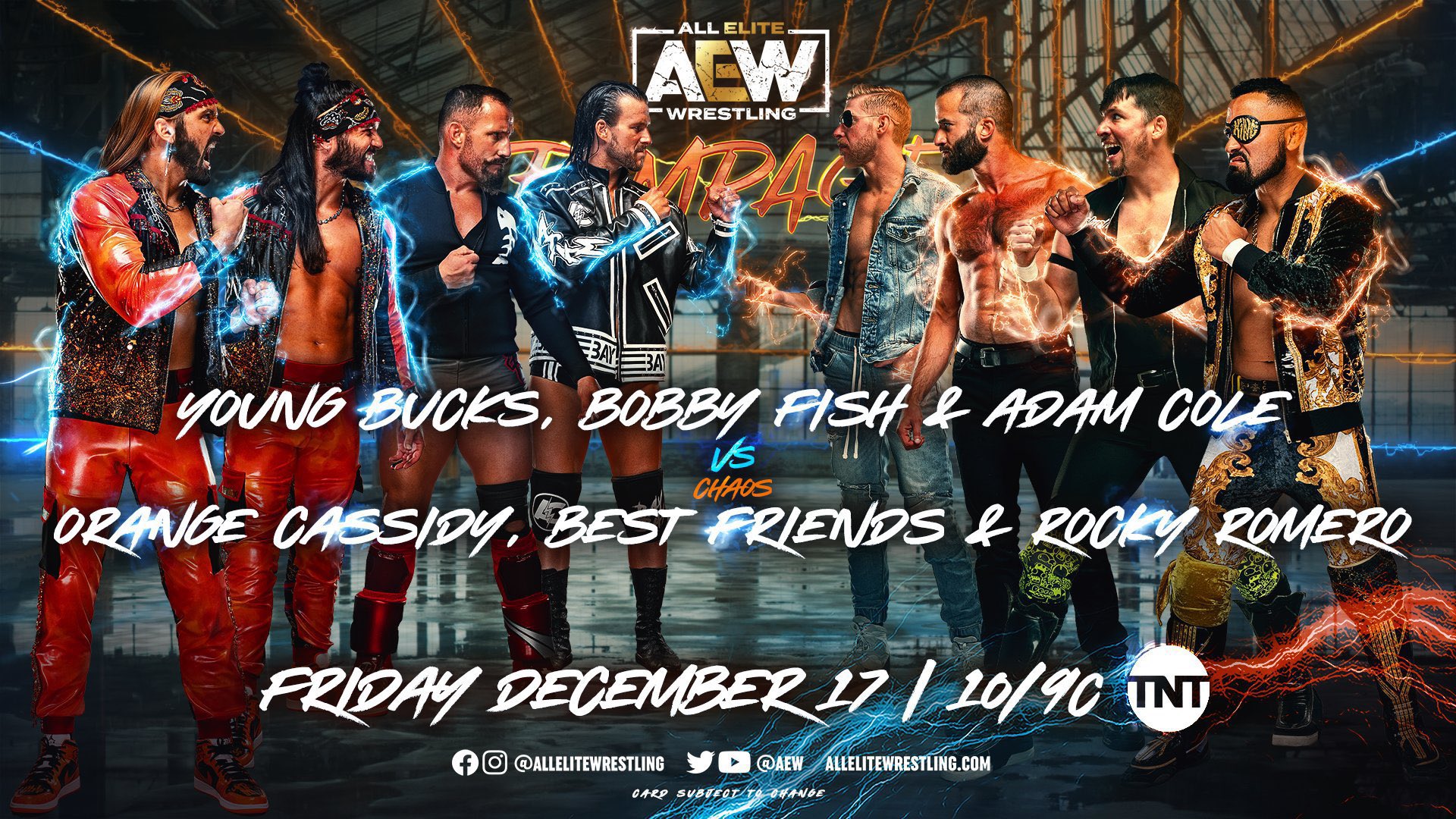 AEW Rampage for 12/17/21
8-Man Tag Team Match Adam Cole, The Youngs Bucks, & Bobby Fish vs. Orange Cassidy, Best Friends & Rocky Romero
Over the past few weeks, we have seen quite a few altercations between Orange Cassidy, Best Friends, and The Young Bucks Fish and Cole; this match comes as no surprise after all the matches and fights between these two groups. In the past few weeks, Cole, Fish, and The Young Bucks have been coming after Cassidy, Yuta, Best Friends, and Romero. This match is full of talent who have been around for quite a while, so it surely should be an action-packed fight.
Trent will more than likely be looking to get some revenge for the attack he endured at the hands of the Young Bucks and Cole, and he has been out of action for quite a while, so this will be his first match back in action. However, we know that Cole and The Young Bucks like to bend the rules, so they may use that to their advantage to try and pick up the win.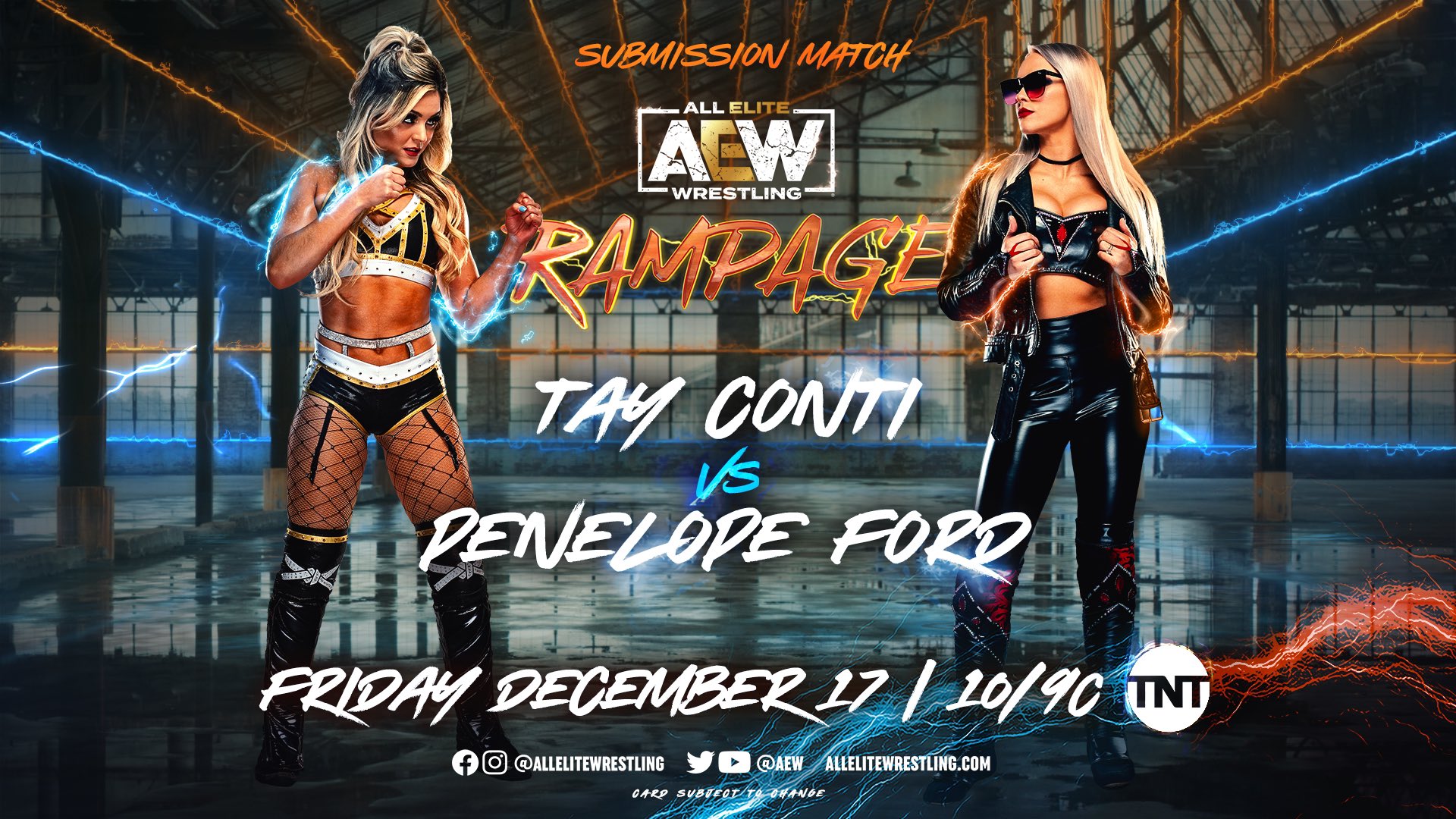 AEW Rampage for 12/17/21
Submission Match Tay Conti vs. Penelope Ford
For months now, we have seen a feud between Tay Conti and Anna Jay with The Bunny and Penelope Ford. Tay Conti issued a challenge to Penelope Ford that would allow her to showcase her mixed martial arts background this week in a submission match. Conti is a fierce fighter and has been dealing with Penelope and The Bunny for quite a bit of this year. She has made it known that she intends on making Penelope tap out this week on Rampage.
In past matches, however, we have seen Penelope and The Bunny utilize brass knuckles to get the upper hand in some of their matches. Will that be the case this week? More than likely, both ladies may be accompanied to the ring by their friends, which would at least even the score a little bit, having Jay in Conti's corner and Bunny in Ford's corner. One thing is for sure though Conti seems determined to pick up the win. Let's see what happens this week on AEW Rampage this Friday on TNT!
What to expect?
Will we see Eddie Kingston and his buddies pick up a win and teach Daniel Garcia a lesson?
Can Orange Cassidy and his friends get the last laugh on Cole and his buddies?
Will Tay Conti be successful in her mission to make Penelope Ford tap out?
*****
Stay tuned to Pro Wrestling Post for this and additional stories from the wrestling world. Readers can rely on Pro Wrestling Post to be their daily source for all things inside the squared circle. As a result, readers can expect daily news, history, and so much more. Please visit All Elite Wrestling's official website here for news and information on the promotion and upcoming events.