On Wednesday, March 1st, 2023, AEW aired Dynamite on TBS (USA) & TSN (Canada) & Fite TV (everywhere else); its the final Dynamite before Revolution as we review AEW Dynamite Weekly for 03/01/23. We had a 10-Team Casino Battle Royal to see who gets the final spot in the AEW World Tag Team Title match at Revolution.
Chris Jericho goes 1 on 1 with Peter Avalon, Toni Storm & Riho go against each other & we also got 2 Title matches (FTW & All Atlantic Title) & we got the 3rd ever Face Of The Revolution Ladder Match.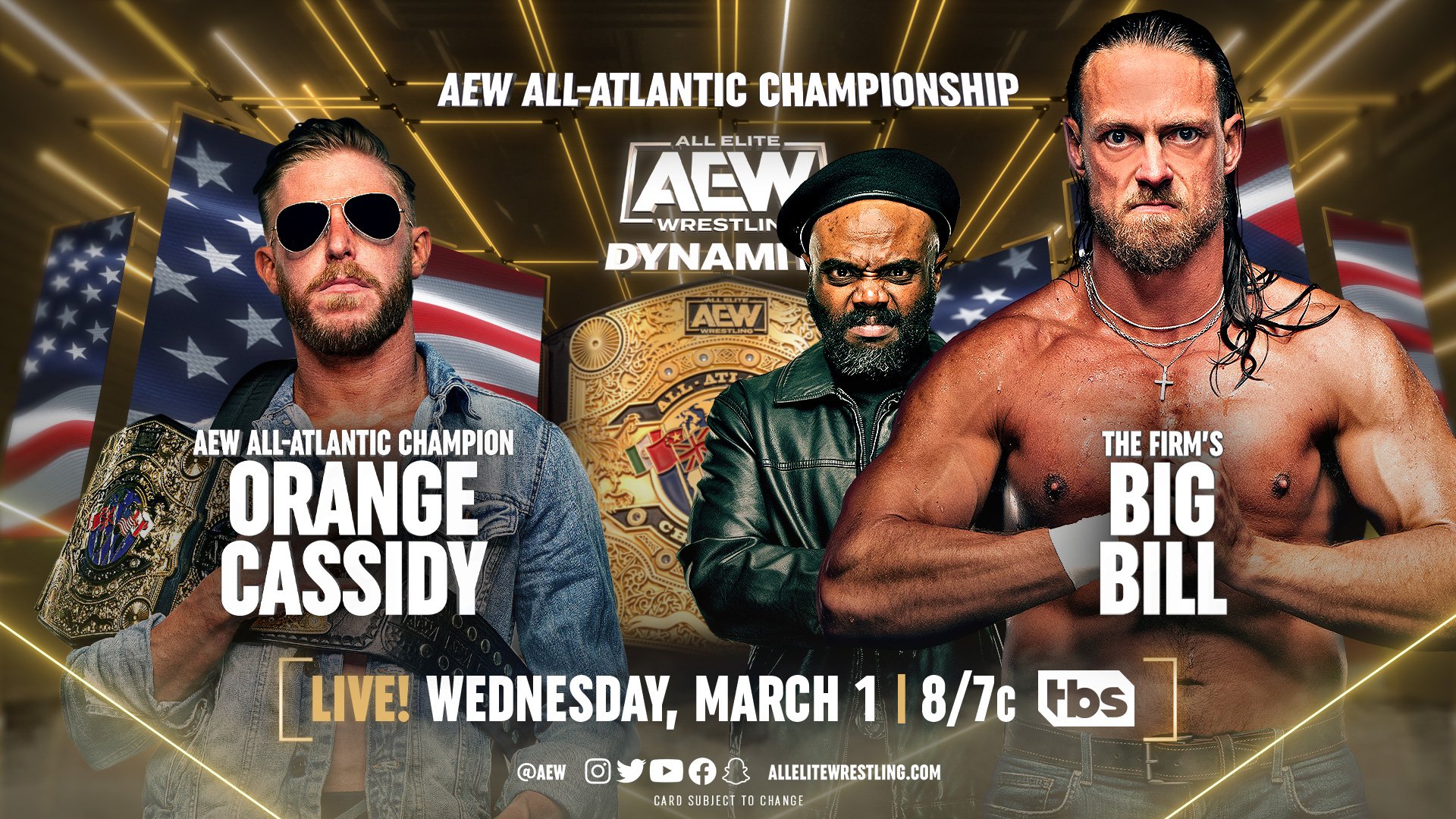 AEW Dynamite Weekly for 03/01/23
All Atlantic Title Match
Orange Cassidy (c) vs. Big Bill
The match starts off with Orange Cassidy stepping down from Big Bill and taunting Bill to come to meet him on the outside. Big Bill chases him outside and back inside, just for Cassidy to go back in. This continues for a while as Big Bill is showing frustration. Cassidy goes face-to-face with Stokely Hathaway and takes away his shades but is able to duck Big Bill, who comes short of almost hitting Hathaway instead.
They finally go at it inside, with Cassidy running the ropes until Big Bill is able to catch him into a side slam. Big Bill follows with a splash in the corner before whipping Cassidy really hard into the other corner. Bill tries it again, but this time knocks Cassidy to the outside with a big boot. Big Bill starts clubbing Cassidy around the outside as Hathaway helps Bill move the timekeeper's table to the bottom of the ramp.
Big Bill teases and chokeslams Cassidy into it, who escapes at first but Big Bill is able to catch him and choke slam him through the table. The referee allows this match to continue as we go to picture-in-picture.
After the picture-in-picture, Big Bill is in control, attacking Cassidy in the ring. Big Bill goes for a high boot a couple of times, but both times Cassidy falls to the floor until he rolls to the outside, where Danhausen is now there to assist him. Danhausen goes to put a curse on Hathaway, but Big Bill gets in the way and goes to chokeslam him on the apron.
Hathaway stops him and instead backhands Danhausen with the cast. Cassidy uses this distraction to hit a dope on Hathaway, but when he tries another one Big Bill catches him. Bill goes to chokeslam him, but Cassidy gets out and hits an Orange Punch to Big Bill's knee, takes him down and goes back inside.
As Big Bill enters, he catches Cassidy, who was trying to do an Orange Punch but he hits a Stundog Millionaire, a DDT, and two Orange Punches. Cassidy goes to the top rope and hits a super Orange Punch to get the win.
Winner: AND STILL All-Atlantic Champion: Orange Cassidy
We see footage from last week of a bloody Jon Moxley after his victory over Evil Uno and says this taste like victory and life, and he's all about living his life to the fullest and he's a sick man.
He does this because he likes it, and it's not something to be proud of or aspire to. He lives for this sh*t, and he's not the kind of guy you want to go down a dark alley with when there's only one of us coming out and asks Adam Page who he really thinks is going to come out.
He tells him to remember that Page wanted this, as he was trying to leave this alone. He talks about putting Page in the hospital and them calling it an accident, but when Moxley comes back from an injury, he goes and beats Page as Page got praised for it, and Moxley got nothing as they told him it was a fluke, it wasn't real, and it didn't count.
He mentions Page beating him with a wrestling move he learned in seventh grade. He calls Page a great man, but he isn't the same animal as Moxley. And there is only room for one of these animals in AEW, and he will die to protect what's his.
Trios Champions The Elite come out to their entrance, but right away, the lights go out, and when they come back on, the House Of Black are there holding the Trios Titles as The Elite are laid out.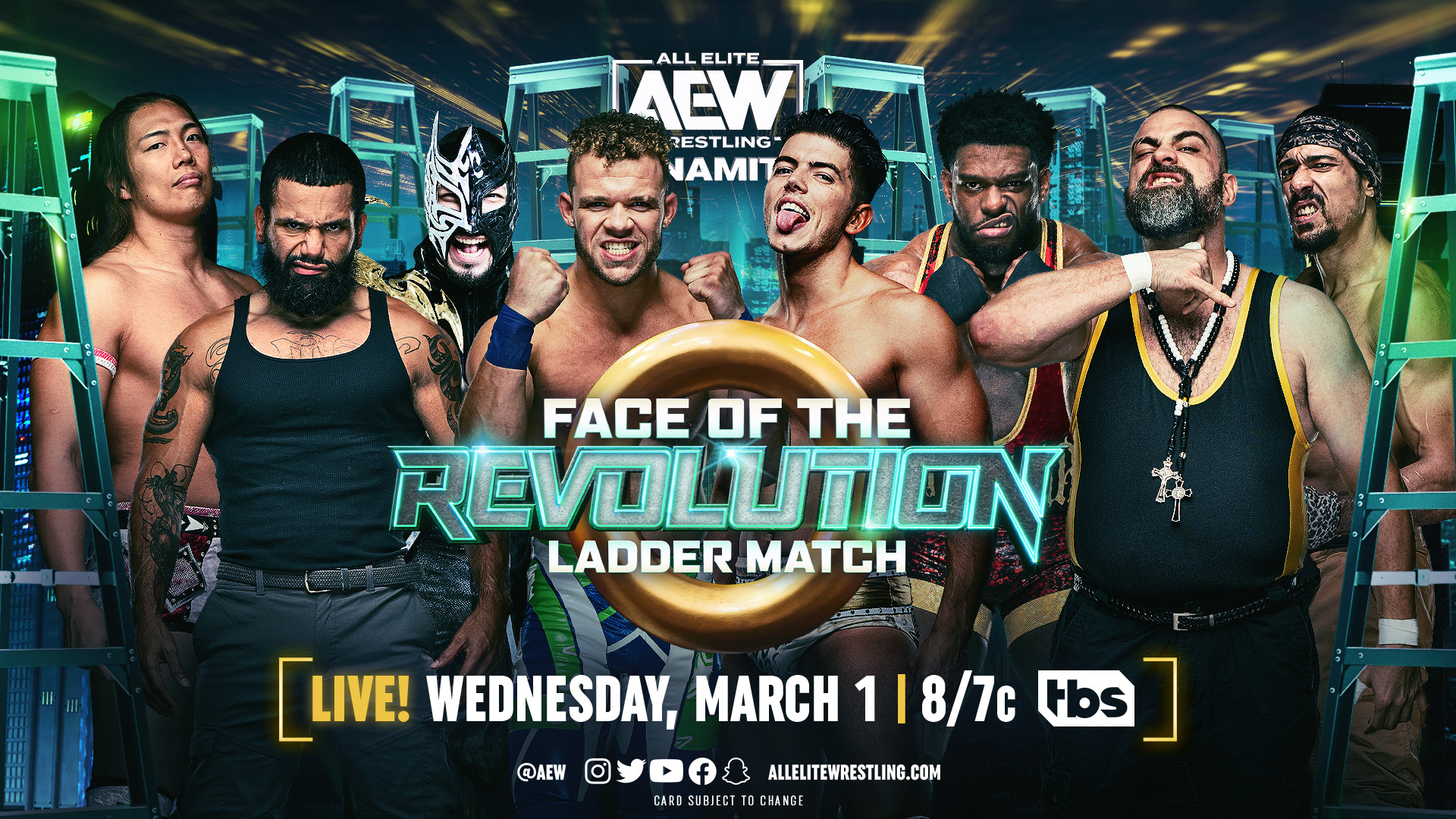 AEW Dynamite Weekly for 03/01/23
8 Man Face Of The Revolution Ladder Match
Konosuke Takeshita vs. Ortiz vs. Komander vs. Action Andretti vs. Sammy Guevara vs. Powerhouse Hobbs vs. Eddie Kingston vs. AR Fox
Eddie Kingston & Ortiz start fighting on the outside before everybody starts heading to the outside and starts grabbing ladders. Kingston & Ortiz fight all the way up the ramp as Sammy Guevara attacks AR Fox with a ladder before setting it up in the corner. Action Andretti picks up a ladder, but Komander takes him out before Powerhouse Hobbs takes out Komander.
Hobbs starts tossing Komander and Fox against the ladders before going after Andretti. Guevara teases going in, but looks at Hobbs and just leaves instead. Konosuke Takeshita enters and goes at it with Hobbs, both trying to take the other man down. Takeshita dodges Hobbs as he goes crashing into the ladder, before hitting him with a German suplex.
Don Callis is seen backstage watching Takeshita. Takeshita & Guevara end up on the outside before they get hit with dives from Andretti & Fox. Komander walks the ropes from one corner to the other side before diving onto everybody else before we go to commercial break.
After the break, Fox hits Hobbs with a chair, but it has no effect as he drops Fox on top of a ladder. As everybody is laid out on the outside, Guevara goes to grab the ring before Andretti runs up to stop him and hits a Falcon Arrow on top of a ladder. Komander follows this with a Shooting Star Press on Fox on another ladder on the outside before he uses a bunch of ladders to go and reach for the ring.
Takeshita joins him there and hits a Blue Thunder Bomb from off the ladders. Insanity. Takeshita starts climbing, but Andretti springs in to join him on top of the ladder. Daniel Garcia runs out and takes them both down, tipping the ladder over, and keeps attacking Andretti.
Garcia & Guevara start setting up some ladders on chairs before placing Andretti on top of the ladder. Guevara climbs the top of the ladder and hits a senton to Andretti, crashing through the ladder. Garcia sets up another ladder and helps Guevara to climb up it.
Takeshita knocks the ladder off and takes Guevara down with a knee strike. Takeshita goes climbing the ladder, but Hobbs pounces the ladder, knocking Takeshita off before climbing the ladder to grab the ring.
Winner: AND #1 Contender To The TNT Title: Powerhouse Hobbs 
After the match, Hobbs & Joe start to have a face-off before Wardlow joins in. Security goes to stop him as Joe escapes. Wardlow takes out the security as Hobbs watches, power bombing one of the guards onto the others off the ramp.
Renee Paquette is backstage with the Best Friends and say that Chuck Taylor & Trent Beretta are both not medically cleared to compete in tonight's Casino Battle Royal. Danhausen says himself & Orange Cassidy can represent for the Best Friends instead. Paquette asks if Cassidy is okay after his match, and he says I don't care.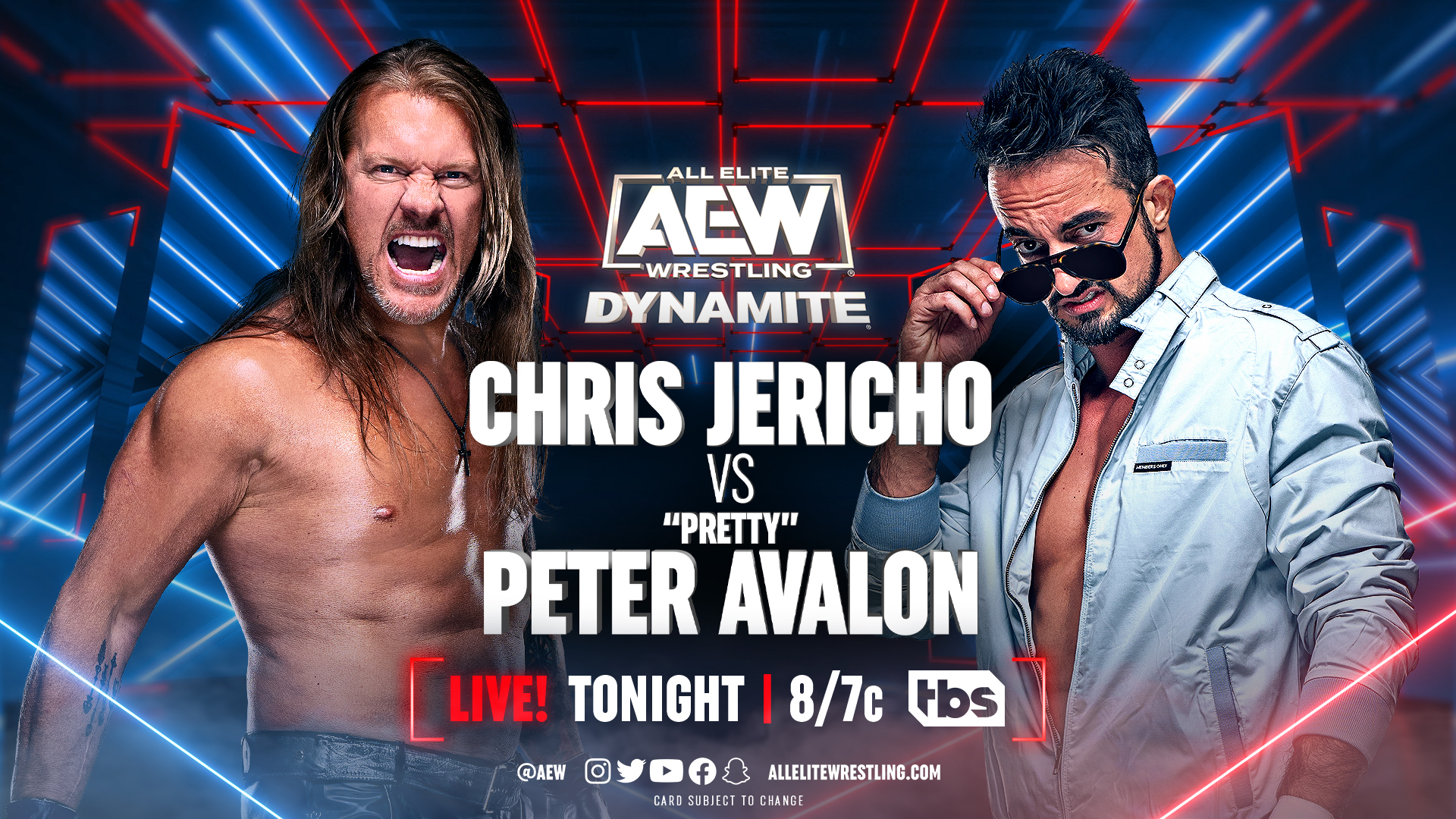 AEW Dynamite Weekly for 03/01/23
Chris Jericho vs. Peter Avalon
The match starts off with Peter Avalon going after Chris Jericho then Jericho goes to retreat to the outside but Avalon follows him, hitting him with a tope. Back inside, Avalon stays in control, hitting Jericho with a pump kick for a two-count. Jericho comes right back and hits a Codebreaker for the win.
Winner: Chris Jericho
Jericho grabs the bat and takes out Avalon with it. Jericho continues attacking Avalon with it before Ricky Starks runs out to chase Jericho away. Jericho gets on the mic and says on Sunday, he's going to beat the hell out of Starks 1 on 1, and just because the Jericho Appreciation Society can't be there on Sunday doesn't mean they can't be here tonight. Jake Hager & Daniel Garcia run in and, along with Jericho, start attacking Starks. Hager & Garcia hold up Starks as Jericho hits him with the Judas Effect.
We go to Hangman Page, who seems to be in a barn, and talks about how Alex Reynolds asked him earlier if he's afraid to lose to Jon Moxley. Page says he lost the world title, but Moxley can't take away his friends, memory, feeling, and heart, and this Sunday, he takes everything away from Moxley.
He takes his spot at the top of the food chain, his pride, and he will be the man left standing. Moxley was right about him not enjoying violence and hating it, but this Sunday, he'll be the most violent son of a bitch we've ever seen, as beating Moxley is the last glimmer of hope he has. There are only two ways out of Texas Death. Either you live, or you die, and he isn't done living. After Sunday, Moxley will never be the same.
Renee Paquette is in the ring and brings out Christian Cage. Renee says it felt like things would finally be done between himself and Cage and asks what's going on. Cage starts saying he hopes he never comes back to San Francisco for another ten years and talks about how he's been embarrassing Perry.
Cage saw Perry talk about winning a singles championship this year and said it'll happen over his dead body. Cage says he will win a singles championship in 2023, and that's a fact. Cage says he's been watching Perry's match easily with quick roll-ups and asks if he wants to win a championship or beat someone for a championship.
Cage says he already knows the answer, as last week he had Cage dead to rights with the concerto, but he hesitated. So instead, Cage smashed Perry with the chairs and left him in a pool of his own blood & p*ss. Another thing that's been bothering him is why Perry wants to win this championship so bad, and it's to show it to his family and make some memes and likes.
Cage says that the problem with Perry's generation is they treat his business like a video game. Nothing can do the things that Cage can do, as he is one of one. Cage treats his business like an ATM machine, and he's not done milking it dry. This needs to end, so he has a challenge for Revolution, and it's not for a wrestling match.
But a fight with no rules or regulations. The sad reality is that if Perry chooses to show up, he is just his father's son, and just like his father, he is a no-talent hack. Perry continues talking trash about what Perry doesn't have compared to him before the lights go out.
When they come back on, we go to a video of Jack Perry burying a hole outside mixed with highlights of the history between Perry and Cage. We then pan to a tombstone that says Christian Cage before we see Perry drive off.
Tony Schiavone is backstage with Women's Champion, Jamie Hayter & Britt Baker, as they say, tonight, Saraya can watch two former Women's Champions fight as she will never have that Women's Title. They will be watching and looking out for her.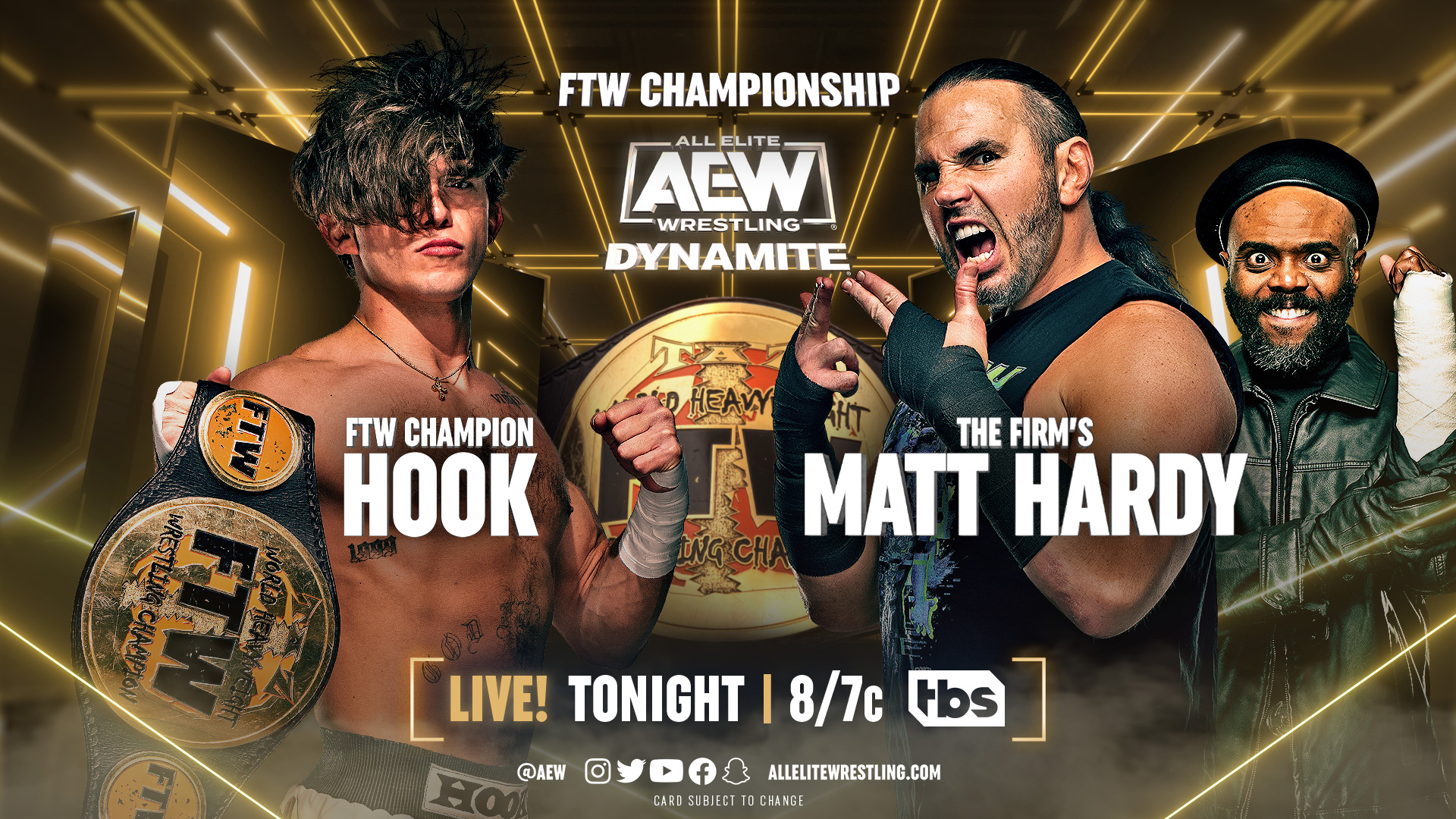 AEW Dynamite Weekly for 03/01/23
FTW Title Match
Hook (c) vs. Matt Hardy
If Hook wins he gets a No DQ Match with Stokely Hathaway.
Hook goes to take Matt Hardy down. Matt Hardy starts doing the delete chants as Hook takes Hardy down with a knee bar, but The Firm is there to help Hardy reach for the ropes. Hook and Hardy start fighting on the outside as Ethan Page rams Hook into the ring post.
Back inside the ring, Hardy takes control and hits Hook with a neckbreaker. Hardy starts attacking Hook in the corner, but Hook escapes and hits a T Bone suplex. Hook continues with body shots and a headbutt, but Hardy stops Hook with a snake eyes. Hook escapes and takes Hardy down with a lariat, but Hardy comes right back with a Side Effect for a two-count.
Hardy goes for another Side Effect, but Hook escapes. They tussle in the corner, but both bang heads and fall to the mat. Hathaway takes his cast off and gives it to Page, who knocks Hook out with it. Despite this, Hook kicks out at two. Hardy teases going for the Twist Of Fate, but Hook puts on the Red Rum right away as Hardy taps out.
Winner By Submission: AND STILL FTW Champion: Hook
(Since Hook won, he gets a No DQ Match with Hathaway) 
We see House Of Black with the Trios Titles, but they drop them and say they will earn them on Sunday.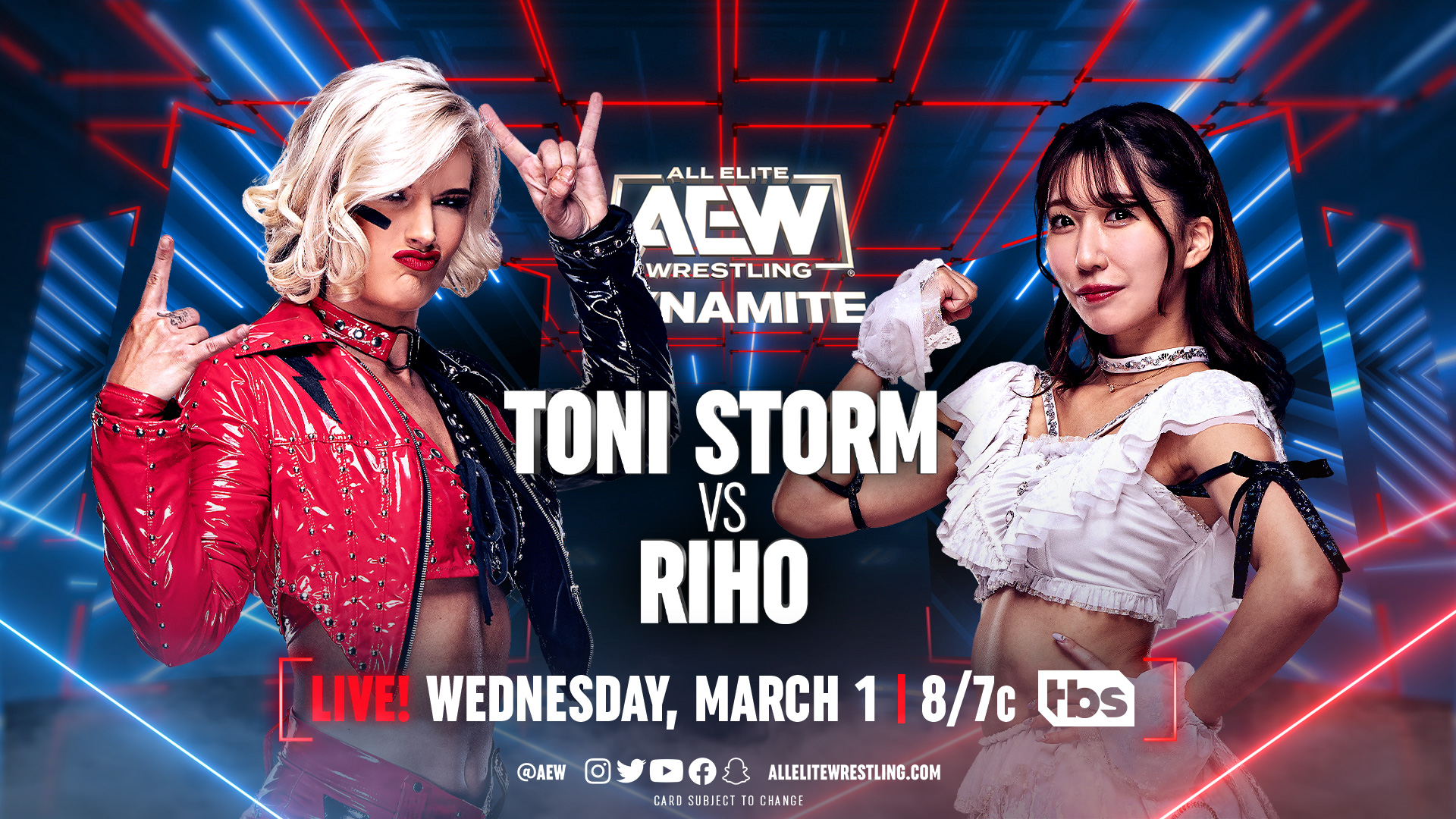 AEW Dynamite Weekly for 03/01/23
Toni Storm vs. Riho
Toni Storm goes after Riho as Saraya is barking orders. Riho tries to fight back, hitting a dropkick that sends Storm into the corner. Riho hits a snap suplex for a one count, as Saraya gets Riho's attention. They both start running the ropes, before Riho takes Storm down and puts on a crossface. Saraya yells at the referee to break it as Storm gets to the ropes.
This distracts Riho again, as Storm takes her to the outside with a hip attack as Storm is distracting the referee, Saraya hits Riho with a knee strike. Storm keeps attacking Riho on the outside, sending her into the ring post. Jamie Hayter & Britt Baker start making their way down to the ring as we head to commercial.
We are back from the break. Riho sends Storm to the outside and hits her with a diving crossbody. Riho sends Storm back inside and hits her with a diving foot stomp. Riho follows with a northern lights suplex, but Storm kicks out at two. Riho heads to the top again, but Storm stops her and teases a Storm Zero.
Back in the ring, Storm hits a hip attack for a two-count and puts on the Cloverleaf. Baker gets on the apron, which distracts Storm as Riho rolls her up for the win.
Winner: Riho 
After the match, Baker & Storm start fighting on the outside as Hayter & Saraya start brawling inside. Ruby Soho runs out and takes out Saraya before turning and fighting with Hayter as well. All 3 start fighting as security and officials run out to break them up.
We go backstage, where Keith Lee & Dustin Rhodes have a message to the Mogul Affiliates. Rhodes says darkness has fallen over the city of San Francisco, and this Friday on Rampage, they will find out they don't like playing games and call themselves Naturally Limitless.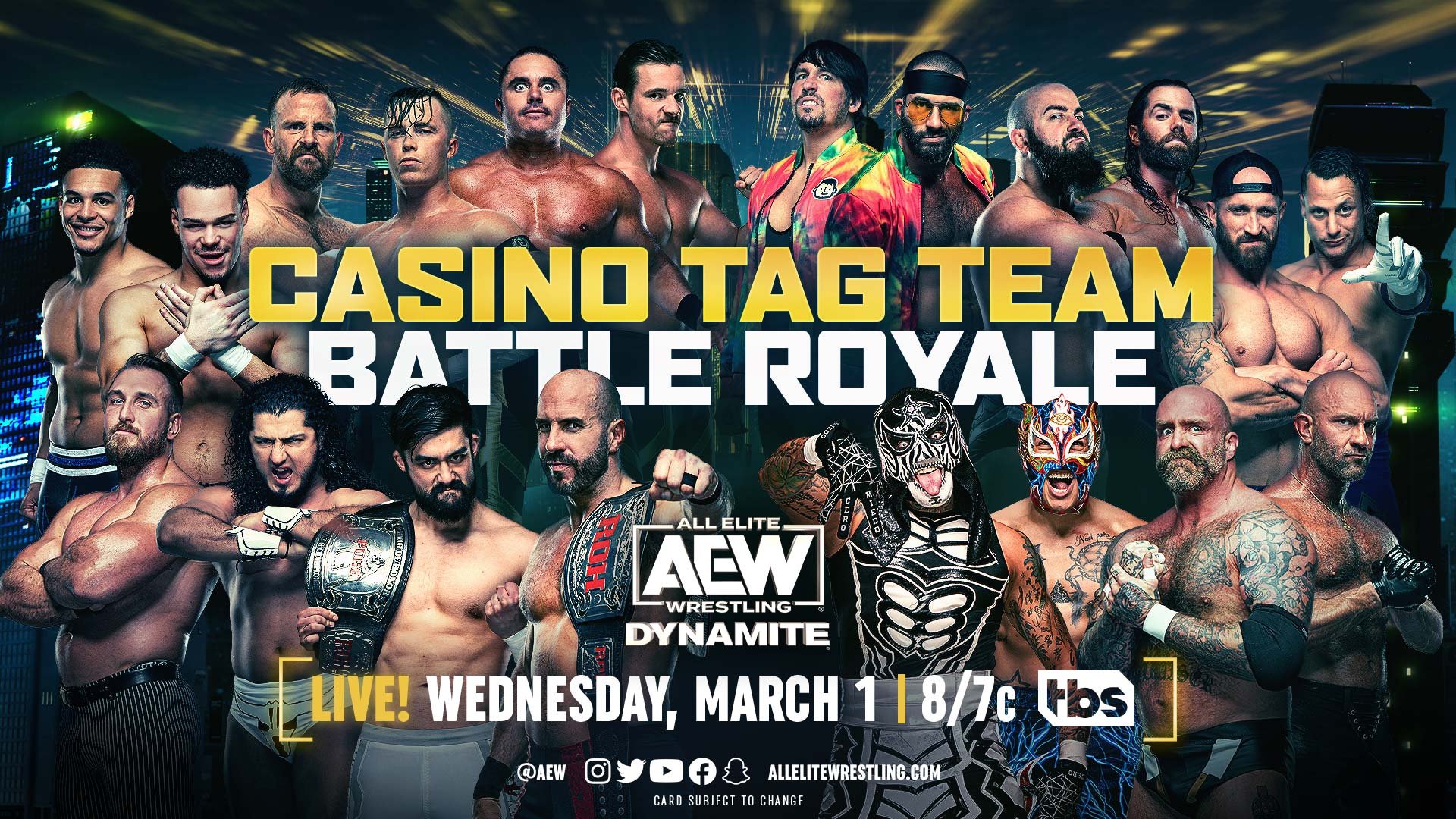 AEW Dynamite Weekly for 03/01/23
10 Team Casino Revolution Qualifying Match
Top Flight (Dante Martin & Darius Martin) vs. Aussie Open (Mark Davis & Kyle Fletcher) vs. Jericho Appreciation Society (Matt Menard & Angelo Parker) vs. Best Friends (All Atlantic Champion Orange Cassidy & Danhausen) vs. The Kingdom (Matt Taven & Mike Bennett) vs. Lucha Bros (Pentagon Jr & Rey Fenix) vs. Blackpool Combat Club (Claudio Castagnoli & Wheeler Yuta) vs. La Faccion Ingobnrable (Rush & Preston Vance) vs. The Butcher & The Blade
Dark Order makes their way down to the ring, but Blackpool Combat Club don't wait for their entrance and attacks them before the bell rings as they go to commercial.
After the break, both teams are in the ring as the match has started as La Faccion Ingobnrable come out as the third entrants. They are followed by Lucha Bros at #4. Lucha Bros start kicking away at LFI. Aussie Open come out as the 5th entrants. John Silver goes to take out Claudio Castagnoli, but Wheeler Yuta stops him.
Castagnoli pays the favor back by saving Yuta from falling off the apron. As Aussie Open is fighting with the Dark Order, Blackpool Combat Club grabs Dark Order and sends them over the top rope as we go to another break. During the break, Jericho Appreciation Society makes their way out as #6.
Top Flight comes out as #7 and almost take out Castagnoli right away. Dante Martin instead flips off his brother and takes out Matt Menard. The Kingdom comes out at #8. Varsity Athletes Mark Sterling & Ari Daivari (who are not part of this match) come out and start attacking the Lucha Bros on the outside.
LFI use this attack and eliminate Lucha Bros from the match. They fight with Top Flight, as Vance goes spilling to the outside to be eliminated, followed by Darius dropkicking Rush off the apron to eliminate them.
Aussie Open & Top Flight start fighting on the apron before Dante tries a springboard and gets eliminated, followed by Darius getting eliminated as well. Best Friends come out as #9. Angelo Parker goes after Danhausen, but Orange Cassidy eliminates Parker. The Butcher & The Blade come out as the 10th & final entrants.
Maria gets on the apron to distract Aussie Open but The Kingdom accidentally superkick her and get eliminated, followed by Aussie Open getting eliminated. Dark Order run back out and distract Yuta as Cassidy eliminates him. They followed by eliminating Castagnoli, as it's now down to the Best Friends & The Butcher & The Blade.
AEW World Tag Team Champions The Gunns show up on the ramp to watch the final two teams as The Butcher & The Blade try to eliminate Cassidy, but Danhausen comes from behind and eliminates them.
Winners: Best Friends
After the match, The Gunns starts attacking Best Friends as Jay Lethal & Jeff Jarrett join in. The Acclaimed & Billy Gunn runs out for the save.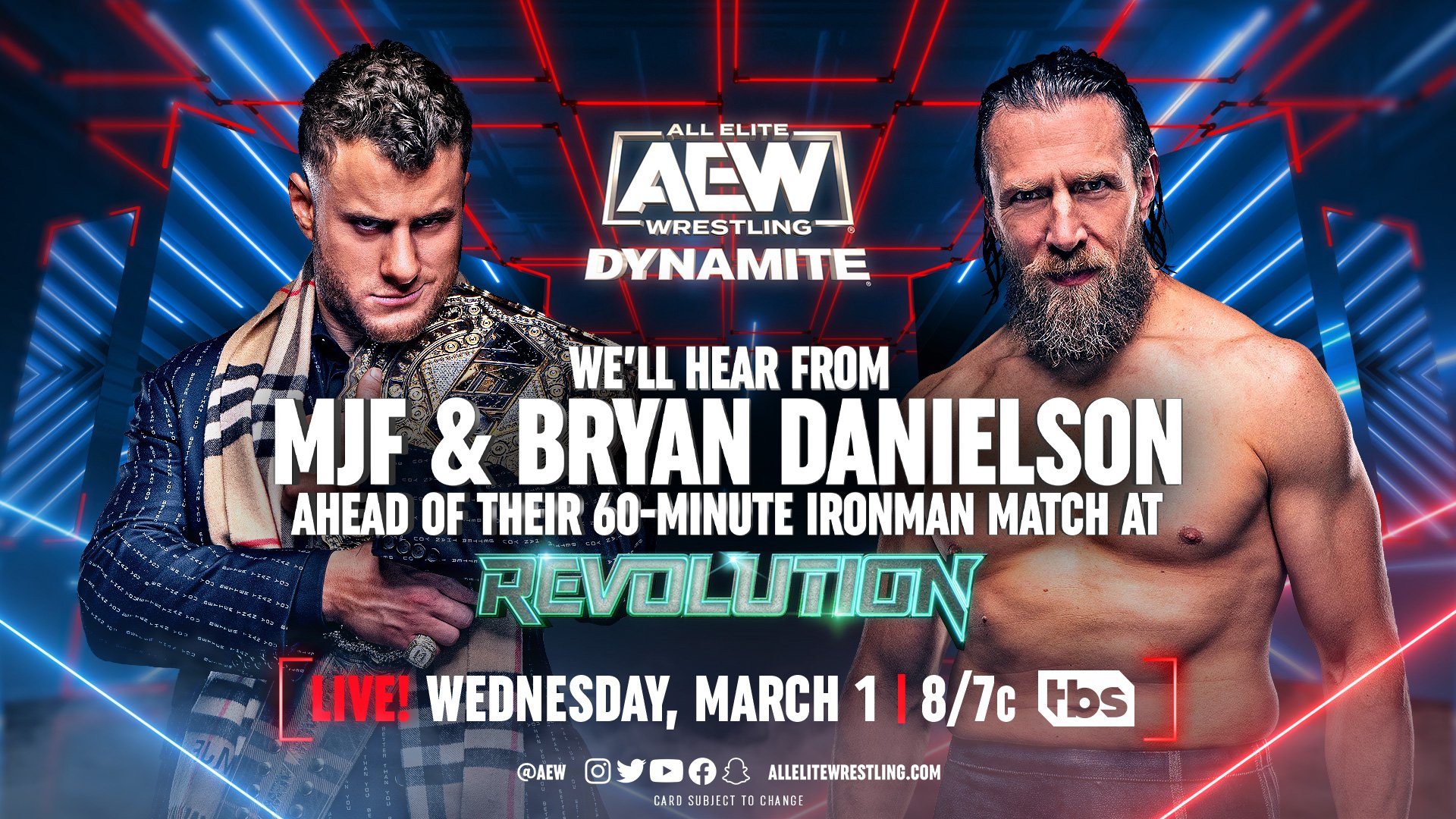 AEW Dynamite Weekly for 03/01/23
We get a video package for the AEW World Title 60 Min Iron Man Match.
Renee Paquette is in the ring with Bryan Danielson and brings up a post from 2014 from MJF talking about pursuing his dream and mentioning Danielson and asking if this changes Danielson's perception. Danielson talks about how he was forced to retire but came back 2 years later and said if you fight for your dreams, your dreams will fight for you.
AEW World Champion MJF's music promptly hits as he makes his way down to the ring. Danielson cuts MJF off and tells him for once in his life to shut up. Danielson talks about how MJF hates him for having a wonderful wife and kids, and MJF thinks he deserves that. Danielson says MJF has done nothing to earn them and has done nothing to fight for them by using every shortcut and cheat to become AEW World Champion.
And if there's one thing MJF deserves, it's his fiancé leaving him. MJF takes his jacket off, and Danielson says he is ready to fight as he's been fighting his whole life. Danielson says his new dream is to become AEW World Champion, and this Sunday, MJF better be ready to fight for 60 full minutes, and if he isn't, he will get his f**king head kicked in
Friday's Rampage
Tag Team Match
Mogul Affiliates (Swerve Strickland & Parker Boudreaux) vs. Keith Lee & Dustin Rhodes 
Fatal 4-Way Tag Team Match
Top Flight (Dante Martin & Darius Martin) vs. Dark Order (John Silver & Alex Reynolds) vs. Blackpool Combat Club (Claudio Castagnoli & Wheeler Yuta) vs. Aussie Open (Mark Davis & Kyle Fletcher)
Revolution Card (March 5th)
AEW World Title 60 Min Iron Man Match
MJF (c) vs. Bryan Danielson 
AEW World Tag Team Titles Fatal 4 Way Match
The Gunns (Austin & Coleton) (c) vs. The Acclaimed (Anthony Bowens & Max Caster) vs. Jeff Jarrett & Jay Lethal vs. Best Friends (All Atlantic Champion Orange Cassidy & Danhausen) 
TNT Title Match
Samoa Joe (c) vs. Wardlow
Texas Death Match
Jon Moxley vs. Hangman Page
Chris Jericho vs. Ricky Starks
Women's Title Triple Threat Match
Jamie Hayter (c) vs. Saraya vs. Ruby Soho
Trios Titles Match
The Elite (Kenny Omega, Matt Jackson & Nick Jackson) (c) vs. House Of Black (Malakai Black, Brody King & Buddy Matthews)
No Holds Barred Match
Christian Cage vs. Jungle Boy
*****
Stay tuned to Pro Wrestling Post for this and additional stories from the wrestling world. Readers can rely on Pro Wrestling Post as their daily source for everything inside the squared circle. As a result, readers can expect daily news, history, and much more.
Also, please visit All Elite Wrestling's official website here for news and information on the promotion and upcoming events and FITE TV's official website to watch AEW Dynamite and Rampage for International viewers. FITE TV's official website. FITE+ currently boasts 1000+ hours of live action each year. $7.99 a month/$ 79.99 a year.