We're back once again with this week's AEW Dynamite Weekly Review for 5/13/20. A main event of Chris Daniels vs Brodie Lee, a Women's Division Four Way and an in-ring promo to begin the show…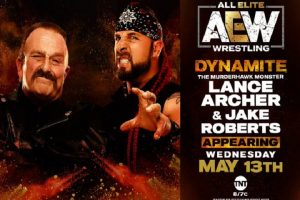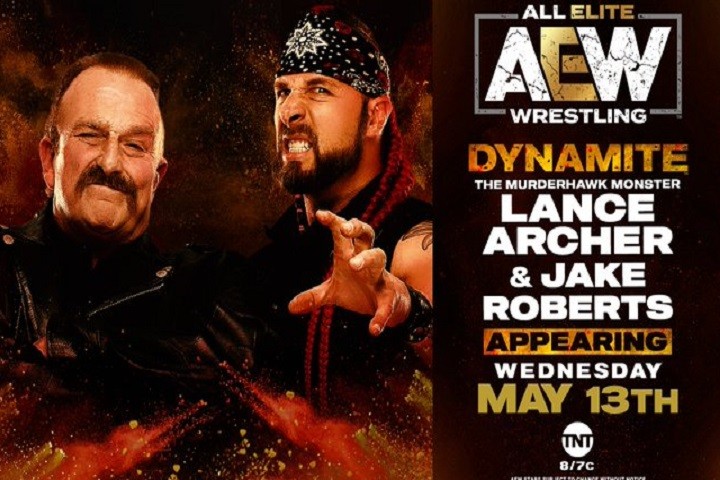 Lance Archer starts off this week's episode of Dynamite by attacking a member of the AEW roster. Jake grabs the mic and begins to remind everyone that anyone coming into the ring is entering no man's land. He carries on and says "a woman is great at home and occasionally a woman can keep him warm". The focus on the promo then shifts as Jake addresses Cody. Lance Archer's handler wants to remind Cody it's time to pay the piper. Cody revs the engine of his pick up truck to drown out Jake. Cody brawls with Lance before being thrown through the timekeeper's table. Archer stalks Cody, but Cody ducks a clothesline and gets some shots in. Lance and Cody would continue to brawl around the ringside area before Cody throws a chair at Archer. Cody escapes the Blackout and Archer counters the Cutter. Jake and Lance back down.
The commentary team then have a moment to run down the card and preview tonight's main event of Chris Daniels vs Brodie Lee. Jim Ross begins to speculate on whether Jon Moxley will get involved after his altercation with Brodi Lee on last week's Dynamite. We are then given a video look through at AEW's tag team division.
AEW Dynamite Weekly for 5/13/20
Jurassic Express vs Best Friends
Jungle Boy & Chuck Taylor start the match with both men exchanging holds. Each man is evenly matched and tag in their respective partners. Luchasaurus tosses Trent into the corner. Trent is trying to stun Luchasaurus with chops. Luchasaurus knocks Trent down with just one chop and invites him to try to strike him. Trent is trying to knock Luchasaurus down but with no success. Luchasaurus knocks him down with a spinning kick. Luchasaurus tags Jungle Boy into the ring, but Trent counters Jungle Boy into a side suplex. Trent puts Jungle Boy on the top rope. Chuck tries to help Trent by putting him on his shoulders but this allows Jungle Boy to hit a dropkick.
Luchasaurus gets involved, taking Chuck to the outside. Best Friends would hit a Double Suplex on Luchasaurus. Best Friends hug each other in celebration but Jungle Boy leaps over the top rope, wiping out both men. Luchasaurus hits Trent with a chop but Trent counters with a spear. Both men crawl to tag in their partners. Chuck and Jungle Boy enter the ring exchanging blows. Trent hits a flying knee on Jungle Boy during the exchange. Luchasaurus tries to take on Trent, but Trent counters into a DDT. Rey Phoenix appears and attacks Orange Cassidy at ringside. Out of nowhere MJF attacks Jungle Boy at ringside. Chuck Taylor slams Jungle Boy into the mat and grabs the win for his team.
Winners – Best Friends
Wardlow attacks Marko Stunt at ringside following the match.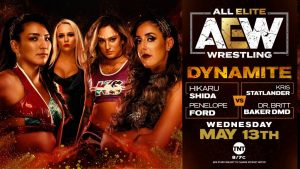 Penelope Ford vs Kris Statlander vs Britt Baker vs Hikaru Shida
Penelope Ford takes a cheap shot at Kris Statlander to start the match as Britt Baker and Shida brawl. Britt makes an early attempt at the Lockjaw but Statlander breaks it up. Penelope kicks at Statlander before getting a two count. Shida slams Britt into the guard rail on the outside. Britt recovers and tries to attack Shida from behind but Shida counters leading Baker to the top rope. Shida attempts a superplex but Statlander hits a powerbomb on Shida, taking both down from the turnbuckle. Statlander slams Penelope onto Britt as Shida hits a running knee on Statlander. All four women are down just before the commercial break. Back from break and Shida and Statlander are exchanging blows. Britt kicks Statlander trying to get her into position for a piledriver. Penelope hits a Cutter on Britt leading to Shida flailing at Penelope but is unable to land any shots.
Britt superkicks Statlander, knocking her out the ring. Then Shida knocks Britt out of the ring. Kip Sabian would grab Shida to try and help Penelope win the match but Shida counters. Statlander tries to take control but is sent out of the ring into Baker. Shida with a running knee to grab the win as Britt applies the Lockjaw on Kris Statlander on the outside.
Winner – Hikaru Shida
Suge D talks about the lack of respect Jericho has for him. He says since Jericho called him Pete…life has been sweet.
Jim Ross announces at Double or Nothing, Shida will challenge Nyla Rose for the AEW Women's Championship.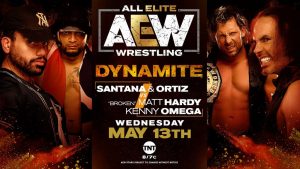 AEW Dynamite Weekly for 5/13/20
Proud & Powerful vs Kenny Omega & Matt Hardy
Santan & Ortiz attack Kenny Omega when he comes out to make his entrance. They would throw Omega in the ring and hit a running splash on Kenny. Matt Hardy appears as Damascus to even the odds. Omega and Santana wrestle in the ring while Matt and Santana fight on the outside. Kenny counters the attempted double team by Santana and Ortiz. Matt gets tagged in and they get to work hitting a double suplex on Ortiz. Matt hits Santana with some shots before tagging Kenny back in the ring. Santana takes control after Ortiz gets involved from the outside. Ortiz has Kenny in a camel clutch. Omega is able to get some shots in before Ortiz hits Omega with a thumb to the eye. Santana gets the tag before placing Kenny in the abdominal stretch before tagging Ortiz back in.
Ortiz and Omega exchange blows but Omega hits a Snap Dragon Suplex on Ortiz. Matt gets the tag and as does Santana. Matt slams Santana's face into the turnbuckle. Hardy throws Ortiz out the ring and continues his offense on Santana. Matt taunts Santana and attempts a Twist Of Fate but Ortiz interrupts. Hardy would recover, reversing Ortiz's attempted Powerbomb into a Neck Breaker. Omega throws Santana back in the ring where Matt hits the Twist of Fate. Ortiz breaks up the pinfall. Omega misses a running clothesline and Ortiz takes out Matt, allowing Santana and Ortiz to double team Kenny. Omega counters Street Sweep at the last second, and tags Matt back in. Hardy gets Ortiz into a Butterfly Submission. Sammy comes out with a chair but gets hit with a Twist Of Fate by Matt.
Omega hits a V-Trigger on Ortiz as Matt hits the Twist Of Fate before getting the win by pinfall.
Winners – Matt Hardy & Kenny Omega
Taz tries to interview Darby Allin. Darby tells Taz he placed third in amateur wrestling as Taz talks about Allin's mistake against Cody on Dynamite.
Shida is interviewed by Lexi. She says she'll beat Nyla at Double or Nothing. Nyla comes out and dominates Shida with her kendo stick.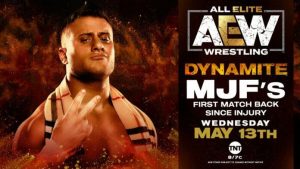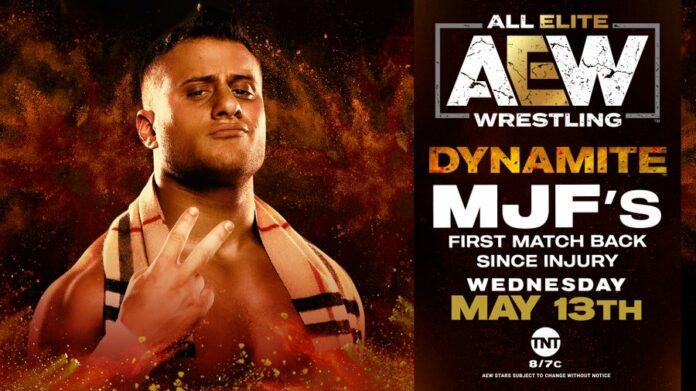 MJF vs Lee Johnson
MJF attacks Lee while the referee is patting him down. Lee is pummelled with boots in the corner and is hit with another clothesline by MJF. Johnson hits a chop on MJF, but MJF slaps him to the ground before throwing him outside. MJF powerbombs Lee onto the apron of the ring and moves the match back into the ring. Maxwell hits a backbreaker and an armbar to win by submission.
Winner – MJF
MJF cuts a promo and announces he will face Marko Stunt next week on Dynamite.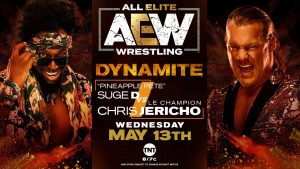 "Pineapple Pete" Suge D vs Chris Jericho
Jericho slaps "Pete" around, forcing Suge D to strike Jericho with a flurry of strikes in retaliation. Suge tries to keep the attack going but walks into the Judas Effect elbow. Jericho wins by pinfall.
Winner – Chris Jericho
Jericho talks about vanquishing the threat of" Pineapple Pete" before cutting a promo on The Elite. Le Champion challenges The Elite to a "Stadium Stampede" match at Double or Nothing. Vanguard 1 flies into the arena and Jericho asks Vanguard 1 if they accept the challenge. Vanguard 1 nods saying "we accept". Jericho smashes Vanguard 1 with a baseball bat. Soon after, Matt Hardy comes out to mourn the loss of Vanguard 1.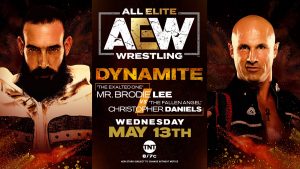 AEW Dynamite Weekly for 5/13/20
Chris Daniels vs Brodie Lee 
Brodi Lee comes out wearing the AEW Championship which he took from Jon Moxley on last week's episode of Dynamite. Brodie Lee forces the ring announcer to introduce him as the AEW champion. Daniels ducks behind Brodie and hits a chop. Lee slams Daniels to the mat before throwing him out the ring. Chris Daniels tries to escape but Brodie hits him with a heel strike in the back of the head. Daniels takes some control by kicking the rope to knock Brodie back before diving to the outside. The match moves back inside the ring as Lee hits a big right boot. Daniels is dominated by Brodie for a large part of the match. Chris Daniels does counter a back body drop into a DDT. Brodie Lee tries to push Daniels into the corner but Christopher is too fast for him.
10 gets on the apron to distract Chris Daniels. Chris kicks a steel chair into Lee before applying a submission. Daniels hits the Angel Wings on Brodie Lee, but Brodie is able to kick out. Lee attempts to hit his own move but Daniels rolls through and hits the "Best Moonsault Ever" on Brodie. Chris Daniels then attempts a dropkick from the turnbuckle but Lee counters into a powerbomb, before hitting a discus lariat before winning by pinfall.
Winner – Brodie Lee
Brodie forces the announcer to announce him as champion. But Jon Moxley comes out to the ring, taking out members of the Dark Order as he goes.
Moxley gets on the mic and tells Brodi that he is going to pay for his mistake with interest. He goes on to promise a hailstorm of violence and tells Brodi his career will be over before it starts. This was the AEW Dynamite Weekly review for 5/13/20.