Welcome to a bumper edition of AEW After Dark, with the most stacked card Dark has had since it's inception. Taz and Excalibur are on commentary to call the action as always. Let's kick this off with FTR vs The Initiative. Folks this is AEW After Dark for 7/28/20.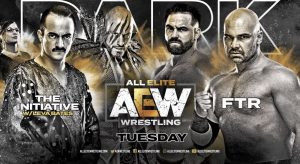 AEW After Dark for 7/28/20
FTR vs The Initiative
FTR, having made an impact since their debut, take on the team of Brandon Cutler and Peter Avalon. Both are still looking for their first win of the year. The Initiative would slightly get the better at the start until Cash would distract the ref allowing Dax to get in a cheap shot at Cutler. FTR controls the early part of the match. The Initiative can't get a foothold in this match and FTR gets the win with a spike piledriver which Avalon is unable to kick out of.
Winners – FTR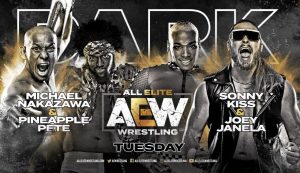 Pineapple Pete & Michael Nakazawa vs Joey Janela & Sonny Kiss
Here is a meeting of some of the more out there members of the AEW roster. Sonny and Nakazawa start off and quickly Sonny is able to hit a more oiled up version of the Kiss My Sass. We see a flurry of quick tags until the match settles into Sonny and Pete sharing the ring.
This stage of the match wouldn't last too long as Sonny counters a double suplex to tag in the Bad Boy. The match hits it's climax when Nakazawa again removes his underwear, inadvertently shrinking his partner allowing Janela and Sonny to grab the advantage and pick up yet another valuable win.
Winners – Joey Janela & Sonny Kiss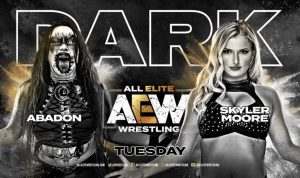 AEW After Dark for 7/28/20
Abadon vs Skyler Moore
Skyler Moore has the unenviable task of trying to survive Abadon. Skyler does go on the offense and looks good until Abadon is able to snap her neck back in place.  Abadon scares Skyler, chasing her out of the ring. Moore hits Abadon with everything she has but it's just not enough as Abadon grabs the win with a Widows Peak.
Winner – Abadon
Shawn Spears talks about how our world is safe but his world is not. He explains his intentions and how the black glove is there as his protector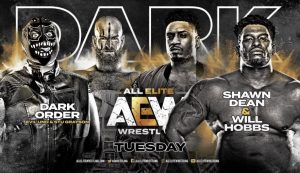 Dark Order vs Will Hobbs & Shawn Dean
Dark Order has something of a tune-up match here as they prepare for their AEW Tag Title match on Dynamite. A spirited Shawn Dean tries to fight off the pair but as we expect from the Dark Order they're dangerous when they cut the ring off. Dean is unsuccessful for the most part with the exception of some minor strikes. Dean does eventually manage to hit a series of moves to hold the Dark Order off until Hobbs is free to make the tag. Hobbs hits a series of fast-paced and frenetic moves, but Grayson and Uno are too strong for them.  Fatality is enough for Grayson and Uno to pick up another win for the faction.
Winners – Dark Order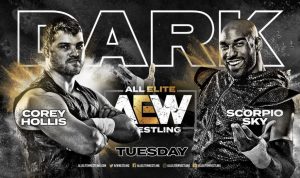 AEW After Dark for 7/28/20
Corey Hollis vs Scorpio Sky
Scorpio Sky looks to continue his roll in singles competition as he takes on Corey Hollis. Sky has the better of the early part but Corey puts in an impressive effort. Corey almost has Sky beat but a well-timed boot to the face followed with a TKO is enough for Sky to keep flying high.
Winner – Scorpio Sky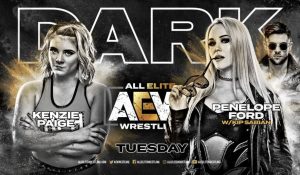 Kenzie Page vs Penelope Ford
Penelope comes into this accompanied by Kip Sabian. Kenzie struggles to compete with the more experienced Penelope Ford. Penelope has Kenzie scouted during the match and finishes with a Cutter followed by a Fisherman's Suplex.
Winner – Penelope Ford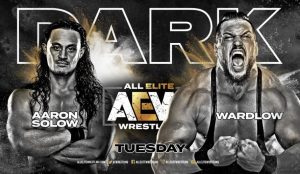 AEW After Dark for 7/28/20
Aaron Solow vs Wardlow
Wardlow decimates Solow from the first bell, Solow is thrown around like a rag doll by the giant that is Wardlow. Solow is punished by Wardlow with continuous slams and a knee to the face after being pulled from the top rope. This forces the referee to end the match.
Winner – Wardlow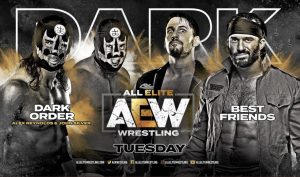 Dark Order (Alex Reynolds & John Silver) vs Best Friends
The Dark Order is looking to go two for two on the night but Silver and Reynolds have Best Friends to contest with. Silver and Reynolds do a good job getting in their offense in and inflicting punishment on Trent. But Best Friends manage to fight back into the match when Trent makes the tag. Chuck Taylor and Trent use their experience and teamwork to outwit the Dark Order culminating in Taylor scoring the win hitting an awful waffle for the win.
Winners – Best Friends
The Dark Order rushes the ring following the match to chase Best Friends off.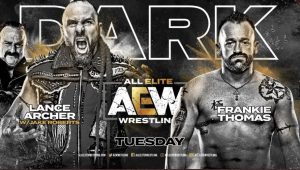 Lance Archer vs Frankie Thomas
Frankie Thomas is either very brave or insanely stupid as he tries to go toe to toe with Archer. Lance makes a point of throwing around Frankie and clobbering him with big blows. Archer takes Frankie outside the ring just to continue the punishment. The punishment ends for Frankie after a Chokeslam followed up with the Claw.
Winner – Lance Archer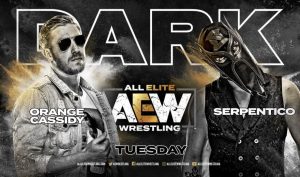 AEW After Dark for 7/28/20
Orange Cassidy vs Serpentico
Orange Cassidy wrestles the start of the match in the way only the King of Sloth Style can – hands in pockets and everything too much bother. Cassidy wrestles Serpentico mostly in his Sloth Style way and is able to win via roll-up. Cassidy hits a Superman Punch after the match to show what he could do when he feels like it.
Winner – Orange Cassidy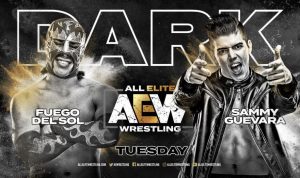 Fuego Del Sol vs. Sammy Guevara
Sammy Guevara is back in action following his recent suspension from AEW. The Spanish God hasn't missed a step. Guevara has a few near misses in the match where his overconfidence puts him in bad situations.
But Sammy is able to recover from any slip-ups and get the win over his opponent, hitting a GTH to get the win.
Winner – Sammy Guevara

AEW After Dark for 7/28/20
SCU vs Santana & Ortiz vs Private Party
We see Big Money Matt give advice to Private Party before the match and at ringside to guide them through. Santana and Ortiz come out with the strategy of letting SCU and Private Party beat on each other.
All the teams involved hit their spots and the match is full of spots that progress the match. The match reached its conclusion with Santana and Ortiz grabbing the win in thanks to a low blow to Marque Quinn of Private Party.
Winners – Santana & Ortiz