PROGRESS Wrestling Chapter 37: A Sudden Sense Of Liberty. 16th October, 2016. The O2 Ritz, Manchester, UK.
A Sudden Sense Of Liberty
Welcome back to the PROGRESS Prerogative, the weekly column that looks back at each PROGRESS Chapter in turn. We've had a helluva run so far: we've seen Jimmy Havoc and Regression hold the company hostage for 18 months; we've seen Will Ospreay act as the fans' savior from evil. And we're just leaving the reign of Marty Scurll as the latest mega-heel champion. There are tons happening to lead PROGRESS forwards. Mark Haskins is the new champion. British Strong Style and the South Pacific Power Trip are just starting out. The women's division is nearing the point of crowning its first champ. Finally, Jimmy Havoc has returned after a year-long absence. This is Chapter 37, A Sudden Sense of Liberty.
Lots of things to look forward to in the next run of PROGRESS leading up to next 2017's big September show at Alexandra Palace. So without any further ado let's dive into the show that kicks it all off, the appropriately named A Sudden Sense Of Liberty.
A Sudden Sense Of Liberty
Chuck Mambo vs Bubblegum
Coming off an absolute mullering by Paul Robinson, Chuck Mambo looks to get a tick in the win column opposite Bubblegum. Indeed, Mambo has his opponent on the ropes for the majority of their match. He is really coming along nicely as an in-ring performer. There's a great little comedy moment when Mambo backs Bubblegum into the corner and BG complains that his hair was being pulled – despite his head being shaved essentially bald.
Despite his excellent showing, Mambo can't quite get the job done though. Bubblegum catches him diving back into the ring through the middle rope and drops him with the ice cream headache to score the pin. Slightly disappointing to see Mambo lose at two shows on the trot but on the other hand it's nice to see him featured on two shows in a row. A solid opening contest between an established guy and an up and comer.
A Sudden Sense Of Liberty
Kay Lee Ray vs Kimber Lee
The first of several debuts in match number two as Kay Lee Ray takes on Kimber Lee. Just an aside, sweet lord I cannot abide KLR's entrance theme. The wrestlers begin with an excellent sequence of pinfall attempts that naturally ends in a stalemate. There's a pleasing amount of strong style on show as Ray lays in some solid slaps that must have left a mark. Kimber Lee returns fire with some wonderful released German suplexes that drop KLR right on the back of her neck.
It's Ray's vicious streak coming to the fore that really settles this match into a groove though. The Scot yanks Lee from the top rope onto the back of her neck before clamping on a guillotine choke for an instant tap out. This match is an excellent showcase for both women, particularly Kay Lee Ray who leaves the ring looking like an absolute killer. Natural Progression Series 4 will crown the first PROGRESS women's champion and if this match is any indication it will be a great tournament.
A Sudden Sense Of Liberty
Fabian Aichner vs James Drake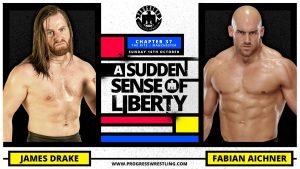 More debuts next as Fabian Aichner and James Drake make their first appearance on a Chapter. Aichner enters the match having been featured against Jack Gallagher during WWE's Cruiserweight Classic and so he garners a good reaction from the crowd. Drake is already receiving the 'arseface' chants but doesn't appear to let it faze him. This is the best match of the show thus far and seems primarily designed to get Aichner over. Mr. Mayhem gets his fair share of the offense but the Italian's moveset is infinitely flashier than Drake's.
One particular moment that lifts the heart into your mouth sees Aichner leap to the top rope (without using hands) and hit a towering springboard crossbody to the floor. Honestly, he must spring a good six feet into the air before sailing down to JD – absolutely extraordinary. They don't call those types of moves high risk for no reason though and the finish comes when Aichner misses a big frog splash. Drake hoists Aichner up for an impaler DDT and gets the pin. A wonderful little match that got Aichner way over and Drake to a lesser degree.
A Sudden Sense Of Liberty
Joe Coffey vs Marty Scurll vs Pete Dunne vs Trent Seven – No. 1 Contender Match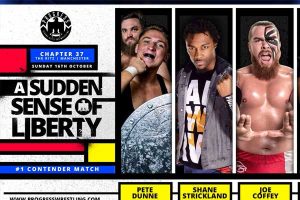 You might notice Shane Strickland in the match graphic above; he was scheduled to appear but was unable to attend due to a travel issue. Trent Seven grabs the house mic after the entrances and demands to be inserted into this match thereby giving us the strange dynamic of three heels and one face. It works very well though as British Strong Style and Marty Scurll continually team up to wear down Joe Coffey only to betray each other at various points. No honor amongst thieves and all that. This is Coffey's best match in PROGRESS to date and he more than holds his own against the three villains.
It's particularly interesting seeing Pete and Marty work together as their characters share some commonalities and both employ joint manipulation. They have quite a few superb sequences during which the Ultras switch allegiances as quickly as the wrestlers. It's a bit of a minor classic actually. Joe Coffey unsurprisingly turns out to be the fall guy here; there are clearly plans afoot for the other three lads. Whilst the Iron Man has Seven trapped in a Boston crab Scurll sneaks up from behind and cinches in a chicken wing.
Coffey taps out quickly and the new number one contender to the PROGRESS title is former champ Marty Scurll. 
Post-match Marty gets on the mic and says that when he was PROGRESS champion he defended it across the globe. He says that he made the company title into a world title and that makes him the greatest PROGRESS champion of all time. That claim brings out one Jimmy Havoc who enters from the rear of the Ritz to bury Scurll with an acid rainmaker. It looks as though they're opting for a nice steady build in this feud which suits me just fine.
A Sudden Sense Of Liberty
FSU vs South Pacific Power Trip vs The Origin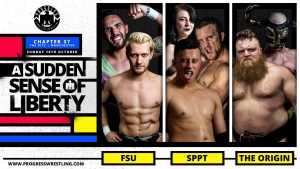 From fatal four-way to triple threat next as Eddie Dennis & Mark Andrews, Travis Banks & TK Cooper, and Dave Mastiff & El Ligero collide. We're well into Mastiff and Ligero's gradual transition into the Banter Edition and they provide great value during both their entrance and the match itself: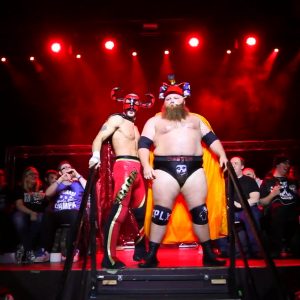 The action runs at a high pace from the outset and doesn't slow down. Some great spots see Eddie Dennis hit a fallaway slam/Samoan drop combo on both SPPT members. That same sequence is then attempted by El Ligero on both FSU lads – it doesn't go very well for the Mexican Sensation. There aren't any discernible tags being made, but it's more forgivable due to the chaotic nature of the triple threat. Indeed, chaos reigns as Dahlia Black takes a nasty, inadvertent boot to the face from TK Cooper towards the end of the match after Dennis has made creepy advances on her. That leads into Banks scooping Mandrews up in an airplane spin and dropping him the mat at great speed. And that's enough to get the win, a large win too for South Pacific Power Trip as they begin their journey in PROGRESS. 
A Sudden Sense Of Liberty
Rampage Brown (c) vs Mikey Whiplash – Atlas Title Match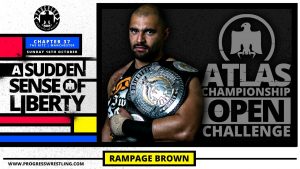 Rampage Brown makes the first defense of the new Atlas title in an open challenge – answered by Mikey Whiplash. They then proceed to batter one another for the better part of ten minutes and it's mostly exciting stuff. The only issue, as I've noted previously, is that I just don't get Mikey Whiplash's gimmick. He has a great, macabre look, he's billed as hailing from the ninth circle of Hell, and yet he shrieks at his opponents to 'stay down' and tells the audience to 'shut up' – it's just too incongruous to engage with. His in ring prowess cannot be argued with however and he has Rampage on the ropes during this Atlas title match. It's not his night though as Rampage drops him with a trademark piledriver the pin and title retention.
A Sudden Sense Of Liberty
Mark Haskins (c) vs Zack Gibson – PROGRESS Title Match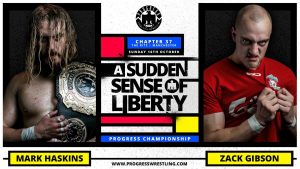 I'm not entirely sure what Zack Gibson did to earn a shot a Mark Haskins' PROGRESS title, but when the result is as good as this match such concerns are but a trifle. Gibson gets the toilet paper treatment prior to the opening bell. He takes his frustration with the crowd out on Haskins. The champ is on the ropes in the early going as Liverpool's Number One shows uncharacteristic pace on the offensive. One of Gibson's many strengths is his ability to take his time in a match and keep a nice, steady rate that never makes you lose interest. That's all out of the window here as he flies at Haskins with an all-out attack.
By the time the champ gets back into the match, he's taken quite the battering. That doesn't stop him from showing off his full repertoire and wheeling out moves from his back catalog. No shooting star press mind you. It's a battle of the submission holds in the final straight of the match. As Gibson repeatedly goes for the Shankly gates whilst Haskins tries to lock in a sharpshooter. They succeed in making you believe we're about to see a title change the third time. Gibson applies the gates – three is usually the magic number after all.
It isn't to be though and Haskins rallies despite the wear and tear on his shoulder.
A last gasp application of a sharpshooter, with added pull back on the toes, makes Gibson tap out after an epic, hard-fought match. Post-match Haskins offers a handshake to his fallen foe as both men receive a standing ovation. Gibson walks toward Haskins, hand outstretched… then raises his middle finger in Mark's face. A heel to the very end.
So concludes an excellent start for this latest chapter in PROGRESS's history (no pun intended). Both Rampage and Haskins have shown themselves to have the goods when it comes to their respective championship titles. New tag teams and singles stars are on the rise from the undercard in South Pacific Power Trip and Pete Dunne. And the issue between Jimmy Havoc and Marty Scurll is simmering nicely. The upcoming shows should be an absolute blast and we hope you'll be back to join us as we recap them all. See you next time folks.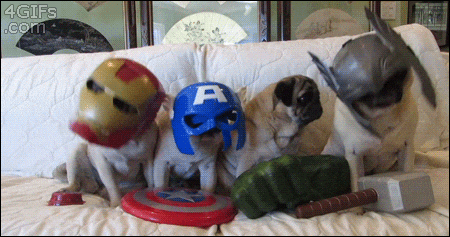 Be sure to check out PROGRESS on their streaming service PROGRESS on Demand and on Powerslam TV