Here is my first post where I explore my experiences over the latest independent wrestling show I worked on. Empire State Wrestling's "4th and Gold" event in at the St. Johnsburg Fire Hall North Tonawanda, N.Y. (a suburb of Buffalo). This event was different from previous events held at St. Johnsburg as before the show there was a superfan tailgate party. The party featured games, food, beer, and other activities the fans could partake in alongside ESW wrestlers and staff.
There was one activity I was a part of that left me a bit drenched: a dunk tank. As the party kicked off, I was the first one up to sit in the tank. As I sat down on the board, my toe lightly brushed against the surface of the water – it was freezing. After a stifling warm and humid summer in Western New York, part of me was looking forward to taking a dip. But after getting a brief touch of the chilly water in the tank – those feelings were long gone.
It was only fitting for my wife to be the first person to take a shot at dousing me in the frigidness. She ponied up the $3 for five throws at the target. This went to a really awesome charity. Ten Lives Club (which is an organization that helped unite us with one of our own cats). As I sat in nervous anticipation of dropping into the cold water, I was relieved when she failed to hit the target. However, that relief vanquished when the party host/ring announcer/podcast host Chris Gullo allowed her and my one-year-old daughter to run up and hit the target with my daughter's hand. Thanks, family!
4th and Gold
My daughter freaked out when she saw me drop. She also did when another partygoer hit the target on me, and when that devious Anthony Gaines ran up and pushed the button himself. It bummed me out and my wife needed to leave early from the party because of it, but I understood.
I soon left the tank after warming up the water for the future dunkees. Then I had dried off in the hall before getting ready for the night's show. I ended up coming back out to the party and was offered a vegan rice krispie treat from a random fan. Then I wolfed it right down. When I turned back inside, for some reason I started thinking paranoidly. Was the treat laced with some sort of hallucinogenic or another drug for some reason? As I told this to Brandon Thurston as we went over his match, he told me he ate one too, and if we both started tripping. We would be tripping during the match together. He then calmed my nerves saying that the treats did not have any foreign substances in them. And that I would be fine.
4th and Gold :
The Intensity
"4th and Gold" in a nutshell was probably the most intense show I ever been on. All the matches were on point and garnered strong reactions from the sellout crowd (ESW owner Brett Mednik told us he ran out of printed tickets at the door). My mother and stepfather, who average about a show a year over the last 10 years, though it was the best independent wrestling show they ever attended.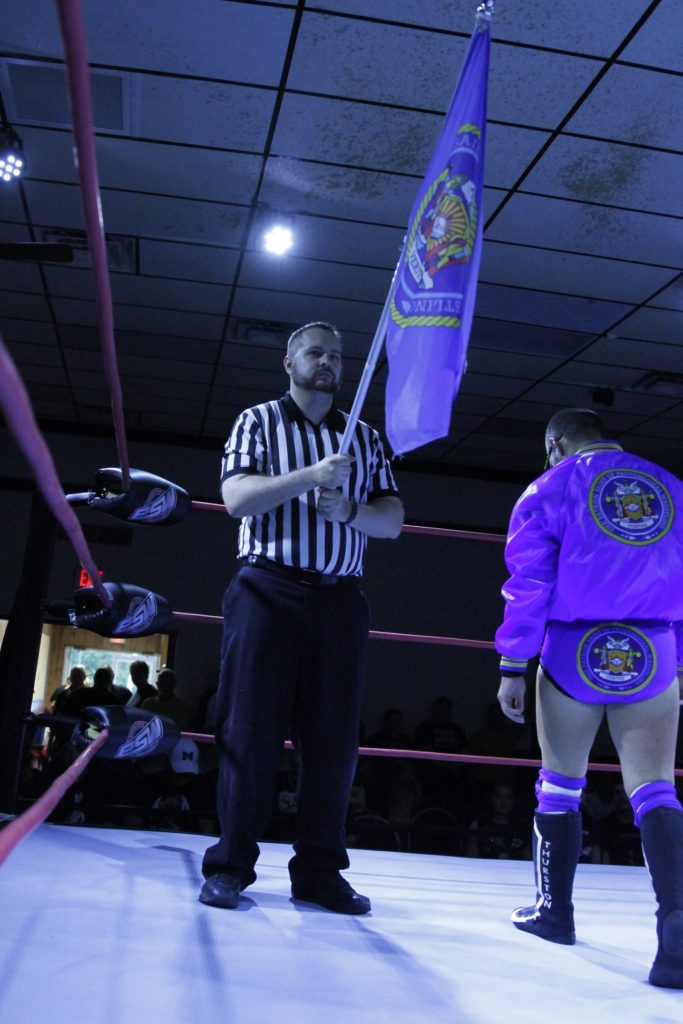 My first match was a pre-show match that was taped exclusively for Powerslam.TV. The rest of the card could be viewed live on Twitch. My bout featured two guys I never worked with before: Sebastian Braun and Atticus Cogar. I do not travel as much as I like refereeing, so I cherish any opportunity I get to work with new people. When Sebastian came out to the ring, he was announced from "Lancaster, New York" – my hometown, which took me a little off-guard. After the match, I found out his dad is a chiropractor whose office is blocks away from where I grew up.
I did not know what to expect from Atticus, but I ended up being impressed with how crisp he was in the ring. Being that Ohio was the place I started my reffing career, it always has a warm spot in my heart for it. So being in the ring with a good, young talent like Atticus from Cleveland was something I appreciated.
Thurston vs Blackwood
My next match was Thurston versus Kevin Blackwood. I reffed many of Thurston's matches over the last few years and also reffed a few of Blackwood's. Probably out of all the matches on the night's card, this is the one I was most hoping to get assigned to work. I dubbed this "The Battle of the Vegans" and briefly contemplated going vegan for just the week of the show until I looked up some of the regular staples of the diet and decided to pass. Heck, I did eat a vegan rice krispie treat the day, so that counts for something, right?
That was one of the fastest-paced matches I ever reffed. I would put that on par with the match I did with Thurston against Mark Haskins earlier this year. The match went over its allotted time, but that was fine as the crowd was devouring it up. I cannot imagine trying to ref that bout while hallucinating. You can view Thurston versus Haskins here:
My third match did not really materialize. Frankie Feathers was set to face Gaines for the ESW Interstate Championship. Everything seemed all fine and well until right after I rang the bell. Gaines slipped out of the way without being touched and preceded to be counted out. A little chaos ensued after I called it a match since I could not locate Gullo. We were all taken a little off-guard. So after it was announced that Frankie won the match by count-out but Gaines retained his title. I walked to the back only for Gaines to sneak through the crowd and jump Frankie from behind. Just when you think my job was all done, I ran back out and pulled Frankie from the ring.
4th and Gold :
My Final Match of The Night
My final match of the night was a bit rough for me. It saw Cloudy take on Mr. Brickster, a relatively new wrestler to the independent scene but is already oozing with potential. Everything was going well until Cloudy went down for a pinfall. After I hit my hand for two, Brickster pushed Cloudy up so hard and fast that the back of Cloudy's head went flying into my right temple at point-blank speed.
I had no time to react at all and the next thing I know I was on the bottom rope grabbing my head in pain and kicking my feet. It was not a work. I quickly thought, "What the hell am I going to do now? Do I play dead? Do I brush it off?" So I sort of went in between. I finished the match but sold it the best I could (which was not that hard as I had a nice headache).
As I rolled out of the ring after the match, Joe Hrycych, one of the ringside photographers, asked me if I was all right. He said I got hit twice in the head. I only remembered once which alarmed me a little. I went to the back and told this to Daniel Garcia and fellow referee Nolan Evans, and they both said to go see the doctor. Alas, this was my first time in the concussion protocol.
'He's fine'
I passed the eye test., the pushing and pulling tests. I remembered the entire match and did not see any lights. My head just hurts where I got hit. I later confirmed the supposed second headshot was not so, I moved out of the way from a close call. The doctor said he did not think I received a concussion but still gave me a card of symptoms to watch for said to tell my wife to watch if I act strangely when I got home. Luckily for me, none of those things happened so I can confirm that I did not receive a concussion. With the resources available, the circumstances at hand, and the knowledge we all now possess about head injuries, it was for the better that I got myself checked out just to make sure I was alright.
I checked my phone after this and noticed a text from my mom saying how much fun she had that night and was wondering if Pepper Parks was all right. He got a nasty gash during the main event match with Kevin Bennett that needed to be butterflied up. I mentioned this to him and he said his own mother did not even check-up with him after the show. I texted her back saying he was fine and that so was on.
4th and Gold :
The After Party
The next week, my stepdad asked me if Referee Andrew Mollon, who also worked the main event was OK. He asked that after seeing him get hit in the face as part of the match. I texted him and he wrote back "I'M FINE!" At this point, I was pretty miffed that both my parents did not show the same concern about me, so I told them "You know I went through the concussion protocol after my last match?" They both thought it was part of the show and I just did a great job selling it! So I told them that was not supposed to happen, I really got smacked like that and was in pain. Got to give up for my parents to keeping canon!
After the show, we headed to ESW's official after-party spot, Mooney's on Main in Tonawanda. Thurston, Gullo, and I decided to record a different style episode of "Inside the Empire" podcast that night. I scoped out the table we used before for the Pepper Parks episode so Thurston could hook up the equipment quickly.
Our typical episodes involve interviewing a member of the roster in which they talk about how they broke into wrestling, interesting stories, etc. The best comparison I can make if you never listened before is to the original format of Colt Cabana's "Art of Wrestling" podcast. But with this recording, we decided to change it up and talk about the day's happenings and pull members of the roster over to our table for their comments.
A Good Mix of People
We got a good mix of people in this episode. We had Mednik, Steve Gage, Gaines, Bennett, Garcia, Puf, and Timekeeper Todd Brantley all speak on it. I think it was a good experiment to try out, although we will most likely return to our normal format in future episodes so that we give everyone on our roster enough time to tell their stories. You can listen to the 4th and Gold episode here: https://eswwrestling.podbean.com
Next Post
That wraps up this blog. Next post, I will be blogging about my wrestling-related work outside the squared circle, my random appearance in a magazine and preview some events I will be involved with. Thanks for reading!
Check out DJ and Empire State Wrestling along with several other promotions on Powerslam TV by visiting them after clicking on the icon below or clicking here.