Hello, everyone, and welcome to the 4th and Gold 2021 review. I am glad to return to blogging about my experiences as a referee, even with a 3-month layoff in between posts. During normal times, I would consider that a long drought. However, with the prior gap in show blogs being 18 months, I do not feel quite so bad about the space between them.
The latest event I refereed on was Empire State Wrestling's 4th & Gold at Buffalo RiverWorks on Sunday, October 10. Here were the things that went down for me at this event:
A few years ago, Empire State Wrestling did this football-themed event in conjunction with a tailgate party. The prior show in July featured a tailgate party, so there was not one for this event. However, there was a fair amount of football influence throughout the show.

ESW normally runs events on Saturday nights. With running an event on a different day of the week at a different time of day, there was some risk of not bringing in some fans that regularly attend the shows. But, in my opinion, this also provides an opportunity for new fans to attend that normally cannot make the typical ESW shows. For me, it was a little weird arriving at a wrestling show prior to Noon because all my prior show day routines needed to start earlier than normal. A bonus of fatherhood is that it gradually made me more of a morning person, so I think that helped me be not as off as I could have been earlier in my life.

It sounds strange to run a Sunday afternoon wrestling show in a pro football town in October. However, there was a good reason. That day, the Buffalo Bills game was in the Sunday Night prime time slot against the Kansas City Chiefs. ESW acted as the lead-in for the game so fans in attendance could stay and hang out at the RiverWorks bar area and watch it.

Instead of running on one of the ice rinks, the ring was moved into a more indoor area in front of a stage. This is the same area used for the wrestling portion of the Every Time I Die Christmas show and Ring of Honor's house shows. It was an overall smaller capacity for this show than the last, but the seats were still filled, and many people occupied the standing room areas.
4th And Gold 2021 Review
Along with being a referee for ESW, I also serve as the promotion's publicist. I arranged for Buffalo's local CBS affiliate WIVB Channel 4, to come to the show and interview ESW Heavyweight Champion Daniel Garcia before it started. You can check it out here:

Part of setting up the television interview involved me waiting by the venue entrance for the cameraperson to arrive. While waiting, I hung out with some diehard ESW fans for an extended time, including a few I talk with regularly on social media. I am glad I was able to do that in person.

ESW is always looking to up its production levels, even in the smallest of ways. For the second event in a row, I wore an earpiece and radio to stay better connected with the production crew. I last wore one in the ring about ten years ago, and I was not totally comfortable with it yet, but I did make some progress. Ultimately, it is better to wear one as any way to improve communication is a positive.

4th And Gold 2021 Review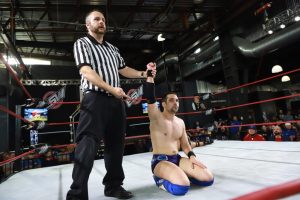 I was assigned three matches and the 12th Man Battle Royal. My first match was between Brandon Thurston and Spencer Slade. I refereed many Thurston matches over the years, but this was my first with Slade. If you are unfamiliar with Slade, check out some International Wrestling Cartel events in Pittsburgh, Penn. where he is a regular. He also wrestled a few matches for All-Elite Wrestling.

Last show, I felt the Kevin Bennett-Facade match I refereed was a good cardio test for me. But this Thurston-Slade match blew me up. I do not think it was necessarily me being in less cardio shape than I was three months ago, but the style of the matches themselves. Bennett-Facade was very aerial-based, but Thurston-Slade was a technical wrestling showcase. As a referee for high flying matches, a lot of times, your main priority is to stay out of the wrestlers' way, which can lead to you mainly standing in a corner most of the match as they perform their moves. Meanwhile, in a technical wrestling match, you need to stay on your toes for quick pin attempts, checking submissions, rope breaks, etc. All that activity requires you to exert more energy in the process.

The 12th Man Battle Royal featured 12 wrestlers vying for a chance to face ESW Interstate Champion Frankie Feathers later that night. Vinnie Moon proved to be victorious and received his shot immediately after the battle royal completed. But the ever cocky Bennett and his pal Roscoe Black interjected themselves to cost Moon the loss.
Football Theme of the Night
My second match also went along with the football theme of the night. It was a Buffalo tables match between "Invincible" Vince Valor and "Moonlight Son" Mike Skyros. It was essentially a tables match that used plastic tables like members of the Bills Mafia launch themselves through at Bills home game tailgates. Skyros got a lot of heel heat coming out in a Rob Gronkowski New England Patriots jersey while Valor received a nice crowd pop with his Bills jersey. Overall, this was a fun match to be involved with.

My third match was between To Infinity & Beyond against Maine State Posse. I refereed To Infinity & Beyond a few times, but this was my first time sharing the ring with MSP. The match started up sooner than we expected because T.J. Crawford suffered an injury in the bout prior versus Alec Price (thankfully, it does not sound serious), but once everyone got into rhythm, it was a stellar match. There were a lot of crazy double-team maneuvers and near falls.

I did not ref the main event of Garcia versus Davey Richards, but I need to note it considering how highly anticipated everyone was for it. This was Garcia's first match back in ESW and the Buffalo area since January 2021. In between now and then, you probably know about all the incredible opponents Garcia faced, whether it be at AEW, New Japan Pro Wrestling, or across the national independent wrestling scene. It recently seems like he is wrestling a dream opponent in each of his bouts. Garcia grew so much as a competitor over this time, and it was exciting to see him in the ring with such an awesome talent like Richards. The biggest reactions of the night were when he came out and after he won the match. It is great to have an up-close seat for his rise over the years while also knowing there is much more he can grow as an in-ring performer. It is something very special to witness.
ESW's first-ever live stream on IWTV
This was ESW's first-ever live stream on IndependentWrestling.TV. I think the show taking place at a slightly irregular time made it easier to get on IWTV, but either way, we were proud to be featured on it like many other prominent indie wrestling promotions. From what I saw on social media, the show was well-received, and hopefully, ESW will air live again there soon. If you missed 4th and Gold, you can watch it on IWTV's massive library, including many other previous ESW events.

After the show, a fan asked me if he could take the broken table from the Buffalo tables match. I asked around and gave him the OK but also told him to get it signed by the wrestlers. When I was leaving for the night, I saw him getting it into his car while covered in a bunch of autographs. It looked really cool, and I am glad he took my advice.

ESW's next event will be Wrestlebash at its traditional stomping grounds in Niagara Falls, N.Y., at the Frontier Fire Hall. The special guests announced so far are Tony Deppen, KTB, and the return of Facade. The matches revealed as of now are Garcia defending the ESW Heavyweight Championship versus his good friend Kevin Blackwood and the 2021 Ilio DiPaolo Memorial Cup match (participants to be announced). I am really looking forward to the Garcia-Blackwood match. I think it will be super emotional for everyone in the building, especially the two in the ring that night.
That concludes my time at 4th and Gold with the 2021 review. Before ESW's Wrestlebash event, I plan on returning to a promotion in Binghamton, N.Y. that I refereed for a few years ago called Xcite Wrestling on November 6. Stay tuned here for my blog about what happens on what looks like a solid wrestling event.
Also, I am reiterating that I am now available for referee bookings. If you would like me to referee your show and, subsequently, blog about my experience, which provides some online content and exposure for your promotion, feel free to contact me on Twitter @jarkaster.  
As always, thanks for reading!