PROGRESS Wrestling Chapter 38: When Men Throw Men At Men. 30th October 2016. The Electric Ballroom, Camden, UK.
Welcome back to the PROGRESS Prerogative, the weekly column that looks back at each PROGRESS Chapter in turn. We've arrived at Chapter 38 When Men Throw Men At Men. A show which marks a turning point for both PROGRESS and BritWres as a whole. Fans will begin to see why that is by the end of this week's edition. But perhaps not fully understand until we cover Chapter 39 next week. This show is important for several other reason. It sees the first match of NPS4 which will crown the first PROGRESS women's champion. Sebastian, a great heel, returns to make Pastor Bill's life hell; and Jimmy Havoc wrestles his first match for the company in nearly eighteen months. Let's stand on ceremony no longer and dive in.
The Hunter Brothers vs The New Nation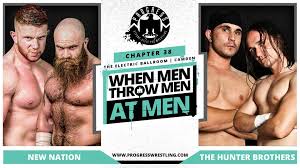 The Hunter Brothers have their first Chapter match since way back in 2014 against the debuting Primate and Alexander Henry. The Hunters are a fantastic tandem so t's hard to process why they aren't used more by PROGRESS. Their schedule is heavy. They wrestle up and down the country for lots of different promotions. But they appear very sporadically in the Ballroom nonetheless. They show the Ultras exactly what they have been missing. During their lengthy absence as they go hell for leather against The New Nation. Henry and Primate, again, are two guys I'm surprised didn't get used more – I think this is their only appearance for the company.
Two power wrestlers who have great speed and some flying ability, they really get over with the crowd during the course of the match. Shame about the finish though: Jim Hunter uses the old surprise rollup to get the best of Primate. I hate that finish.
Pollyanna vs Jinny – Natural Progression Series
Natural Progression Series 4 kicks off with long-running rivals Jinny and Pollyanna facing off one last time. The only issue I have with this match is that it starts a touch on the slow side considering the shared history the two wrestlers have. They have several smooth chain wrestling sequences that are superbly worked, but I just think they should have been trying to knock each other out at the start. They do have a quick brawl around the ringside area to kick it up a notch and Pollyanna takes a great bump into the wall under the projection screen. Jinny dishes out quite a lot of the offense from there until they arrive at a dramatic finish sequence.
Jinny hits her x-factor from the second rope which only gets a count of two. Polly makes a comeback a buries Jinny with a Pollynator; that's also good for a two count only. Jinny rallies to hit a picture-perfect style clash – but it's still only good for two. That leads to Pollyanna hitting Jinny with finish her (as in Mortal Kombat). Polly lifts Jinny straight back up and hits her with it again, then lifts her up for a third. Instead of a perfect trifecta Jinny manages to roll through a get the victory with a roll-up. Two matches in a row with that finish, goddammit.
Pastor William Eaver vs Paul Robinson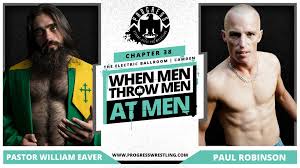 Pastor William Eaver attempts to get back on track with a win over Paul Robinson next. The nice thing in this match is that the size difference is played upon in a fairly unorthodox way. Bill towers over Robbo and the offense he dishes out really shows that Robinson shouldn't be a match for him. It's unusual due to the fact that you would expect the heel to be the bully, yet Robinson, the heel, is the victim in this match. It works as a dynamic due to the Essex man's sheer unlikability – he's a real piece of work in the ring and around ringside. It's a pleasure to see Eaver hit him with a thunderous tope straight into the crowd.
Likewise, it raises a smile when the Pastor drops him with a huge razor's edge for a desperately near fall. Robinson doesn't have much of an answer to any of this throughout the bout, simply proving his toughness by refusing to stay down. The smaller man is also the more experienced of the two wrestlers and that is quite telling as the match winds down. A brief flurry from Robinson causes Eaver to charge wildly at him in the corner. Robbo sees him coming and Bill crashes face-first into the turnbuckle before eating a curb stomp.
Despite taking a bit of a hammering throughout Robinson has scored the win.
The victor having left the ring, Sebastian makes his way down to the ring wearing a neck brace. He promptly removes it once in the ring, and slates Eaver for 'attacking' him prior to their scheduled match at Brixton in September. Seb blasts Jon Briley, Glen Joseph, and Jim Smallman for booking Eaver and says that he could make one phone call and have him sent to jail. "You belong to me now," is the chilling sign off to the segment as the two leave the ring together to Sebastian's music.
When Men Throw Men At Men
Jack Sexsmith & Roy Johnson vs South Pacific Power Trip – Tables Match
Apparently the impromptu Wasteman Challenge from three chapters previously was such a barn burner that it warrants a tables match blowoff. See if the hype video convinces you differently.
Travis Banks and TK Cooper are definitely on the ascent in PROGRESS so a match of this type can only help cement their spot. It's a spirited effort from all four wrestlers particularly Jack Sexsmith who has some nasty welts on his ribs come to the end of the match. Somewhat strangely, the match is won by whichever team can put both members of the opposite team through tables but not under elimination rules. Therefore when Roy Johnson is eliminated fairly abruptly by getting bieled through an upright table he continues to wrestle after recovering. That's an odd choice to me, but I suppose it avoids having the match become too unbalanced.
Dahlia Black takes a nasty fall from the apron through a table courtesy of a TK Cooper right hand. He uh… he accidentally hits her quite as often doesn't he? Surprisingly, Travis Banks is the next to crash through a table courtesy of a 3D by the Shirtlifters to level the score at 1-1. The fight shifts to the stage by the entrance curtain, and that's where Sexsmith takes the bump that marks his ribs. He's launched from the stage straight into the chairs below (after the fans have moved out of harms way). Jack can only hold out for so long from there despite a brief rally by he and Johnson. Banks powerbombs Sexsmith through a table to claim the latest win for SPPT as their march up the card continues.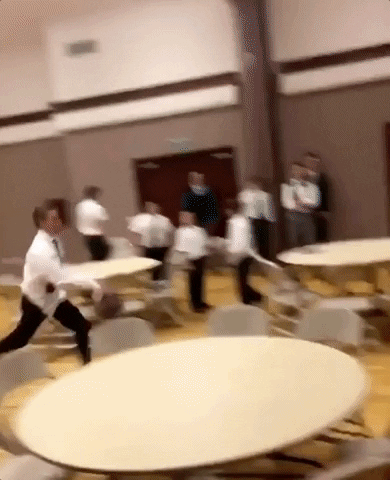 When Men Throw Men At Men
Rampage Brown (c) vs Bad Bones – Atlas Title Match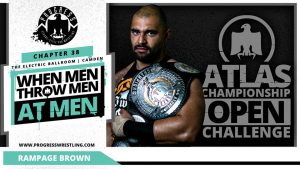 wXw's Bad Bones Jon Klinger answers Rampage's Atlas open challenge to kick off the second half of the show. They engage a typically robust big lads match and they start as they mean to go on at full speed. A great sequence sees each man follow the other into the corner and hitting them with a clothesline or chop respectively. Rampage eventually gets the better of that, nearly taking Klinger's head off with a brutal lariat. The visiting German is no pushover and throws Brown around the ring with suplexes and sundry takedowns. Particularly impressive is the dive by Bad Bones that sends the crowd flying for cover.
A superplex back into the ring nearly sees the title change hands. Bad Bones can't convert his run of near falls into a three-count or submission and ultimately falls to a cracking piledriver from Rampage. A pleasing encounter between two big bulls.
Mark Andrews vs Matt Cross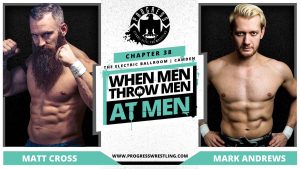 A shot at the SMASH Wrestling championship is on the line as Matt Cross returns to PROGRESS to face Mark Andrews. They begin with a nice spot of chain wrestling: wristlocks into armbars into reverse hammerlock et al. It's a great way to begin a face vs face contest and that style of exchange continues as they run the ropes shoulder tackling each other to the ground in succession. It's your RVD style opening to a match from back in the day. There follows a prolonged display of mat work as Mandrews works M Dogg's legs and Cross works over the body. The crowd are working themselves up into a frenzy during this as they affectionately chant 'do some flippy shit' at the competitors.
When the inevitable/flippy shit does arrive it was worth the wait. It all kicks off as they take it, in turn, to nail one another with dives to the outside which culminates in Cross hitting a space flying tiger drop. Matt keeps the pressure on in the ring until Mandrews manages to position him on the top rope. Trying for a poison 'rana from the top, Cross stunningly lands on his feet and hits an ace crusher for the pin. Fantastic finish to a beautifully constructed match between two absolute pros.
When Men Throw Men At Men
Mark Haskins (c) vs Jimmy Havoc vs Marty Scurll – PROGRESS Title Match
Your main event is a three-way of epic proportions. Mark Haskins defends against former champions Marty Scurll and Jimmy Havoc. Havoc makes his entrance first, giving Jim Smallman a little nod as he enters the ring, followed by Scurll. The Villain runs to the ring to engage havoc in a slugfest instantly and they tumble outside. Haskins then makes his entrance and mows both challengers down with a tope. That's a really hot start and the match never overly calms down for the duration. To an extent the triple threat rules play into Jimmy Havoc's favor as he introduces chairs and tables into proceedings.
But it's Haskins who is a blur during the match, wrestling as though this might be his last time in a ring. It's no surprise that due to that effort Haskins emerges victorious, extracting a tap out from Marty Scurll with a sharpshooter. What follows next is a surprise, however:
So there we have it: Mark Haskins has vacated the PROGRESS title just over a month after winning it due to injury. That must have been absolutely devastating for both him and his supporters at the time. Obviously we know that the early doctors' prognosis was incorrect and he continues to wrestle to this day for Ring of Honor. Does that make his abdication more or less disappointing in the grand scheme of things? Who knows. I would suggest that PROGRESS should also have had an in-ring promo to announce this rather than upload a video to YouTube the day after the event.
The Ballroom crowd clearly had no idea what was happening.
And that, my friends, is all we have for another week of the PROGRESS Prerogative. Make sure to give us a like and a share if you would be so kind. We'll see you back here next week to crown a new PROGRESS champion. Take care of yourself. Each episode can be watched on the PROGRESS on Demand service. PROGRESS Wrestling is also available on Powerslam TV