Wendi Richter is a name synonymous with Women's wrestling. One that many seem to forget or weren't around when she reigned supreme in the mid-1980s. Born on September 6th, 1961, in Dallas, Texas, growing up, Richter worked on her family's ranch. She was a naturally gifted athlete. Richter was top of her class in shot put and various track and field events. Being very physical at such an early age and standing at 5'8, she transitioned to professional wrestling training under Judy Martin and Lilian Ellison's tutelage, AKA 'The Fabulous Moolah' who would help play a part in her career in both a positive and negative way.
She began her career in 1979, where she teamed with Moolah for a few matches in the then WWWF. After leaving the promotion, she furthered her training with Joyce Grable. Together, they formed The 'Texas Cowgirls'. She honed her craft by working the various territories. These included working for the likes of Bill Watts' Mid-South Wrestling and Stu Hart's 'Calgary Stampede.' The team also worked for the National Wrestling Alliance, where they captured the NWA Women's tag team championship on two occasions.
Wendi Richter | Her Return to the WWF
In November of 1983, she returned to the WWF. It was where her career would begin on what can be best described as a roller coaster. She continued her original feud against Velvet McIntyre and Princess Victoria until she started being pushed as a singles competitor.
It wasn't until April of 1984 that she began her climb to superstardom, gaining national attention when she was teamed with Cyndi Lauper in her corner in MTV's "The Brawl to End it All." There she defeated "The Fabulous Moolah" to capture her first WWF Woman's Championship. MTV scored their biggest rating to that point with this match and what would later be recognized as the beginning of the "Rock n' Wrestling" connection which was the era that was the combination of Rock n' Roll music and professional wrestling in popular culture.
In February of 1985 at Madison Square Gardens, "War to Settle the Score," she dropped the title to Moolah's protege Leilani Kei only to regain it at a month later, on March 31st, at the inaugural Wrestlemania. She became a global sensation not only appearing on the animated series "Hulk Hogan's Rock n' Wrestling" but also in Cyndi Lauper's video "She Bop." There seemed to be no stop to her momentum. Until later that year.
The Spider-Woman Altercation
It all came to a halt on November 25th of that same year at Madison Square Gardens. The same place she won the title. In a dispute over compensation with WWF Promoter Vince Mc Mahon, she was involved in what many have dubbed the original' Screw Job.' Moolah, disguised under a mask as "the Spider Woman," pinned Richter's shoulders to the mat, accompanied by a fast count by the referee, saw Richter exit the promotion. It all ended as quickly as it started.
Richter continued to wrestle in promotions around the world, working in Japan and then in Carlos Colon Sr's "World Wrestling Council" promotion (WWC) in Puerto Rico where she had a legendary feud with "Monster Ripper" (Rhonda Singh), becoming a four-time champion. She arrived in Verne Gagne's AWA promotion in 1987, where she became the Woman's Champion by defeating Madusa Micelli in 1988. Later that year, she also participated in the "Super Clash 3" event in a mixed tag team bout.
She continued to wrestle part-time while she went back to school for the next 13 years. It was there where she earned a degree in Physical Therapy. She then earned her Master's degree in Occupational Therapy, where she continues to work to this day. She's not only an Animal Rights advocate, but she also raises show dogs which she competes in the Westminster Kennel Club Dog shows. She's moved on from her life in professional wrestling and created an entirely different life for herself.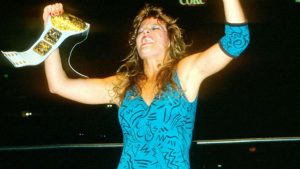 Art Abrahms Lifetime Achievement Award
She may have left the wrestling business behind, but the wrestling industry had not forgotten her contributions. In 2012, she became the recipient of the Art Abrahms Lifetime Achievement Award. She received this from the Cauliflower Alley Club (CAC).
"I'm so proud to have gone to wrestling school to learn the fundamentals, because, without that foundation, you have no concept of psychology or, possibly, respect for this great sport… and I'm so proud, winning this award and the championships, based on my wrestling talent and hard work, and not on acting and T&A."

"You see, the girls didn't make much money in wrestling. We were treated basically like the midgets, a special attraction going territory to territory. It wasn't easy. I'm sure it's still not easy. I've always said that the girls had to work twice as hard to receive half the recognition and pay that the men do. Probably still do.
Wendi Richter during her Cauliflower Alley Club Hall of Fame induction speech
In 2010, she mended her ties with Vince Mc Mahon and returned to the WWE family. It was then where she was inducted into their Hall of Fame. She shared her thoughts after her induction as to what was going through her head as she stood at the podium.
"It was one of the highlights of my life probably. I was very nervous when I gave my speech. I'm not nervous to wrestle, but to speak like that and having to stand up by myself without having a commentator, I was pretty nervous and I was hoping I wouldn't forget what I wanted to say because I was nervous. I was so glad. It was a good feeling. I felt like it was justified and had that not happened to me on November 25, 1985 like it did, I probably wouldn't have gone to college. I'd probably been wrestling year after year after year and who knows? I was spared from that and brought to another level. I got the Lifetime Achievement Award from the Cauliflower Alley Club and was inducted into the Professional Wrestling Hall of Fame. It seems like another lifetime ago, to be honest with you, but I still love it. I do, but I love what I'm doing now too. I feel blessed that I was able to go to college and it gives me a really good feeling."
Wendi Richter during her WWE Hall of Fame speech
Wendi Richter played an integral part of the professional wrestling boom in the 1980s. She seems to have been overshadowed by WrestleMania's other big names, such as Piper, Hogan, and Mr. T. Still, it is crucial that she be remembered for her contribution in the history of Professional Wrestling. That she paved the way for other female wrestlers that followed.
Written by
Dominick Petrungaro