On this day, this was the night Tommy Dreamer won and lost The ECW Title at Cyberslam 2000. Extreme Championship Wrestling was known for its chaotic unpredictability. On this day in pro wrestling history, chaos reigned as ECW Original Tommy Dreamer won the ECW Championship and lost it minutes later. On April 22, 2000, at ECW Cyberslam, Dreamer faced the Human Suplex Machine Tazz.
____________________
Extreme Main Event
ECW fans in attendance at South Philadelphia ECW Arena were salivating for this match.  They have seen Tommy Dreamer scratch and claw his way up to being a number one contender.  He earned respect when being hit by a Singapore cane and saying thank you may I have another. Dreamer is a star the average person can relate to. His hard work and perseverance led to this night. The ECW faithful believed he was one of their own.   The Human Suplex Machine Tazz was an unbeatable one-person wrecking crew. He choked out everyone in his path to get the ECW Title. Recently he defeated Mike Awesome for the title in one of the most insane circumstances.  Tazz was ECW Champion, but he was also under contract as a WWF Superstar. Read more about that night here.
A Dream Comes True for Tommy Dreamer
As the two fan favorites squared off, the ECW faithful looked on in appreciation. They couldn't help but cheer for the two hardcore pioneers. Francine accompanied Tommy Dreamer at ringside. After exchanging several holds, Dreamer finally caught Tazz in a DDT. Unfortunately, Dreamer could only get a three count on the Champion. Tazz recovered and hit a picture-perfect northern lights suplex, but Dreamer kicked out. The man from Redhook hit dreamer with everything he had, but he refused to give up.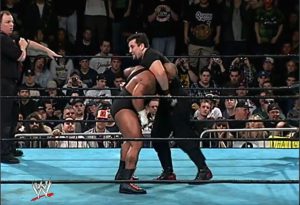 Finally, Tazz locked in the Tazzmission, but Tommy miraculously escaped. He caught Tazz with a double underhook, but Tazz reversed it with a double leg takedown. However, Dreamer reversed it into a roll-up and got the win. After years of blood, sweat, and tears, Tommy Dreamer achieved his dream of becoming ECW Champion. The roof blew off the ECW arena. An extremely hardworking blue-collar champion was crowned. Dreamer immediately grabbed the mic and cut a heart-wrenching promo.
"I've been waiting my whole life for this. I may never make it to WrestleMania.  I never want to make it to Starrcade( playing off ECW's rivalry with WCW) , but I made it in the ECW arena."
Tommy Dreamer Won And Lost The ECW Title at Cyberslam 2000 Respected by ECW Locker Room
Tommy's mentor, the great Terry Funk, made his way to the ring to congratulate the new Champion. Even Raven, who had arguably one of the most violent feuds with Dreamer, shook his hand. This night it wasn't all about Raven. Viewers at home watching on pay per view could hear ECW commentator Joey Styles say,
"I will never forget this moment."
Tommy Dreamer lived his dream by becoming ECW Champion; however, all dreams end.
Tommy Dreamer Won And Lost The ECW Title at Cyberslam 2000
The Dream is Over
Tommy Dreamer was about to wake up to an unfortunate reality. Impact Player Justin Credible made his way to the ring. He challenged the new Champion to a title match that very same night. Being a fighting Champion, Tommy Dreamer accepted. It looked like the new ECW Champion would do the impossible and retain his ECW Championship. He caught Credible in a Spicolli Driver. Just as he was about to deliver the move, Francine stepped in the ring and gave Tommy Dreamer a low blow. As he crumbled to the floor, Justin Credible covered Dreamer. The referee counted to three. Justin Credible was the new ECW Champion. Just like a dream, Tommy Dreamer as ECW Champion was for one night only.
Tommy Dreamer Won And Lost The ECW Title at Cyberslam 2000
Extremely Unselfish
Recently in an interview on The Two Man Power Trip Podcast, Dreamer talked about what led to the circumstances of that night. He said that most ECW fans knew that he was a booker. He never wanted to be the guy that put the title on himself. A championship is used to get a guy over, and at that point in ECW, he didn't need it. He would have rather used it to get someone like Justin Credible over so the whole company can benefit from creating another star. Tommy Dreamer truly was an unselfish company man. He put other people ahead of himself for the benefit of the business. However, on April 22nd, 2000, at Cyberslam, ECW fans had the opportunity to share a dream with a hardcore pioneer. Tommy Dreamer the OG of Extreme.