Roman Reigns is in the midst of the best title run of his career. As of April 11th, 2022, he has held the WWE Universal Championship for 585 days. And considering how much time and effort WWE has put into making him a big star, Roman's reign isn't likely to end soon.
But all reigns to come to an end eventually. And one of the biggest challenges any company faces is booking the next champion. WWE still has time right now before their next title change. This is especially true considering many rumors are swirling right now suggesting that Reigns will hold onto one title (or both) until next year's WrestleMania.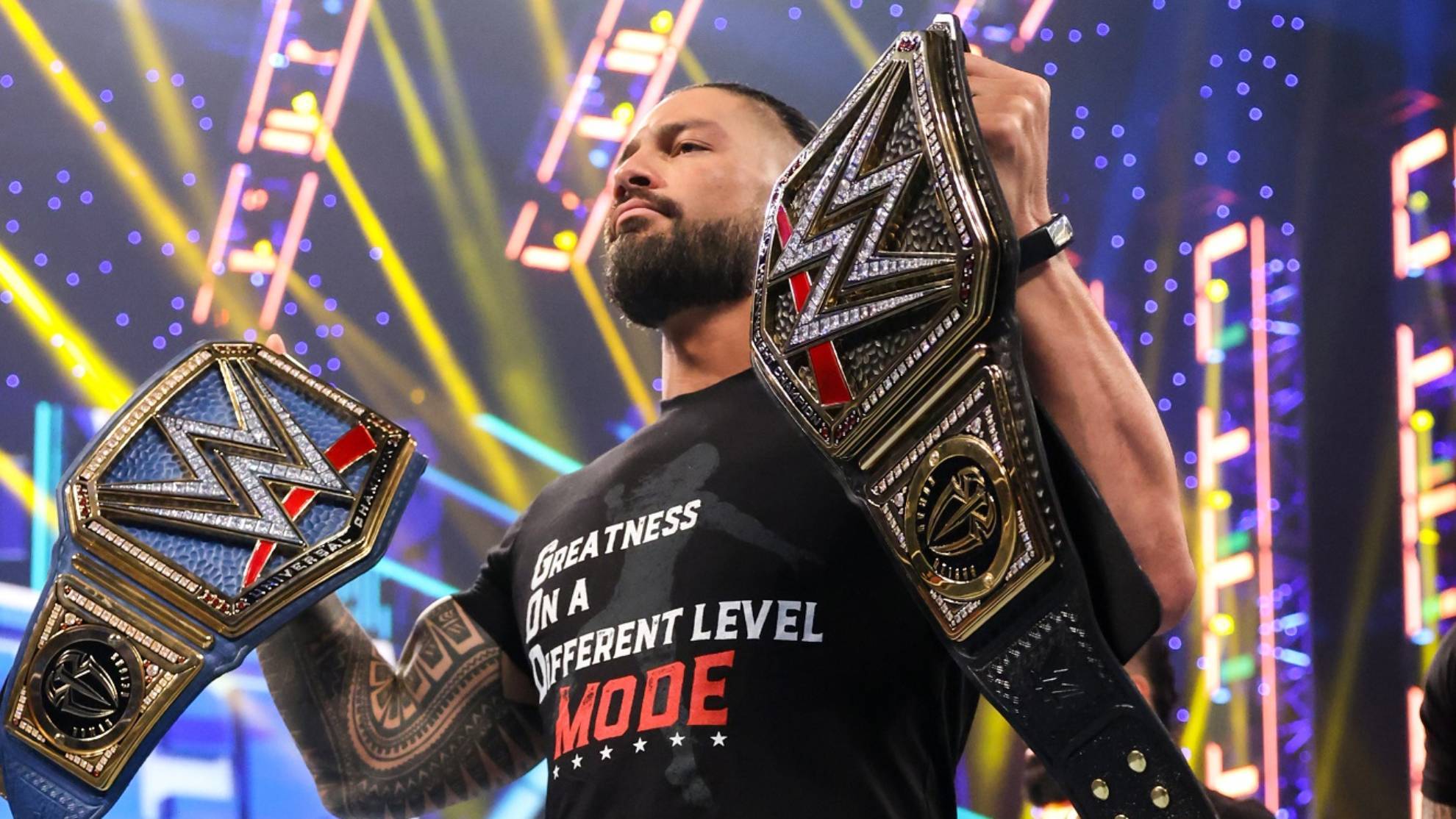 Roman's Reign
In any case, WWE needs to plan their next champion very carefully so that Roman Reigns doesn't end up like Kenta Kobashi and does end up like Kazuchika Okada.
By this I mean that his successor doesn't end up a flop (as Kobashi's did) but instead becomes a megastar in their own right (as Okada's did).
Let's look back at two of the most iconic world title reigns in modern Japanese wrestling history to understand this further.
Kobashi's Reign of Excellence
Kenta Kobashi held NOAH's GHC Heavyweight title for 735 days, making it longest world title reign in Japanese wrestling history. Not only was his reign so long, but it was marked by some amazing matches along the way. He beat his archrival Misawa in a clash for the ages to set the bar high for his reign and, from there, took on a wide variety of opponents. Some of his challengers had no chance, while others came incredibly close to beating him. And as time moved on, people began wondering who would be the guy to end this amazing reign.
The best pick would've been Jun Akiyama, whom Kobashi faced at NOAH's first-ever Tokyo Dome show in July 2004. Not only was there a history between them, but Akiyama benefitted from association by being in the mix with Kobashi and the other three of the Four Pillars during All Japan's 1990 golden age.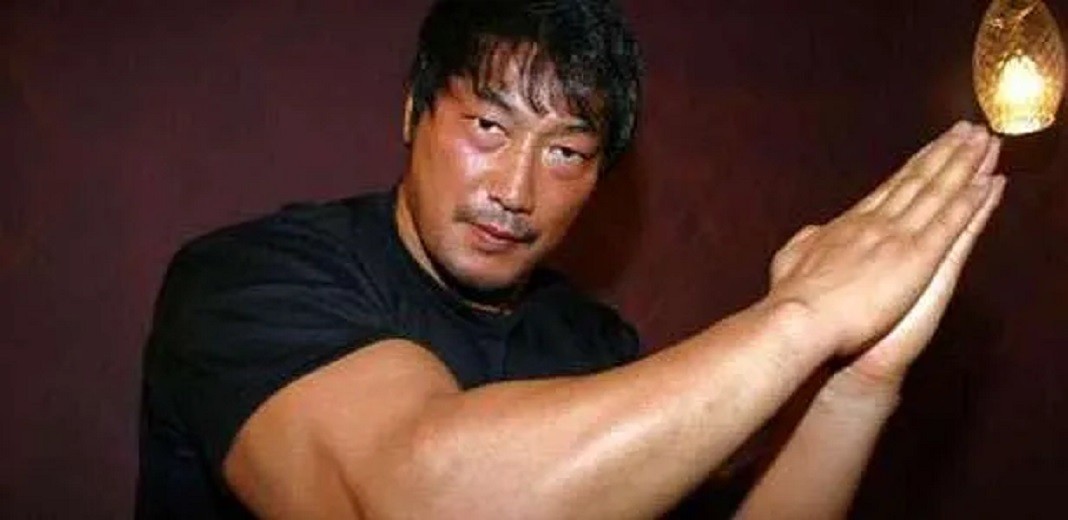 Yet, for whatever reason, Kobashi beat Akiyama at the Dome when the most commonsensical decision for NOAH's future should've been for Akiyama to win. Worse, Kobashi won with such decisive finality that any future rematches between them wouldn't've mattered. Akiyama, the younger and healthier wrestler, was put in his place beneath the aging Kobashi. It was
a bad booking decision
, especially since NOAH's field of potential successors to Kobashi had just gotten even narrower.
With Akiyama firmly out of the world title picture, NOAH had to find a new guy to groom to succeed Kobashi. And soon. Kobashi, despite being arguably the best wrestler to ever live from a pure in-ring perspective, was on borrowed time. He couldn't carry NOAH on his back (and surgically-repaired knees) forever. So NOAH looked for someone they could build up and eventually dethrone Kobashi. Unfortunately, NOAH picked the wrong guy to end Kobashi's reign. Out of all the possible challengers, they picked a random guy named Takeshi Rikio.
Roman's Reign – Who?
When NOAH first formed, company founder Mitsuharu Misawa took all but two of All Japan's native talent, including the trainees. Of the training class that they had at the time, four stood out as future stars. There was Naomichi Marufuji, KENTA, Takeshi Morishima, and Takeshi Rikio. Now, anyone that has followed Japanese or indy wrestling to any degree over the last 15-20 years has heard of at least one of these four wrestlers.
Marufuji is that crazy cruiserweight who ended up being the progenitor of the modern high-speed indy spotfest-style match. KENTA became known as Hideo Itami and also had some amazing matches in ROH during the mid-2000s. And Takeshi Morishima was basically a Japanese version of Husky Harris who hit people like he was Stan Hansen (seen here, beating the tar out of Bryan Danielson in 2007).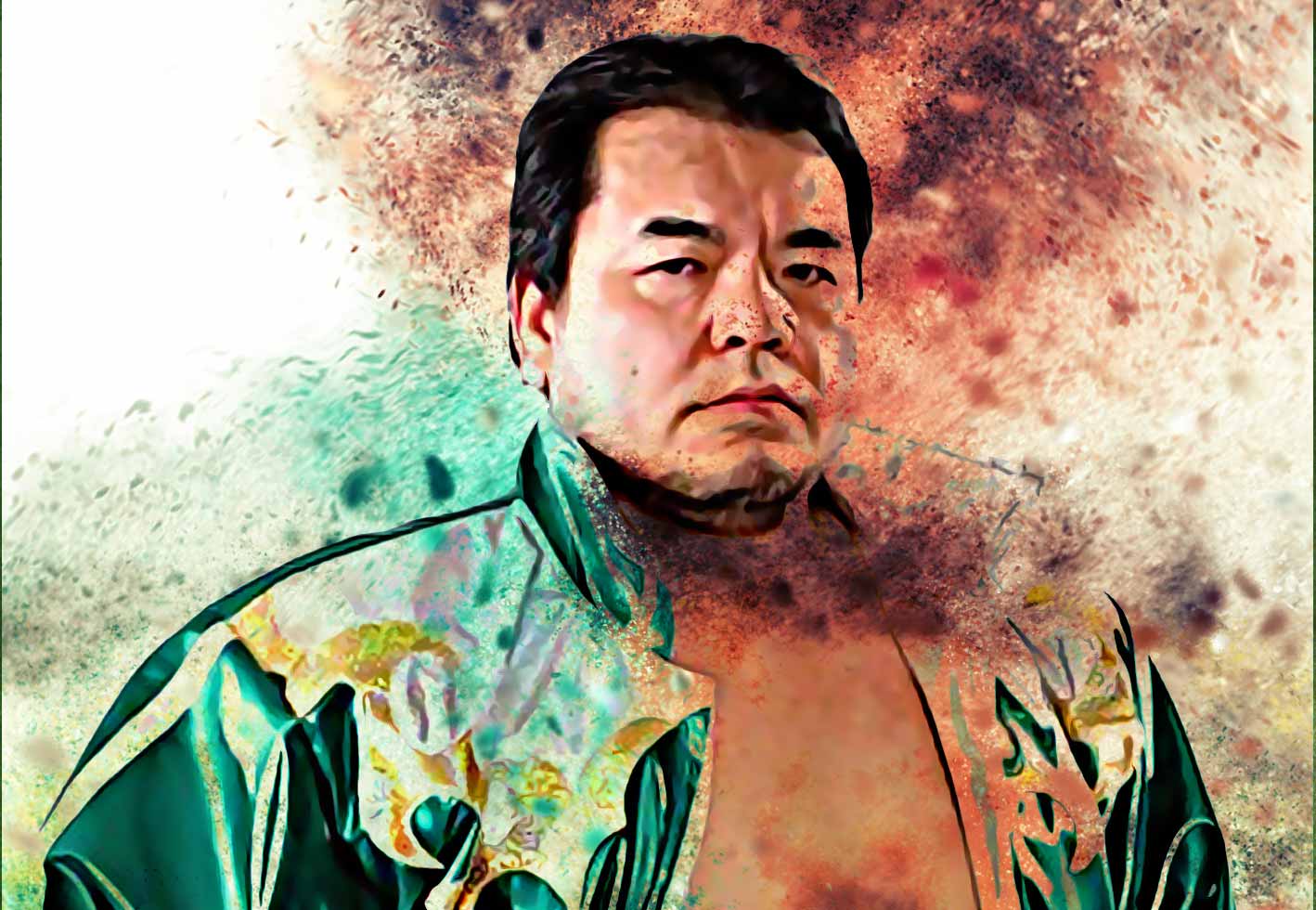 But Rikio? He was the blandest and most mediocre of the four of them. He ranked last out of all four trainees in terms of both wrestling skill and fan popularity. Yet for whatever reason, NOAH chose him to succeed Kobashi. And so he was gradually built up, collecting wins here and there, until the day came. Four days after the exact two-year anniversary of Kobashi's GHC title win, Rikio pinned him. Clean. Kobashi put Rikio over, and Rikio ascended the throne. The crowd reaction to his win was wild.
Albeit for the wrong reasons.
Fans weren't making noise because they were happy for Rikio's win. They were making noise because they were so shocked. Rikio pinning Kobashi was considered the upset of the decade in Japan. Fans couldn't believe that a wrestler as mediocre as Rikio managed to pin the mythical Kobashi cleanly and without shenanigans. It also didn't help that Kobashi beat him the last time Rikio challenged for the title, and few people had seen enough improvement to believe that Rikio was, in fact, good enough to beat Kobashi.
What happened next marked the beginning of NOAH's decline. Even though Rikio got a major rub from beating Kobashi, he couldn't replicate that magic with other opponents. Fans just didn't like him, and his in-ring skill just wasn't that good. His title defenses were simply disappointing. Not even Misawa himself could pull anything more than a passable match out of Rikio.
Rikio
When fans compared Kobashi's reign to Rikio, the comparison was unbelievably one-sided. Kobashi's reign was mythical for many reasons. It started with one of the most godlike title matches of all time. Kobashi took on all comers, no matter how differently they wrestled from him. He was a highly lucrative draw, even as MMA took Japan by storm. And even though his body was beyond worn down, he put on outstanding matches that, by and large, still hold up incredibly well today.
Rikio just couldn't match up to him. Rikio was inferior to Kobashi in every way imaginable. Virtually everyone agreed that Rikio was the wrong choice, but by that point, it was too late. They made their bed, and now they had to sleep in it.
As definitive proof of Rikio's inability to draw, consider this. NOAH's first Tokyo Dome show was headlined by Kobashi's GHC heavyweight title defense against Jun Akiyama. Rikio, who defended the same title belt, was fourth from the top a year later. He was so poor at drawing the house that he had to take a backseat to a one-sided squash between Genichiro Tenryu and Yoshinari Ogawa, a Kobashi/Kensuke Sasaki dream match and the last and final singles match between Mitsuharu Misawa and Toshiaki Kawada. It was as obvious a message as any that Rikio just wasn't the guy, and his reign would never be on the same planet as Kobashi's, much less in the same atmosphere.
Okada's record-breaking run
Kazuchika Okada's 720-day reign as IWGP Heavyweight Champion broke all the key records in New Japan. He surpassed Shinya Hashimoto's as the longest single reign. He beat his longtime rival Hiroshi Tanahashi's record of most successful defenses during a single reign with twelve. And with this reign, Okada surpassed Tanahashi as the wrestler with the most combined days as champion as well. By every important metric, Okada became the greatest IWGP Heavyweight Champion of all time.
Okada, like Kobashi, would have to drop the title to someone eventually. But unlike Kobashi, Okada had a bevy of credible challengers that could have solid reigns of their own were they to beat him. His first challenger was NOAH ace Naomichi Marufuji, who pinned him during the 2016 G1 Climax tournament. But as great a wrestler as Marufuji was, he had no chance in taking the title away from Okada in his first title defense. And yet, Okada's title defense against Marufuji was an outstanding match, despite the relatively-obvious outcome.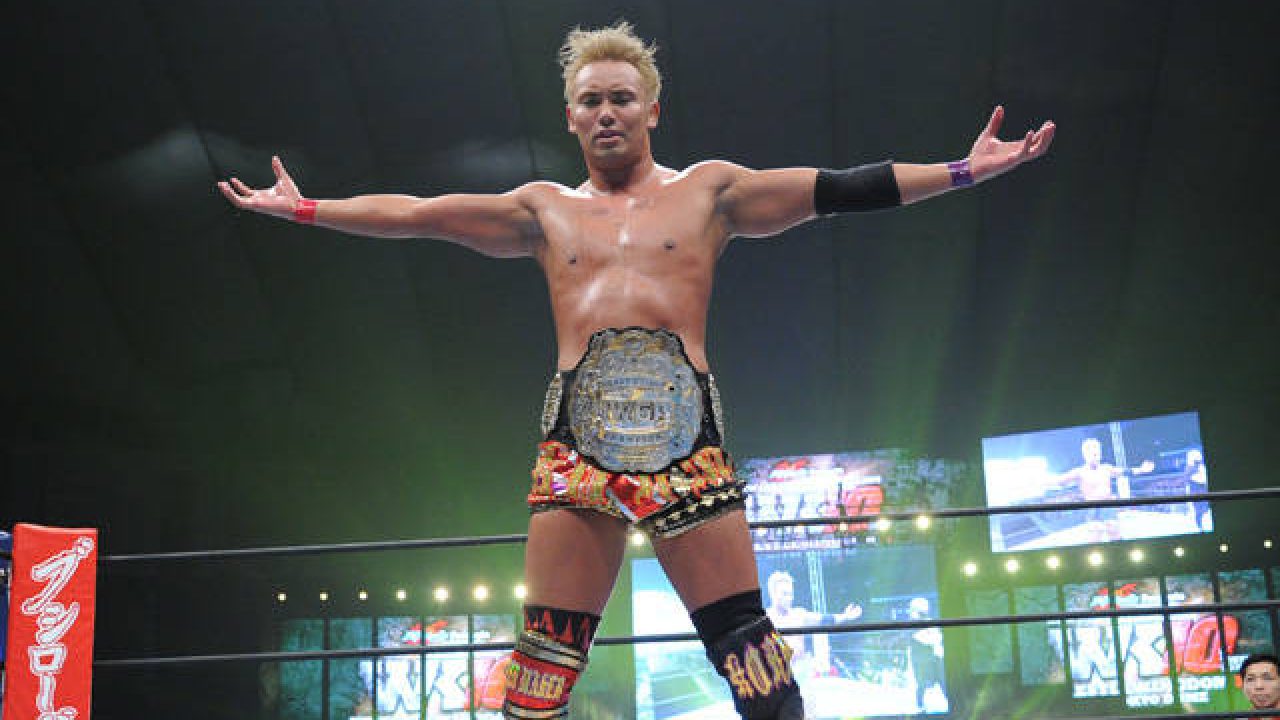 Okada's next defense was against 2016 G1 winner Kenny Omega. This title defense took place on January 4
th
, 2017 at Wrestle Kingdom 11. In
that
match. You know, the one that got rated 6-stars and was hailed as the greatest wrestling match to ever take place. Yet Omega came incredibly close to winning, but Okada outlasted him on that night.
Okada's third challenger was Minoru Suzuki, one of the most feared amateur grapplers in Japan. He was feared for his brutality and skill as an amateur wrestler and MMA pioneer, but not even Suzuki's "God"-given grappling skills could help him beat Okada. ("God" here refers to Karl Gotch, one of Suzuki's earliest trainers, who was nicknamed 'Kami-sama,' i.e., God, by the Japanese wrestling press for his incredible wrestling skill).
Katsuyori Shibata
Then there was Katsuyori Shibata, whom Okada felled in another match considered to be among the best ever. At Sakura Genesis 2017, Shibata tore into Okada like no one else and hits him brutally hard throughout their near-forty-minute war. That included a disgusting head-butt that caused Shibata to make himself bleed (and later caused him to suffer a subdural hematoma that forced him to retire for almost five full years). And yet, Okada stood tall once again.
A month later, Okada beat Bad Luck Fale in what many have called the best match of Fale's career. Then for his sixth challenge, Okada picked his own challenger and called out Omega. Thus the rematch of the year, possibly even the decade, came about at Dominion 6.11. This time, though, Okada and Omega went to a 60-minute draw. And like their January match, this match also broke the scale and some even considered it better than their first match. Yet all the while, Okada remained champion.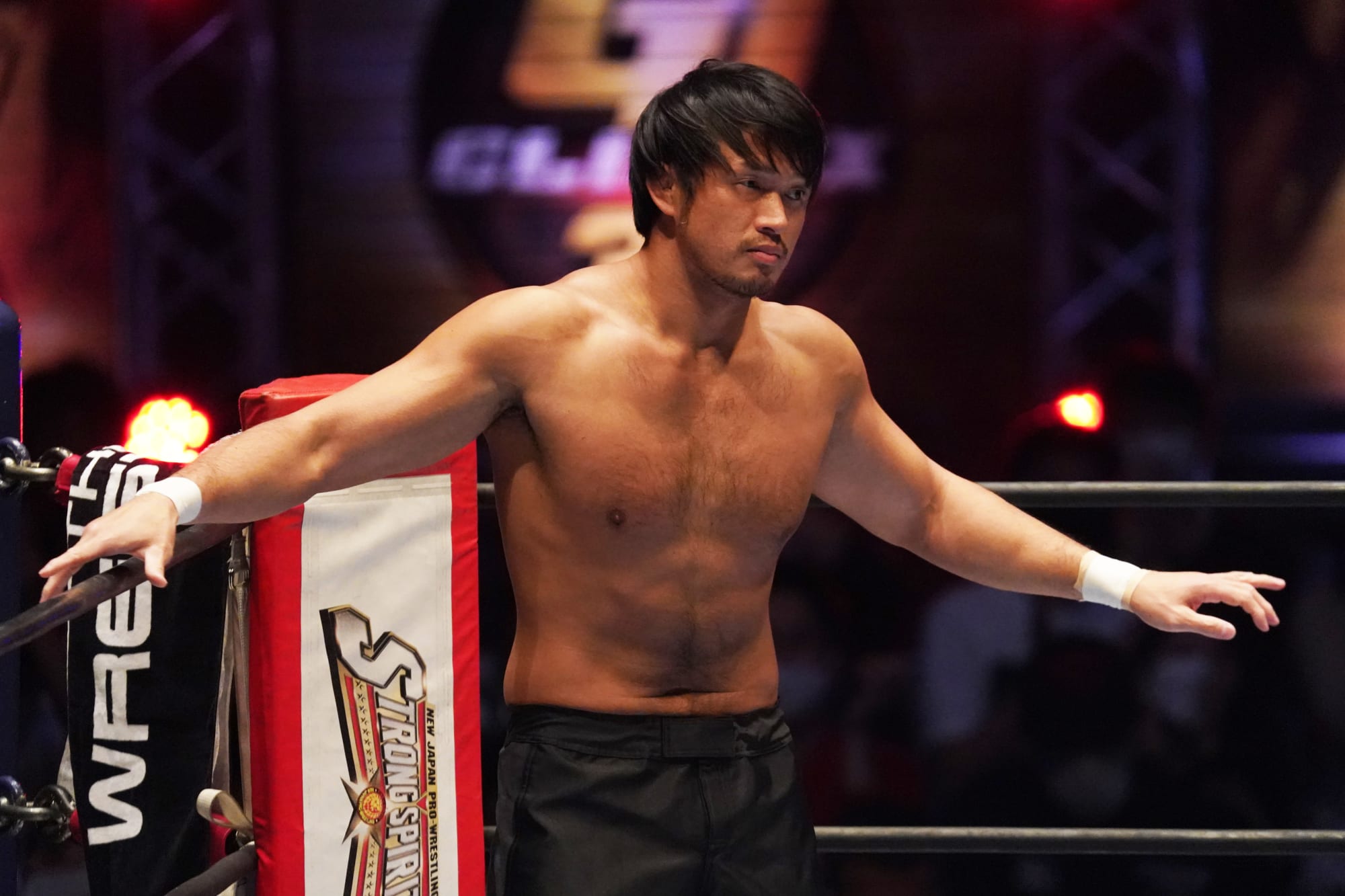 Okada's seventh defense took place during the 2017 G1 Climax when he successfully defended the belt against Cody Rhodes. Then a few months later, he defeated EVIL after EVIL did what Marufuji did a year earlier and pinned Okada during the G1. Between this defense and his next scheduled one, Okada beat Hashimoto's record and became the longest-reigning IWGP Heavyweight Champion ever.
Wrestle Kingdom 12 against Tetsuya Naito
Speaking of his next title defense, that took place on January 4th, 2018, at Wrestle Kingdom 12. It was against Tetsuya Naito, a man with whom Okada had a history almost as personal, deep, and complex as his feud with Tanahashi's. Many people thought this would finally be the night on which Naito avenges his humiliation from WK8 four years earlier. But it wasn't. Okada won here, but it wasn't necessarily from anything he did. Naito screwed Naito here because of one stupid mistake he made. It would be another two years before Naito would achieve his dream and right this wrong at Wrestle Kingdom.
Okada's tenth and eleventh successful defenses were against SANADA and Zack Sabre, Jr., respectively. By beating ZSJ, Okada tied Hiroshi Tanahashi with the most title defenses during one reign. And since Okada couldn't bear to have any aspect of himself be beneath Tanahashi, he offered Tanahashi a title shot. Naturally, Tanahashi accepted…and then lost to Okada at Wrestling Dontaku 2018.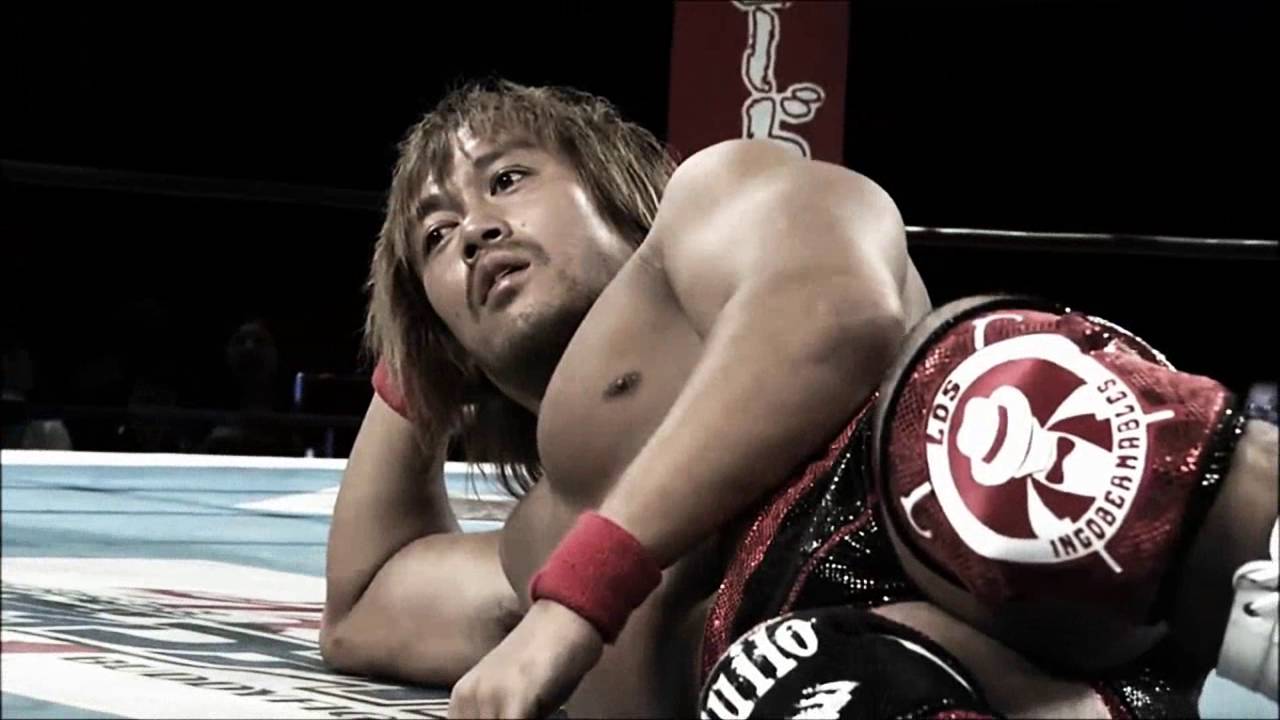 With that, Okada surpassed Tanahashi's record and vowed to keep going until he had 100 successful defenses. It was as big a boast as they get, but then Okada got serious. He still had unfinished business with one wrestler. The only wrestler to face him twice during this same reign: Kenny Omega.
Okada and Omega
Okada laid out the challenge but Omega upped the ante. They were 1-1-1 in singles matches, with Omega pinning Okada in a non-title match during the 2017 G1. Neither of them could leave this record as it was. A definitive final match was necessary. Thus it was decided: a no time limit two-out-of-three falls match to determine the champion.
This story succeeded where Kobashi's title reign didn't. Whereas Kobashi's title story centered on him taking on a wide variety of challengers, it lacked a central theme or narrative. There was no one waiting in the wings being gradually groomed to beat him to the same degree as Omega was in New Japan. Rikio was not pushed or promoted in NOAH the same way Omega was in New Japan.
Historic Legend of a Champion
While Okada was building steam as this historic legend of a champion, Omega was likewise enjoying enormous success. He was given second or third billing in almost all major New Japan shows. His match with Chris Jericho at WK12 was billed as the co-main event alongside Okada/Naito. All throughout the first half of 2018, Omega was New Japan's top representative in the English-speaking world and was instrumental in elevating the company's image and brand recognition outside Japan. And like Okada, Omega was being hailed as this truly historic wrestler. Whether that's true or not depends on one's taste in wrestling.
But by June 2018, Omega's position in New Japan could not be denied. He could no longer ignore Okada's status and boasting. It became time to settle the score. And settle it, they did. On June 9th, 2018, Omega beat Okada two falls to one in a 69-minute epic that has since become one of the greatest matches of all time. Omega's rise to the top, which began in August 2016, had come true.
And the story between Omega and Okada had finally ended. Omega was more than worthy of replacing Okada at the top of the new Japan mountain. And had the circumstances of AEW's creation never happened, there's a good chance that Omega would've enjoyed an incredibly long reign similar to Okada's as well.
What does all this have to do with Roman's reign?
Both Kenta Kobashi and Kazuchika Okada were two historically-great champions with legendary title reigns. Any wrestler hoping to be remembered as a truly tremendous champion should look at both of them for examples. Both of them were hailed as two of the greatest wrestlers in terms of skill, drawing power, and financial success for the companies they represented. Both of their reigns led to some of the greatest matches of all time. And both them both set and shattered various records.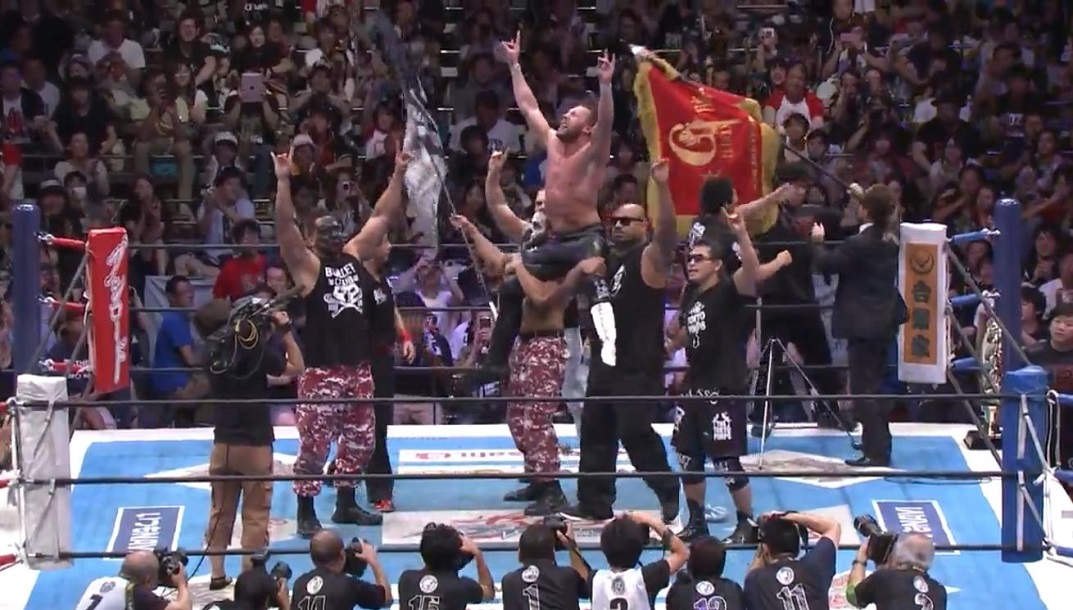 But only one of them was succeeded by a top star. Kenny Omega was built gradually as someone that started beneath Okada, then became his equal, and then surpassed him (arguably). No such wrestler came about during Kobashi's Reign of Excellence. With the exception of Takeshi Rikio, it was once-and-done with each of his challengers. Sure, all of those challengers had amazing matches with Kobashi (because, duh, it's Kobashi), but no one really benefitted long-term or reached his level as a draw.
For Roman Reigns, where he goes from here will determine if his reign ends up like Kobashi's or like Okada's. There's no denying that Reigns has been a proven draw for WWE. He has put on his best work as a character by far during this single title reign. And, of course, he has had some of his best matches by far since becoming 'the head of the table' in the fall of 2020.
Roman's Regin – But who will succeed him as champion?
Up until WrestleMania 38, Roman's reign seemed closer to the Okada situation in that WWE had a credible successor in Brock Lesnar. But now that Reigns has beaten him, no one else remains. Looking back at Reigns's list of vanquished opponents, none of them can be considered worthy of challenging Reigns for the title, much less beating him for it. The people that have been part of his title reign, beginning with his the match in which he won the belt, are as follows:
Braun Strowman and The Fiend/Bray Wyatt: both gone from WWE
Jey Uso: is now part of his stable and is not turning back on his 'bloodline' anytime soon.
Kevin Owens: on a different show
Daniel Bryan: on a different company's show
Edge: on a different show embroiled in a feud with AJ Styles
Cesaro: gone from WWE
John Cena: gone from the entire wrestling industry
Finn Balor: he just got pinned by Austin Theory, who just recently lost to Pat McAfee, who just got pinned by 76-year-old Vince McMahon
Brock Lesnar: is to Reigns what Akiyama is to Kobashi: a guy that is now firmly planted beneath him and will likely not challenge for the title anytime soon
Sami Zayn: just lost a comedy match to a non-wrestler
Seth Rollins: on a different show
Goldberg: lost to Reigns and is either retired or being saved for another Saudi show.
The only person not mentioned here is Drew McIntyre. Though he lost to Reigns in several title matches on the house show circuit leading up to WrestleMania 38, those losses don't figure into WWE's long-term plans. Nevertheless, McIntyre is a possibility, especially now that he has finally done away with Happy Corbin and his friends.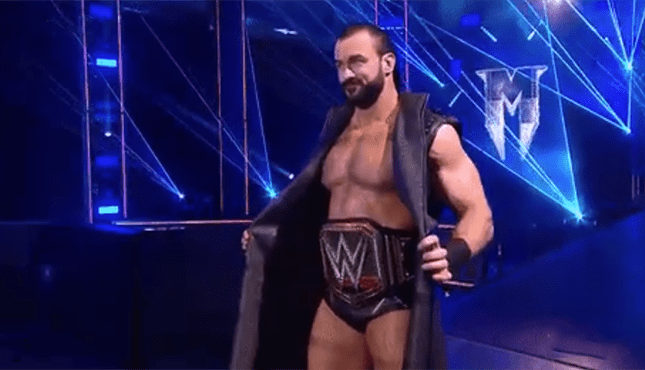 McIntyre's Push
But there are two major problems here. First, McIntyre already got his world title push and reign two years ago. And it was mediocre at best. McIntyre didn't set the world on fire as much as Reigns did on the opposite brand. Worse, his reign was nowhere near as good as Roman's, especially since he suffered two disappointing losses to Orton and then The Miz. Even worse still, McIntyre failed to capture the title in three consecutive challenges against Bobby Lashley. It was as clear as day that days of being champion were past him.
But let's say that WWE erases all of that or pretends it never happened. Let's say McIntyre somehow earns a shot at one or both titles. No matter what McIntyre says to Reigns, there will be one inalienable fact at play: McIntyre has never beaten Reigns one-on-one. Never, not once. In the four years since both men were booked as top-level wrestlers, McIntyre has never pinned Reigns in singles competition.
The closest MvIntyre has come to beating Reigns was in tag matches. In those situations, Reigns wasn't the one taking the fall. as such, Reigns carries the weight of both his championship belts and history as advantages against McIntyre.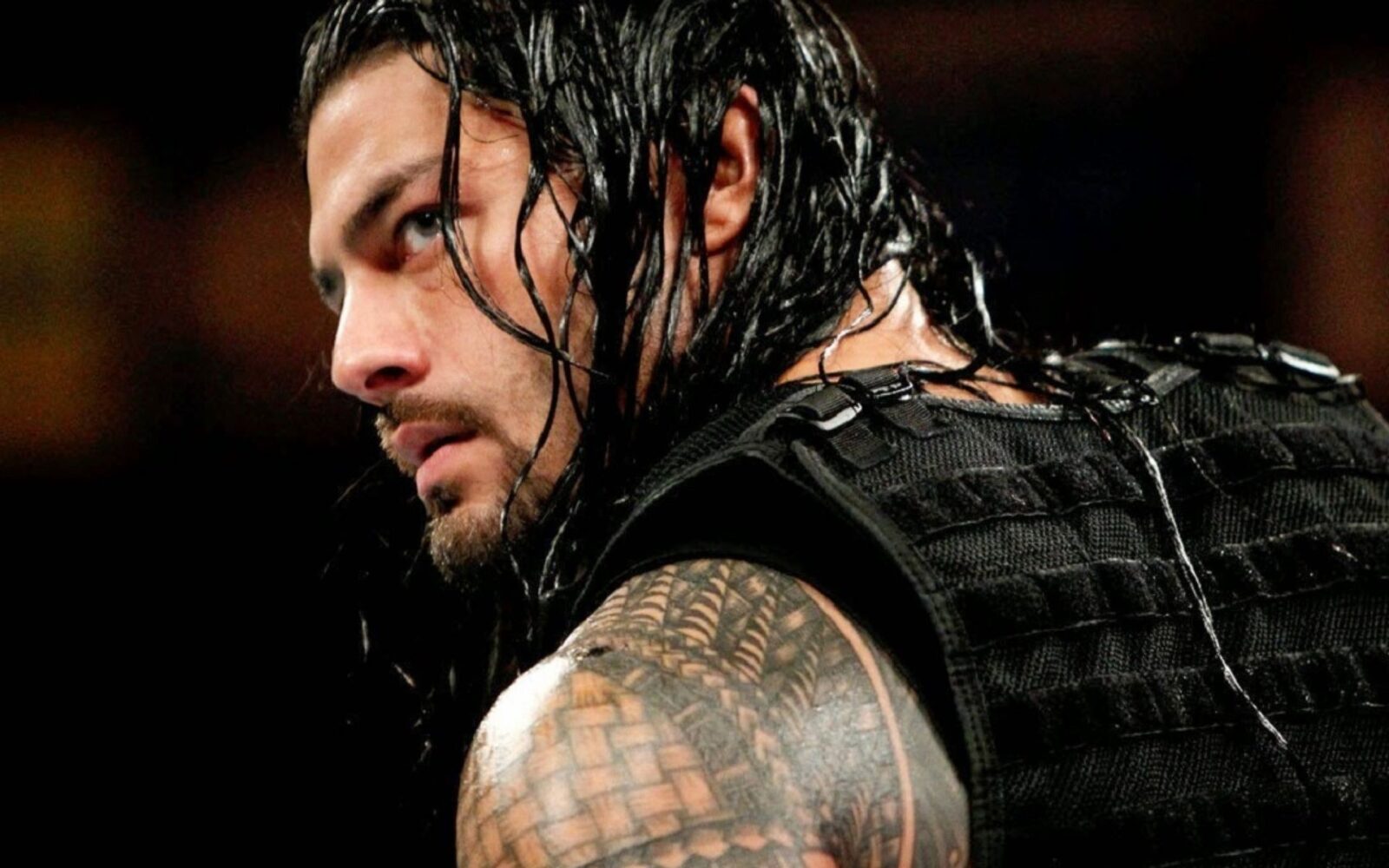 Roman's Reign – The Main lesson Here
Even though WWE's booking philosophy has been about promoting 'the brand' over individual wrestlers, there's still a problem with WWE's future right now. Reigns has destroyed so many different challengers that few credible opponents remain. For example, on the April 8th,  2022, episode of SmackDown, Reigns demolished Shinsuke Nakamura without breaking a sweat as Nakamura tried to challenge the champion.
Anyone else besides the aforementioned McIntyre would be a hopeless challenge. The field of challengers is so small that WWE has only one person that fans might pay money to see face Reigns. And if McIntyre loses, what next? WWE will be in a position where they have built zero wrestlers credible enough for people to believe they could end Roman's reign. And if the champion has no worthy challengers, who main events with him? How does the company sell tickets and Network subscriptions if the main-event lacks a challenger?
Roman's Reign – The Next Kobashi or the Next Okada?
If WWE isn't careful, they risk making the same mistake that NOAH did with Kobashi. NOAH put all their eggs in one basket and failed to come up with a follow-up scenario. And even though that one basket yielded them plenty of success and money, it wasn't a sustainable decision long-term. They shot themselves in the foot and haven't been able to replicate that same success since.
Granted, WWE isn't going to be in financial peril anytime soon. But if they don't start booking someone credibly now as a future challenger for Roman's Reign, then not even their billion-dollar safety net will save them if fans stop caring.