SHIMMER Volume 3 is a landmark volume in SHIMMER's history, most notable for the debut of one Rebecca Knox. At just 19 years old, the future Becky Lynch made her North American debut against SHIMMER founder Allison Danger. Volume 3 was filmed on February 12, 2006, and is must-watch for any fan of Becky Lynch who wants to see why she was one of the most hyped women coming out of Europe at the time. You can watch Volume 3 here.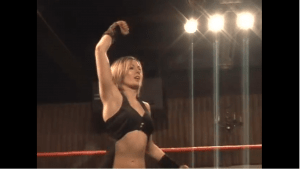 Match 1:  Rain vs. Nikki Roxx
Dave Prazak notes that Allison Danger is putting her undefeated streak in SHIMMER on the line against the debuting Rebecca Knox later on tonight. Roxx and Rain trade headlocks and shoulder blocks to start, and Roxx really establishes control with a hip toss and some forearms before a headscissors. Rain hits a lungblower to stop Roxx's momentum. She tries to get a pin with her feet on the ropes, but it's a bit sloppy and Roxx kicks out. Rain continues working the back, but Roxx continues kicking out.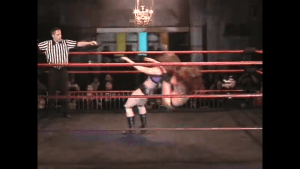 It's all Rain still, as she puts Roxx in a reverse chinlock and grinds her knee into Roxx's back before giving up the submission attempt. Roxx gets a sunset flip, but Rain takes control afterward. Rain tries to set up for Acid Rain, but Roxx escapes. Roxx reverses the Rain Drop into a bridging northern lights suplex for two. After a series of overhand chops, Roxx hits another northern lights for two. Rain gets Roxx out of the corner for Acid Rain, but Roxx turns it into a victory roll for two before she is hit by Acid Rain (the Japanese Ocean Cyclone Suplex) for Rain's victory.
Verdict:
It's a bit sloppy and some of the moves looked not so good, but the match turned out fine.
Match 2: Amber O'Neal vs. Cindy Rogers vs. Tiana Ringer
This three-way dance begins as Prazak notes that Krissy Vaine and Beth Phoenix have been signed to WWE developmental contracts, wishing both well. Ringer and O'Neal start off working together against Rogers. A missed chop leads to a back suplex by Rogers on O'Neal and a sloppy series of roll-ups. O'Neal rolls out, then Rogers and Ringer square off with Rogers coming out on top. O'Neal attempts to break up a pin and elbow drops Ringer in the process. Prazak tries to cover the psychology issues with the pin breakups in an elimination match, but it doesn't really work. Rogers hits Ringer with a facebuster to break up the double team and hits an X-Factor to eliminate O'Neal.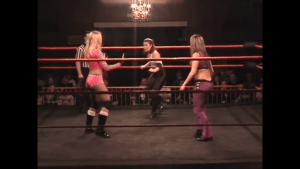 The final act of the match begins as Rogers rolls Ringer back in, but Ringer hits her with a body slam. Rogers is able to regain the advantage and gets two off an inside cradle and hits a spinebuster for another near fall. A sloppy shoulder tackle by Rogers lets her lock in the TCB dragon sleeper for the submission.
Verdict:
This match is a bit confused about psychology at points, but it's mostly good enough technically to be passable.
Match 3: Lorelei Lee vs. Malia Hosaka
Hosaka makes clear her heel credentials right away with how she yells at the crowd. She's a 19-year veteran at this point against Lee, who is a relative newcomer. Very quickly, Hosaka puts Lee in a front face lock using the ropes. Prazak talks up Hosaka's credentials as Lee begins to get her first offense on Hosaka's arm, but Hosaka quickly regains control of the match. She gets into it with Andy Long about what qualifies as a choke before kicking Lee in the head and putting her in the camel clutch. The video loses the raw sound here and it's just Prazak for a moment. Lee gets a sunset flip for two and eats another big kick. Hosaka tosses Lee with some hair biels and Lee tries to fight back to no avail.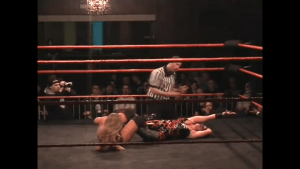 Lee gets the knees up on a splash attempt and finally gets an opening to hit some offense. She goes from a hammerlock to the camel clutch before putting a boot into Hosaka's back and pulling her arms back hard. Hosaka is able to get out and hit a headbutt before torturing Lee some more. At this stage, it's a bit more back and forth as Lee locks in the figure four, and Hosaka sells the pain well as she makes it to the ropes. Lee cinches the hold in again and Hosaka grabs the hair, forcing a break. Unrelenting, Lee hits a vertical suplex and standing moonsault for two, and Hosaka does a roll-through for a body scissors. Lee breaks free and wins with an Oklahoma roll. After the match, Hosaka calls out Lexie Fyfe and the two beat Lee down. Cindy Rogers comes to Lee's rescue.
Verdict:
This is a fairly good match, but it was a bit long in the tooth by the end.
Fyfe says she's got a match and demands her opponent come out right now.
Match 4: MsChif vs. Lexie Fyfe
Fyfe demands the referee check MsChif for foreign objects, but the referee simply calls for the bell to start the match. MsChif screams in Lexie's ear during a standing waist lock. Some good chain wrestling here with nice transitions. A vertical suplex with a floatover cover sees MsChif get a two on Fyfe. She does a Muta Lock and Fyfe reaches the ropes. MsChif turns a headscissors into an armbar, but Fyfe sidewalk slams her down and begins working the back with the camel clutch. Fyfe hits two rolling vertical suplexes for two before slapping on a bully choke.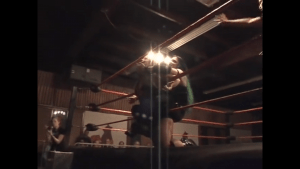 Fyfe transitions to a Boston Crab, and MsChif escapes to try a really nice bridge for a near fall. She then uses a pendulum, which she drops down into a bridled rocking horse. MsChif squeezes Fyfe's face with her feet to escape, which is pretty cool. They exchange chops and chokes in the corner. A series of double stomps to Fyfe's back in the corner lets MsChif hit an illegal hold in the ropes. Cheerleader Melissa comes out tp distract MsChif, who goes for the Desecrator. Fyfe reverses and MsChif reverses again, hitting Gateway to Annihilation (Final Cut) for two. Melissa trips her up and Fyfe hits the Attitude Adjuster (TKO) for the victory.
Verdict:
Really good stuff here. This match is a solid step above the first few matches.
Match 5: Cheerleader Melissa vs. Shantelle Taylor
Taylor rolls through several lockup attempts and gets a side headlock against the more experienced Melissa. The first two minutes or so see Taylor outsmarting Melissa and holding that headlock until Melissa finally escapes and puts her in a hammerlock. Melissa has control now, working Taylor's arm. They trade wristlocks and Melissa powders out after an arm drag to shake some feeling back into her arm. Taylor chases Melissa around the ring, leading to Melissa stomping her on re-entry. Melissa attempts, but Taylor blocks the Kudo driver, only to be driven into the corner and hit with chops.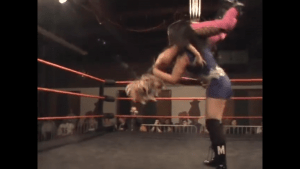 Melissa then hits a leaping forearm in the corner. Taylor fires back with forearms and chops, but Melissa lands a wheelbarrow suplex on Taylor. Melissa gets a couple near falls and tries to hit the Kudo driver, but Taylor blocks again. Taylor rolls Melissa up for two, schoolgirl for two, and eats a big clothesline. Melissa uses an inverted cloverleaf. Taylor fights for a long time and makes it to the ropes. She keeps fighting back and they trade chops. Taylor hits some dropkicks and a leg lariat for two. She calls for a 450 splash, but Melissa takes her out up top. They fight in the corner. Taylor blocks a superplex, but Melissa pulls her down into an Air Raid Crash for the win.
Verdict:
This was a really good match. It might be a touch long, but it told a really good story of Shantelle Taylor fighting with everything she had against the more experienced and dangerous Melissa.
Match 6: Allison Danger vs. Rebecca Knox
Knox shakes the referee's hand before the match begins. Danger and Knox shake hands on the opening bell and begin with a test of strength. It's a chain wrestling start, and it's much more fluid than Taylor and Melissa in the previous match. Knox rolls Danger into a guillotine after a couple of minutes, followed by a two count. This right here is just a clinic so far on good technical chain wrestling. Not a single punch or strike has been thrown in the first five minutes.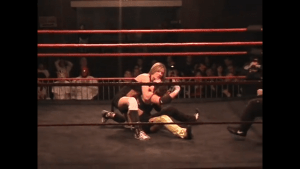 Knox puts Danger into an inverted figure four, only for Danger to turn it around. Knox reverses it again and reaches for the ropes but chooses not to. They both over several times into the other side ropes and breaks the hold. Danger gets Knox into a full nelson and Knox reverses into a chinlock. Following a trade of roll-up pin attempts, Danger gets a wristlock which Knox escapes. The first strike, a kick to the hamstring, happens about 8 minutes in, right before Knox puts Danger in some kind of hold which Danger eventually turns around on her. Knox reaches the ropes. At the ten-minute mark, Knox has a heel hook applied, which Danger reverses into a half crab.
Someone in the crowd tells Knox to pretend Danger's a snake and drive her out of Ireland, which she likes the idea of. Danger gets some hip tosses at this point, and Knox throws the first forearms at 11 minutes in. She comes down on her ankle and the ref goes to check on her and calls for some assistance. Knox gets up and goes back down, and you can hear her crying. She stumbles around, trying to stay in the fight, and then kicks Danger out to the floor and does a jig and screams at the crowd. Suddenly the whole style of the match changes as she clubs Danger with forearms and rolls her into the ring. A big vertical suplex by Knox, who puts her feet up on the ropes as she goes for a cover, and then hits shoulder thrusts and chops in the corner.
Knox lands a leg drop for two, and she even flicks the referee's nose. She gives Danger a low double leg drop to Danger before yelling at the fans. Danger rolls her up for two, and Knox hits a dropkick for two. Knox lands a fisherman neckbreaker for two as Danger keeps hanging in there. Danger gets another schoolgirl for two and Knox just beats her down a bit more. Danger gets an Oklahoma roll for two before Knox resumes bludgeoning her. At twenty minutes Knox says it's time to finish Danger off, she thinks. Danger buys some time with a Russian leg sweep. She fires back with forearms, a clothesline, and a neckbreaker for two, then chops and forearms. A T-Bone suplex for two by Knox. Danger with an STO for two. Knox avoids the Shimmering Warlock and hits a falcon arrow for three.
Verdict:
If you are a fan of Becky Lynch as The Man, this isn't what you're going to see here. You'll do yourself a favor by watching this, however, because it's still one of her all-time best performances in a wrestling ring, and shows what her greatest strength is and always has been. Becky Lynch connects very easily with audiences. They just naturally adore her. And SHIMMER put that quality to fantastic use by having her turn heel in her debut match. Of the first three SHIMMER shows, Martinez/Del Rey from Volume 1 is far and away the best match, but Knox/Danger is the absolute best story.
Match seven: Sara Del Rey vs. Daizee Haze
Again, we get a handshake to signal some sportswomanship (and this time we can trust there is no chicanery). Haze gets the initial advantage until Del Rey puts her in a reverse chinlock. The two trade holds with Del Rey using her size and strength advantage. Haze nips up from a wristlock and turns it around on Del Rey, who fails to nip up herself. Del Rey tells the audience that she can nip up and is asked to prove it. She does and the crowd wants referee Bryce Remsburg to do it too. And he does. Del Rey walks off in shame at how much better the referee's nip up was than hers. Crowd chants "please come back" as she's leaving and "welcome back" once she's in the ring again. It's a fun sequence that brings levity after the previous match.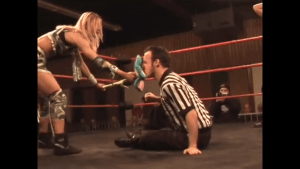 Test of strength time and Del Rey turns it into a Japanese stranglehold, bent over her knees. Haze reverses and puts it on Del Rey, turning it into a side headlock when Del Rey stands. Big headbutt from Del Rey, followed by a backbreaker for two. Haze gets some chops in and goes for a bulldog but gets thrown. Del Rey presses her advantage, uses cocky cover for two, and goes back to the headlock. Haze hits a big headscissors and dropkick followed by overhand chops. She gets rolls Del Rey up for two twice, and Del Rey gets one as well. Del Rey starts throwing her weight into Haze, sitting deep in a chinlock until Haze bites her way free.
Haze fights back but eats two big boots and a fallaway slam counter to her crossbody attempt. Del Rey pulls back with a leg-tied chinlock. She headbutts Haze twice in the hold as Haze gets close to breaking loose, and Haze tries for quick covers only to get two. Haze with another bridging rollup blocks a powerbomb and almost pulls out a victory. Del Rey blocks the Yakuza kick and gets rolled up for two as Haze blocks the German suplex. They trade forearms and Haze goes up top for a missile dropkick. She hits the Heart Punch, but Del Rey avoids the Yakuza kick. Haze counters a powerbomb into a hurricanrana. Del Rey blocks the Mind Trick and wins with a bridging German suplex.
Verdict:
This is another fantastic match. It starts out similar to but quickly differentiates itself from, the Knox/Danger match. Very quickly it's becoming clear who the main event level performers are for SHIMMER Volume 3 and who can be trusted to bring excellent ring work into the game.
Closing Promos
We get a backstage promo from Del Rey, who says Haze fought hard, but she came out victorious. Del Rey challenges Mercedes to a rematch, no time limit, to prove she's better than Mercedes.
Back in the locker room, a rematch was signed for Cheerleader Melissa vs. MsChif, but this match will be falls count anywhere.
Daizee Haze has heard a lot about Rebecca Knox and doesn't like what she did to Allison Danger. She challenges Knox to a match at Volume 4.
Final Thoughts:
If the first two SHIMMER shows are pilots and proof of concept, Shimmer volume 3 shows that there could be legs to this whole project. Sure, the undercard isn't knocking it out of the park, but the upper card is legitimately great every single time. Compared to where WWE and NWA-TNA women's matches were at the time, we're looking at a company where its worst output is comparable to the two biggest promotions of the day. The acquisition of Rebecca Knox is also something of a big point for SHIMMER, as she was a young talent from across the ocean. Her ability to connect with the crowd was undeniable, and she showed that bringing in young, up-and-coming talent from across the world would make for truly fantastic moments and matches. In some ways, she paved the way for how SHIMMER brings in European and Joshi talent today.