PROGRESS Wrestling returns to historic Alexandra Palace on September 15th for Chapter 95 – Still Chasing. That would be a callback to Chapter 55 – Chase The Sun, the first show that the company ran at Ally Pally. I had the pleasure of attending that show, and let me tell you it's a bit of a belter. Should you so desire, the whole show can be viewed legally, for free, right here.
The September show is PROGRESS's biggest of the year, where the biggest scores are settled and new directions are established. So let's have a look and see where things might be heading in the coming months.
David Starr vs Walter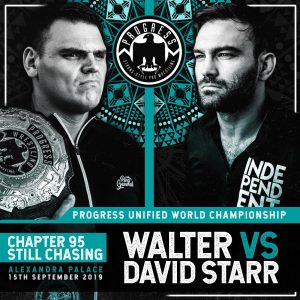 David Starr and Walter clash over the PROGRESS Unified Title in the latest chapter of their storied history. The fact that Starr is yet to pin or submit Walter in singles competition is what drives the intrigue in this one. The two have clashed in singles all across Europe, last facing each other in PROGRESS at Chapter 69. The Jewish Cannon has not been able to get the W as of yet.
To say that Walter has been a dominant champion would be an understatement. Since he won the title in July of last year he has turned back challenges from all comers. Zack Sabre Jr, Jimmy Havoc, Tyler Bate and many more have all fallen at his hand. Starr, on the other hand, has only just started putting ticks into his PROGRESS win column. With his We The Independent movement he is incredibly hot, though. Perhaps the time is right to put the title on the charismatic American?
Prediction: Walter
Pete Dunne vs ???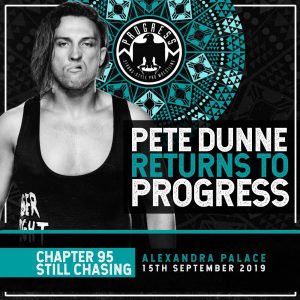 Pete Dunne hasn't officially wrestled for PROGRESS since last December due to WWE's tightening of their contract restrictions. He will surely receive a hero's welcome at Ally Pally as he faces a mystery opponent to be revealed on the night.
Who might this opponent be? Perhaps someone from the previous day's Natural Progression Series could challenge him? Pete vs Cara Noir would certainly be interesting. Regardless of who the man (or woman) is, there's only one reasonable outcome to expect.
Prediction: Pete Dunne
Aussie Open vs Grizzled Young Veterans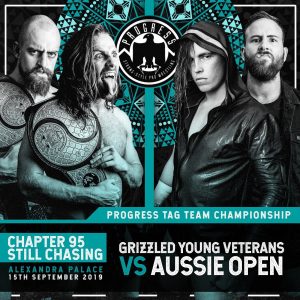 The PROGRESS tag titles have switched hands at an unusually high rate this year. Grizzled Young Veterans defend against the team they vanquished in Aussie Open. Whilst it's great to see Zack Gibson and James Drake back on the eagle canvas, if they don't retain here you'd have to question why they brought back at all.
The tag division isn't exactly bustling with teams at the moment, and the Aussie duo has reigned with the belts on and off for nearly a year. It might be rather jolly to see GYV retain, and a renewed focus put on pushing tag wrestling. This should be a great match, but where the tag division goes next is the bigger question for me.
Prediction: Grizzled Young Veterans
Jordynne Grace vs Meiko Satomura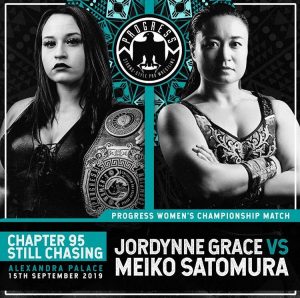 The PROGRESS women's title has been ever so slightly neglected since Jordynne Grace defeated Jinny last year. That's not her fault, as she's very much in demand worldwide. It would, however, be beneficial to put the belt on someone who can appear more regularly. Strangely enough, Meiko Satomura would indeed fit the bill. She has made regular trips to our fair shores for the last year and a bit for FCP and seems to enjoy our wrestling culture.
The match itself should be an absolute belter. These two will be smashing the hell out of one another, and I for one think that's just grand. I've got match of the night feelings about Grace and Satomura – it could be that good.
Prediction: Meiko Satomura
Moustache Mountain vs Matt Riddle & Keith Lee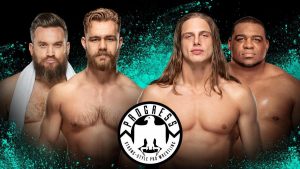 Moustache Mountain returns to PROGRESS to face the Limitless Bros at Alexandra Palace. What can be said about these four goliaths of the mat game that hasn't been said before? Trent Seven, Tyler Bate, Matt Riddle, and Keith Lee have all contributed so much to the indy scene both here and abroad. It's a pleasure to see them return.
I'd expect to see a lot of comedy high jinks in the early going of this all-babyface encounter. That will then likely give way to all four men knocking seven shades out of one another. And what a treat that will be to witness.
Prediction: Moustache Mountain
Proteus Title Royal Rumble Match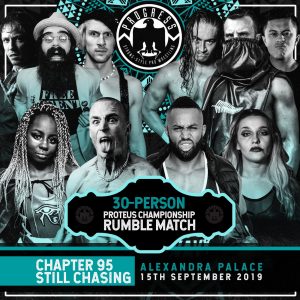 PROGRESS's first-ever Royal Rumble match will see the first-ever Proteus champion crowned. If you're unaware, the previous midcard title, the Atlas division title, is being retired to make way for this new belt. Unlike the Atlas title, which restricts its competitors to weighing over 205 pounds, there are no restrictions on this new title.
Rather excitingly, the holder can set the rules that the belt will be defended under. So, we could see a hardcore title, or a 2 out of three falls title, or a submissions only title. Straight away, we can see from the entrants into the Rumble that it will be an intergender title. This is a bold new direction for the company as they have yet to dip their toes into those waters. Exciting times, for sure.
The announced entrants are: Spike Trivet, Chuck Mambo, Present William Eaver, Travis Banks, TK Cooper, Niwa, Chakara, Paul Robinson, Roy Johnson, Dani Luna, Ilja Dragunov, Connor Mills, Candy Floss, Lucky Kid, Charli Evans, Eddie Kingston, Chief Deputy Dunne, Los Federales Super Santos Jr, Sugar Dunkerton, and Millie McKenzie. Ten more mystery entrants will be revealed during the course of the Rumble. My money's on Drew Carey.
Prediction: Paul Robinson
The second of two epic cards by PROGRESS looks set to be one for the ages. Are you going? Which match are you looking forward to the most? Will you bet me ten quid that Drew Carey is one of the Proteus Rumble entrants? Let us know in the comments below.