This week MLW Fusion is a cant miss. We are one week away from MLW presents Never Say Never. In the Main Event, The Von Erichs and ACH finally will get their hands on Team Filthy in a chained ropes match. Gringo Loco will look death in the eyes literally, as he challenges Aztec Undergrounds Mil Muertes. Will Loco be sacrificed to the Aztec gods? After last week's attack on Bu Ku Dao, TJP has been suspended. What would cause this TJPs abrupt change in attitude? Is Bu Ku Doa on the injured list? Let's take a look at this and much more in the MLW Fusion preview for 3/24/21.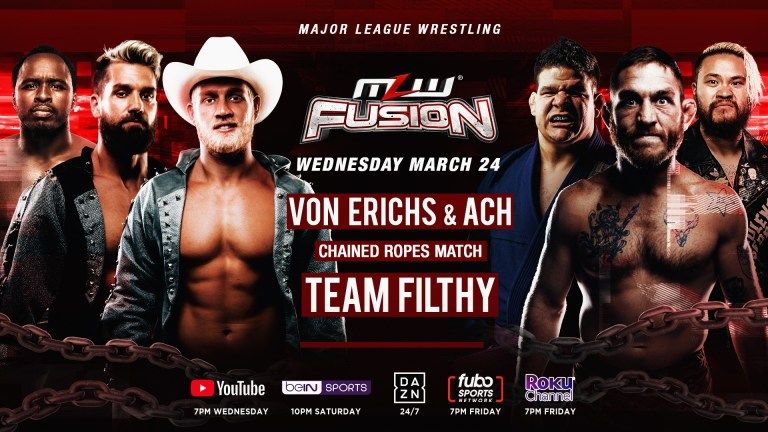 MLW Fusion Preview for 3/24/21
Chained Ropes Match

The Von Erichs  and ACH vs. Team Filthy
After everything the Von Erichs and ACH have suffered at Team Filthy's hands, it's about to get worse. Last Wednesday The Von Erichs issued a challenge to Lawlor for this week's Fusion. Unfortunately, the Texas natives let the Team Filthy leader pick the stipulation. This week on MLW  Fusion, The Von Erichs and ACH will challenge Team Filthy in a chained ropes match.  Team Filthy has made the texas trios life a living hell. Lawlor cost them the tag team championships. Team Filthy are also the ones that attacked ACH, putting him on the shelf for a month. The Von Erichs and ACH have waited for an opportunity at retribution. This Wednesday they just might get it.
The Von Erichs have said that they are going to "discipline" Filthy Tom Lawlor, like his dad should have done years ago. Lawlor continues to berate the Texas brothers calling them the "worst things to come out of Texas." Will the Von Erichs and ACH get even with the Filthy Trio? What exactly is a chained rope match? Find out this Wednesday on MLW Fusion live on Youtube.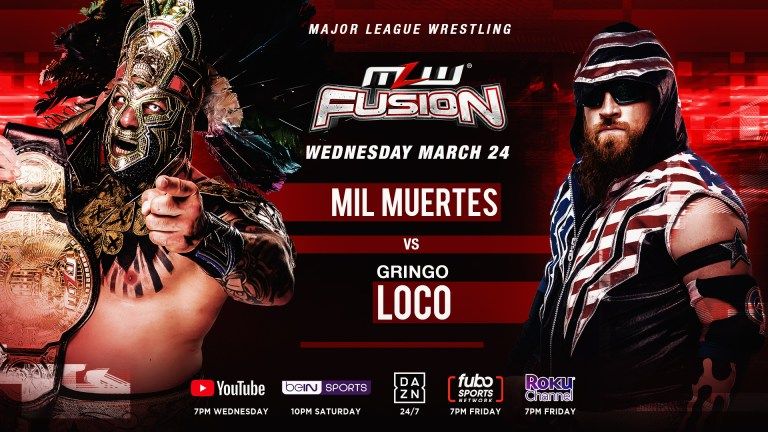 Mil Muertes vs Gringo Loco
According to Salina de la Renta, Mil Muertes will unleash pain until you give up your soul. The man of a million deaths has made an instant impact in MLW since his debut. Two weeks ago on MLW Fusion, he stole the MLW Openweight Championship, from Champion Alexander Hammerstone. Muertes may have the title in his possession, however, he is not the recognized Openweight champion.  This Wednesday, he looks to add to his body count by destroying Gringo Loco. 
Even though Loco is a large competitor he is faster and more agile than Muertes. He will have to use that speed to counter the power of Muertes. If he can get Muertes off his feet, the man from beyond the grave might be in trouble. Let's not forget that Salina de la Renta will do whatever it takes to make sure Mil Muertes is victorious. Let's also not forget that Alexander Hammerstone wants his property back. Will Mil Muertes add Gringo Loco to his list of victims?
MLW Fusion Preview for 3/24/21
TJP Suspension
Bu Ku Dao idolized his mentor but when TJP  saw that the student was surpassing the teacher, he became jealous. TJP kicked Dao out of the dojo and bullied him on live tv. Last week TJP attack Dao before their match. Due to the attack,  MLW has suspended TJ Perkins. This week Dr. Nelson Swegler will give us an update on Bu Ku Dao's condition. When will the middleweight return to an MLW ring? Since TJP is suspended, will Doa even be able to get even? Find out this Wednesday on MLW Fusion.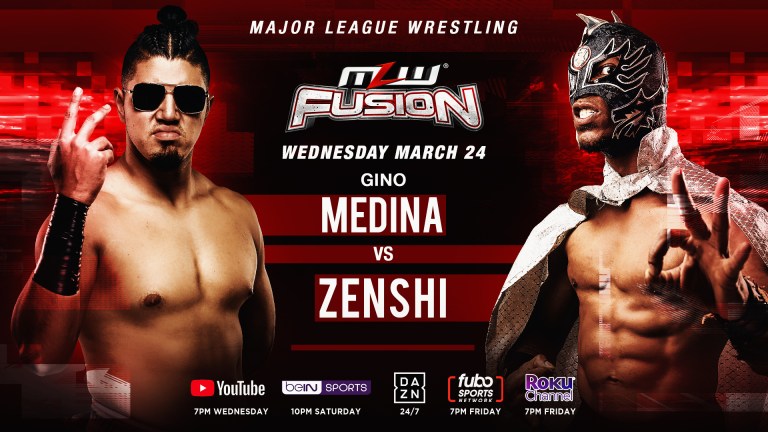 Gino Medina vs. Zenshi 
Gino Medino has made his mission perfectly clear. The second-generation athlete wants to humiliate and embarrass every luchador. According to Medina the legacy of his father has been tarnished by all these wannabe luchadors.  He claims that all these American Luchadors are disrespecting his culture. Two weeks ago Medina defeated Loco Gringo. This week The South American sensation Zenshi accepts the challenge. Zenshi has proven himself all over the world.  However, proving himself to Medina is a different story altogether.  Zenshi is a double champion in South America and an internationally known luchador. This high flyer has held the Chile Lucha Libre International All-Star Championship for five years plus. .  This could have the makings of a Lucha classic.  If you like high-flying Lucha action, Tune in this Wednesday to Fusion.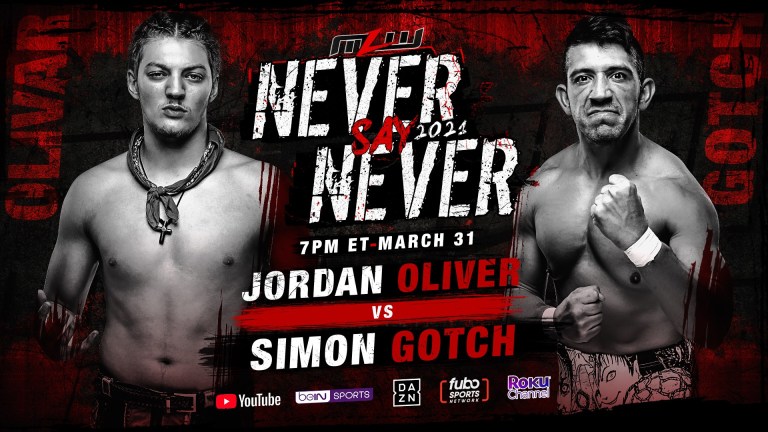 Never Say Never Matches Signed 
On March 31 MLW will present Never Say Never. Three matches have already been signed. Jordan Oliver will challenge Contra's, Simon Gotch. Oliver's tag team partner Myron Reed will take on Contras Machine Davari. The war between Injustice and Contra is far from over but they hope to get justice at Never Say Never. In the Main Event, MLW Heavyweight Champion Jacob Fatu will defend the title against Calvin Tankman. Contra's crown jewel has been more vicious than ever but has he met his match. Tankman has stated he is in Major League Wrestling for one reason, to provide for his family. Will the Heavyweight Hustle become the MLW Heavyweight Champion at Never Say Never. Tune in March 31, 2021 on Youtube, Roku Sports, Bein Sports, and several other streaming services. 
*****
Be sure to stay tuned to the Pro Wrestling Post for this and additional stories from the wrestling world. Readers can rely on Pro Wrestling Post to be their daily source for all things inside the squared circle. As a result, readers can expect daily news, history, and so much more. Please visit Major League Wrestling's official website here for news on the promotion and upcoming events.