This week's MLW Fusion is all about Revenge. It is no coincidence that Contra is the catalyst for the chaos. After Mads Krugger's attack on Alex Hammerstone, The Openweight Champion wants to get even. Can Hammerstone conquer the Black Hand of Contra in his specialty, a Bakeli Brawl? Los Parks are the new MLW tag team champions. However, the celebration of blood and brutality might be cut short. TJP and Bu Ku Dao are determined to defeat the champions at all costs. This is the MLW Fusion preview for 2/3/21.
Will Salina de La Rentas's new champions defeat the challengers? Contra once again is the focus of Injustice. After getting some revenge by sneak attacking Contra, one half of Injustice Jordan Oliveri will go one on one with a Sentai Death soldier member. And last but not least, Azteca Underground has been sending out cryptic tweets that this Wednesday, there will be a public negotiation. What could this mean for the future of Major League Wrestling?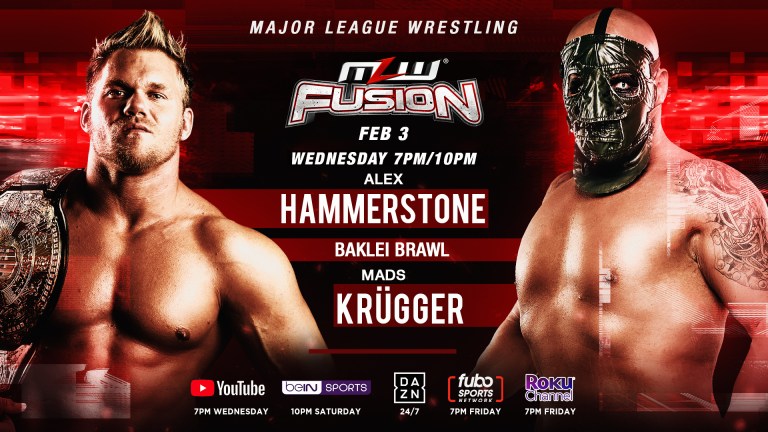 MLW Fusion Preview for 2/3/21
Bakeli Brawl
Alex Hammerstone vs. Mads Krugger
Ever since Contra invaded MLW, they have destroyed everything in their path. Their Leader Jacob Fatu is the current MLW World Heavyweight Champion. No one is a bigger threat to his reign than Alex Hammerstone. By the vicious attacks on the Openweight Champion, Contra is well aware of that fact. This Wednesday on MLW Fusion, a new chapter will be written in this rivalry when Hammerstone faces Mads Krugger, the Black hand of contra, in a Bakeli Brawl.
According to Krugger, the word Bakeli is a term for fighting in South Africa. However, this is not just any fight. It's an underground bare-knuckle, illegal fight. These fights usually took place in the underground slums of South Africa. Kruger has been involved in several of these fights. This Wednesday, despite the home-field advantage, Hammerstone promises to hunt and destroy Kruger on his way to Jacob Fatu and the MLW World Heavyweight Championship. Will Contra destroy Hammerstone, or will Hammerstone hunt and destroy Contra?
MLW Fusion Preview for 2/3/21 
MLW Tag Team Championship
Los Parks vs. TJP and Bu Ku Dao
After defeating Violence is Forever, the team of TJP and Bu Ku Dao have an opportunity this Wednesday to defeat Los Parks for the MLW Tag team championship. The former champions, the Von Erich s lost the tag title to Los Parks due to interference from Tom Lawlor and company. Under Kevin Von Erich's advice, the former champions have decided to settle the score with Tom Lawlor before going after regaining the belts. TJP has never had a title shot before of any kind in MLW. Neither has his " student" Bu Ku Doa.
This Wednesday, they could walk out as the new tag team champions. Following their victory last Wednesday, TJP stated that it's a new year and a new me. Beating Los Parks will be a walk in the park. The newly crowned tag champions Los Parks have promised that their reign will be " a celebration of blood and brutality. This Wednesday on Fusion, will they keep their promise? Don't forget that Salina de La Renta will be in their corner, and she is capable of doing anything to make sure Los Parks walkout still tag team champions.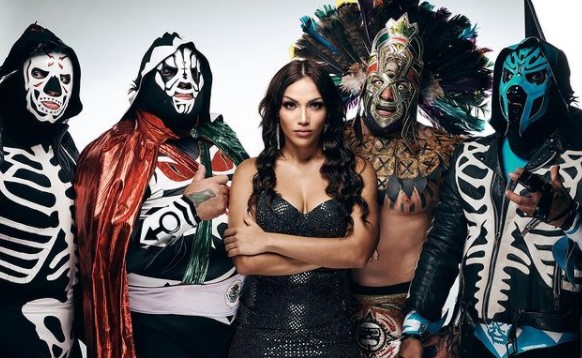 Azteca Public Negotiation
Speaking of Salina de la Renta, this Wednesday, it has been officially announced that the Empresaria will host a public negotiation for Azteca Underground. Azteca Underground has been posting cryptic messages on social media. Has "El Jefe" purchased another company? Is Azteca Underground making an offer to AAA? Have they done the unthinkable and made an offer to Major League Wrestling itself? Tune in this Wednesday at 7 pm Est on Youtube, Bein Sports, Fubu Sports, Roku Channel.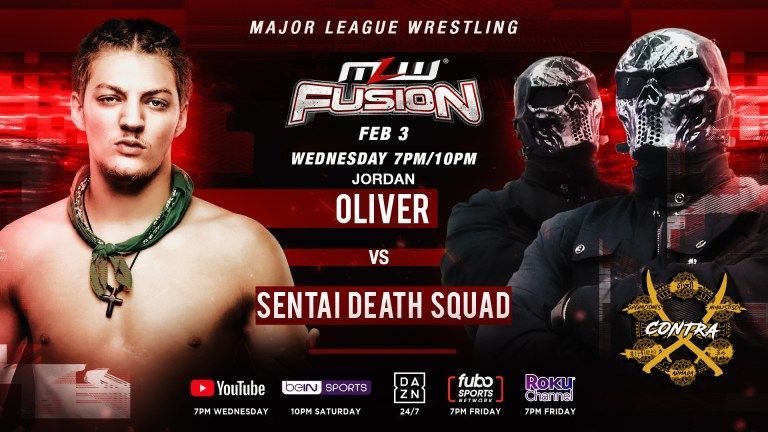 Jordan Oliver vs. Contra Sentai Death Soldier
Contra has been a dominant force in MLW since its debut last year. Sneak attacks have been Contra's mantra. On the January 9 episode of MLW Fusion, the terrorist group attacked the tag team of Injustice. Since then, Jordan Oliver and Myron Reed have wanted justice for Injustice. One week ago, they returned the favor. Disguised as death soldiers, Injustice sneak attacked Contra dispensing their own brand of justice. This Wednesday on MLW Fusion, Jordan Oliver will face one of the Sentai Death Squad members. Will Injustice get justice for themselves while defeating Contra? Will Contra continue its reign of terror? Find out Wednesday night at 7 pm Est.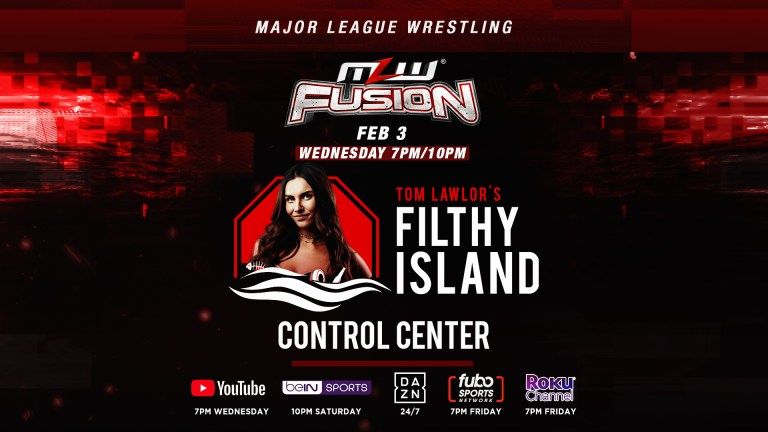 Filthy Island Control Center
Tom Lawlers Filthy Island's debut is two weeks away, but the show is already generating its fair share of controversy. As I reported last week, several sponsors of the show have pulled out due to the actions of the filthy crew in the tag title match, as well as the rumor that they were involved in the ACH attack two weeks ago. This Wednesday, Alicia Tout will be hosting the Filthy Island Control Center to prepare for the show's premiere. Tune in this Wednesday at 7 pm Est on Youtube, Bein Sports, Fubu Sports, Roku Channel.