Major League Wrestling promises to steal the show this Wednesday. On the card will be a Title Unification Match between Lio Rush and The Loredo Kid. Two weeks ago, ACH was attacked at his gym. This led to him getting destroyed by MLW Heavyweight Champion Jacob Fatu. ACH is injured, but he continues to fight on. This week he takes on second-generation star Brian Pillman Jr. Is it a mistake for ACH to continue fighting against doctor's orders? Last week Salina de la Renta, on behalf of "El Jefe," made an offer to Savio Vega to buy International Wrestling Alliance? This is the MLW Fusion Preview for 2/10/21
Will Savio sell the promotion to Azteca Underground?  Speaking of Savio Vega, two weeks ago, he lost his rematch to Richard Holliday due to a corrupt referee. MLW has conducted an investigation.  Finally, Injustice will once again seek justice against Contra. Myron Reed and Jordan Oliver feel they can beat Contras Davari and Gotch. There is a lot of action this week to cover, so let's get right to it.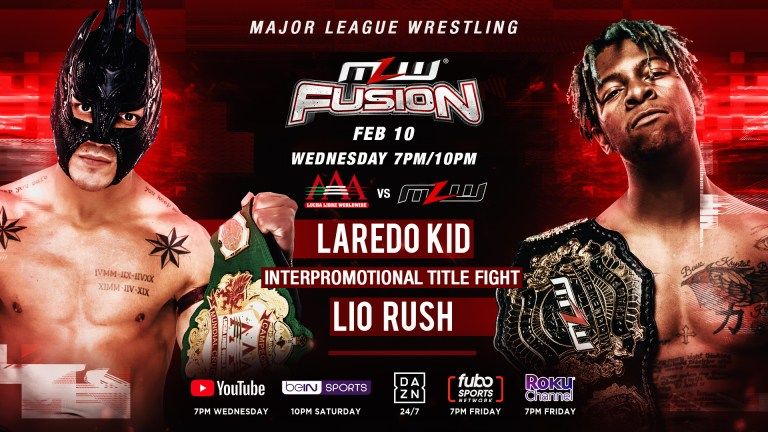 MLW Fusion Preview for 2/10/21
Title vs. Title

Lio Rush vs. Laredo Kid 
This Wednesday, history will be made as World Middle Weight Champion Lio Rush challenges AAA Cruiserweight Champion Laredo Kid. Both light heavyweights are at the very top of their game. MLW is calling this an inter-promotional dream match.  Court Bauer stated that MLW would be bringing fans an inter-promotional war; with this match, they will deliver. Loredo Kid won the AAA World Cruiserweight Title on February 16, 2019. There is nothing the Lucha libre champion wants more than to unify the MLW and AAA championships.
According to Laredo, Kid says he will win this match because he is the "most complete luchador." After defeating Myron Reed,  money weight Lio Rush wants to make history and bring home both titles. According to Rush, Laredo kid is nothing but a paperweight, and he will stop at nothing to unify the titles and cement his legacy. Who will walk out of Fusion Wednesday night as the Unified Champion?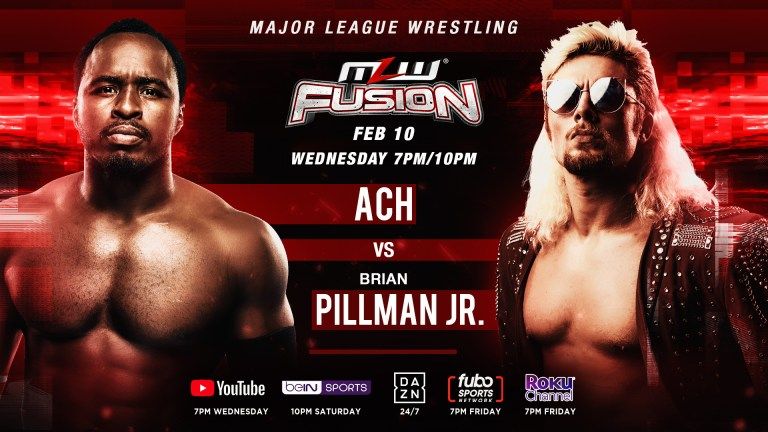 ACH vs. Brian Pillman Jr.
ACH is playing a dangerous game. After the brutal attack two weeks ago, his ribs are seriously injured. This was evident when MLW Champion Jacob Fatu decimated him two weeks ago. Against doctor's orders, ACH will continue to compete. This Wednesday on Fusion, he faces Brian Pillman Jr. Pillman has the business in his blood. As a member of the new Hart Foundation, Pillman is a main-event player. Brian Pillman Jr's high flying style might be enough to put ACH away. Is ACH biting off more than he can chew by stepping in the ring injured? Did Team Filthy attack ACH?  This Wednesday, we may find out?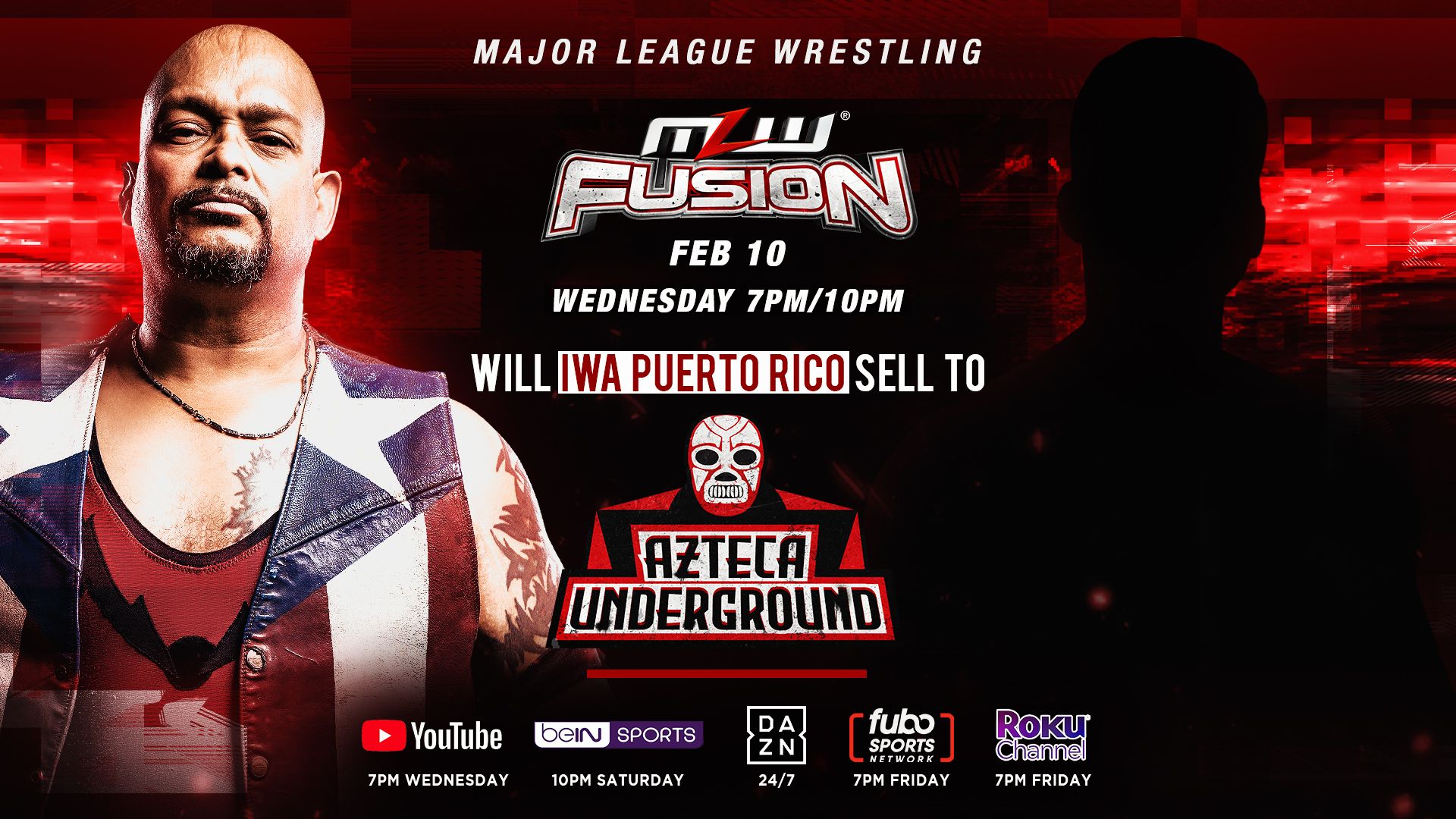 MLW Fusion Preview for 2/10/21
Azteca Underground wants to buy IWA.
Azteca Underground has made an offer to Savio Vega to buy IWA Puerto Rico. It's an offer Savio can't refuse or put another way shouldn't refuse because if he does, according to "El Jefe," there will be consequences. Over the last few days, Azteca Underground has been tweeting threats directed at Savio Vega. Azteca Underground recently purchased Promociones Dorado from Salina de La Renta. If they acquire IWA, they would be unstoppable. Will Savio Vega accept the offer? Tune in to Fusion this Wednesday to find out.
Investigation of Tim Donahue 
Two weeks ago, Savio Vega received his rematch against Caribbean Champion Richard Holliday in a Caribbean strap match. Unfortunately for Savio, things did not work out the way he hoped. During the match, Referee, Tim Donahue, stood in the way of Savio as he attempted to touch all the last corner and win the match. It turns out that Mr. Donaghy has been in trouble before. Apparently, he is an ex-NBA official accused of fixing NBA games as part of a betting scandal. Donahue was sentenced to 15 months in prison. Due to these allegations, MLW has announced that they will do a more thorough review of licensed referees. Donaghy is reported to have threatened a defamation lawsuit against several websites for "damaging his reputation." Did Richard Holliday have Tim Donaghy in his back pocket? This Wednesday on Fusion, Alicia Atout gets to the bottom of the scandal.
MLW Fusion Preview for 2/10/21
Injustice vs. CONTRA Unit 
Injustice will once again seek justice against Contra. Ever since Contra took out Kotto Brazil last spring, Injustice has wanted an opportunity for retribution. Myron Reed and Jordan Oliver promise to avenge their friend this Wednesday when they face Davari and  Gotch. A few weeks ago, injustice dressed as Seanti death soldiers and attacked Jacob Fatu and Contra. This Wednesday, they will be meeting contra face to face. Davari has become a machine thanks to joining Contra. This Davari looks unbeatable. The combination of him and Gotch is bad news for injustice.
Let's also not forget that the rest of Contra, including the Undefeated MLW Heavyweight Champion Jacob Fatu, is waiting to pounce. Jordan Oliver keeps challenging Fatu for the title, claiming he's "not the kid he used to be." Can injustice defeat Contra? Will Contra eliminate injustice from MLW. Check out this action and more on MLW Fusion  Wednesday at 7 pm Et on youtube, bein sports, and fubu sports.
*****
Be sure to stay tuned to the Pro Wrestling Post for this and additional stories from the wrestling world. Readers can rely on Pro Wrestling Post to be their daily source for all things inside the squared circle. As a result, readers can expect daily news, history, and so much more. Please visit Major League Wrestling's official website here for news on the promotion and upcoming events.