Joey Janela's Spring Break 4 will take place this Saturday, October 10th, 2020. Game Changer Wrestling (GCW) brings the event live from the Marion County Fairgrounds in Indianapolis, IN. First scheduled for Mania Weekend in Orlando, the COVID-19 pandemic forced GCW to reschedule. Since 2017, Spring Break has been a platform for wild, intriguing matchups from across pro-wrestling. The initial success of Joey Janela's Spring Break allowed for a plethora of themed shows to flourish under GCW branding. Here is the card preview…
Joey Janela's Spring Break 4
Alex Shelley vs Tony Deppen
Back in January, Tony Deppen defeated Mance Warner at GCW: Just Being Honest. Following the match, he called out "The Best In The World" for a match at Spring Break. The crowd thought he was referring to Will Ospreay, but Deppen shocked them all by calling out indie legend Alex Shelley. Shelley has been on fire since he came out of retirement last year. After a surprise one-off reunion with Time Splitters partner KUSHIDA in NXT, he turned heads again when he reunited with Chris Sabin to capture the IMPACT Wrestling tag team titles. This match promises an interesting clash of styles as the American Strong Style practitioner Tony Deppen takes on an innovator of the Lucha/Puro hybrid style that defined indie wrestling in the 2000s.
Jonathan Gresham vs Lee Moriarty
Jonathan Gresham and Lee Moriarty make their Spring Break debuts in this clash of styles. Gresham has spent the past 15 years refining his technical style in places like ROH, CZW, PWG, and NJPW. In the ring, Jonathan Gresham stands among the technical greats like Bret Hart, Daniel Bryan, and Zack Sabre Jr. He faces Lee Moriarty, a high flying blue-chip prospect. Moriarty has spent the past 4 years working on the Pennsylvania indie circuit and making appearances for AIW, BLP, and GCW. He'll be looking to follow up on his match with ACH at For The Culture, but will Jonathan Gresham's mat wrestling skill alter his aerial offense?
Joey Janela's Spring Break 4
ACH vs Lio Rush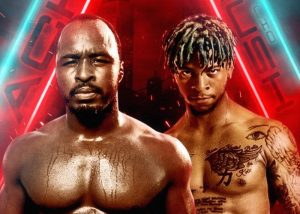 For the first time in 4 years, ACH and Lio Rush will meet in singles action at Spring Break. Both men have very similar career paths, as both were mainstays of ROH and PWG before signing with WWE. Additionally, both men made headlines in recent memory, as both departed from WWE on less than favorable terms. Expect a lot of high flying action in this match, as both excel in aerial offense. The last time they met one-on-one, ACH walked away the victor. Will Lio Rush get his win back or will his bad temper cost him another match?
Joey Janela's Spring Break 4
The Rascalz vs Ironbeast
Tag team wrestling virtually disappeared from GCW when reigning champions Ciclope and Miedo Extremo's VISA troubles began in August of last year. In an effort to jump-start a dying tag division, Joey Janela announced The Rascalz vs Ironbeast for Spring Break. The Rascalz have been on fire since returning from a COVID-19 related hiatus. They've been tearing it up in the increasingly stacked IMPACT Wrestling tag team division. In their four years as a tag team, they've racked up two reigns as CZW tag team champions and the longest reign as PWG tag team champions at over 900 days. Despite all this success, they're only now making their debut at Spring Break.
These high flyers face Kyle the Beast and Shane Mercer, a pair of hulking behemoths who move faster than they have any right to. Despite their size advantage, they still have their work cut out for them. Mercer and KTB have only been working as a tag team since August. This match promises a killer work rate as experienced high flyers meet an unlikely pair of powerhouses.
Tremont's Retirement Match
Alex Colon vs Matt Tremont
Deathmatch wrestling icon Matthew Tremont announced in September that he will be hanging up his boots at Spring Break 4. In his final match, the former CZW and GCW World Champion will tie up loose ends with old enemy Alex Colon. Tremont makes his third Spring Break appearance, having defended the GCW World Championship against Eddie Kingston at Spring Break 1 and participated in the Clusterf##k Battle Royal at Spring Break 3. Alex Colon, on the other hand, is making his Spring Break debut in this rubber match against Tremont. The two first met in the semifinals of the 2016 CZW Tournament of Death, with Tremont taking the win. Last year, Alex Colon defeated Matt Tremont in a 200 Light Tubes Deathmatch for H2O Wrestling. GCW has not announced any stipulation for this match, but expect a lot of weapons and bloodshed as these two leave it out in the ring one last time.
Alex Zayne, Blake Christian, and Jordan Oliver vs Team Pazuzu (Chris Dickinson, Ortiz, Santana)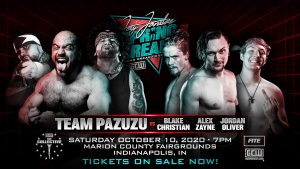 Following a strong showing in the Lion's Break Crown tournament for NJPW, Alex Zayne and Blake Christian team up with Jordan Oliver of #Injustice.  A 15-year veteran of the business Zayne sticks out from his partners, each with 3 years of in-ring experience. He'll be guiding his fellow high flyers throughout this match against a reunited Team Pazuzu. Chris Dickinson hasn't teamed with AEW's Ortiz and Santana in 2 years. When they were last together as Team Pazuzu, they ran roughshod over BEYOND Wrestling with their smash-mouth, brawling style. While Ortiz and Santana are known to use the occasional aerial maneuver, expect them to rely on a more grounded offense when they take on the trio high flyers this Saturday.
Joey Janela's Spring Break 4
The Clusterf##k Battle Royal
Despite the caliber of the other matches on a given Joey Janela's Spring Break card, The Clusterf##k Battle Royal usually steals the show. The Clusterf##k is an over-the-top-rope battle royal featuring an increasing number of participants each year. The Clusterf##k usually features a number of surprise entrants, but noteworthy names attached to the battle royal this year include:
JTG, formerly of Cryme Tyme in WWE
Shark Boy, formerly of TNA Wrestling
Kerry Morton, son of Ricky Morton
Allie Kat, regular with GCW, Beyond Wrestling, and Black Label Pro
Lord Adrean and Tahit2x aka The Walmart Dudes, internet wrestling sensations
Starboy Charlie, a promising prospect from the California indie scene
Yoshihiko, the blow-up doll from DDT Wrestling in Japan
Joey Janela's Spring Break 4
Ricky Morton vs Joey Janela
"Sometimes you gotta end the ones they idolized & adored" Joey Janela said on Twitter when he announced this match. There really isn't a better way to describe his mindset going into this match. Ricky Morton is a living legend with over 40 years in the industry. He's wrestled practically non-stop since forming the Rock 'n' Roll Express with Robert Gibson in 1983. Along with Gibson, Morton was one of the innovators of the daredevil style that many others have tried to emulate. Joey Janela has spent his 15-year career developing that style, adding hardcore elements of his own. On Saturday night, Joey Janela and Ricky Morton meet one-on-one, for the first time ever, in a battle of young vs old and new vs traditional.