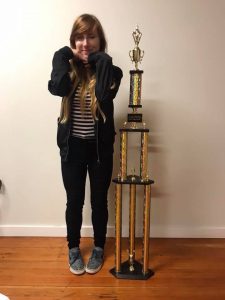 Wrestling is a big complex business with many moving parts. Sometimes it's easy to forget that a wrestling show is more than the talent coming out to the ring and putting on fantastic matches for the audience. There is a whole team of professionals behind the scenes who play a monumental role in every show we enjoy. Annie Tunnicliffe is one of the talented people working diligently behind the scenes at DEFY in Seattle Washington. Even though she holds the title of Assistant Producer, there isn't a simple list of things she does for each show. She does whatever needs to be done! Whether it's making sure talent have what they need, to welcoming fans, to handling the minute details and coordinating transportation.
At the end of the day, she is all about working with the DEFY team to make the best possible experience for the fans. If you've ever been to or worked a DEFY show you know she, and those who work with her, do an exceptionally good job at making every event a magical experience!
Those of you who don't know who Annie Tunnicliffe is, pay attention. If you're interested in breaking into this business, then one day you might be working for this brilliant young woman. When someone like me gets an opportunity to chat with a business insider like Annie Tunnicliffe, you take it!
Philip Jones: You are the Assistant Producer at DEFY Wrestling. Tell us about your role, what kinds of things do you do behind the scenes for this incredible promotion.
Annie Tunnicliffe: I get to do tons of cool stuff for DEFY! When I try to explain my job to people, I say that I basically make sure the events run smoothly and that everyone is happy from fan to employee to talent. A lot of it is cross-checking things to make sure everything is in place and we open doors on time, dotting all the I's and crossing the t's, and begin a point contact for everyone we work with for our events. I also get to order all of our merch which is one of my favorite things to do and brainstorm ways we can make DEFY more enjoyable for everyone. Every month there's new things I get to play a part in, so my role is always evolving.
Philip Jones: How did you come about this role, and what is your favorite part of the job?
Annie Tunnicliffe: At DEFY's first Portland show I was asked to come in and help manage the merchandise for the show, which in turn led me to meeting Jim and Matt. I showed up a few hours too early, completely out of the ordinary for me, and ended up showing them around the venue and just chatting with them about the venue and our own professions. I told him, at the end of the night that, if he ever needed a merch person in Seattle, that I'd be willing to travel, and then two weeks later, he emailed me proposing the job that I have now, to me.
I'm a firm believer in everything happening for a reason and I really think that's how this all fell into line for us. My favorite part of the job is challenging myself by juggling a lot of different aspects of our events and problem-solving things on the fly as they happen. Coming from the DIY music scene helps me bring some of my experience to the table that might have not been used in wrestling before and I really love trying new things out in wrestling-world to see if they work!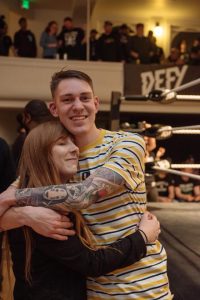 Philip Jones: How long have you been with DEFY now? Has your role changed or evolved since you've been with them?
Annie Tunnicliffe: I've been with DEFY for a year and a half now – which is wild to think about because the time has flown by so quickly. A lot of the foundation of my job has remained the same, but I have been able in the past few months to try out a lot of new ideas and take on new tasks. Lately, it's just been adding more onto my plate as I become more comfortable with the business. I've also been able to meet and work with a lot of wrestlers independently which has been really cool and not really anything I ever anticipated.
Philip Jones: What is your professional background – education? Is this what you thought you would be doing when you were daydreaming as a child?
Annie Tunnicliffe: I have a pretty wild come up story – I started booking shows when I was fifteen in New York and with the help of my friends we created a music scene in Upstate. I learned almost everything I know because I honestly have screwed up so many times that I had to learn from experience and at a very young age I was taught that nothing was ever going to be handed to me.
When I graduated high school I was dead set on working in the music industry and was hungry to keep learning which led me to acquire two degrees in music business. I'm also, hopefully, planning to start my masters next year. It's really cool to think about because I used to be obsessed with Britney Spears as a child and thought about how cool it would be to work with talent, now I'm doing pretty much everything I said I was going to when I was a younger kiddo.
Philip Jones: What are your thoughts on DEFY, it's growth, and the path you see it following in the next year or two?
Annie Tunnicliffe: We are always trying to do better than we did the past event and build partnerships in our community, so I would believe the next couple years you'll be seeing more of us in ways that you may not traditionally think of DEFY being in. We're at a cool point where we can expand in different directions while still remembering what we do at the core, so I'm hyped for the next couple years!
Philip Jones: What are some aspects of putting on a professional wrestling show that people who don't work behind the scenes might not know about?
Annie Tunnicliffe: I think the most mind-blowing aspect to me was how incredibly grateful and kind everyone is to be where they are. I think that working in music for so long made me grow accustomed to people just having Rockstar mentalities and having no humility. It was a complete culture shock to me when everyone I met was extremely kind and happy to be in DEFY's space. What I think it comes down to is that everyone backstage has so much passion that drives them and they remember where they came from, that's rarely ever the case in music and I really think it's a magical part of wrestling as an industry.
One thing that goes into any live event is that there are so many people who have put so many things into place to make sure everyone has a great experience. If you look around at any event you're attending, someone has meticulously thought out everything you're experiencing, and I always think that's really cool. Also, everyone shakes your hand, which I am a huge fan of and certainly not used to in music. I thought that was SUPER rad after my first DEFY.
Philip Jones: Were you always a fan of professional wrestling or was it something that developed or is this mostly a job for you?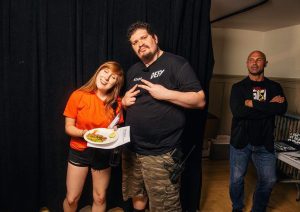 Annie Tunnicliffe: I will probably get dragged for this, but before DEFY I had never watched wrestling. I think to truly be great at anything you need to dive in and luckily Jim is on the same page here. Before I was officially offered my job, my first task was to watch an entire show and just take it all in. After that, I really understood how magical wrestling can be and I wanted to be a part of it. Since then I've just loved seeing how other people do things and trying to support all the lovely people I've met along the way.
Philip Jones: Tell us a bit about the behind the scenes of putting on a wrestling show. Most fans don't really get a chance to see behind the curtain.
Annie Tunnicliffe: Kayfabe is insanely real. One of my favorite moments was when we brought out The Young Bucks at our last anniversary show because virtually no one besides four of us knew before they walked out. I think it's really awesome that we can surprise even the other talent on our bill and the people working behind the scenes, it's just one of those things that makes wrestling so special.
Philip Jones: While the business of professional wrestling is becoming more diverse, tell us about your experience as a woman in this field where women are still a minority on both the business side and the performance side.
Annie Tunnicliffe: I could teach an entire class on being a female in the entertainment industry, but I'll try to keep this brief! As a woman, in general, you work twice as hard and you receive half the credit, if you're lucky. One-time Nicki Minaj said something along the lines of "If I act hard, I'm a bitch, if Lil Wayne does it, he's a boss," and that is something I constantly think about and observe when I have to be the bad guy in any situation. I used to really let sexism get to me, but over time I realized I just need to be the hardest and kindest worker in any room and the right people will see my worth.
Unfortunately, I can't speak much on the performance end of things, but I'm always excited when women are in the spotlight of any sort of entertainment. Everyone's favorite Ref Aubrey talks about how representation is so important and she's totally right. Luckily people are picking up on that! In general, feminists have been fighting for equality in the workplace for decades and I think this next generation will really be the ones to change that.
Philip Jones: If I'm not mistaken you have a role at the Hawthorne Theater in Portland Oregon, the home away from home, for DEFY. Tell us about what you do there.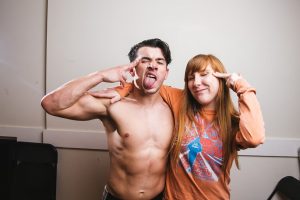 Annie Tunnicliffe: I have worked at Hawthorne for a bit over three years now, but this past six months I haven't been there much. I started out here as an event staff member, box office, merchandise, security, that kind of thing, and worked my way into being the talent buyer for the club, which is a fancy way of saying "I book things in this room." I stepped back from doing that about two years ago to work freelance but I'm still there sometimes as a promoter rep and help fill in if I'm home and they need someone.
Philip Jones: You have a great deal of experience with event planning. What kind of other events do you work on and what are your favorite kind of events to work on?
Annie Tunnicliffe: Since I work freelance, I'm open to working on pretty much anything. Although I'm a primary music person, I worked on Relay for Life events since high school and I dove into working with the Women's Expo a couple years ago which was a really cool experience for me. One of my best friends started a non-profit called Half Access, who promotes accessibility in music venues, and I'm on the board of directors for that, we do really unique fundraising events and it's all for a great cause.
For my 21st I also had a rager of a fundraiser for a local animal shelter so I guess I'm just a big fan of raising money for charities and everything involved in that. I live for chaos, so I guess my favorite would be anything with a lot of components and things to troubleshoot. I have always wanted to do weddings which I can see myself doing in a couple years, and a bucket list of things for me would be working on a gaming convention like PAX.
Philip Jones: How would you advise someone who approached you and asked how to break into the Professional Wrestling business, on the administrative side?
Annie Tunnicliffe: With anything I would recommend people to start on a ground level and work their way up, there's so much to be said about someone who is willing to grind. You should also always know your strengths and weaknesses and be open about them, far too many people exaggerate their knowledge and it always comes out later. In general, I would say always be the hardest working person in the room, be humble, ask questions, treat everyone with respect, and always have a smile on your face, even when shit sucks. I strive on knowledge being power as well, so don't sell yourself short on that front.
Philip Jones: In your time with DEFY, tell us about one of your favorite experiences.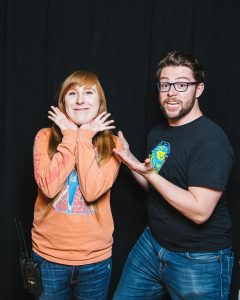 Annie Tunnicliffe: My favorite non-DEFY moment was in Vegas, I was working at Punk Rock Bowling and AEW was running Double or Nothing the same weekend. Jim was at the festival and so was Matt Cross, and right when I took a break Fucked Up was playing and Damian gave Matt a shoutout from the stage. That was a really cool moment for me because it was essentially my two worlds colliding. I got to see the buds in Lapel Yeah, my friends Josh and Chase were in town, it made everything seem very connected to me.
As far as DEFY goes, working with other companies like New Japan and Progress were really awesome for me, and I think for everyone else too, backstage and fans alike. Working with larger companies is always a treat because there's so much to learn from them and you're working with world-class talent. I love standing back and seeing how everyone works and what their methods are.
Philip Jones: Tell us about Take Warning Presents.
Annie Tunnicliffe: Take Warning is an awesome independent music promotion that books shows in Portland all the way up to Bellingham, and it's owned by one of my favorite people ever, Ian Cheshire. A bit over four years ago I emailed my resume to everyone even remotely involved in the Portland music scene, begging to do pretty much anything for them, and Ian was the first, and I think only, person to reply to me.
I started doing promotions for him around Portland, at Warped Tour and All That Jazz, and just started climbing that ladder within the company and now I'm the Head of Production there, he trusts me with basically everything. I am pretty much eternally grateful for Ian because he took a chance on a complete stranger and lets me take the reins on everything I do, and that includes working with a lot of my favorite bands.
Philip Jones: Working events takes you all over the place. What are you listening to when you travel?
Annie Tunnicliffe: I listen to a lot of murder podcasts, especially on longer drives when I'm copilot or trying to stay awake. Luckily, I am one of those people who can sleep anywhere, so I have a travel playlist I pop on and pretty much sleep on every commute I go on where I'm flying solo. I also try to keep up with Portland and Seattle artists, so I'm always keeping my ear to the ground for them.
Philip Jones: In your line of work who have been some of the most interesting people you've met.
Annie Tunnicliffe: Oooh! I helped with Metallica's road crew party which was a wild ride from start to finish, everyone with them was awesome and incredibly hardworking. A lot of comedians are a blast to be around and working at a comedy club I get to meet a lot of them, they're always super friendly and open. Stevie Wonder was up there for me as well. My mom used to play his records when I was a kid so that was a really cool experience. The most fascinating people I get to meet though, work behind the scenes and are the backbone to the massive shows that we see. A lot of them have worked with a massive amount of talent, especially the older road dogs, so I always love hearing their experiences and learning about how they ended up where they are today.
Philip Jones: Okay time for your dilemma scenario! Both Jim Perry and Matt Farmer are drowning in a swimming pool. You can only save one, who will it be and why?
Annie Tunnicliffe: My gut reaction is to say our lord and savior Jim Perry. Sorry Farmer! But… then I realized that Farmer probably couldn't save himself and Jim is a very sufficient person. We all live happily ever after!
Philip Jones: Who does Annie Tunnicliffe fan out over?
Annie Tunnicliffe: Oh boy, in terms of music I am a MASSIVE Circe Survive fan and I think anything Anthony Green touches is pure gold. Luckily when I transition from being a megafan to the person who booked one of his shows he was super cool and didn't humiliate me to my colleagues in the process. Thanks, Anthony! For the most part, I have my fangirling pretty much under wraps, besides once when Adam Sandler shoulder checked me at a bar in New Mexico and I had no idea he was there. That was wild and really caught me off guard. Otherwise, I'm a huge fan of horror movies, true crime, Pokemon, and whatever vegan restaurants I can find wherever I am. In reality, I just love when people are really into things and I love screaming like a maniac in public, so sports are pretty tight.
Philip Jones: What kinds of things might we find Annie doing when she isn't working or planning events?
Annie Tunnicliffe: I'm really boring, I value my sleep, so I hibernate pretty much all winter because I work non-stop September to the first week in December. I also play Pokemon Go like it's going out of style. Otherwise, I like blowing all my money at coffee shops and just going out with my friends. I also travel a ton so exploring new places is a great time for me.
Philip Jones: Tell us something about yourself that perhaps people might not know about you.
Annie Tunnicliffe: Hmm… how can I end this on the darkest note possible? I've suffered from depression for a long time, and so do about three million other people in the US every year. When I tell even the closest people to me about this they're shocked because I always have a smile on my face, so I guess not many people would know. It's important to talk about because so many people feel like they're alone when really there's so many people going through the same thing in their own way. There's a lot of really affordable resources and sliding scale therapists out there, so if you're one of those people reading this, just know there are people out here who care for you and rooting for you.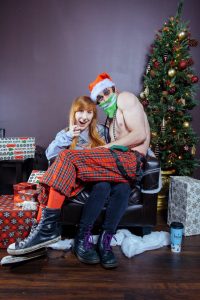 So often the talent who works in the ring gets the applause and the accolades at every show. It's easy sometimes to forget the tremendous amount of work that happens behind the scenes by people who don't always get much in the way of acknowledgment. Annie Tunnicliffe is one of those people. She is an important part of making shows happen. Without people like Annie and many others, DEFY would not be the event we have come to love.
The next time you're at a DEFY show or see Annie Tunnicliffe don't hesitate to show her love and appreciation. She's very approachable and is ever bit as much of the DEFY experience as watching Artemis Spencer or Schaff working their magic in the ring! You may not see everything she does, but you experience it every time you attend one of the best wrestling shows in the business.
Quotes:
"Annie is one of the hardest working people Ive ever met in my whole entire life. Shes the literal glue holding Defy together and its been NOTHING but amazing working with her! and she's vegan!" – West Smith, Professional Photographer
"Annie, is a boss. She knows it too, she's always a helpful person in and out of the locker room. I consider her a great friend and am thankful for her contribute to defy. Very reliable and always nice to talk to!!" – Guillermo Rosas, Professional Wrestler
"Annie is such a great match for DEFY. The skills she developed in the music industry really gave her the skill set for working with talent, events and show running for Wrestling. She's a strong leader, empathetic while not suffering fools and she's super funny! I'm pretty lucky to have her with us! She's a boss." – Jim Perry, DEFY Owner
"Annie is the coolest person of all time. She straight up saved me the Saturday of the WAC-DEFY weekend when I almost died of the flu. Not died, but BASICALLY felt like it, ya feel. Basically she goes out of her way to do stuff for people and it's always super genuine!" – Judas Icarus, Professional Wrestler
"Usually the wrestlers get all the credit, but the thing is, it's the people behind the scenes that help make the wrestlers look great. Annie Tunnicliffe is a big contributor in that way, she always running around to make sure everything is good. I appreciate it and so does the whole locker room." – Cody Chhun, Professional Wrestler