On Friday, October 9th, GCW presents Jimmy Lloyd's D-Generation F. The event features free general admission for those who provide a donation. It is great to see that admission is going to go to a cause for those attending without being a part of the seated area. As of now, there are five announced matches with more potentially slated to take place as well. While we aren't sure which ones they or when they will be, we are assured that it is going to be in the vision of Jimmy Lloyd. On this night fans will witness talented major promotion booked talent faced notable independent talent and a death match against two rising stars in the industry. It is sure to be a night fans won't soon forget.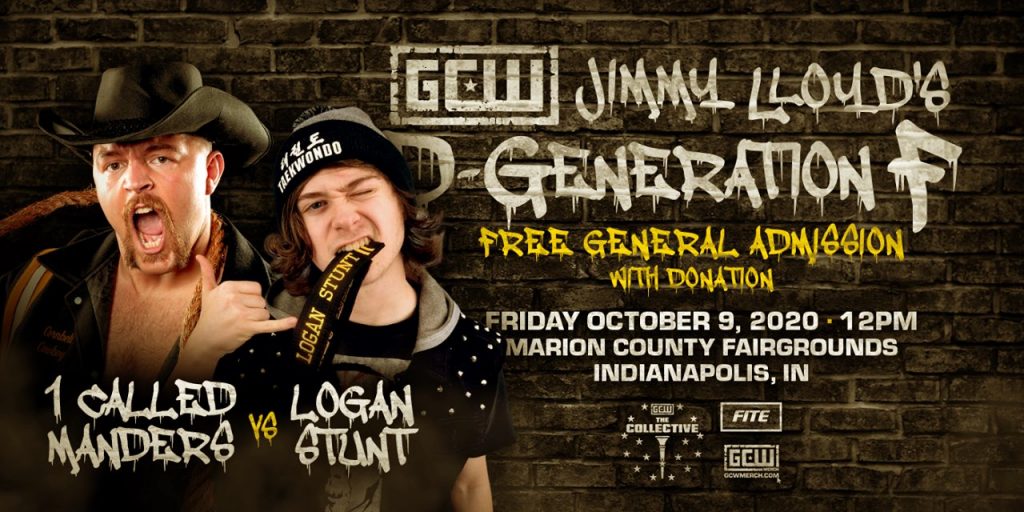 1 Called Manders s Logan Stunt
What happens when a seasoned veteran squares off against emerging indie talent Logan Stunt? The answer could spell doom for Stunt. This recently added match comes with it the popularity of Maryland native, 1 Called Manders. Manders brings with him not only the popularity that comes with facing several stars in the Ohio area. The former trainee of the Black and Brave Training Academy, 1 Called Manders has a great deal more experience than Logan. Much like his brother Marko, this Bite-Sized Brawler comes to the Marion County Fairgrounds looking to make a name for himself at the expense of Manders. Stunt is in tough against Manders.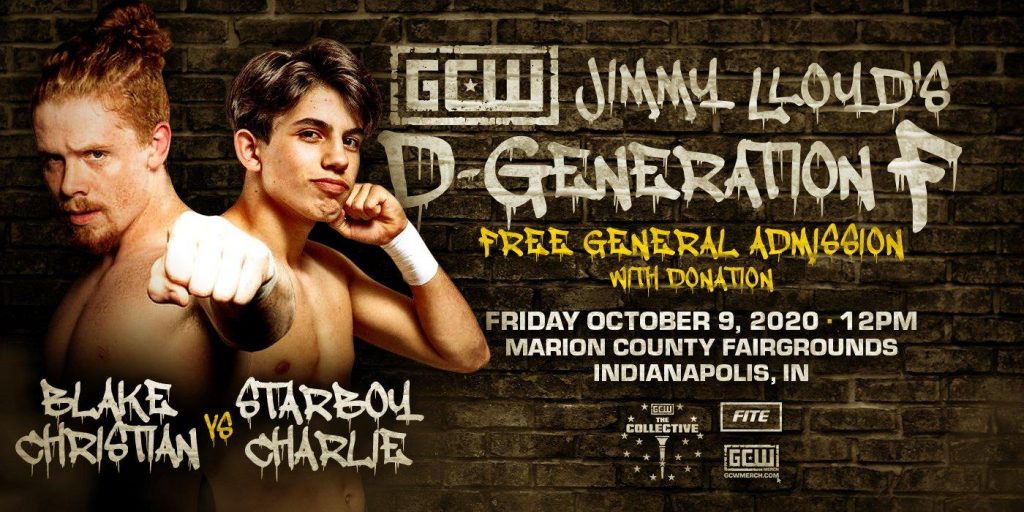 Blake Christian vs Starboy Charlie
Air Blake is set to continue to show exactly why he is amongst to most well-versed high-fliers in the sport today. He is recently coming off of competing in Blake Label Pro's Turbo Graps 16 tournament. Despite not winning it, he continues to impress each and every time he steps into the ring. This time around Christian steps across the ring from seventeen-year-old Starboy Charlie. What is remarkable about both these men's combined age is 40. While both are incredibly young what isn't is their ability to entertain an audience. Charlie first competed for GCW this past January. Although the pandemic slowed down opportunities for everyone, it appears it only slowed down this promising young star.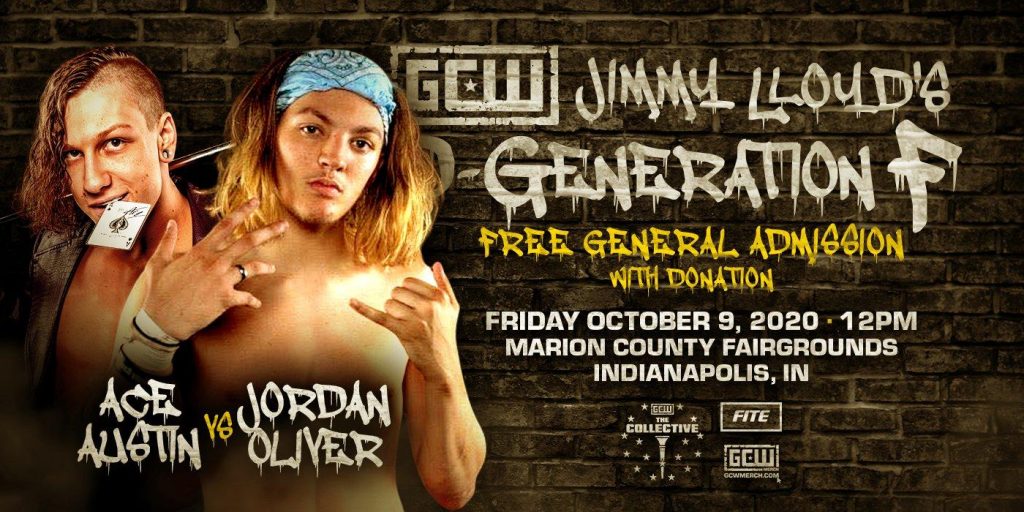 GCW Presents Jimmy Lloyd's Degeneration F
Ace Austin vs Jordan Oliver
If one match can be described as 'fun' it is this one. With Austin and Oliver squaring off against one another picking a winner shouldn't be easy. While Austin has the edge in the world of GCW, Oliver is a standout talent. The lanky Oliver is only 21 years of age and has already been a part of a stable in MLW as part of Injustice. Austin and Oliver are no strangers to one another. In fact, they last faced one another as recently as Synergy's 3rd Birthday last month. After twenty minutes, Austin came out on top. Will Oliver look to exact revenge in what was their first time facing one another? While Oliver has captured championship titles in scramble matches against Austin it has never been a one on one win.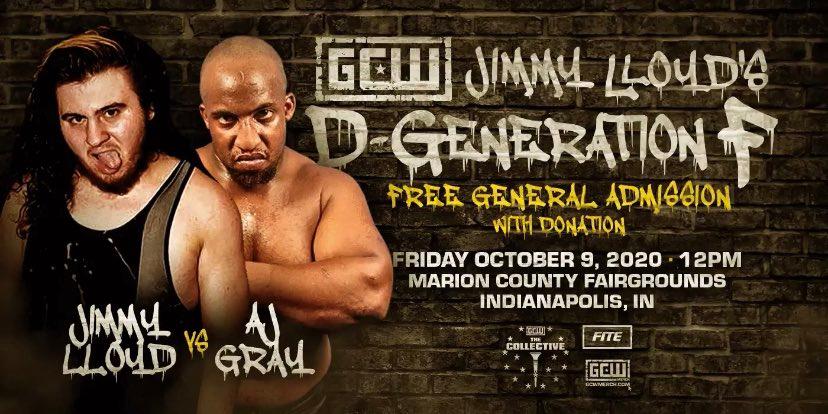 GCW Presents Jimmy Lloyd's Degeneration F
Jimmy Lloyd vs AJ Gray

When your name is on the marquee you have to deliver. When your name is Jimmy Lloyd be afraid that he will deliver. A match that was originally slated to be against Benjamin Carter will now be replaced with AJ Gray. Llyod's motivation is clear the show is your baby and only you can take care of that baby the way it should be taken care of. In the case of Rich Homie Juice, Llyod faces someone that hits hard and hits often. Gray is able to find a victory come about from the seaming jaws of defeat. For Lloyd, he will need to catch the five year pro in Gray in order to slow down his offense. Gray is coming to spoil the party and what better way to do that than giving Llyod the FU in the ring.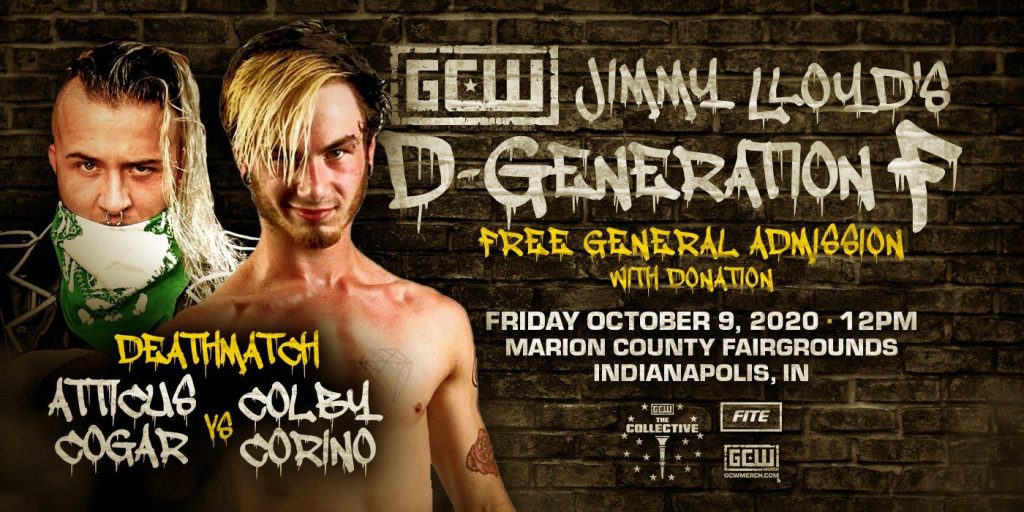 Death Match
Atticus Cogar vs Colby Corino
Much like the word fun was used to describe Oliver against Austin this match will manage to do that in spades as well. When second-generation talent Colby Corino steps in the ring with 22 year old, Atticus Cogar the result should be all-out fireworks between them. Both men's offense gives the word 'risk' a whole new meaning. In the case of Cogar, words like promising and impressive aren't enough. His aspirations to go for success go beyond that. While Cougar is a growing favorite amongst the GCW faithful a Death Match here will also allow for some interesting innovation as well. For Colby Corino, this match on this night could certainly do a lot for him in helping to set up his presence on the independent scene. If you see any match during this event make sure it is this one.