PROGRESS Wrestling Chapter 42: Life, The Universe & Wrestling. January 15th, 2017. The O2 Academy, Birmingham, UK. 
Welcome back once again to the PROGRESS Prerogative! We've arrived at Chapter 42! Life The Universe & Wrestling is a bit of an odd show in that it took place on the same day as the WWE United Kingdom Championship Tournament final. You're sure to remember that both Pete Dunne and Tyler Bate were rather large parts of that show (along with Mark Andrews), and so the PROGRESS roster is somewhat depleted here. Can they pull a good show out of the bag minus their world champion and half of the tag team champions? We present to you Chapter 42, Life The Universe & Wrestling.
There's plenty of plates spinning in terms of ongoing storylines: Sebastian and Pastor William Eaver; Jimmy Havoc's new enemies in the Swords of Essex et al. And there are some big things set up to give the show some sizzle: the debut of Ringkampf; the debut of Spud; and the promise of a mighty challenge for Ramage in the main event; and the small matter of an appearance by Finn Balor…
Although still recovering from the torn labrum suffered at the hands of Seth Rollins at SummerSlam, WWE has done PROGRESS a solid here. His first appearance since Chapter 13 is a bit of fun and gets the Birmingham crowd fully on side with all three members of British Strong Style MIA.
Chapter 42 – Life, The Universe & Wrestling
Ringkampf vs The London Riots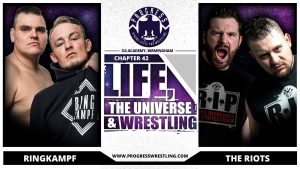 Ringkampf make their PROGRESS bow as a unit in the opening contest. Of course, Walter is no stranger to the company, but Axel Dieter Jr (now Marcel Barthel in NXT) is an entirely new face. The London Riots have been on a massive losing streak of late and they do nothing to reverse that trend in this match. Effectively a showcase for the European team to stake a claim to British Strong Style's various titles, Ringkampf largely dominates the action over the former tag team champions. Walter seals the victory with a sleeper on Rob Lynch for the tapout. How the mighty have fallen.
Chapter 42 – Life, The Universe & Wrestling
Jack Sexsmith vs Sebastian w/ Pastor William Eaver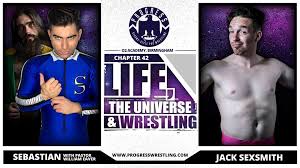 Sebastian riles the crowd up in his own unique fashion prior to taking on Jack Sexsmith: spitting water, grabbing people's hands, just generally being annoying. It's clearly a role he was born to play and it contrasts so well with Pastor William Eaver who watches as stoically as he is able. He actually involves himself in the action unprompted to help Sebastian escape on a couple of occasions which is somewhat surprising. The real standout of the match is Sexsmith though, who enters his strongest performance to date and is clearly massively over with the crowd. He claims the well earned victory with a crossface cocko after knocking Eaver flying off the apron face-first to the floor. Ouch. Post-match, Sebastian slaps the Pastor around for not helping him secure a win.
Jimmy Havoc vs Tommy End
Jimmy Havoc has an open mic and he uses it to give a shout out about British Strong Style not being in the building and Swords of Essex not having the guts to face him. This was supposed to be him and Pete for the PROGRESS title, but instead he's seen someone in the back who he hasn't faced before… it's Tommy End.
Shortly before dashing over 230 miles to Blackpool to wrestle Neville/PAC for WWE, the Anti Hero makes his first appearance since Chapter 36. Understandably, due to his need to hit the road, Tommy's stay is relatively brief but he gives his best in an all action match. It looks as though the Dutchman may have the victory in the bag at one point after hitting a black mass kick, but Havoc kicks out at two. Very shortly following that Jimmy scores the pin following an acid rainmaker. A visibly moved Tommy End soaks up the applause after Havoc has departed and exits a PROGRESS arena for the final time.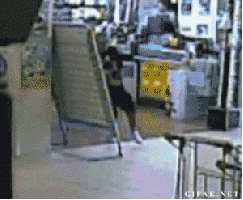 Livvii Grace vs Alex Windsor
Natural Progression Series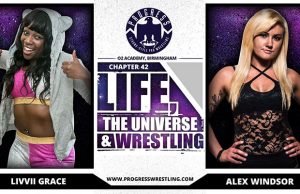 Livvii Grace makes her PROGRESS debut opposite Alex Winsor in an NPS4 quarterfinal match. Either both wrestlers are having an off day here or they shouldn't have this high profile a match, because it is an absolute botch-fest. Two times Grace attempts to climb onto Windsor's shoulders; twice they both crumble to the mat. Two times Grace attempts a small package; twice she fails to hook her leg around Windsor's. Two times Windsor applies a sharpshooter; twice it is a piss-poor, ankle over ankle sharpshooter as bad as The Rock's. The second (god awful) sharpshooter somehow leads Grace to tap out… after Windsor has lost her footing and lost what little pressure she was exerting. This is supposed to be the best women's wrestlers in the country vying to be the first PROGRESS women's champion. Bloody awful.
The Origin: Banter Edition vs South Pacific Power Trip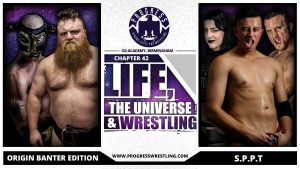 El Ligero and Dave Mastiff take on Travis Banks and TK Cooper in tag team action next. There's a lot of fun stuff from Banter Edition. Such as when TK and Dahlia Black are necking and Ligs grabs Black's leg to boot Cooper in the crotch. Even referee Joel Allen gets in on the act as he prevents Dahlia from interfering and gives her a body slam for good measure. Dahlia is always great value for money as SPPT's valet. Despite the shenanigans conspiring against them, the Trip gets the win after a strike flurry on Mastiff which culminates in a running knee from Banks. More of a sketch than anything but a fun one nonetheless.
Chapter 42 – Life, The Universe & Wrestling
Spud vs Paul Robinson
[Note: The Grap Sessions version of this match was watched for review] Spud's brief stay in PROGRESS begins with a baptism by fire as he faces off against Paul Robinson. The majority of the match sees Spud take an absolute hammering by Robbo: attacked before the opening bell and whipped with a belt; booted in the back; spat on – this is brutal. When he eventually makes his comeback, Spud returns fire with a similar offense to that which he had received.
The last real blow of the match sees the diminutive Brummie hit a top rope elbow. Spud has gone on record to say he knocked Robinson out for real real. Before he can follow up on that, Spud gets blasted with a low blow for the disqualification. As noted on Grap Sessions that gave Robbo great heat from the crowd. As he cut the legs out of the babyface comeback. Post-match, Robinson hits the rockstar with a Curb Stomp. He then continues his assault until Jimmy Havoc returns to make the save. Great stuff.
Chapter 42 – Life, The Universe & Wrestling
Atlas Title Match
Rampage Brown (c) vs Matt Riddle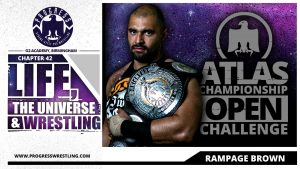 The latest edition of Rampage Brown's open challenge features its toughest entrant yet in Matt Riddle. This is Riddle's second main event in as many appearances for PROGRESS. Although still very much a newcomer to the business at this point, Riddle is impressive. His skill set as he throws Rampage around the ring despite being at a size disadvantage. He hits a gut wrench suplex, leaping tombstone piledriver, and a gorgeous German suplex with seeming ease.
The Atlas champ won't simply be swatted aside though. He returns fire with high impact strikes and slams of his own. This is a back and forth contest the whole way between wrestlers who are both consummate pros. And it has an absolutely unique finish to boot. Following a pin attempt off the tombstone, Riddle blasts Brown with around ten UFC-style wrist shots to the back of the head. He follows up with a few stomps to the head, then a few more wrist strikes… then scores the pin. We have a new Atlas division champion and his name is Matt Riddle.
Wowzers! You'd have to say that PROGRESS pulled a victory from the jaws of defeat during the course of Chapter 42. The sudden absence of British Strong Style was turned around though. A surprise return, a hometown debut, and a major title change that gave the show a real sense of import. The next few months of PROGRESS are going to be very exciting indeed as these various threads are followed up. We'll be here to cover them as always and hope you'll be right here with us. Until then, take care of yourselves out there folks.