Butch Reed was a pioneer in wrestling. Not only as an African American but as a heel, Reed was a heatseeker like no other. Unfortunately, his time in the WWF does not do his career justice. If you want to see a natural heel at his best, watch his classic confrontations in Mid South Wrestling with the one the only Junk Yard Dog. Reed was a Mid-South NWA Heavyweight Champion, NWA North American Tag Team Champion, and WCW Tag Team Champion.
Kansas City Born and Bred
Reed was a natural athlete. Originally his aspirations were not in the wrestling ring but on the gridiron. Very similar to his soon-to-be tag team partner Ron Simmons, Butch Reed was successful at football. He played for the University of Central Missouri. He was a two-time All-American. Reed was also on the Kansas City Chiefs but was cut after a short time. After he was cut, Reed turned to wrestling.
Hacksaw Butch Reed
He had the size, ability, and charisma. Many fans don't know that Butch Reed was actually the original "Hacksaw," not Jim Duggan. It wasn't long before Reed won his first championship with Jerry Roberts. You might not know who Roberts was, which is understandable. He is better well known as Jaques Rogueau or The Mountie. He also won the Mid Florida Tag Team title with Sweet Brown Sugar Skip Young.
In 1983 Butch Reed joined Midsouth Wrestling as the tag team partner to Junk Yard Dog. JYD was the most popular face at the time in this territory. He made every opponent feel the thump. As mentioned previously, Butch Reed's nickname was Hacksaw. However, in 1984 Reed was confronted by someone else who liked the moniker. Jim Duggan was a heel at this time. He arrived with Ted DiBiase and Matt Borne.
Thinking about Duggan and The Million Dollar Man on the same side definitely makes an 80's wrestling fan question themselves. In time Duggan feuded with Reed. In the process, Duggan became loved by the fans. Reed, on the other hand, began to develop an attitude problem. When JYD chose Duggan over Reed, the natural heel showed his ugly side. He attacked JYD and painted a yellow streak down his back. Butch Reed was now looking out for Butch Reed.
Mid-South North American Champion
This proved to be a good decision for Reed. He won the Mid South North American Heavyweight Championship on July 16th, 1983. After that, he began feuding with JYD. The Junkyard Dog came close, but he couldn't defeat Reed for the title. Reed began to become arrogant. So arrogant, in fact, that he let the Mid South fans choose his next challenger. Naturally, they choose JYD.
Unhappy with the decision, Reed chose a newcomer named Magnum TA. Needless to say, he lost the title to Magnum, much to the delight of the fans. Down but not out, he and Jim Neidhardt won the Mid South Tag team title. Reed wasn't done with Magnum TA and the title. He campaigned against the decision claiming he should still be champion, being it wasn't a legal match since the fans actually chose JYD. What a natural heel.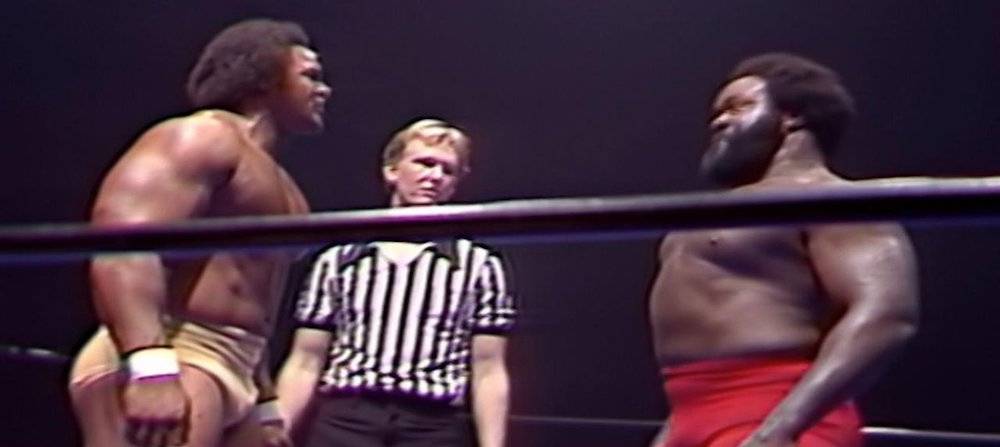 Butch Reed vs. The Junk Yard Dog
The championship was returned to Butch Reed; however, Junk Yard Dog defeated him and took it. After that loss, Reed and Neidhardt concentrated on defending the tag titles. Unfortunately, the duo lost that championship to Magnum TA and Mr. Wrestling II. Reed blamed Neidhardt for the loss. The two started fighting amongst themselves. In one particular incident, Butch Reed pummeled Neidhardt with a football helmet.
Every shot seemed to ring off Neidhardt's head like a hammer hitting an anvil. Terry Taylor saved Neidhardt from the beating and subsequently began feuding with Reed. The former champion Reed partnered with Buddy Landell in his fight against Taylor. Reed even used a steel coal miners glove to bloody Taylor. After he was done with Taylor, Reed once again went after Junk Yard Dog. He wanted revenge.
This turned into a brutal dog collar match that needs to be seen to be believed. Eventually, JYD's popularity took off on a national level, and the leader of the Dogg pound took off for the WWF.
Butch Reed and JYDs careers seemed to be intertwined. They had classic battles everywhere they went. It definitely seemed like the two hated each other on TV, but that couldn't be further from the truth. Junk Yard Dog actually gave Reed his big break into the business. Their feud was about two friends giving everything they had in that ring. But, behind the scenes, it was more than that.
Midsouth wrestling claimed that two African American athletes in a feud "wouldn't get over." They did it anyway, and they got over. In an interview with Hannibal Tv before his death, Reed said how much working with JYD meant to him.
"This was historical. I became the top hell I wanted to be, and he shoot right up the babyface ladder. We were rocking and rolling, selling out towns everywhere we went. That's my favorite there. He's like a brother."
Butch Reed Doesn't Need Anyone.
Without Mid South's most popular face, the company was in a crisis. Reeds natural in-ring ability led Bill Watts to make him the poster boy. Recently a new force led by General Skandar Akbar was on the rise in Mid-South territory. Agbars group terrorized the company. Akbar naturally wanted the meanest heel in Mid South. He asked Buddy Landell to give Butch Reed a Rolex watch as a gift to join team, Akbar.
Reed turned down the gift to everyone's surprise and began feuding with Landell. Akbar's team committed at three on one, mugging on the former champion. It was a shock that Hacksaw Jim Duggan and a 2X4 came to run off Akbar. Duggan's tough guy seal of approval solidified Reed. He was now a full-fledged face. After teaming with Duggan against Akbar's team, Reed left Mid-South.
In 1985 Butch Reed went to the NWA as Jimmy Garvin's bodyguard. However, that was short-lived as Reed once again looked out for Reed. he returned to Mid South. He defeated Dick Murdoch for the North American Title. However, he lost the title to Dirty Dick Slater shortly after. The Natural also had a classic confrontation with the NWA Heavyweight Champion, The Nature Boy Ric Flair, at the Houston Coliseum.
He came within an inch of defeating the champion. At the match's finish, Reed actually had Flair in figure four when the time limit expired. He kept up with Flair for an hour. That in itself is an accomplishment.
You're a Jive Soul Natural
Reed left Mid South again for the NWA Central States, which was located in his home of Kansas City, Missouri. It was here that he first met the Jive Soul Bro himself, the Slickster. He joined Slick and caused Havoc all over the NWA. That is until a loser leaves town match was scheduled with Bruiser Brody. It may have looked like the diabolical duo left town, but actually, they moved on up to the WWF. The Natural was in the big time.
To get more heat with the WWF fans, Reed dyed his hair blonde, stating that it was his "natural" color. Shelton Benjamin years later used this same idea when he called himself the Gold Standard. He and the Doctor of Style slick arrived on the scene, and no one was safe. Slick was a fan of using his cane to trip Reed's opponents. Butch Reed made his pay-per-view debut at the show of shows WrestleMania III defeating Koko B Ware.
Slick will probably never forget dealing with Koko's macaw Frankie after WrestleMania Reed went after the new Intercontinental Champion Ricky 'The Dragon' Steamboat. Unfortunately, the Dragon was just on fire at the time and burned Reeds' chances of becoming Intercontinental Champion.
The Natural turned his attention to Superstar Billy Graham. Grahm had recently been looking to retire due to injuries. Reed, Slick, and the 500 pounds One Man Gang attacked Grahm. In the storyline, Gang splashed Grahm so hard he could no longer wrestle. Don Morrocco saved Grahm and started a war with Reed. The two were in the main event of the very first Survivor Series.
Muraco was with Hulk Hogan, and Reed was on Andre The Giants team. Reed also competed in the first-ever Royal Rumble match, ironically won by Hacksaw Jim Duggan. Butch Reed's final WWF match was against Macho Man Randy Savage in the first round of the WWF Championship Tournament at WrestleMania VI.
Doom is Coming
Butch Reed left the WWF and returned to the NWA. There he resumed his feud with JYD. For a brief time, he was managed by JJ Dillon. Then, Dillion sold Reed's contract to Hiro Matsuda. Reed competed in a very competitive match against Sting at The Chitown Rumble on February 20th, 1989. During this time, Woman was looking for a tag team to defeat the WCW Tag Team Champions, The Steiner Brothers.
For weeks Woman promised Doom to the Steiners reign. That Doom was in the form of Butch Reed and Ron Simmons. They entered the ring under masks. At Halloween Havoc 1989, Doom finally met the Steiner Brothers for the WCW Tag Team Championship. At this time, Rick and Scott Steiner were arguably the greatest tag team in wrestling. No matter what Doom tried, they could not defeat the brothers.
Woman had enough and fired both Doom members. Then, at Clash of Champions XI, Doom won by knocking out Scott Steiner.
Shortly after that, Doom acquired the services of Teddy Long. The future WWF Smackdown GM guided Reed and Simmons to the WCW Tag Team Championship. Finally, Doom defeated the Steiners for the WCW Tag Team Titles. Several years later, Teddy Long spoke about his time with Butch Reed.
"I learned a lot, especially from Butch Reed. That's how you survive in this business. It got me over too. I was this skinny loud-mouthed guy hiding behind these two powerhouses."
Doom is doomed
Doom even got into a feud with the 4 Horsemen. They attacked Arn Anderson. Ric Flair and Arn Anderson waged war with Doom at Halloween Havoc 1990. The match ended on a double count-out. Doom had classic battles with the Horsemen, but it was a miscalculated use of an "international object" that cost them the tag team title.
During a match with The Fabulous Freebirds Michael Hayes and Jimmy Garvin, Reed hit Simmons with brass knuckles when Hayes moved out of the way. After the match, Reed, once again showing his natural hell repeatedly struck Ron Simmons with the knuckles. Teddy Long sided with Reed. Doom was doomed.
This match led to Butch Reed vs. Ron Simmons. Their most notable confrontation was at Superbrawl 1991 in the Thunderdome cage match. Theodore Long was suspended above the ring in a shark cage as a bonus. As soon as the bell rang, these two went after each other. Ground and pound was the name of the game with these two. After a missed dropkick by Simmons, Reed took control.
Reed punished his former tag team partner through most of the match. However, after Reed missed a splash, Simmons fired up. Reed quickly cut him off. After a double clothesline, Theodore Long threw a steel chain in the ring. Reed grabbed the chain went to hit Simmons but ended up in a spinebuster. This gave Simmons the win. Shortly after that, Ron Simmons ended up winning the WCW Heavyweight Championship. After that loss, Reed left WCW.
Butch Reed Wins Championships in USWA and GWF
He ended up in the USWA. Once again, Butch Reed found himself face to face with the Junk Yard Dog. He defeated JYD for the USWA Heavyweight Championship on October 12th, 1992. The natural one was only champion for a week. After that, he appeared in Global Wrestling Federation in 1994. There he defeated Rod Price for the GWF North American Championship. Unfortunately, he lost that title to Gentleman Chris Adams.
On March 31st, 2001, Butch Reed became the WLW Heavyweight Champion. He held that championship for almost a year.
Butch Reed retired from wrestling in 2002. He became involved in a rodeo in his hometown of Kansas City. He made several one-off appearances in the independents, but mostly he was done with the ring. On September 9th, 2007, Doom had a brief reunion as Reed appeared on WWE Smackdown with General Manager Theodore Long and Ron Simmons. On February 5th, 2021, Butch Reed passed away. He had two heart attacks in January of that year, which contributed to his death.
Butch Reed's Legacy
Butch Reed inspired several of today's stars, including Shelton Benjamin, Bobby Lashley, and WWE Hall of Famer Booker T. Booker recalled a time working with The Natural.
"My brother and I were so excited to be in a match with Hacksaw Butch Reed. I learned so much from Reed that night. It was a moment that I never dreamed about ever one time in my life. Butch Reed was such an icon. God will certainly take care of him. We are definitely going to miss Hacksaw Butch Reed."