Bobby Lashley. Over the course of his career, Bobby Lashley's accomplishments, skillset, and business acumen speaks volumes not only for himself but for his culture. While his career in the ring and octagon has spanned over 15 years, he has achieved more than many may know about the multi-time champion. After graduating in 1999, Lashley would follow in his father's footsteps by joining the army as part of the World Class Athlete Program. While he was part of the program, Lashley captured a gold and silver medal.
His accomplishments inside of it only supersede Lashley's courage outside the ring. During his preparation for the 2004 Olympic Games, Lashley would witness a bank robbery. During this robbery, Lashley would suffer an injury attempting to hide from the thief. Unfortunately, the injury to his knee would lead to the end of his amateur wrestling career.
SmackDown
Lashley would first debut in the WWE on-screen in 2005. While on SmackDown, he would capture the United States Championship for the first time. His amateur accomplishments were played up a great deal initially. They shared how he was a two-time Armed Forces Champion, a 2002 Silver Medalist at the Military World Championship, three-time National Amateur Wrestling Champion, and a four-time All-American. His value on SmackDown continued to rise.
He's a member of Team SmackDown; he would face off against Team Raw as part of the Survivor Series. Despite being the first to be eliminated for his team, Team SmackDown was successful against Team Raw.
As 2005 became 2006, Lashley would qualify for the Royal Rumble. After his Royal Rumble appearance, Lashley would engage in his first feud in the company against JBL. However, despite losing his first match in the company, Bobby Lashley would then transition into a vendetta against Fit Finley.
When it appeared as though his feud with Finley was over, it would rear its head again as Lashley would make it to the finals of the 2006 King of the Ring. He would make it to the finals against Booker T but would ultimately lose because of interference by Finlay. Upon Booker T's coronation, Bobby Lashley completely snapped, attacking Booker with a spear in the process.
The Lashley and Booker feud saw obstacle after obstacle placed before him. Whether it was William Regal or Fit Finlay, Booker T ensured that others would stand in front of him trying to slow down and even stop Bobby Lashley if possible. Lashley would capture the United States Championship for the first time holding it for a couple of months. It would eventually lead to a World Championship opportunity for him as well against King Booker.
ECW
By the Fall of 2006, Bobby Lashley was moved to the ECW brand within the company. In a surprise appearance, Lashley would appear and sign his contract. He would initially compete at the Extreme Elimination Chamber and challenge for the ECW Championship at their upcoming PPV December to Dismember. He was an absolute force in this match. As the fifth competitor released from their pod, Lashley would bulldoze over the likes of Big Show and Test to become the first-ever African American ECW Champion and, at that point, the third-ever WWE-associated champion ever.
As a two-time ECW Champion, Lashley was involved in matches with Vince & Shane McMahon and would represent a former President of the United States during this time as well. The championship success Lashley had during his initial run in the company wasn't without its trials and tribulations. Injuries would often take Lashley out of action for months of a time. After a six-month absence from the ring, Lashley would leave the WWE in February 2008.
Life After The WWE
Lashley would compete on the independent circuit and Mexico after his release from the WWE. He would later join Total Non-Stop Action. While he was there, he would join the Main Event Mafia and later turn on the faction that consisted of
Kurt Angle
. He would engage in a feud with Samoa Joe and Scott Steiner as well during his time with the company.
However, by the Winter of 2010, Lashley would ask for his release from the company. While it was worked into a storyline, the truth was it opened up for him to pursue another aspiration of his, mixed martial arts.
Over the course of eight years, Lashley would compile an MMA record of 15-2. During this time, he would compete for such notable promotions as Strikeforce and Bellator. He was trained by a former student of Billy Robinson, Josh Barnett. Barnett would help to train and mold Lashley, who was also trained by America Top Team, one of the most notable collections of fighters anywhere in the world.
The Beat Down Clan
After a four-year absence part of any major promotion in the United States, Bobby Lashley would return to TNA/IMPACT Wrestling. Upon Lashley's return, he would answer an open challenge made by Ethan Carter III (EC3). his would lead to a rematch between the two nearly two weeks later. It was upon his return that he would simply go by his last name alone.
A few months later, Lashley would come out to what appeared him coming to the aid of Eric Young. However, what did happen was he would spear Young and aligning himself with Kenny King, Samoa Joe, Low Ki, and a man he would begin a now-familiar working relationship with, MVP. Together the trio would become the Beat Down Clan. How as a heel, Lashley would earn a TNA World Title match-up but came up short in his initial attempt at capturing the title.
However, a little over a month later, he would later defeat Young to capture the TNA World Championship. It was his first championship in TNA. It also made him the first African American TNA Champion in the promotions history since transitioning from its days under the NWA-TNA inception. Lashley would hold the title until the Fall of 2014 and regain in at the beginning of 2015. He would regain the championship defeating Bobby Roode in the process.
Over the course of the four years Lashley spent in TNA, he would capture several championships. They included the X-Division championship and the TNA King of the Mountain Championship. His time in TNA also opened up an opportunity for him to showcase his MMA background and time with American Top Team. In fact, it was played into a storyline as it would involve King Mo, Stephen Bonner, and Moose prior to his departure from the company.
"Unfinished business. Unfinished business, completely. I've taken my level of wrestling and this entire business to a whole other level, and I'm ready to go out here and show this crowd what I'm about.… I'm going to be bigger and badder, and tougher than ever. There's a lot of really tough guys here in WWE at this time, and I've got my sights set.
It doesn't matter what I post online; I always get tags saying, 'We want to see you against so & so, we want to see you against so & so.' So now I'm here to go and find so & so. Everybody wants the big match-ups, and I'm here to make them happen." Bobby Lashley comments on his return to the WWE. h/t courtesy of WrestlingInc.com)
After months of speculation, Bobby Lashley makes his return to the WWE on the Monday Night Raw after WrestleMania 34. His return came after leaving the company a decade earlier. However, with the size, stature, and familiarity that fans had of Bobby Lashley, his return was a welcome addition to the roster. He would make his debut attacking Elias and was immediately presented as a face in the company.
It was upon his arrival that the drive to position him as a top contender for the WWE Universal Championship became clear. His feud with Sami Zayn and a rivalry with Roman Reigns would determine who would face the champion, Brock Lesnar, for the title. The often talked about dream match with Brock Lesnar and Bobby Lashley would not happen at this point.
Lashley would soon turn heel after attacking Kevin Owens and having Lio Rush introduce him and act as his manager. This was the dawning of the Almighty era for Bobby Lashley and his time in the WWE. The following year, Lashley would once again taste gold in the WWE as he would capture the Intercontinental Championship.
His time in the company also saw him involved in a storyline involving Rusev and his real-life Lana. But Lashley's value saw its most significant time since he became aligned with MVP. The two men rekindled their on-screen relationship for the first time since the duo were associated with one another in TNA as part of the Beat Down Clan. This time together, however, would be different.
Bobby Lashley & The Hurt Business
With Cedric Alexander and Shelton Benjamin working alongside MVP and Lashley, the four men would make up a new and formattable group known as The Hurt Business. Together the men would capture championships including the United States Championship, 24/7 Championship, Tag Team Championship, and ultimately the WWE Championship. VP's connection with Lashley was a key factor in the formation and success of the faction.
With MVP's experience, knowledge, and ability to lead are key in The Hurt Business.
It's a blast, man. Probably one of my favorite times in my entire career because this is real. There have been angles before that people don't believe, but this one is authentic. MVP, Shelton, and Cedric flew into Denver, where I'm at, just to see my suit guy. It's freezing out here! But they wanted to come out here and hang out. Wrestlers don't normally do this. These are my friends.
I've known MVP for maybe 18 years now. I knew Sheldon in college when we wrestled against each other. We all see ourselves in Cedric, and we have a lot of knowledge we are passing along to him. 
One time, Cedric came into the building, and he had his suit on a hanger. VP stopped him and asked why his suit was on a hanger. We needed to put it on because the suit is what we are about. It's not a character we just do on TV. It's who we are. e are professionals. – Bobby Lashley on working with MVP Shelton Benjamin and Cedric Alexander.

The group had often had comparisons made to them about who this all-black faction resembled. But they were steadfast in that their appearance, position, role, and purpose was unlike any group before them.
My first thought was, "Thank you!" But that's not who we were. Because you see a group of Black guys, some people immediately associate them with another group of Black guys. I love what The Nation did, but that's not what we're about at all. But we are totally different. It's not about black and white; we are about green and gold.
We are thugs in suits because we have a hardcore style but want to look good doing it. We wanted to show a different representation of Black men because we haven't seen that. We are four professional Black men who can mess you up. That's what we're all about. – Bobby Lashley on the emergence of the Hurt Business
Bobby Lashley – The All-Mighty Cometh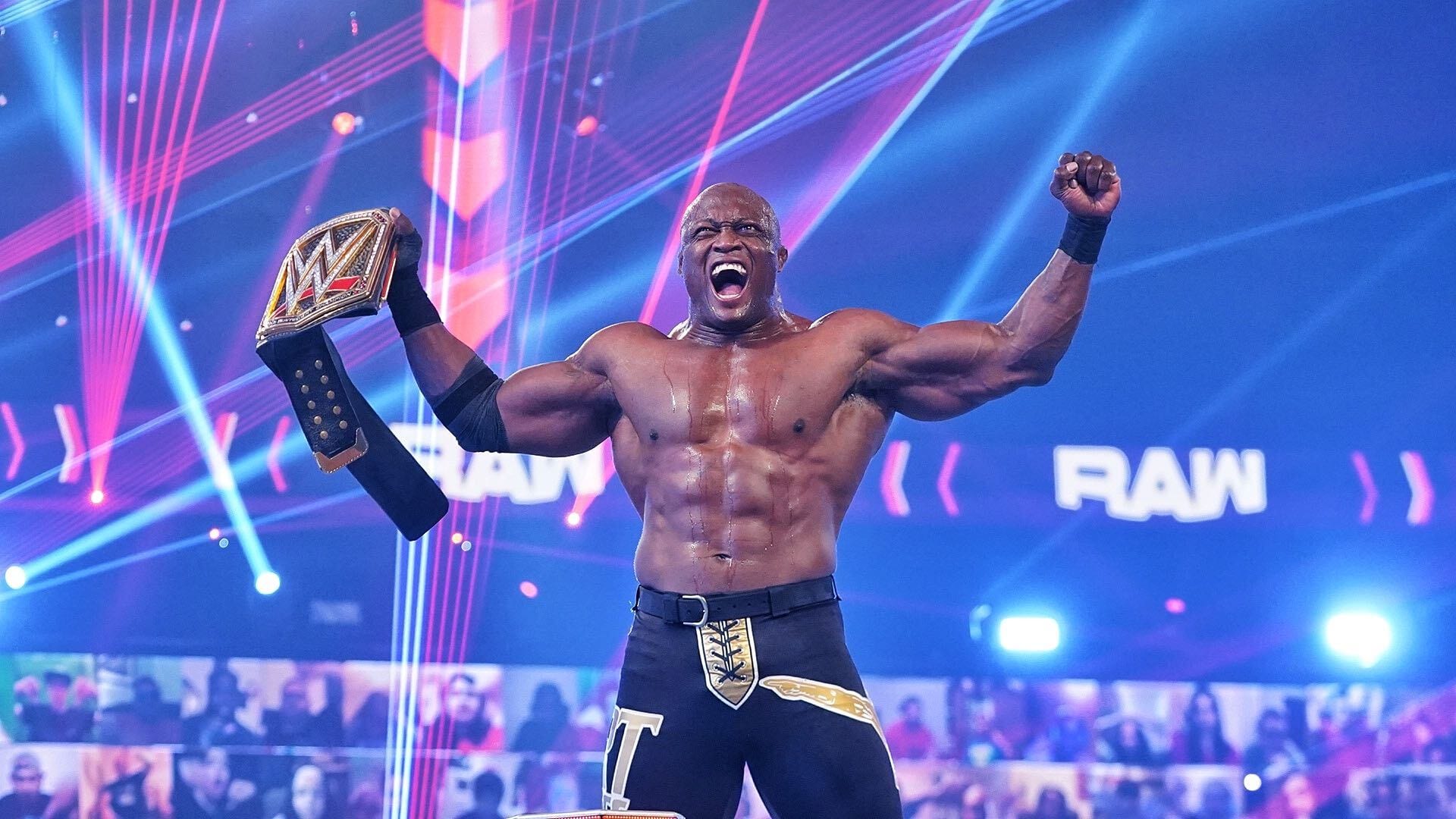 From the build and presentation of Bobby Lashley to his position atop the top of the WWE's roster, it is clear what he is doing not just for wrestling but for the culture. With a successful MMA career and an outstanding awareness of his place and what it took him to reach this place, Bobby Lashley is among the most dominant wrestlers of any race during his time in the ring. He carries himself with pride and honor.
In his battles with the likes of Braun Strowman, Roman Reigns, and Brock Lesnar, he is as committed to the growth of the industry as he is, ensuring that black wrestlers matter with each passing day, week, month, and year. He is an entrepreneur diversifying is other business endeavors outside of wrestling, including an official gym, a network of websites, and a nutrition store among them.
Lashley has shown that his value to the industry exceeds what he has done in the ring but the indelible mark he intends on making when his career is over. After all, would fans expect anything less from the Almighty, Bobby Lashley?