All Out was arguably the biggest show in AEW history. They followed it up with an eventful Dynamite that began some new and interesting feuds. We even saw Jon Moxley vs. Minoru Suzuki in a main event many are calling "The Suzuki Incident." This week has some interesting matches as well. We will see Darby Allin in action, Jade Cargill will fight in a rare Dynamite match, and we will even witness Adam Cole's in-ring debut. Let us find out more about this exciting night in Newark in the latest edition of AEW Dynamite IGNITE FOR 9/15/21. 
_______________________
Jade Cargill vs. Leyla Hirsch 
Jade Cargill has certainly been bragging about her in-ring skill in recent weeks. Cargill and her advisor, Mark Sterling, have talked a lot but have only a few victories on AEW Dark: Elevation and Dark to show for all their gloating. On Wednesday night, Cargill will face a dangerous test as she tries to maintain her undefeated streak against Leyla Hirsch.
Leyla Hirsch is coming off a recent NWA title match against Kamille. While Hirsch was unsuccessful at NWA EmPowerrr, she fought a lengthy match against the talented Kamille. Kamille had a nearly foot-size advantage over Hirsch. Cargill will have the same size advantage on Wednesday night. Can Hirsch use her experience and technical skill to pull the huge upset over Jade? It will be fun to watch in the always improving AEW Women's Division. 
AEW Dynamite IGNITE for 9/15/21
Jon Moxley & Eddie Kingston vs. 2point0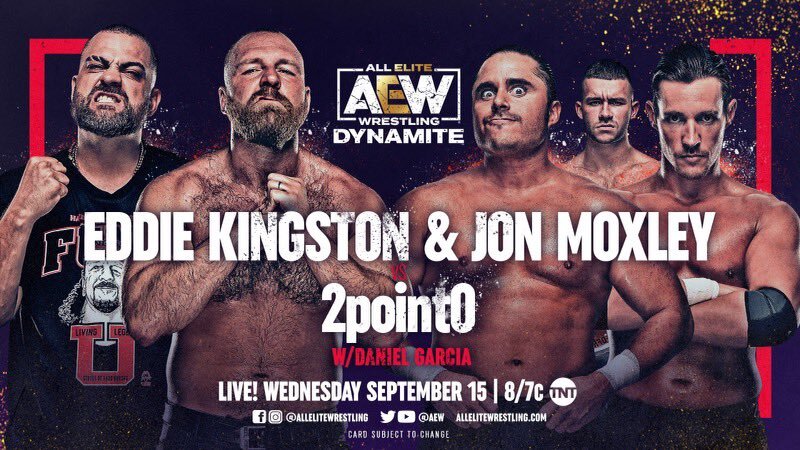 On a recent AEW Dynamite, 2point0 and Daniel Garcia jumped Jon Moxley and Eddie Kingston as they were on their way to the ring. The trio has been a major thorn in Moxley and Kingston's side since that night. This Wednesday in Newark, it is time for some revenge.
Mox and Eddie are hoping to make quick work of the talented 2point0. We also know Minoru Suzuki and Lance Archer have laid out a challenge for the disrespect shown to Suzuki on last week's Dynamite. So what will Moxley and Kingston have to say about the "Suzuki Incident" on Wednesday night? They have a lot of challengers to deal with in the weeks to come for sure.
Darby Allin vs. Shawn Spears
Before Darby Allin even had time to recover from his big loss to CM Punk at AEW All Out, Tully Blanchard presented a challenge to Darby and Sting. While we don't know exactly what his plans for Sting are, we know he has sent the dangerous Shawn Spears to fight Allin on Wednesday Night Dynamite.
"The Chairman" is always a serious threat for any possible opponent. But, will Allin have recovered enough to deal with Spears? And what role will Blanchard play in this match? We know he has his eyes on Sting but for what reason? Hopefully, we will start to find out on Wednesday.
AEW Dynamite IGNITE for 9/15/21
Adam Cole vs. Frankie Kazarian
Adam Cole shocked the pro wrestling world with his debut at the end of AEW All Out. Then, he pulled another surprise when he quickly joined "The Elite" on that huge night in Chicago. So Wednesday night, we finally see the talented Adam Cole in an All Elite ring for the very first time.
His first AEW opponent is the always dangerous Frankie Kazarian. "The Elite Hunter" wants nothing more than to spoil the debut for the talented Cole. It should be a huge match against two of the best in-ring talents AEW has to offer. It will be a special match in what should be another great night of wrestling in All Elite Wrestling.
What To Expect:
What will CM Punk have to say on commentary on Wednesday night?

Will Bryan Danielson address Kenny Omega?

Will we learn any new matches for the huge AEW Grand Slam show?
*****
Be sure to stay tuned to the Pro Wrestling Post for this and additional stories from the wrestling world. Readers can rely on Pro Wrestling Post to be their daily source for all things inside the squared circle. As a result, readers can expect daily news, history, and so much more. Please visit All Elite Wrestling's official website here for news and information on the promotion and upcoming events.